This post is going to be about Cricket and World Superbikes. In terms of sports-writing, this is about as obscure as it's going to get, but bare with me here.
In cricket, the story of the "Mankad" is one that's drawn controversy over the years. It's a trick invented by Indian cricketer Vinoo Mankad back in the 1940's. According to the rules of the game, you have every right to stump the batter at the non-strikers end of the crease if he's over the line, even if it's before you bowl the ball.
Mankad, even in the 40's was criticised for this action, often referred to as "unsporting behaviour". Even though, he'd technically done nothing wrong. As a batter at the non-strikers end, you're not allowed to leave the crease before the ball's been bowled, because you're trying to gain an unfair advantage. However, a lot of cricketers and fans see it as a cheap trick, even to the point where the team that's done the "mankad" will call the batter back to the crease. Even current England short-format captain Eoin Morgan said earlier this year that if one of his bowlers pulled a "Mankad", he'd pull the victim back onto the field because "We learnt not to play the game that way."
Personally, I think most "Spirit Of The Rules" mentality is bullshit. The rules are the rules, and you can't have this both ways. You can't have Team A constantly take the piss with the crease, but then if Team B also follows the rules and runs him out (Which is what the mankad really should be called), THEY'RE the bad guys for wanting the rules enforced. And that in itself is a dangerous game. When is a penalty, not a penalty? I do believe like in F1, there should be some room for context and mitigation, but non when rules are only enforced from one side; because in cricket, especially in shorter formats like T20's, the batters take absolute liberties with the crease.
Which brings me to World Superbikes. It's actually kind of a shame the series isn't getting the attention it deserves, as it has a title fight worthy of Hamilton vs Verstappen. Jonathan Rea and Toprak Razgatlıoğlu have had a back-and-forth war all-season long. Rea has won the last six World Championships beating riders like Tom Sykes, Chaz Davies, Alvaro Bautista and Scott Redding. Toprak, is a different gravy. Kawasaki's been the victim of rev limit capping to try the balance the field and their bike just isn't the world beater it once was. Toprak, on a rejuvenated Yamaha squad, has been more than a match for the Ulsterman, and ending this past weekend, he should have had a triple race-win and a 12-point lead leaving Magny-Cours. Seriously, Toprak just completely outmatched Rea unlike anything we've seen head-to-head in years.
However, during the Superpole Race, Jonathan noticed Toprak's line on the final lap: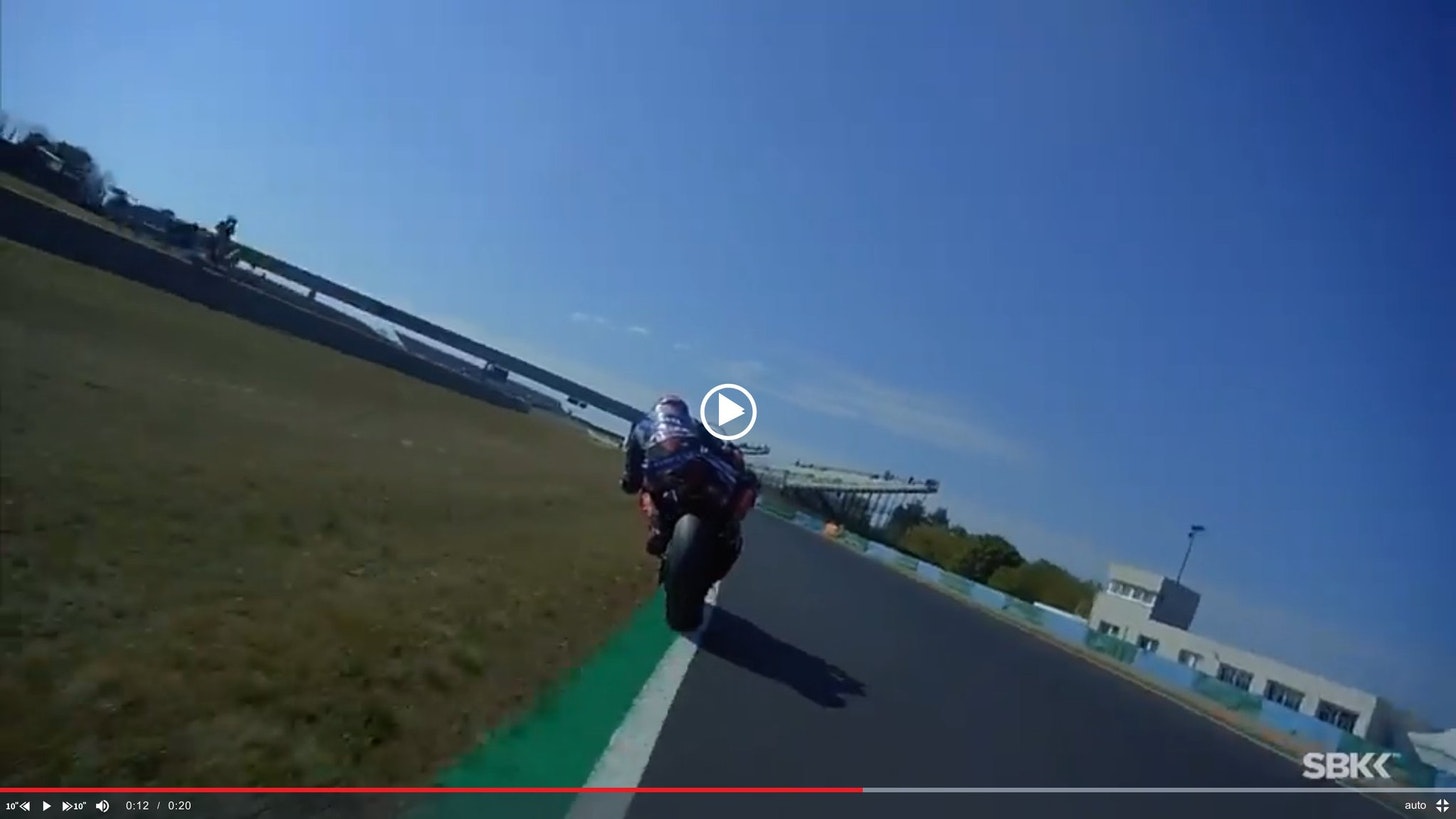 See that wheel on the green? That's not allowed, as its a breach of track limits. Race Direction didn't spot it. Jonathan did, and straight after the race, he told his team boss to lodge a formal protest. Kawasaki did, and they had the result reversed. It's shit this happened hours later because it should have also meant that Rea started Race 2 from pole, but the 6-point swing is what mattered more.
And traditional biker-heads lost their collective minds. I get why. Rea actually passed Toprak a corner later. You could make a very strong case that Toprak didn't really gain an advantage from doing so… But if you've been paying attention, this is the way bike racing's been going.
Oh, and it's got safety in mind as well. Ask Tarran Mackenzie in British Superbikes a fortnight ago as to what can happen when you put a wheel on the grass. In MotoGP's ladders, riders were asking for more deterrents against track limits. Natural in a sport where you're paid to take every advantage you think you can get away with. And we saw the consequences of that. In Moto2 last year in Austria, Jorge Martin beat Marco Bezzecchi by maybe 10 feet:
This in a sport where for a good decade, almost anything went on the final lap. And there really wasn't the outrage that we saw here. Now the sport actively has a rule that actually hits you harder if you break track limits on the final lap. We saw it at Mugello when both Joan Mir and Miguel Oliveira both crossed into the green on the final lap… only to have their position demoting penalties cancelled out.
Do I want to see races decided in a steward's office? Of course not. But it opens up a slippery slope when folks pick and choose when to enforce the rules depending on "gut feeling and vibes".
Jonathan Rea was always going to be the "heel" here. He's won 6 straight Championships and we in sport hate us a dominant winner. And Toprak is the exciting, slidey, super-fast, super late-braking, endo-ing antidote to that in a series that is desperate for all the attention it can muster in a crowded market. And no-one likes a snitch. But as I said with Christian Horner and Red Bull's hilariously petulant Silverstone protest, team bosses if nothing else, are politicians. If you're not throwing the rulebook at people, what are you here for? You gotta ask the difficult questions or else you're not doing your job properly. You can't be constantly talking about how badly folks want to win, then get mad at them for going out of their way to ensure exactly that.
As many a smart person will tell you, sports and politics are interwoven. It will challenge our sporting values to our core, but they will never separate. For better, and for worse.