I want to back the W Series. Really, I do. I'm actively rooting for women to gain more opportunities within Motorsport as any other ally. But man, having Jamie Chadwick come back for a 3rd season in the series just hits different.
2022 will mark the W Series' 3rd season after the global pandemic cancelled the 2020 season. In both previous seasons, Chadwick won the Championship, and the $500,000 top prize that came with it. Since then, she's raced in the F3 Asian Championship (And was solid in 4th, picking up a handful of podiums), EuroFormula Open (9th) and Extreme E's inaugural season. But it's hard to say she's really progressed in terms of her single-seater career since the W Series started in 2019.
$1,000,000 in prize money and two title-winning seasons in the W Series, and it's still not enough to get your foot in the door with a F3 seat without coming back for a third run. Chadwick herself said in February said she needed FOUR times the budget she has right now to move up. That is not a good look for a series that absolutely claimed they wanted to get young women up the F1 ladder and leaned into its undercard and Superlicense system. The same system that has you having to return your points (15 in Chadwick's case as Champion), in order to come back. Chadwick needs 25 just to be eligible for F1 free practise sessions despite being a development driver at Williams.
Now, looking at the greater landscape for a minute here, this isn't totally on the series itself. The European Junior ladder is already pretty unsustainable. According to some of the drivers who have been taking part (And often sadly, pulling out of the series due to lack of funds), Formula 3 seats are going at about a million euros or more per year. You're doubling that for Formula 2, if you're good enough to have teams reach out, or have the funding the cut the queue. The global pandemic has only made big name sponsors more reluctant to invest in younger drivers. And as a result; drivers have had to sidestep, take a hiatus, or even change paths altogether.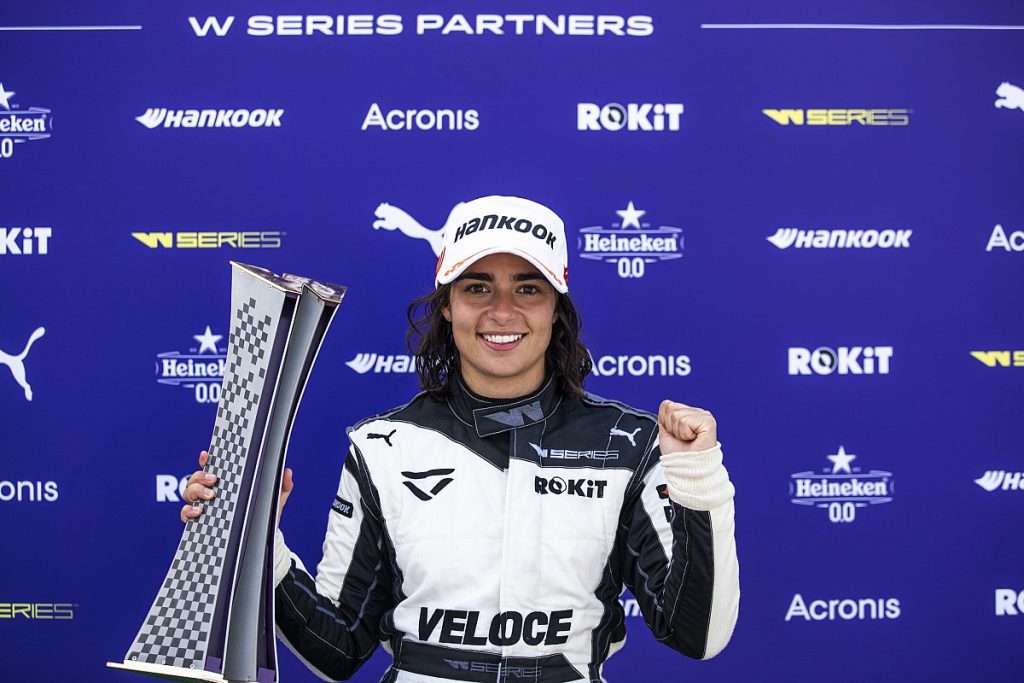 It leaves the W Series in a potential worst-case scenario where Chadwick could conceivably comeback year on year. She would be favourite under most circumstances to retain as champion given her racing experience, and keep collecting those $500k cheques. Now I'm not totally against that, I'm never going to scoff at anyone who can make money in a junior ladder that really isn't built for it. But this ultimately goes against everything the W Series claimed it was trying to do. It automatically stunts an already limited field for opportunity. Because if Chadwick, your ultimate yardstick, can't get anything better, what chance does anyone else have? It's a lose-lose situation for everyone involved.
(And I've not even mentioned the moral association with Caitlyn Jenner, a woman that has on multiple occasions, came out with abhorrent views against her fellow women.)
If the W Series is truly serious about trying to get women up the ladder, it needs a different approach. Either you're significantly increasing the prize money to incentivize moving up into F3 series, or you're flipping the bill for a seat/team in that series, to get a guaranteed foothold and seeing what happens 5-10 years down the road. Right now though, the series is just in limbo and has little to offer to the women who compete in it besides straight cash, homie. And in the grand scheme of things, not a lot of it.
When this series was first announced, I was always in two minds as to whether this was a series that genuinely wanted to produce F1's next woman as a driver, or whether it was just another racing series trying to make a profit, only with women as its unique selling point. I fear, this is the situation that's proving it's the latter. And it's a damn shame that Jamie Chadwick, an excellent ambassador for Women in Motorsport, is caught in the middle to the point where her single-seater career might be on the brink of collapse before it's even really started.