Even at face value, if you're only reasonably knowledgeable with MotoGP, a Ducati win, let alone a 1-2 on a technical, lower speed circuit like Jerez would be seen as a miracle. It goes completely against their development philosophy. Ducati builds incredibly brutish, powerful machines but struggles to turn.
And yet, after Fabio Quartararo suffered a brutal case of Arm Pump mid-race, Jack Miller and Francesco Bagnaia brought home the Italian's first 1-2 finish since Brno 2018. Back when Jorge Lorenzo was still there. Y'know, before he became MotoGP's Stephen A. Smith.
For Jackass, it was his first win in nearly five years, and it showed when Jack started crying in Parc Ferme. It was a powerful image, and a reminder at just how much he's had to go through to even get to this point. For Jack, this wasn't supposed to happen. None of it was.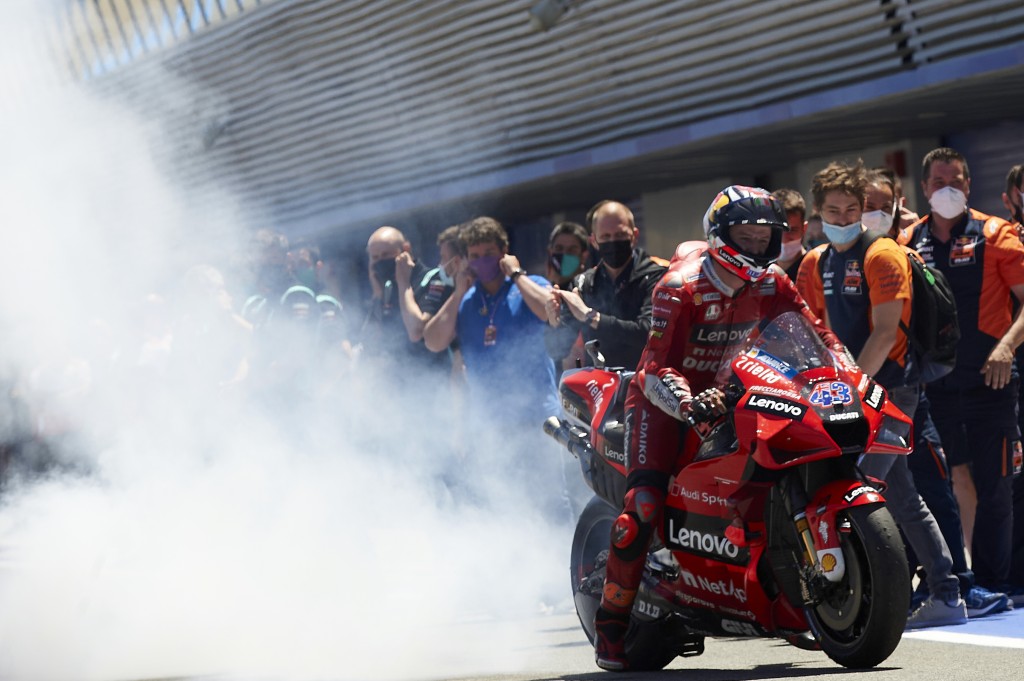 Jack Miller already had one big sporting disadvantage when it came to his MotoGP aspirations – He's Australian. It's become more and more evident over the last decade that the two countries with the infrastructure to produce exceptional biking talent are Spain and Italy. They're sticking their children in mini-moto championships at age three. If you're eight and Australian when the passion kicks up, you're in the wrong country and you're probably already five years too old.
Jack's family had to remortgage their house TWICE to raise the funds to travel across Europe, move from country to country and take part in trackdays. This was with Jack at age 15. For perspective, at the same age, Fabio Quartararo had already won a Spanish CEV title in Moto3 and had the sports rules changed so he could contest the big boy Championship.
By the time Jack's family had shipped his bike equipment over, bought a Motorhome, a trailer, touring multiple European countries, then found the funding needed for a seat in the CEV and German Championships when people finally started noticing his talent, and then finally two smaller Moto3 teams themselves… Over a million pounds had been spent in today's money.
We're seeing the same progression happen now in Moto2 with Remy Gardner, and he had some help given his dad Wayne was a World Champion with name value. Despite that, Wayne had to spend similar money to emigrate to Spain to give his sons Remy a decent chance.
It was only then when Dorna started flipping part of Jack's bill, and he'd caught the attention of Aki Ajo, team boss at Red Bull KTM, and it was the first seat that Jack didn't have to pay for. They were a top team, narrowly missing out on the Moto3 title a year before with the late Luis Salom. Miller came in, and went to work. He won on debut, was an immediate contender for the title, and narrowly lost out to some kid called Alex Marquez by just two points at the end of the year.
Miller had arrived. But what he did next truly shocked people. He had decided to ignore a ride at Marc VDS in Moto2. Marc VDS were a MotoGP team in sheep's clothing who had just finished 1st and 2nd in the Championship that year. Instead, Jack decided to take on a punt from Honda and jump straight in at the deep end with LCR Honda in the top flight. Not only had the double class jump never been done before in this format, it was with a production Honda, a bike that was notoriously difficult to ride for the inexperienced. Harsh, aggressive, very easy to mismanage a Honda's front tyre and end up in a gravel trap.
To a degree, I understood it. Moto2 is where talent often goes stagnant. In my opinion, it's the single most difficult championship in mainstream motorsport to be successful in. The bikes are spec besides the chassis supplier. (Even then, you need to be on a Kalex to win). Being half a second off the pace might end up with you starting on Row 5. We've seen many brilliant Moto3 Champions get chewed up and spat out by the class, before and after Jack. Sandro Cortese, Julian Simon, Danny Kent and Nico Terol, to name a few. Remy Gardner is just starting to put it together in the class and this is Year 6 for him.
Johann Zarco won two titles but again, took five seasons grinding his way into a decent team. As did Tito Rabat, who tried the same to negotiate a better MotoGP seat and it didn't work. Even the aforementioned Alex Marquez, took half a decade to finally win the title and graduate. And if it wasn't for some very lucky timing, probably wouldn't have gotten the opportunities he's been blessed with. If you adapt and climb the ranks fast in Moto2, you're probably really, really good. Joan Mir, Maverick Vinales, Alex Rins or Marc Marquez levels of good. Most veterans will tell you, you take the extra experience and build yourself up. Even if it's just for a year. Jack had other plans.
The inexperience showed at first. Multiple clashes on track with other riders for Jack led to deep conversations with the stewards about his future conduct. At Assen the first time round, he was slammed by Hector Barbera for a nasty lap 1 clash. The next time he arrived there… he won.
That magical day on June 16th, 2016. When a rain-affected Assen circuit gave Miller the confidence to attack, climbing from 19th to the win, passing Marc Marquez along the way. Miller was 1,000 to 1 to win that race on Thursday. And you can see why – It had been 167 Grand Prix's and nearly 10 years since the last time a rider for an independent team had won a race. And yet, Jack Miller found a way. If there was ever a metaphor for his career to date, it was that.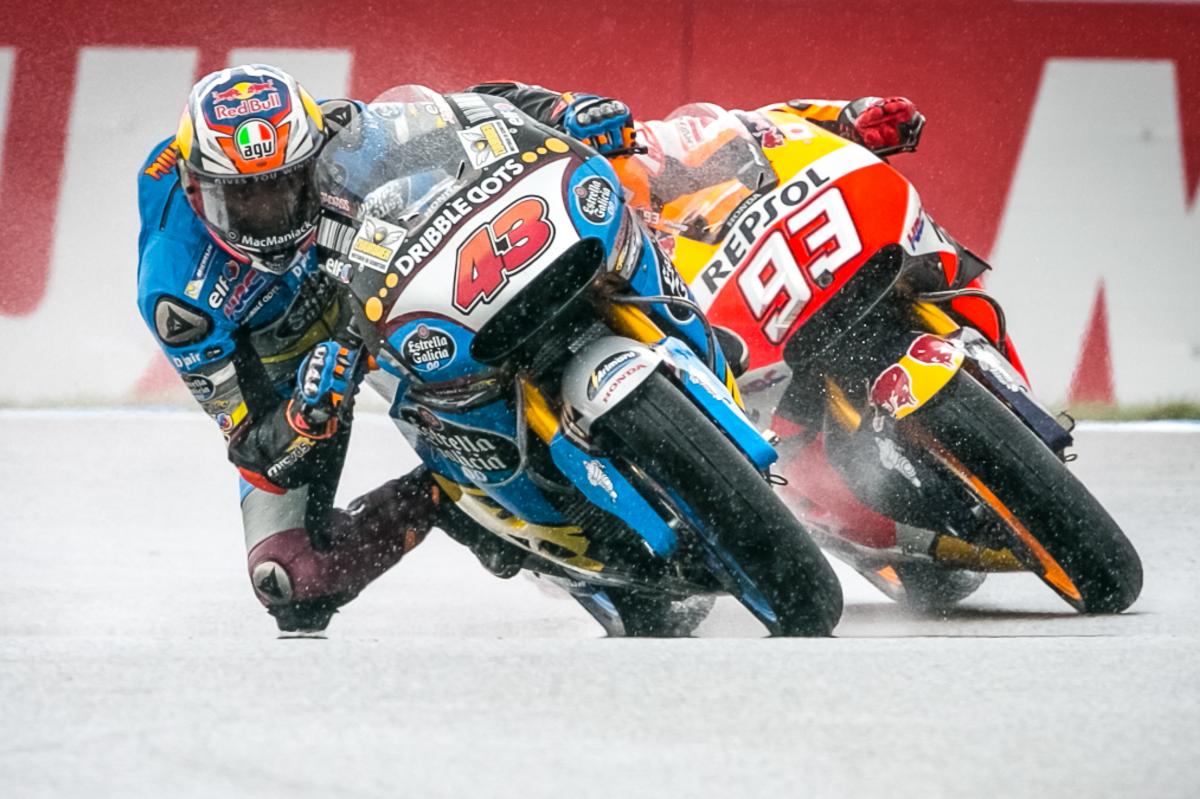 Miller's kicked on very well since. Riding the wave of a sport that's done more than ever to support its independent teams, he joined Pramac. Since then he's had an epic slick tyre on damp track pole position and nine more podium finishes. He's scored more points and finished higher in the championship every year.
He was unlucky to not be a title contender in 2020's ridiculous season. His rough luck included a race where Fabio Quartararo's tear-off landed in his air filter. So of course, he signed it and auctioned it off for charity. That's our Jackass. *guitar riff*
And when the factory structure at Ducati collapsed, Miller became their #1 rider. Living up to to the Factory Ducati's expectations will be a tough ask, but if anyone can beat the odds, Jack can. He's been doing that for his whole life.
That's what's made Jack the beloved figure he is today. He's an old-school grinder that started with zero, came from a working-class background and climbed the ladder the hard way. He's gritty, tough, aggressive and would run over a line of puppies to get the win if he got the chance.
But in today's social media climate, things are different. We're more personality-driven than ever in how we consume our sport. And with that, Miller's funny, charismatic, humble, and entertaining. The DIOS Miller Twitter account is one of the few genuinely funny MotoGP social media channels in a near barren landscape for content on two wheels.
He's never taken himself too seriously. He brought the "Shoey" back into mainstream Motorsport way before Daniel Ricciardo made it… slightly less gross. He's been on broadcasting, and his bromance with Cal Crutchlow became famous. Jack's become one of the most universally liked riders in the sport, to new fans and old, and now, he's got another brilliant opportunity to win a top-flight Championship.
Will he get there? Who knows, but if anyone can, Jack Miller can. And if there's one thing we can all learn from his time in MotoGP, it's that we can all bet a little harder on ourselves. Self-belief is a very powerful thing indeed.