Okay, a show of hands, who had Johann Zarco leaving Qatar rounds as Championship Leader? I don't care if you're the Frenchman's parents or girlfriend, you're a liar. That in itself would be crazy, but it wouldn't even make the Top 5 of crazy bullshit that came out of Doha over the last 8 days or so.
Race 1 was already looking like it was going to be the Ducati show through Saturday. MotoGP's all-time speed record was broken three times that weekend. The last of which from Zarco was 225.5mph. That's 362.4kph in metric terms. Even if you include unofficial testing speeds, it's the fastest a MotoGP bike has ever travelled. To put it into perspective, it was the first time the 100 metres per second barrier was broken. Imagine Usain Bolt's world record but 9 and a half times faster. I don't think Ducati's desmodromic values are a real thing. I think they're an elaborate ruse for a collapsing star in the fairing instead.
Then an hour later, Francesco Bagnaia broke the all-time lap record to take his first career pole. He's a fascinating case of "getting the benefit of the doubt". Less than a year ago, he was closer to being dropped from the Pramac team he started with than leading Ducati's new charge. He had a couple of hard-hitting podiums where you could see his talent, but tucked the front and crashed several times, including from the lead in Misano.
When Dovi walked away from the sport last season, he was the big winner. There was a very real case that Johann Zarco should have gotten that seat instead. And yet, his speed once again shone for the world to see. He's the sport's biggest X-Factor not named 93.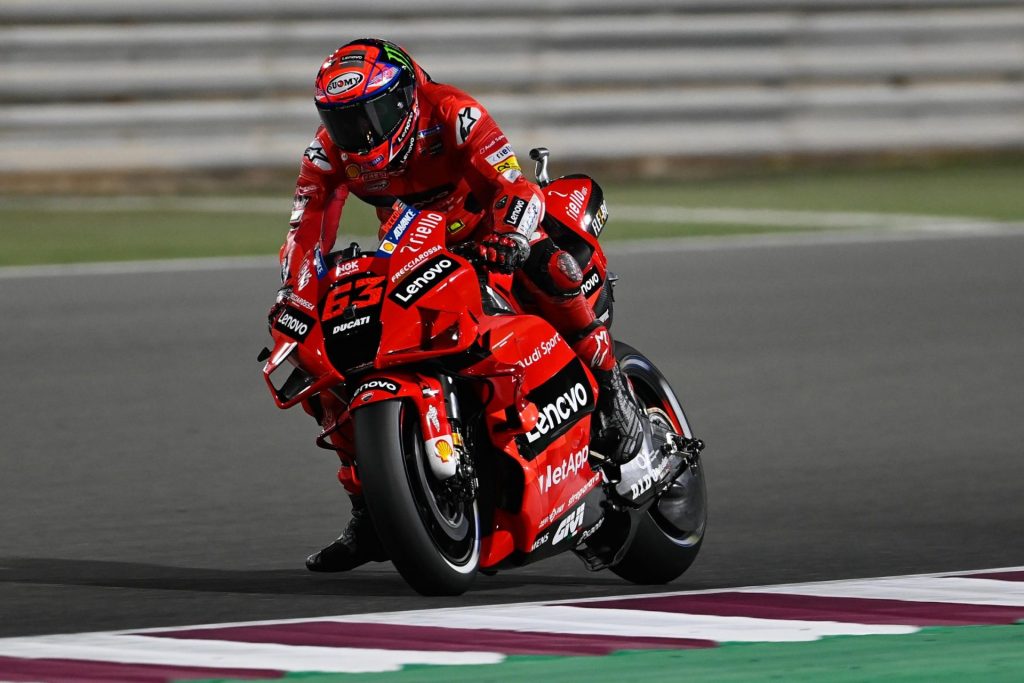 Now, to be honest, I was dreading the start of Lap 1 when Jorge Martin's electric holeshot made it a Duke 1-2-3 and 4, with Yamaha once again falling down the order. Only this time Maverick Vinales actually got his rhythm back quickly and carved his way back from 8th to the win. It was extra special because it was the worst possible matchup for Yamaha in the sport. Giving up 10mph down the main straight to the Ducati's. They were on a track they've won multiple times at with Stoner and Dovi in the past, a track that mitigates a lot of Ducati's weaknesses.
Yamaha is at their most effective when they lead early and can dictate the pace of a race. The only real weapon they have in a dogfight is their braking. So when Ducati's tyres went and their chassis were exposed, Maverick took full advantage and won. Joan Mir nearly pulled another one of his late-race charges, only this time, he made a mistake at the final corner and got swept by both Ducati's. One more note on Duke's power… Mir crossed the line at 200mph and looked like he'd been standing still.
Race 2 had another shock result in Qualifying. Jorge Martin in just his 2nd ever Grand Prix, qualified on pole position in a Pramac 1-2. It was only their 2nd ever pole position as a team. You know you've pulled off something special when half the paddock is coming out to give you dap and a standing ovation. For yet more perspective, the guys who have had a pole position by their 2nd GP? Jorge Lorenzo, Casey Stoner and Marc Marquez. Three of the four best riders of the last 20 years. Safe to say, pretty rarefied air.
And Martin took that into the race and rode a sensational 3rd. In Race 1 the week before, he burnt his tyres out trying to chase a high early pace and barely got in the points. This time, he and Zarco had the perfect gameplan. Get to the front, then speed the race up as a rolling road block. Use your straight-line speed as a counter-attacking option, and hope your tyres can survive the distance…
…They ended up about 5 laps short on their master plan, but Martin was only beaten by Fabio Quartararo, who timed his late charge to perfection, and Johann Zarco, who used some veteran nous to pass him on the final lap and hold on to the line. It was a mature, disciplined performance. He rode like he'd been here 3 seasons already. It won't be his last podium, I'm certain of that.
You know what's also funny, I had a glowing paragraph talking about Maverick Vinales after Round 1, and Round 2 was… a lot of the same Maverick we know. Excellent qualifying, falling to 11th off the start, and clawing his way back up… only to stumble again and limp home in 5th on the same day that his teammate won from outta nowhere.
Races like that are the big reason Maverick's just not been able to put together a full title challenge. And with the sport's #1 rider still on the shelf, and its #2 riders now testing for Aprilia, the opportunities are there for Maverick and he still can't cash them in. Frustrating to watch for a man so immensely talented but in Year 7 of his top-flight career.
But none of this really mattered. The true highlight of the weekend, and maybe the 2021 season overall, was Pedro Acosta winning a Moto3 race from the pitlane. A deficit that may have been worth around 15 seconds.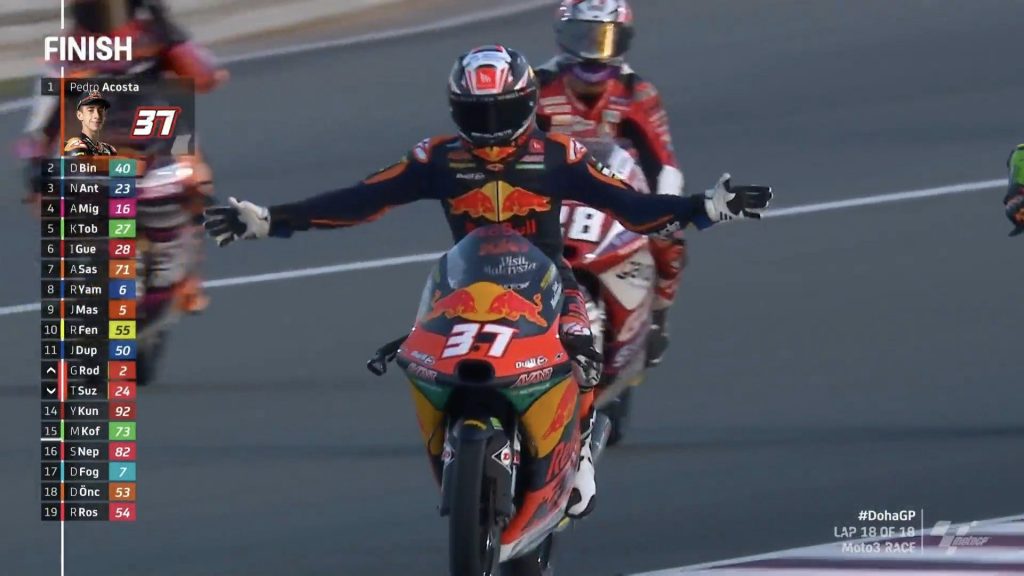 To get out, lead that 2nd group of seven riders who started there, set an electric pace to catch the train with seven laps left, would already be a great showing. Climbing up to that leading group would be immense. To take the lead of the race on the final lap and defend from Darryn Binder for the win is out of this world. Forgive me for the recency bias, but it might be the greatest Moto3 performance I've ever seen. This off the back of finishing 2nd on debut a week earlier. Absolutely bonkers.
I don't care if you won the Red Bull Rookies Cup last season. This was still a massive step-up in competition. And he's 16 years old, born in May 2004. 2004! When Valentino Rossi last rode a Honda, Pedro hadn't even been born yet. He hasn't even got a Wikipedia page! I may have to start writing one after this video gets finished.
Have I made you feel old yet? Here's one more – This past Wednesday was Valentino Rossi's 25th anniversary of his Grand Prix debut. And while it's still crazy to see a 42-year-old man ride a 300hp motorcycle, 2021 might be the year the window closes on The Doctor for good. Finishing outside the points from 21st on the grid, was brutal. The last time he was that far back in Qatar, he was sweeping the track to make sure Sete Gibernau didn't win. Brutal.
All this to take away from Doha, and I've barely even mentioned Jack Miller maybe, probably hitting Joan Mir with an intentional shoulder barge in Race 2, the fact that John McPhee and Jeremy Alcoba had a literal brawl after McPhee was collected yet again in Moto3. Not to mention, both getting penalties so strong, Pedro Acosta probably owes THEM a beer. Or the fact that Sam Lowes has finally learned a trick from Marc Marquez – That if you're gonna crash, do it in the warm-ups where it doesn't count, having led nearly every lap in Moto2 so far this season.
Qatar is a track where you don't really learn anything – And with Marc Marquez back on Sunday, it'll matter even less. The real season, is about to begin…