We just couldn't end 2016 as a calendar year without one last piece of Motorsport controversy huh? And with Susie Wolff too? Kinda sums up the year actually, how quaint.
The Queen's New Year honours list came out yesterday, and the big Motorsport name that stood out was Susie Wolff getting an MBE for her services to women in sport. Of course, this is going to get people talking, and not so much because of her, because… it's an honours list.
We as a British fraternity are friggin' stupid when it comes to these things. In recent times, it's literally become a popularity contest as ballots have been opened up to the public. And every year when a list comes out, a few folks pipe up because they believe a good half dozen names are more deserving or have been left off the list. This is doubly idiotic because 95% of those people who complain most likely didn't vote themselves, and because most of the said complainers don't actually give a shit about it, they just want to sound off while grasping their tweeting pearls.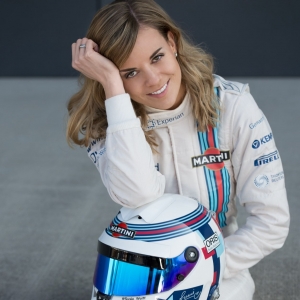 I'm not going to lie to you guys as I type this – I've been a Susie Wolff critic for some time. I questioned her real influence and status in the F1 paddock and was rather cynical about her position given her marital status and racing career given the spot she was in, not really lining up with many of the most talented drivers who would bend over backward for her spot. That always left a bitter taste in the mouth with me.
HOWEVER, "Dare To Be Different" is the greatest push for women to get more involved in Motorsport, probably in the history of this country. And that should be applauded, because damn, the gender issue in Motorsport is broken beyond belief.
Let's cut to the chase here – Motorsport is a male-dominated industry. 95% of its major figures are male, with Claire Williams and Monisha Kaltenborn flying the flag from an F1 standpoint. It's an environment that breeds nasty side-effects and consequences. One of which being that any woman that has even an outside chance, gets put on a plinth. Hence why we as a journalistic entity have jumped massively on any female prospect that could be an F1 star in the future, like Tatiana Calderon or Beitske Visser. But when you look at their results… it just doesn't add up compared to someone like Antonio Giovinazzi or Pierre Gasly. Both of which, probably won't be on an F1 grid until 2018 at best.
It leads to patronising comments about any woman who does do well. As a bike fan, I saw it constantly in Moto3 with Maria Herrera and Ana Carrasco, where commentators like Keith Huewen would say "That's a great result for Maria…" as she crosses the line in 15th, barely in the points, like that's a good result "for a girl".
And of course, there's the most cynical part of it all – promoting a woman for the sake of it. We all know about how Carmen Jorda's F1 arrival went down like a lead balloon, even more so when Adderly Fong was added too, pushed under the rug.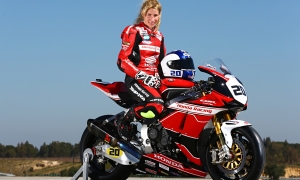 It happened in the two-wheel world as well in British Superbikes as Jenny Tinmouth was on a Factory Honda at the back of the field where their teammates Dan Linfoot and Jason O'Halloran where scoring wins and podiums. An ugly look that fostered talk of "PR Stunts", where I can only hope Honda's intentions were pure. The fact I have to question that very thought purely because Jen was there, saddens me.
In a perfect world, gender doesn't come into play, but in this industry, it will, for better and for worse. I was born in 1992, where the term "getting beaten by a girl" was beaten into my head from the time I was 4. Because even as a child, a threat to male masculinity was already considered an acceptable part of society.
Trust me fellow men, we know – Guys like Paddy Lowe, Gordon Murray, Charlie Whiting and Bernie Ecclestone should be on the [fusion_tooltip title="Looking at you, Joe Saward…" class="" id="" placement="top" trigger="hover"]honours list too[/fusion_tooltip], but that doesn't mean you should have to clutch your pearls that someone that wasn't at the top of the pile got the credit they deserved too.
The game is so broken from a male/female ratio, that we almost root TOO hard for women to succeed for that same reason, and it's saddening. From a British standpoint, we won't know it right away, but if we ever have a blessing of a female driver in Formula 1 coming out of this country, Susie Wolff might be a massive part of the reason the sport COULD get to that point. That importance is worth celebrating, even if we don't know for sure if that day will ever come.
Someone's gotta try. Someone has to be the catalyst for change. Susie Wolff has been the closest thing to striking the match in decades, and it could be a game-changer and inspiration for this millennial generation
If that alone isn't worthy of some credit in the grand scheme of things, I don't know what is.
I applaud Susie Wolff and the "Dare to Be Different" initiative. If you're a believer in true equality, you should too. So, please, don't use her as the stick to beat your agenda with, especially given you probably didn't even care all that much about it to begin with. Because in the context of this industry, she could very well mean a whole lot more than that.