Amazingly, I didn't get any angry e-mails from the Sainz family regarding his position at Number 6. Think I got lucky on that one. Anyway, here's Part 2 of my Top 10 Driver List for F1 in 2021. If you missed Part 1, you can check it out right here. In Part 2, we talk about the reverse Hulkenberg Complex at Ferrari, the rise of the Twitch Streamers, and finally reveal who came out on top, Hamilton or Verstappen. Enjoy!
5 – Charles Leclerc
Five and four were my hardest to split on this entire list. When you think about it, both men in these two spots had very similar seasons, almost to the point. 160 vs 159. Both missed golden opportunities to take shock wins. Yes, in Charles' case he was unlucky his team let him down with sloppy workmanship. But that whole situation gets avoided if he just keeps it clean at the end of Q3.
Both laid surprisingly heavy beatdowns on their big name teammates this year. (See Part 1 for the Sainz comparison) And I just gave Lando the nod because I think the Ferrari team were just a little bit better towards the end of the year so in a borderline tie, the weaker team gets the nod.
But to go for the polar opposite of what I said about Sainz, it's genuinely shocking just how "over it" we are with Charles Leclerc. He's good for one dodgy crash a year and because everyone thinks he's in bed with Michael Masi for not getting punished enough, it's like we've just glossed over what a brilliant friggin' racing driver he is.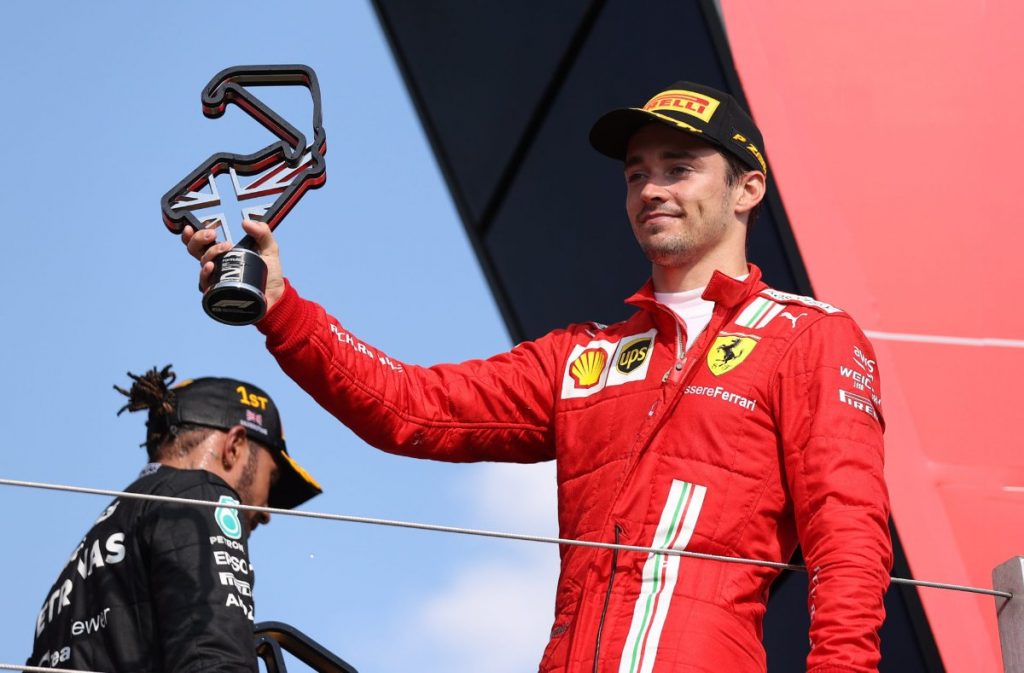 Charles was robbed of his headline moment this season when his misfiring 2nd at Silverstone was also glossed over because of the first Hamilton/Verstappen flashpoint. I suspect because his teammate cracked that podium 4 times, often while he had a bad day, all the eyeballs were diverted away. But Charles embraced the grind and churned out strong finish after strong finish. 10 times in the Top 5 is a superb record given most of the time, the Top 4 was locked out by proxy. Chances are, if you've beaten him on the day, you were either in a Mercedes, a Red Bull, or you had to be driving real hard to beat him.
It's amazing. I still think pound-for-pound, Charles Leclerc is the best driver in the world outside of Max and Lewis. But he might now be the most underrated driver in the field on top of that because I think we became infatuated with the next two names on the list. Charles is so goddamn good, we've forgotten how good he is. And even then, he's still only #5 on my list. Man can't catch a break.
4 – Lando Norris
If this list finished around Austria, when Lewis Hamilton was praising the man on a live track, Lando probably would have been Number 1. He spent the first half of the season, trading blows with the two Championship wingmen in Bottas and Perez, on a regular basis. And we all know they had elite-level machinery underneath them. In the first 10 rounds of the season, he finished outside of the Top 5… once. And had three podiums to boot. In the end, he finished with 20 out of 22 points finishes, only Carlos Sainz and Lewis Hamilton matched him on that front.
He also laid a beating on Daniel Ricciardo over the course of the year. 15-7 in Qualifying, 14-6 in races both finished. And this was Daniel Ricciardo fresh off the Renault era, where I don't think people realised just how good he was there in 2020. In case you forgot, THIS was Ricciardo last year:
"5th in Championship, 119 Points in 17 Rounds, 2 Podiums, 14 Top 10 finishes in 5th best car, +57 point differential on teammate"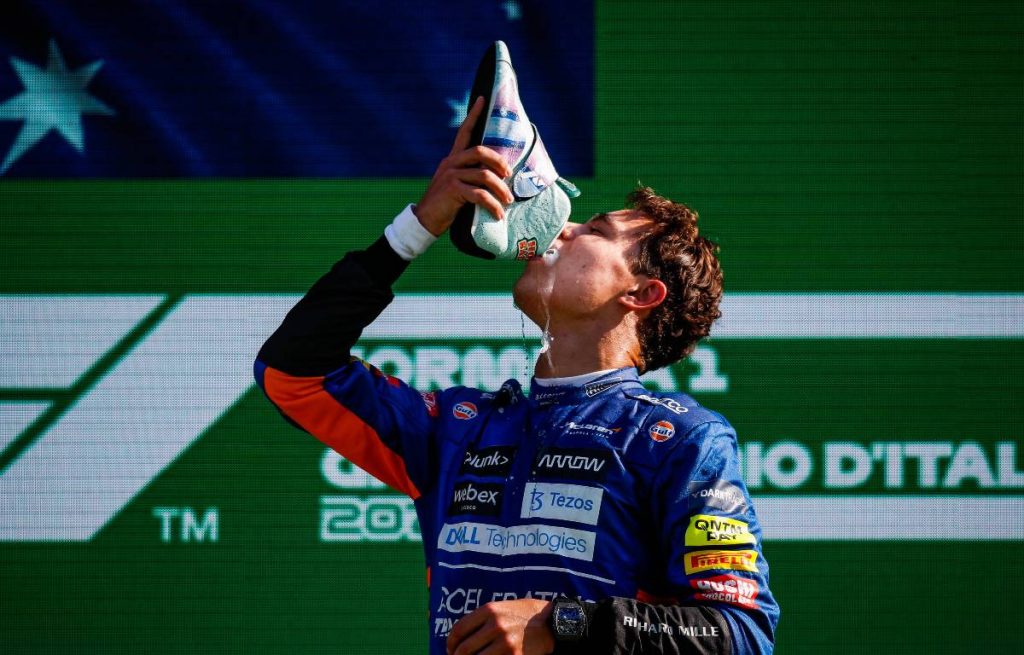 Those were "Driver of the Year candidate" numbers. Norris battered him like a hamburger patty. He lapped him in Monaco for crying out loud. Norris has had the best 3-year improvement year on year I've seen in quite some time in F1. He's now a borderline Top 5 driver in the world in my opinion.
So why is he only #4 here? He's probably an unfortunate victim of McLaren slipping down to 4th as the year went on. He peaked at Monza when he was 2nd in McLaren's 1-2. He wouldn't finish in the Top 6 again in 2021, via a combination of the team having unfavourable track matchups, two slow punctures at the end of the year, a really silly Lap 1 clash with Carlos in Brazil…
…And it's hard not to talk about Lando without talking about Sochi. Where his indecision on Inters cost him at worst, second place. Maybe even his first win. Something he'll only get better with if McLaren can start pushing for wins more frequently, but the inexperience showed.
That's the terrifying thing about Lando. He's still got room to improve, and he's already silenced a lot of his critics. Exceptional season, even if it mellowed out a bit towards the end.
3 – Pierre Gasly
A reminder that Red Bull deemed this man surplus to requirements and thought Alex Albon was a better bet just 12 races into his top flight career in the middle of 2019. Since then, he's scored 185 points in the 39 races since then, for a team that's never ranked higher than sixth in the Constructors Championship.
2021 was Gasly's finest season yet, and he was incredible. He single-handedly dismantled the strong Yuki Tsunoda hype train, a man who many thought was coming for his job. I can say pretty confidently that the AlphaTauri was not on the level of McLaren and Ferrari over the course of the season.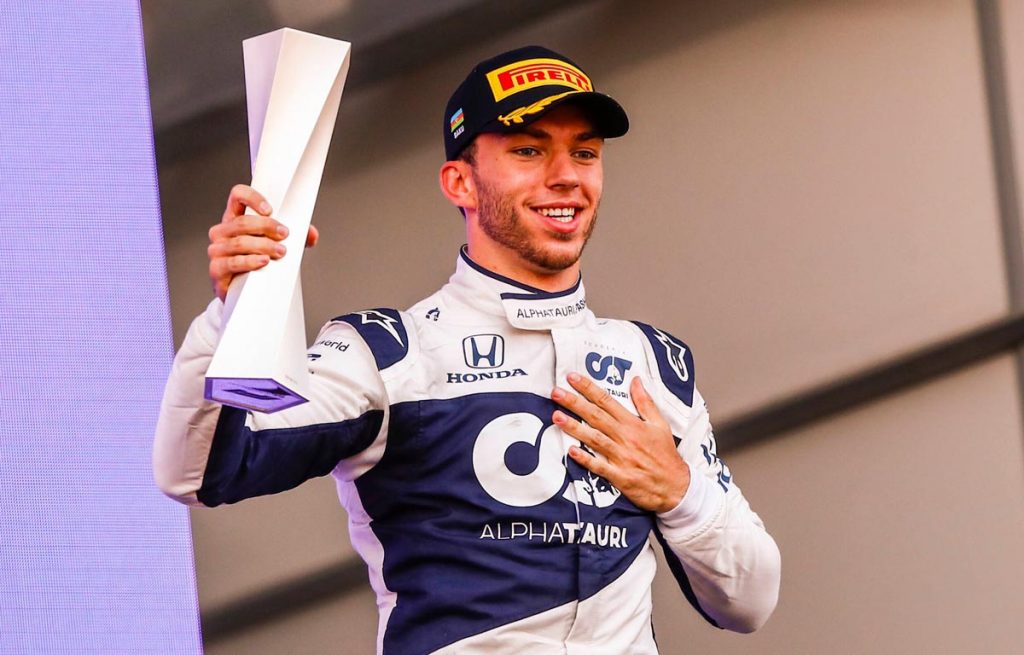 But when Gasly was fully dialled in, he destroyed them in a car that was nearer to Aston Martin than that bronze medal showdown. 4th in Zandvoort on pace alone. 4th in Mexico, 18 seconds ahead of Leclerc. 3rd in Baku with a damaged car. Exceptional qualifying pace all year long, an average qualifying position of 6.52, the exact same as Leclerc and only .05 behind Sergio friggin' Perez.
There were still doubts over Gasly's ability given that freakish win at Monza last year. I was the first to tease that Yuki Tsunoda could be a handful for him. But 2021 cemented it, this man has beaten his demons and is now up there with the best of the midfielders. And he did it the old fashioned way, grinding out great results and punching well above his weight. Most other seasons, given we often steer away from top level machinery winning pound-for-pound lists, he'd probably be #1. But the Top 2 were on a completely different plane of existence, and that's the ONLY reason he's #3. If you're midfield leaning, consider Pierre Gasly the TRUE driver of the year.
2 – Lewis Hamilton
I'm sure this ranking will be accepted in a calm and rational manner. And if not, maybe they'll be a board at the World Darts Championship with "Dre Out" like Michael Masi had to deal with last week.
It was always going to come down to these two. And out of the pair of title protagonists, I just think deep down, Lewis Hamilton was pipped at the post. And I don't think I needed a standing start at the end to justify it.
To me, it always felt like Lewis was swimming against the tide, a little bit in terms of car, a little bit in terms of driving. This wasn't to say he was anything less than brilliant. 9 wins, 17 podium finishes and an average of 17.5 points per round. Those numbers in a vacuum are insane. It wins you almost every title in history bar this one and a handful of others like the prime Vettel years. The problem was for the first time in half a decade, he had someone else at his level the whole way through.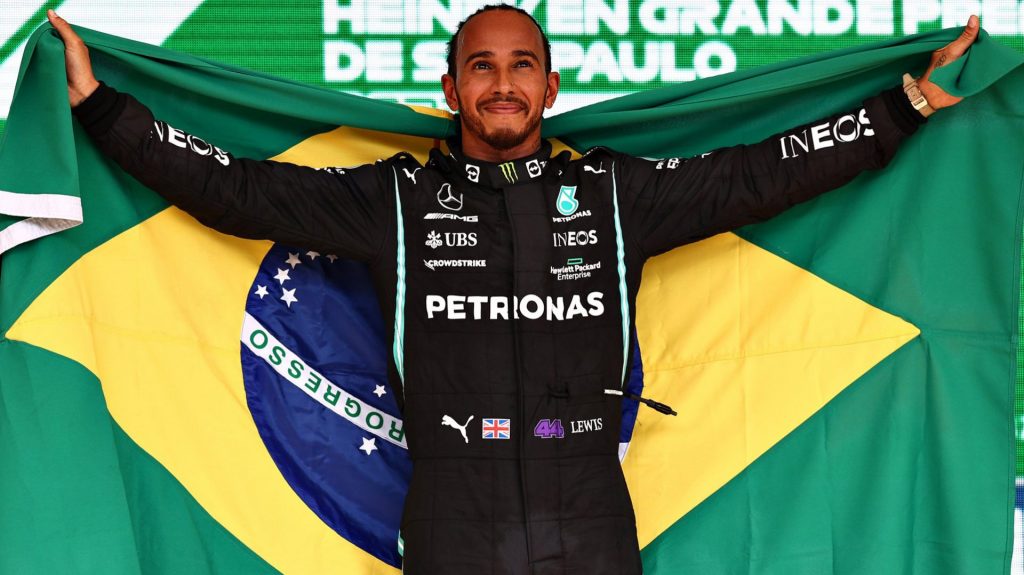 He dodged a couple of early bullets. A loss of concentration at Imola, bailed out by the red flag. An open goal missed in Baku for a steering wheel error he was responsible for. Silverstone, he made an audacious lunge that didn't land. The red flag he was responsible for, saved his damaged car and led to the biggest Championship swing of the year. Monaco he was flat-out poor all weekend. Out-qualified by George Russell in Belgium. Yes, Belgium was Belgium, but it was still costly in the context of the season. Motorsport is a game of luck sometimes, and that can swing both ways.
I have to nitpick to a massive degree to even get to this point, but that's what happens when you're dealing with someone on the level of Lewis. Hell, he won three of the first four and he was so good, we just thought Mercedes had gotten over their floor problems in testing. I was adamant as far in as Qatar, that he was going to run the table and steal the title. Brazil was one of THE great F1 comebacks of our time. But in the end, I think just falling short of the ultimate prize was *just about* right, even if the finale was precisely NOT that.
As I said last week, Hamilton was unlucky. On and off the track. Don't worry, he'll be back.
1 – Max Verstappen
I don't care whether you think a 22 race championship should have an asterisk on it because the ending was bad. It's a bit like saying Mass Effect 3 was a bad video game because it tried to ham hock four endings instead of one, as if the previous 20 hours didn't count. Or that the Dodgers didn't deserve a ring last year because they played 60 games instead of 162.
Hamilton and Verstappen were in a different sport compared to the field. Valtteri Bottas is a multiple-time Championship runner-up with double digit wins to his name. Sergio Perez was one of the drivers of the 2010's and a universally respected king of the midfield. They were crushed into pillars of salt by their respective teammates.
Despite how we got to the end, in my opinion, the right man won. Was his car slightly better? I'd say probably, but it was close enough where I think setup and strategy could swing a GP on the right day. More potential races for the driver to make the difference. And I think when it truly mattered, Verstappen's grip on the Championship was suffocating. He gave Lewis damn near zero room for error, and it showed.
Over the 22 races, Verstappen finished 1st or 2nd in EIGHTEEN of them (A new F1 record), winning 10, with 10 pole positions. Qualifying used to be a weakness for this man. I don't think people ever quite clocked just how ridiculous that is in terms of consistency in a sport where 100 things can and often will go wrong. And the four races he didn't finish in the Top 2, he had mitigating factors:
Baku: A freak tyre failure while on for a near-certain win
Silverstone: Taken out in an incident where his opponent was deemed responsible.
Hungary: Collected in Bottas clash, limped a heavily damaged car to 9th
Monza: Okay, you can be the judge on this one. I thought it was a racing incident where both men had a role in how it played out.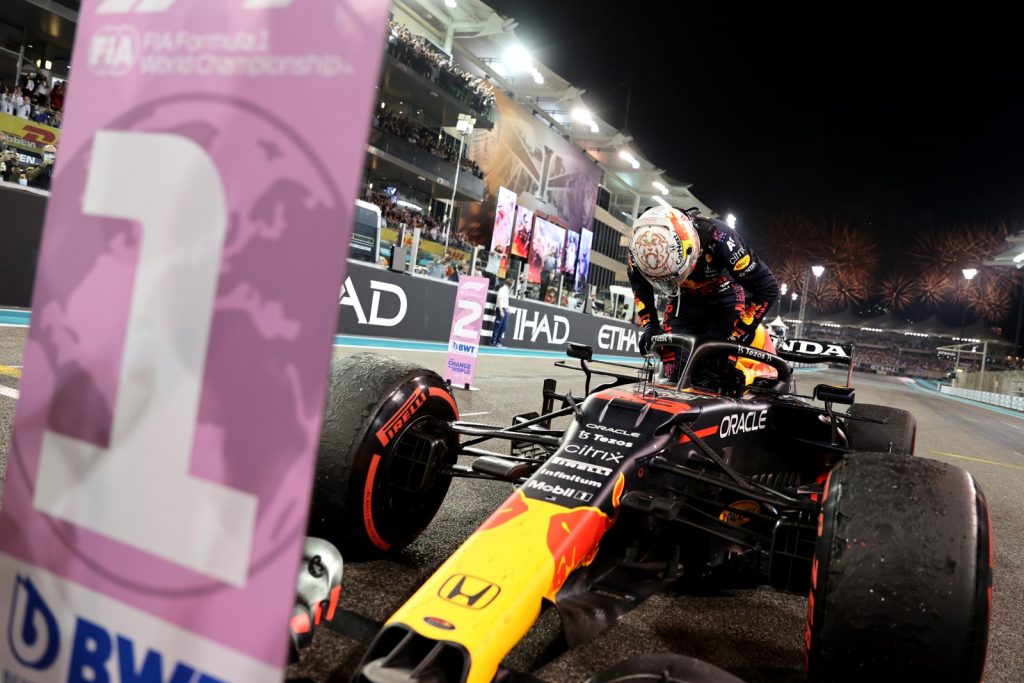 And being on the losing end of Baku and Silverstone, the latter where Max had the upper hand on paper after the Sprint, were huge negative swings in the title fight against him, and he still ultimately won by 8. Forgotten gems will be his brilliant drives in Mexico, the wet tyre gamble at Sochi, and being able to block Hamilton for the win at COTA. A performance so imposing, many Hamilton fans were giving up on the title with five rounds left.
And yes, while Saudi Arabia and Brazil were naughty to a varying degree, in this tight title fight, he was prepared to take chances that his rival, wasn't prepared to take. He wrestled control of Imola and Catalunya via Lap 1 aggression. He made double overtakes off the line in Mexico and Saudi Arabia, with huge risks involved in doing so. Should he have been punished further in some cases? Probably. But that's what the very best do, take those gambles to try and win, or force the stewards into making a tricky call. It's what we've praised legends of the past for doing, and that won't stop anytime soon.
Max is incredible. I never bought into the hype with Max when factories were banging down the door for him at 15, a year out of Karting. Or when Eddie Jordan called him a "Future World Champion" after just a handful of races at Toro Rosso. It took him years to realise it took more than raw aggression to win races. But the flashes of brilliance have always been there. And the first time he had the car and team to back him up, it all came together and ultimately he won. He has become as complete a racing driver as anyone in the world. Max Verstappen is a worthy World Champion and my Driver of the Year.
PS: Just wanted to say to everyone reading this… Thank you. A lot of you have been sharing, reading, tweeting me about the season as we came down the stretch. It didn't go unnoticed and it was a huge motivation to enjoy my writing again. I don't intentionally try to be a voice of reason, but I'm glad what I had to say resonated with so many of you. Will try very hard to make this at LEAST a weekly thing in 2022, with F1, MotoGP, IndyCar and whatever else tickles my brain and yours. But once again, thank you, it really does mean a lot. Stay safe out there and have a wonderful Christmas. Love, Dre <3 xx