Time for the controversial room-splitting Top 10 listicie! I've seen a bunch of these on here and I'm always curious to see how people measure the intangibles of drivers in a pretty rigid engineering sport. And, they're always spicy! So for the next week, I'll be writing some F1 and MotoGP Top 10 lists for the year and see what you guys think. So if you have two cents, send them our way on @Motorsport_101 on Twitter, or me personally at @Harrison101HD!
10 – George Russell
Forgive me for the small tangent to start off with here, because I feel like I may have to explain this one a little bit. See, when crafting this list, eight of the ten names in my opinion were locks. The ninth and tenth had me racking my brains between Seb, Perez and George Russell. I've gone back and forth on this one, even rewritten this very section a couple of times. There's arguments for and against both. Vettel had one of the drives of the year in Baku in a car that was the worst in the midfield. He was unlucky on two counts not to win in Hungary. And it was refreshing to see him pull off some brilliant overtakes given his old reputation of not being great in terms of racecraft. Buuuuuut… This is a Top 10 list and not a Nostalgia Critic Top 11, so he just misses out.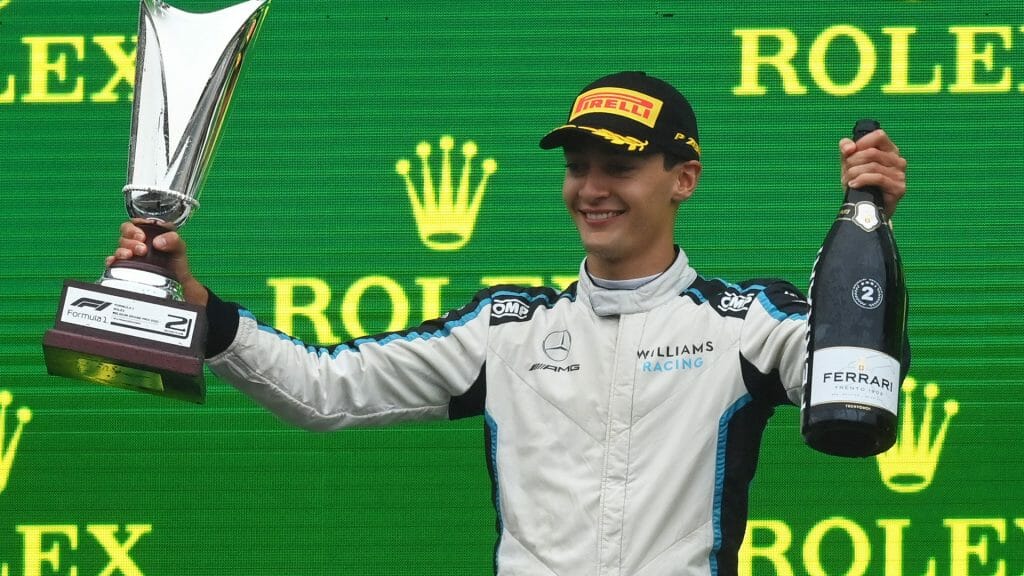 See, here's the thing about George Russell. There's a few things you can point out against him too. There's no getting around it, that second place was an act of God. I'm still not sure how good Nicholas Latifi is, even if he was definitely an improvement this year. And he was almost in his own category of racing, given how big the performance drop-off was between 7th and 8th this year in the Constructor's. Average Quali spot though? 12th. Woof.
The fact there's even a debate to be had about it goes to show you just how good George Russell is. The fact he's able to constantly get his foot in the door is remarkable given the scenario he's in. Making Q2 is no longer a surprise. Challenging for points became a running joke until Hungary when he finally got there. Russell found a way to keep banging on the door, and that for me, is why he nicked the #10 spot. 
9 – Sergio Perez
I made a conscious decision here to only have one of the two Championship "wingmen" on the list, and between Perez and Bottas, I'm actually going to give Perez the nod. This was Year 5 of Bottas at Mercedes and it was largely the same old story with him. Did enough to get by, got dunked one for the bad days like Imola and Baku. Get one nice win in the rain, and performed better after his sacking was announced.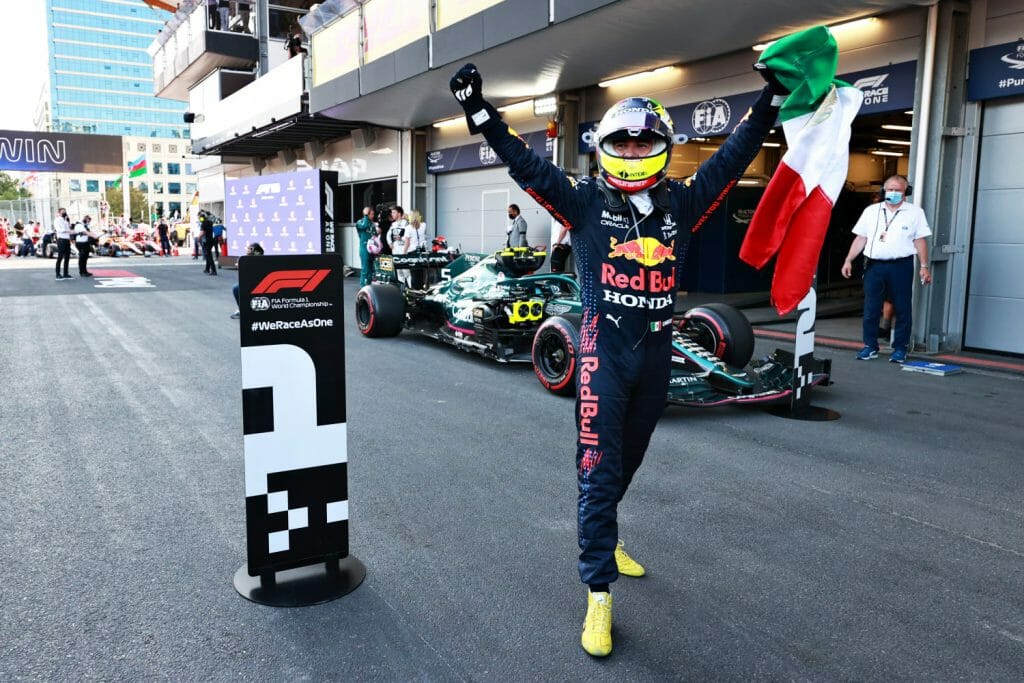 Perez was always going to be looked at more sympathetically. Immediately under contract pressure, first year in a truly top-tier car that had a reputation of being a driver killer and he performed… pretty well actually. He had a couple of rough weekends himself, Silverstone and Imola being the standout pair, but got better as the year went on. I think he could have finished the year with 5 podiums out of the final 7 if it wasn't for being collected in Saudi Arabia and then his engine failing in Abu Dhabi. He gave Bottas a good run for his money, and while it was a shame RBR just missed out on the Constructor's, Perez proved he can be in that Top 4 spot that Red Bull badly needed the last two years. That deserves some credit, and enough for 9th. Even if I'm still debating between him and Russell here.
8 – Esteban Ocon
Did you know that in the NFL (American Football) stateside, they give out an award every season for the "Comeback Player of the Year"? It's for the player that's performed really well after coming back from something like being dropped from a team, a major injury or some sort of other setback. Well, if F1 had one of those awards, it would definitely be going to Esteban Ocon here. 
Last year, Ocon looked like his career was in danger. He was significantly beaten by Daniel Ricciardo at Renault, and I was fearful that Fernando Alonso was coming in to "Vandoorne" him. If you know, you know.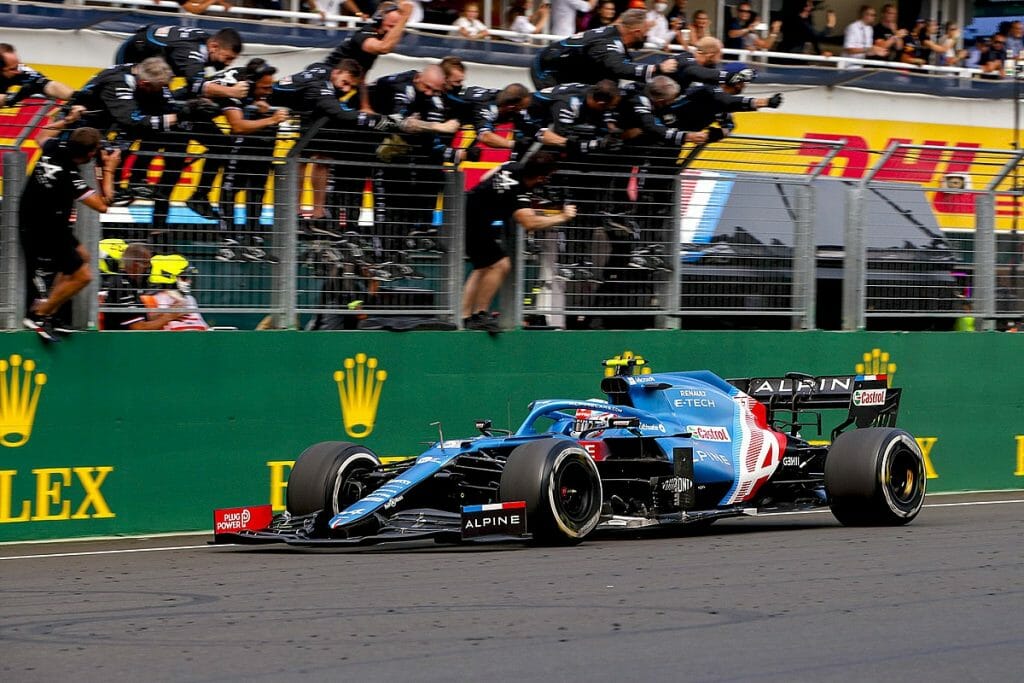 But he didn't. He came out swinging, and gave Nando a very solid run for his money. Dead even 9-9 in races both finished and an 11-11 tie in Qualifying, just a handful of points behind Nando having a good comeback season of his own. And of course, winning a race helps a tad. A rejuvenated Ocon near his best when he was at Force India is extremely promising for Alpine, and it showed as they gave him a 3-year extension early doors in silly season. Proof that Alpine has total faith in him going forward. And he's earned it. Ocon and Alonso combined have been so good, they butchered their academy again to keep them!
7 – Fernando Alonso
…Did we mention his teammate was pretty good too? Fernando's always had that reputation of being the teammate killer and becoming the dominant force within any team he's at, and this… just wasn't that. He was an excellent leader and his work with Alpine this year was consistent, fast, and got better as the year went on.
The standout moments are obvious. Hungary and holding off Lewis Hamilton in a car 4 seconds a lap faster was magnificent defensive driving. Flirting with that line of acceptability but never crossing it. Some of the best driving of the year. And you had to admire how he made his tyres sing during Qatar to bring home his first podium in 7 years via a 1-stop strategy in a race that had FOUR blowouts. 
I was tempted to put them both together given how well they complimented each other this season, but I just gave Alonso the nod for ever so slightly better consistency. But still, Alpine was pretty damn good.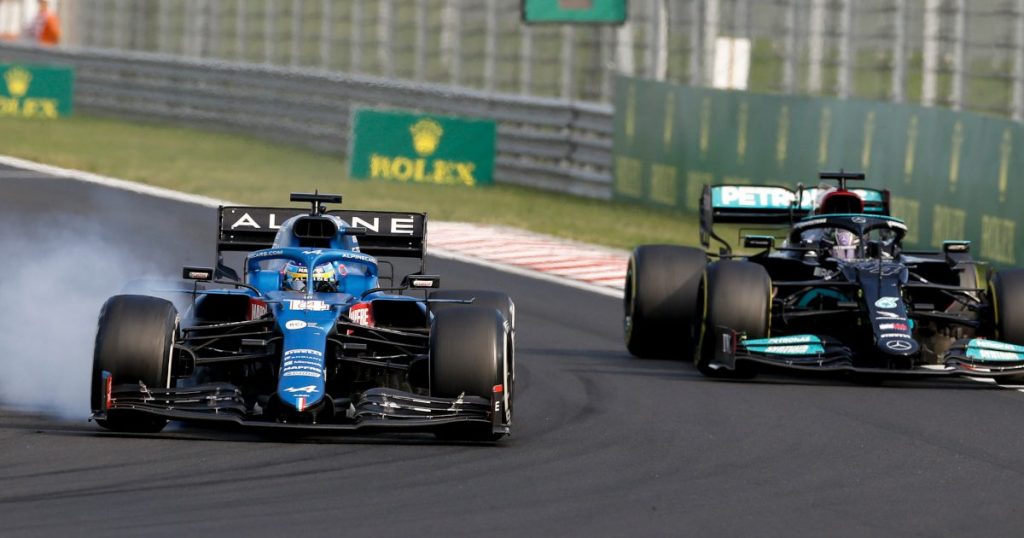 6 – Carlos Sainz
Now this one, I think is going to surprise some people. Carlos Sainz ONLY at 6? "But Dre, he's so underrated! He was 5th in the Championship this year, he won the midfield battle!"
Dear reader, I have a theory for you all. I call it, "The Hulkenberg Paradox". Nico Hulkenberg suffered the exact same problem for large chunks of his F1 career that Carlos is going through right now. When a large chunk of F1 opinionists on Twitter were thinking they were being clever in saying that Hulkenberg was underrated, they ended up contradicting themselves by accident. Because if everyone and their mother says you're underrated, you're not underrated. It's like Schrodinger's Cat, but for F1 drivers. It's also a tad unfair because it means you automatically get a shorter leash than most, which is something that Nico also had to deal with for never quite reaching the greater heights other midfielders had like old teammate Sergio Perez did.
Welcome to the Hulkenberg Paradox, Carlos Sainz! Now I'm not saying this is a bad thing, if anything, it's back pay for the praise he should have gotten three years back when he was killing it at Toro Rosso. But people quick to point out his point total and Championship position should read between the lines a little bit.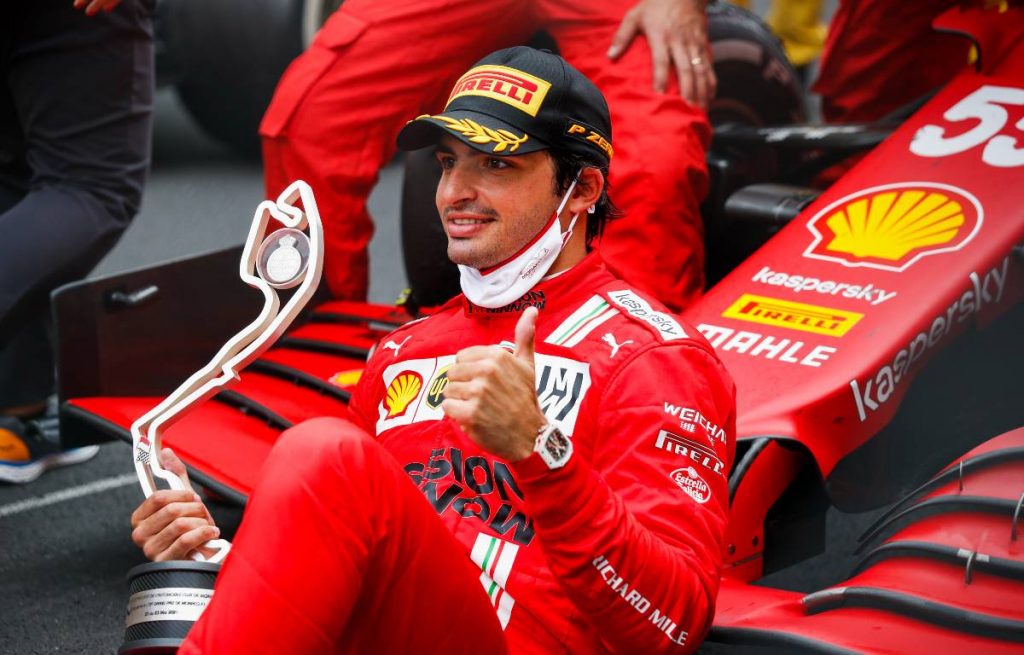 Sainz lost out to his teammate Charles Leclerc (Spoiler alert, he's in Part 2), 13-9 in Qualifying, and 14-6 in races. Sainz did have 4 podium finishes for 63 of his points on the scoreboard. You wanna know how many points Charles scored in those four rounds? 
One. Yes, one. Props to Carlos for being an outstanding opportunist and maximising what he could take, the WWE's Edge would be very proud of him. But the scoresheet definitely got padded a little bit here due to some classic Ferrari inconsistency. 
This may be harsh criticism of an outstanding season on paper, and to an degree it is. But let this review be a demonstration as to why just looking at the point table doesn't tell the whole story. And if you're Ferrari, this is excellent news. Leclerc was the 5-star prospect on the 5-year deal, and he needed a better rear gunner than what Vettel was within the team. Sainz has provided that, and Ferrari may now have the best lineup in F1 pound-for-pound right now. Sainz wasn't better than Leclerc for me in 2021. But that's the best part – He didn't need to be. 
See you in Part 2 for the Top 5, featuring some Twitch Streamers, an NFT Seller, and the inevitable question – Hamilton or Verstappen?