"The Beast Has Been Tamed."
Welcome to MotoGP flyaway season, the perfect time of year for a man who hardly sleeps. Hi.
This was MotoGP's Japanese Grand Prix weekend, and if I'm honest, this will likely be a slightly shorter edition than most DRR running diaries I normally keep here, because sadly there isn't a massive amount to talk about here! Jorge Martin took a dominant double victory, the Japanese Rain came down hard and we only got half a race as a result, and Marc Marquez is back on the podium. Just in case this season couldn't get any weirder. Let's try and make a chicken soup out of these bones.
Jorge Martin – Title Favourite?!
Jorge Martin was absolutely untouchable for pretty much the whole weekend. He broke the lap record. Qualified comfortably on pole. Brad Binder was the only man who could stay with him in the Sprint, and in the half race we did get, he ran wide early doors as the rain got heavier, barged his way back to the front from several seconds back and stayed there.
This is a different Jorge Martin. The Spaniard now has an enormous chip on his shoulder and he doesn't hide it. This is a revenge tour after Ducati chose to promote Enea Bastianini over him last year. His outrageous speed has always been well-documented, but he's managed to control his more reckless, crashing tendencies that arguably stopped him from becoming the #1 option in the first place. This Martin can win a Championship, and with him only three points back from Francesco Bagnaia, it's now game on.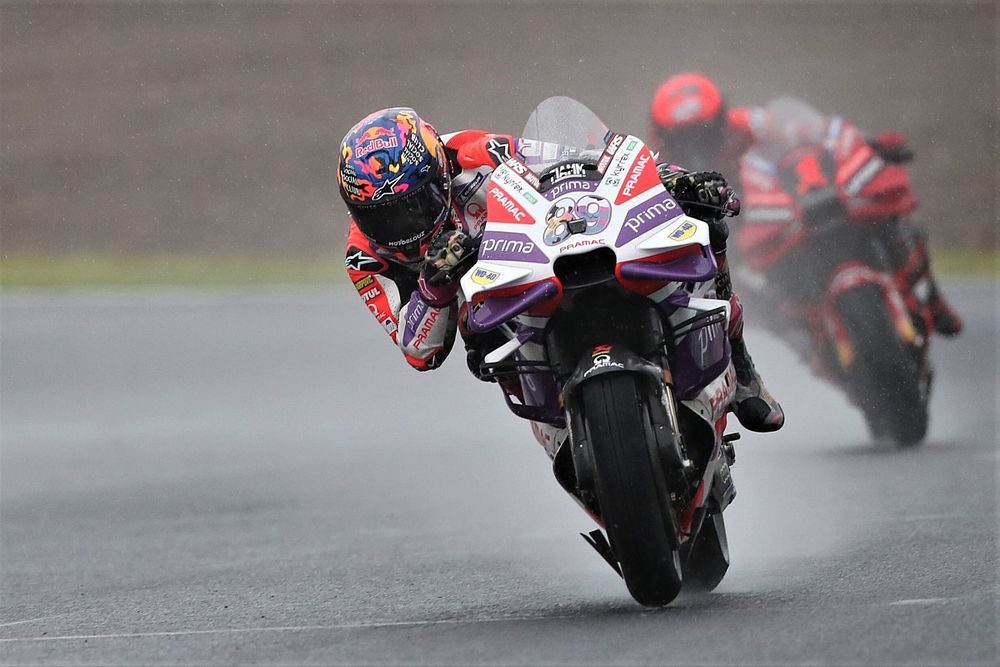 Pecco's weekend was one of damage limitation. He was never the fastest but did what he needed to do to take 3rd in the Sprint and 2nd in the Race. He claimed he's resolved the braking issues he had in India, but it still looks like he's half a step behind his absolute best. And this is a different title fight for Bagnaia now. Last year, he had the fun role of being the chaser as Fabio Quatararo's lead whittled away. Now he's essentially in a six-race Championship with one of the fastest riders the sport has ever seen, who has mitigated his biggest weakness.
The true title fight has begun. And it's going to be fascinating to see how this turns out.
An Extended Lightning Round (Given We Actually Got Lightning, Ha)
I get it. You want to make Motegi as friendly a European round as possible given that's where the majority of your audience is from. But a 3 p.m. local start is asking for trouble when the weekend is always at risk in October from heavy rain (It's Typhoon season over there). If you get a rain delay, it's dark by 6 and you're in trouble.
Ultimately I think we got a fun amount of drama with bike swaps on Laps 1 and 2 and the sport was absolutely right to throw the reds the moment the riders raised their arms. If they've had enough, you call it. Maybe a lap too late, but no harm done.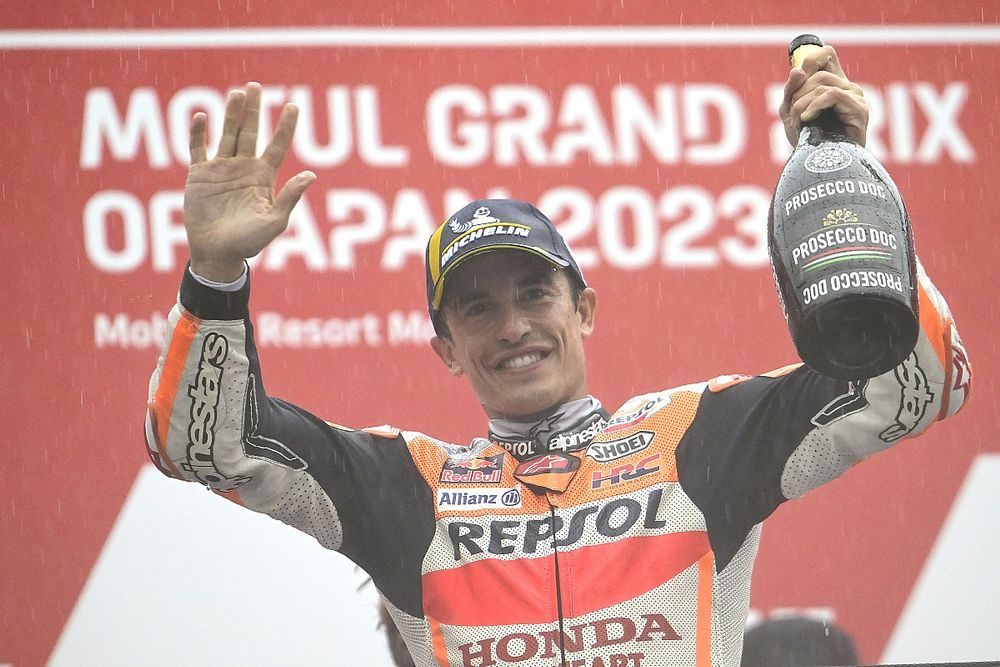 Marc Marquez rode his ass off again and actually got rewarded with a podium finish, his first since Australia last year. So, how much more kicking the can down the road are we going to get on his future? Kubuto's gone from R&D and Shin Sato's been promoted from within. Given Honda's hot mess of the last few years, is hiring from within really the right approach unless they don't care about trying to keep Marquez onside anymore? And no Dall'Igna is claiming Marquez is out but the hurdle is breaking Marc's complicated contract. Can we please get an answer already? I'm now a part of the media and even then it's giving me a fucking headache. Still, if nothing else… it would be hilarious if he brings Honda one last podium before trying to dump them days later…
Johann Zarco fell victim to our Motorsport101 friend, the Mahias Rule. Remember, when a Red Flag is called, you've got to get the bike back to the pitlane within 5 minutes to be able to take a restart. Zarco did… But he did it by cutting the entry to the pitlane. Just like Mahias did in World Supersport all those years ago. Ouch. A real shame he crashed because Zarco was the fastest man on track and cut the gap to the lead from 11 to 6 seconds before he hit the deck. Is he ever going to win one of these?!
Somkiat Chantra had more or less the perfect weekend. Led every single session he passed in Moto2, and won comfortably with what I think was a Grand Slam (Pole, Win, Fastest Lap, Led Every Lap). Good for him, a reminder of what a class rider he can be, and great to see Ai Ogura back up the front again after a nightmare time recovering from a broken wrist at the start of the season.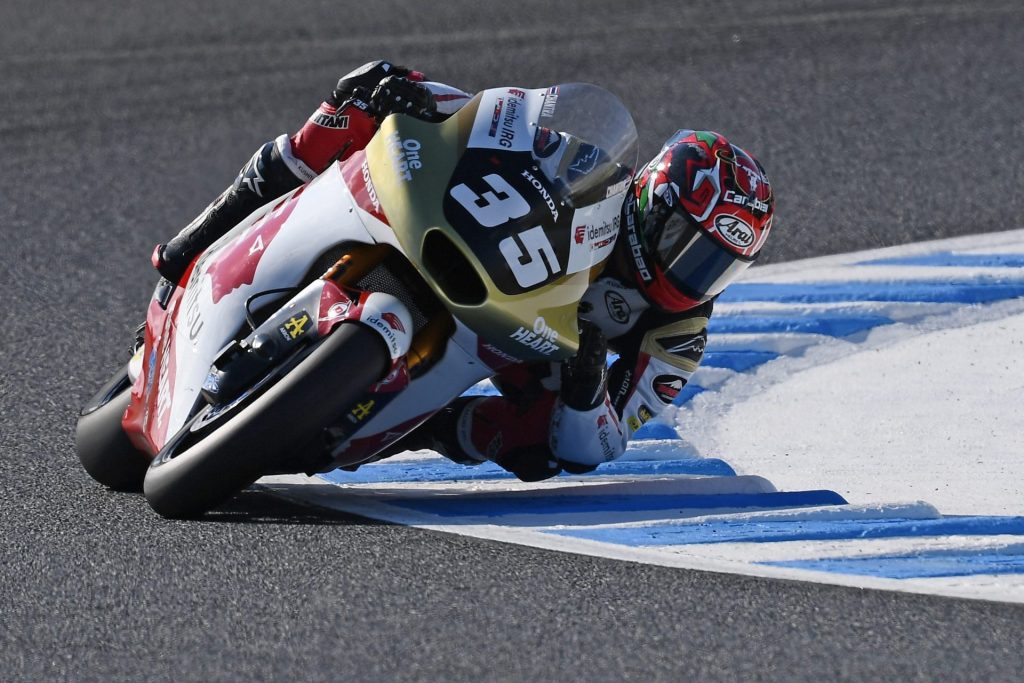 Jaume Masia got gift-wrapped the Moto3 win as well after Deniz Oncu made a string of over-aggressive passes to give him a one-second lead, then crashed it when he was going too hot. Brilliant racecraft as ever from the Turkish rider. We've got a brilliant three-way title fight brewing now between Masia, Sasaki and Holgado, with just nine points covering the three. All three riders are great but with weaknesses. Masia doesn't like pack races, Sasaki struggles to close races out, and this was Holgado's first podium since Austria. Who will prevail will be fascinating.
That KTM Carbon chassis looks very fast if Brad Binder's pace was anything to go by. Wonder if any other factories jump on that. And I have to agree with my new friend Simmo Patterson – If Dorna let KTM have two more bikes, they could have made a genuine play for Marquez AND it solves their Pedro Acosta problem. But Dorna doesn't like fun, apparently!
Michele Pirro led a MotoGP race on merit. I leave this blog happy.
Dre's Race Rating: N/A – I'm not going to score this one, we only really got half a race and it was rightly called off due to conditions when the rain got super heavy. It was a fun little extra sprint if nothing else seeing Martin come through with a bunch of impressive rides behind like Marquez. Great to see Jack Miller back too. See you in Indonesia.