"Return of the King."
Perception is nine-tenths of the law these days, huh? Everyone circles Nashville on the calendar as the chaos round where all hell breaks loose… and this was relatively tame by their standards. Just three in-race cautions and we had 57 laps of green in the middle. It turned Nashville into a game of strategic warfare as Kyle Kirkwood and Bryan Herta caused pole-sitter Scott McLaughlin to suffer another case of Deja Vu, and Alex Palou played Plan B to perfection to take a key round off of Josef Newgarden's title hunt. Let's get into it.
True Chaos is Pink
Remember folks, there is no cure for AutoNation pink. Scott McLaughlin put down one of the laps of the year for his second consecutive pole in Nashville, and he had the pace to mitigate going long on his original Alternate tyre stint, but being released into traffic opened the door for Kirkwood, going long on the Primary tyre allowed him the free air to jump both him and Romain Grosjean on a similar gameplan and Kirkwood never really looked back from there.
McLaughlin had a chance on the final round of stops to beat Kirkwood out, but the Americans outlap was good enough to keep the lead. Kirkwood's pace was superb and Bryan Herta on the bench doesn't get enough credit as a race strategist because twice he's been on the money in helping his new driver score two wins, more than the rest of Andretti combined and two more than their direct rivals McLaren.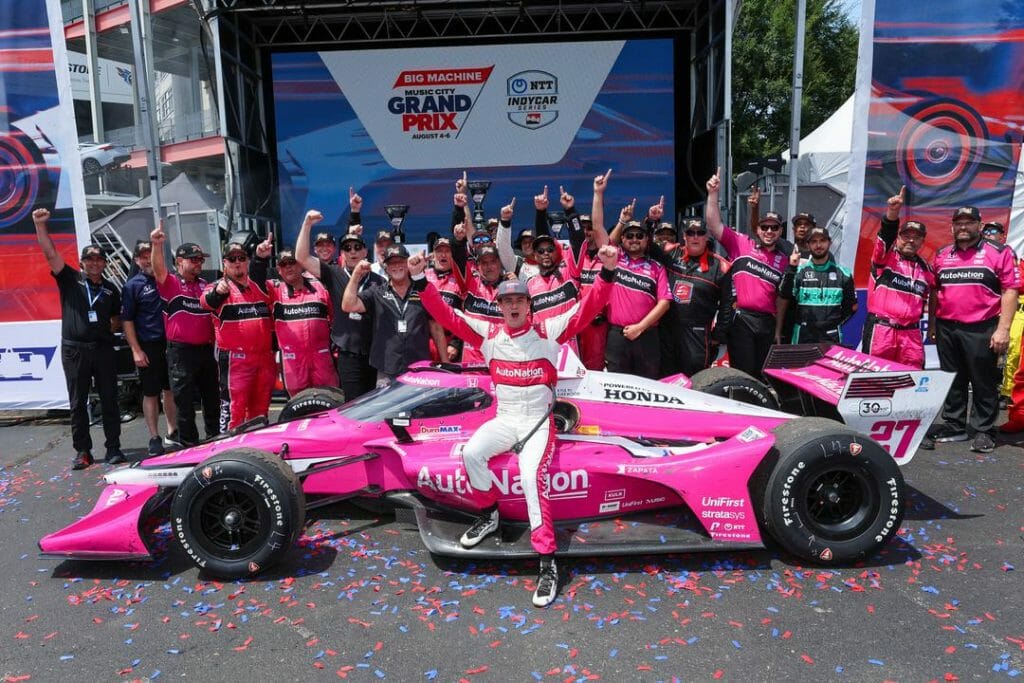 If anything, Nashville sums up the inconsistencies and weaknesses of all of Andretti that's led them to a year of them back on the up, but leaving you wanting more. Colton Herta was running in the Top 3 but his race was ruined by being caught up on Pato O'Ward's dodgy restart, helped along by contact from three other cars, one of which being Kirkwood himself.
That racecraft has been Kyle's weakness all season, Road America and Toronto being clumsy incidents of his own making. Still forgivable for a second-year driver who had a year of driving a Foyt, especially with his tremendous upside. The man could have easily been in that leading group at the end of the Indy 500 with Josef Newgarden if it wasn't for his horrible collection at the hands of Felix Rosenqvist. Kirkwood is everything his Road to Indy career showed he could be and Andretti has another ace.
Colton Herta is still one of the better drivers in the series, riddled with bad luck and this time, caught out on a track where nothing has broken for him despite his electric pace. I still find it startling that he's now gone 25 races and 15 months since his last victory in the headline #26 car.
And then there's Romain Grosjean, who cracked the Top 10 for the first time in nine races, clearly heading the warning from his team boss over his disappointing form. But even this race felt disappointing with another key mistake as McLaughlin pressured him into going wide at the bottom of the bridge and dropping to sixth behind Scott Dixon and Josef Newgarden. No doubt still a good result, but is it enough to swing Andretti into keeping him?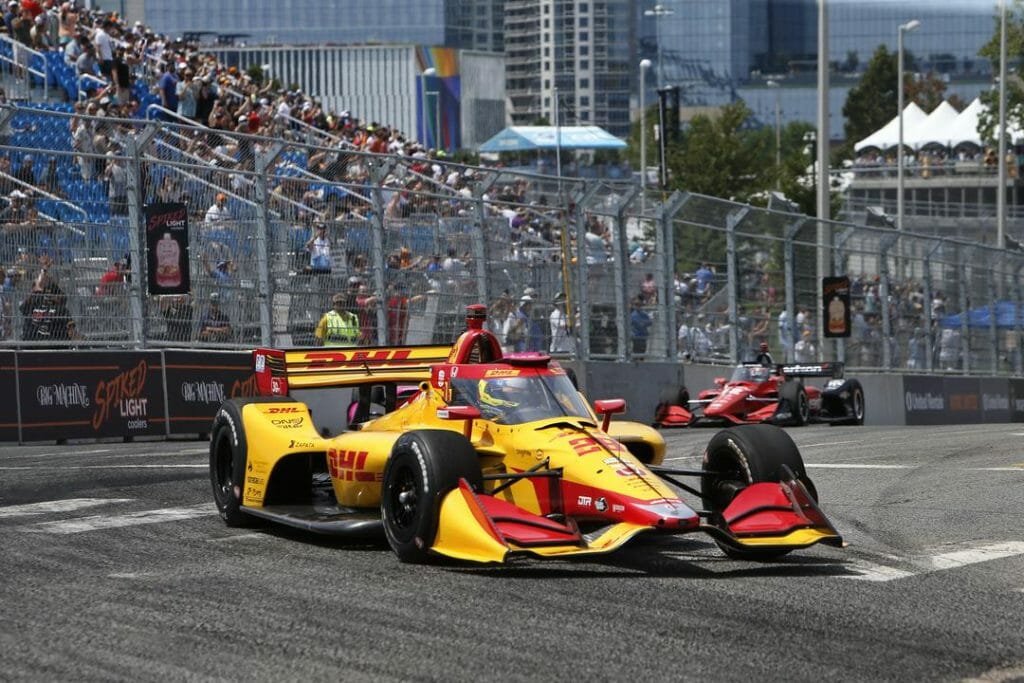 With The Race reporting that David Malukas to the #29 car is close, and Marcus Ericsson being targeted for Grosjean's seat if Michael pulls the trigger, a four-car lineup of Herta, Kirkwood, Malukas and Ericsson is formidable and a big step in the right direction for a team that this time last year, was speculating that they were dropping out of the Big Three.
True Chaos is Pink, Part 2
The situation at Meyer Shank is also chaotic from a different shade of pink and point of view. First, the good news – Despite the crash at the end, a very promising IndyCar debut. Linus Lundqvist's talent was never the issue, given he was a victim of Indy Lights rebranding and losing a key sponsor, with the series failing to do right by its series champion. But qualifying 11th, matching Alex Palou for pace at times and running in that same spot before he hit the wall was a very promising audition for a team facing a very uncertain future.
Simon Pagenaud hasn't raced since his horrifying brake failure in Mid-Ohio's practice. He's missed five races since then and will miss a sixth at the Gallagher Grand Prix this weekend with Linus back in the car. But this has all come to a head at a big crossroads in the Frenchman's career.
He's 40 next year. A free agent at the end of the season, a former Champion and Indy 500 winner who's never been able to replicate his incredible form in the Universal Aerokit era of the series. He was meant to head to Meyer Shank to help develop them as they expanded to two cars and build around Helio's 500 win two years ago. The "Death" lineup hasn't worked out, with Helio languishing in the twilight of his career and Pagenaud was 25th in the standings even before the Mid-Ohio crash. This team misses Jack Harvey. Badly.
And now with the injury issues that Simon has, MSR resigning him just became a much more difficult decision. We don't even really know just how hurt he is. The vibes are very reminiscent of NASCAR's Kurt Busch.
He suffered a concussion while Qualifying at Pocono and never raced again. We got statements week after week from the man himself and at 23XI Racing about how he was working hard to get back in the car… and it just didn't happen. When Busch finally stepped back, he left the door open to race part-time, but that hasn't materialised since.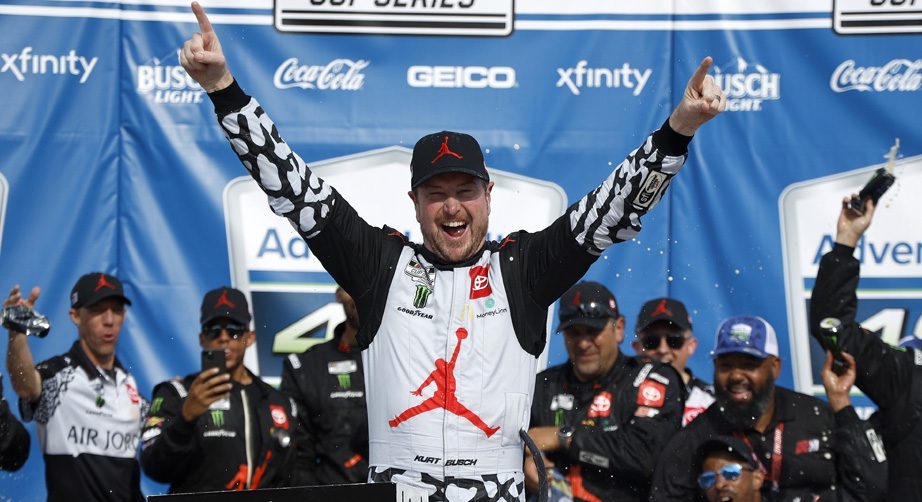 We're still barely scratching the surface on head injuries and how to best handle them in the difficult, competitive landscape that is sport, but it's hard not to draw the parallels between the two. And with a competitive driver market in IndyCar and other drivers destined to take the seat like Tom Blomqvist and potentially Colin Braun already in the MSR setup, and doubts over the entire team's future after their cheating at IMSA's 24 Hours of Daytona in January, no wonder Marshall Pruett joked that the only real pink that Shank will be loving right now is Pepto-Bismol.
I sincerely hope this isn't the beginning of the end for Simon Pagenaud. He's a truly entertaining character and a brilliant racing driver across multiple disciplines, and to go out in a career-ending crash would be horrible. But it would be the bitter nature of racing itself.
The Lightning Round
How pissed off must Penske feel after this one? Scott McLaughlin did everything right for the second year in a row and ends up second again. Josef Newgarden had a solid day in the #2 but fell behind Alex Palou again after late cautions for the wrecks of Lundqvist and the pile-up of Canapino, Pedersen and Rosenqvist let him save enough fuel to make the flag after coming in early. Only four points were lost to Palou for Newgarden, but more importantly, one less race to chase him down. Gateway in a fortnight's time, might be his last chance.
Of course, David Malukas suffers a rear-wing collapse on his own when having his best weekend in IndyCar to date. Of course.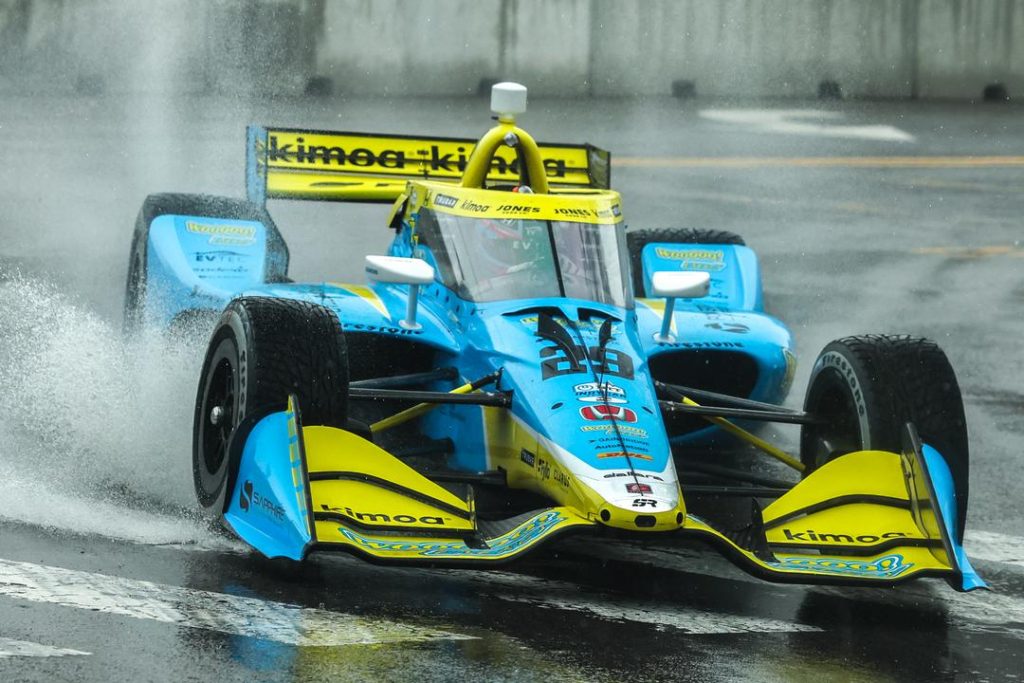 Genuinely astonished Rinus Veekay got hit with a Drive Through Penalty for his contact with Alex Rossi, given the series general "Boys have it" attitude. I think Novak finally got one right.
I have seen Ric Flair on the side of a race car. I don't think I can unsee it.
Dre's Race Rating: 7½ (Very Good) – Like I said at the top, we were all thinking this was going to be the usual Nashville shitshow but the driving standards here were actually pretty good for the most part. We got a bit of carnage at the end but for the most part, this was a fun, energetic race with strategic variance and some good action sprinkled in as well. No complaints from me. Let's see what happens when Broadway is interjected into the layout next year. See you back at Indianapolis for the NASCAR/IndyCar double-header.