"Lads on Tour."
*Ad and Full Disclosure: I've not been obligated to post anything from the weekend, but still wanted to say that this experience was thanks to Monster Energy and I was collaborating with them across all four days. Big thanks to them for making this all possible!*
If you've been following me on social media over the last week or so, safe to say you probably already know it's been a pretty whirlwind week. This isn't your standard Dre's Race Review. I was actually at the British Grand Prix this weekend as a member of the media representing not only Motorsport101 but also The Race, WTF1's parent company via my friends at Monster Energy! I promised my late Grandma Joyce that one day, I'd get to be in a Grand Prix paddock, and it was an honour that I was able to fulfil that promise.
Now, I did keep a bit of a running diary because I thought it'd be cool to document everything that happened. I also admit that these sorts of things can be a little self-indulgent. So if you're here purely for my thoughts on the action itself, scroll down to the Green banner on Aleix Espargaro. If you're here for me, first of all, I'm sorry, but here's everything from my weekend at Silverstone.
The Diary of Jane Dre
Thursday
The obvious statement is obvious – Silverstone is enormous. I didn't really blog about my time at WTF1's clubhouse and getting to do Friday at the track because I was just mentally overwhelmed, but even by race track standards, it covers so much land it's insane. Getting to the entrance is one thing, but the paddock is a good 20-minute walk away in front of the Hamilton straight having moved media centres and track layouts for the 2023 version of the GP.
But thanks to Monster, not long after rolling up at the track and the media centre, I was off doing interviews with all of their athletes. Now you know me, I've been a fan of the sport for 20 years, and when you get to see and interview the riders in the flesh, trying to separate the fan in you from the journalist I now am, is tough. It's hard for me to even call myself that at times, let alone be surrounded by newspaper press, PR officers and a big name big rider.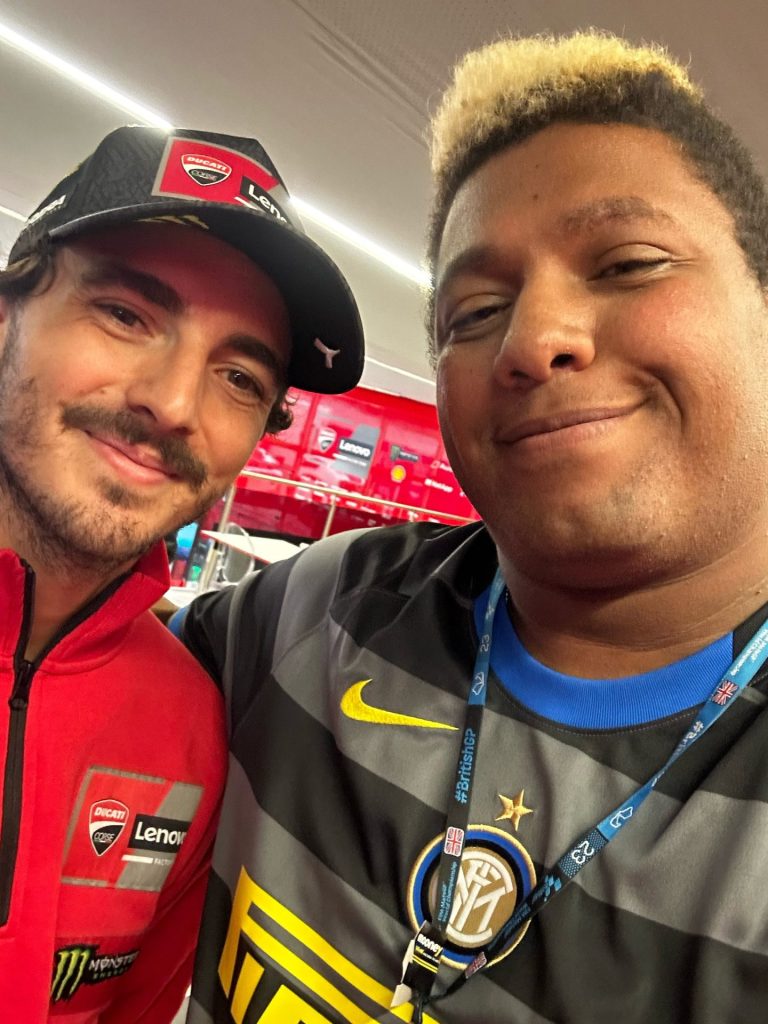 But the day moved ridiculously quickly, and the next thing you know I interviewed Luca Marini, Marco Bezzecchi, Francesco Bagnaia, Enea Bastianini and Fabio Quartararo. The last two World Champions, two top contenders in Bez and Enea and Luca Marini who's a top-tier rider now. Just insane stuff. They were all incredibly generous with their time, giving us way more than their interview slots said, they were candid, friendly, and entertained all my urges for selfies to show off for my brother.
It'll always be a little bit frustrating that WTF1 is such an F1 predominant website when as a content creator I've always covered a variety of series, so I had to work a Sprint Races F1-style angle into a lot of questions I asked, but it did work well enough that I was able to get a Fabio Quartararo piece up on the website with an interview I conducted. A small moment of pride for yours truly.
Also, holy heck, 4-star hotels are nice. Being able to Room Service a pizza with chilli-infused honey is the stuff of dreams.
Friday
Friday was a really cool collab day. Early time in the media centre was another one of those moments you're rubbing shoulders with some incredible media members you've admired for years. When I did the Miami GP press conference to talk about the track resurfacing and the Williams livery launch, it was Jonathan Noble, Chris Medland, Jess McFayden and Craig Slater. Luke Smith too at the Williams livery launch.
I can wholeheartedly say that I wouldn't be the writer I am today without Mat Oxley and David Emmett, incredible journalists that have provided hours of in-depth, cutting and passionate writing that has absolutely inspired me. So being able to sit down and pick their brains in person was awesome. A hearty thank you to them as well as my Race colleague Simon Patterson, his lovely wife Maddi, Matt Dunn, Josie Smith, Megan White, Kathrin Dick, and my Monster group of Robert Jones, Patrick Austen-Hardy and Imogen Ainsworth who all made the experience so much fun. More on that in a bit!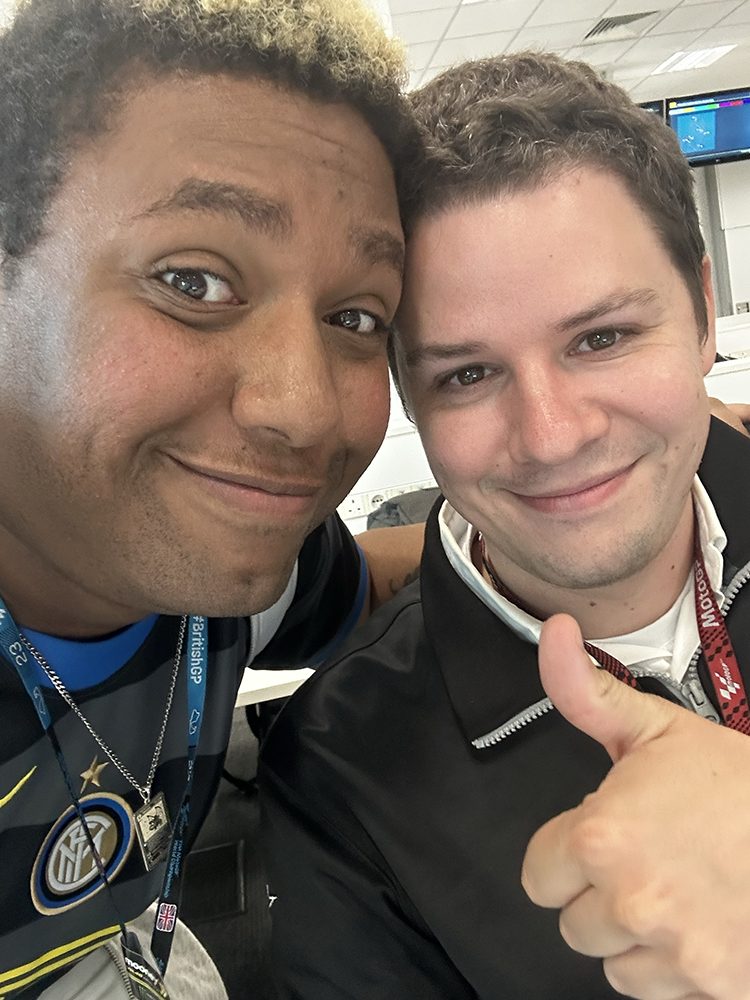 And of course, getting to see my old radio and podcast husband Louis Suddaby cook in person will always fill me with immense pride. We did nearly 300 episodes of #BikeLive across Downforce Radio and Motorsport101 together and I always knew he was going to be a star somewhere and to see him as a World Feed commentator for millions and doing such an incredible job will always make my heart full. We made it. The fact that Louis, RJ and Ryan King (Who sacrificed SO much more than many know here) are now all professional journalists and broadcasters in our own right is a ridiculous hit rate. Someone hire Cam Buckley, man's an oracle.
But one thing stands out more than anything else in my time at Silverstone. I got to do a Scooter tour around the track with Randy Mamola. Yes, that Randy. 13-time Grand Prix winner, one of the greatest to never win a World Title, *that* incredible save, charity ambassador and incredible broadcaster. And on a personal level, a person I was massively excited to meet. You see, I grew up on Eurosport's MotoGP coverage as a child. And the commentary team there of Toby Moody, Randy, Julian Ryder and Neil Spalders made for incredible TV. Passionate, funny, emotional, entertaining… it ticked every possible box. For me, it's a Motorsport commentary box that's never been surpassed and Randy was a huge part of that.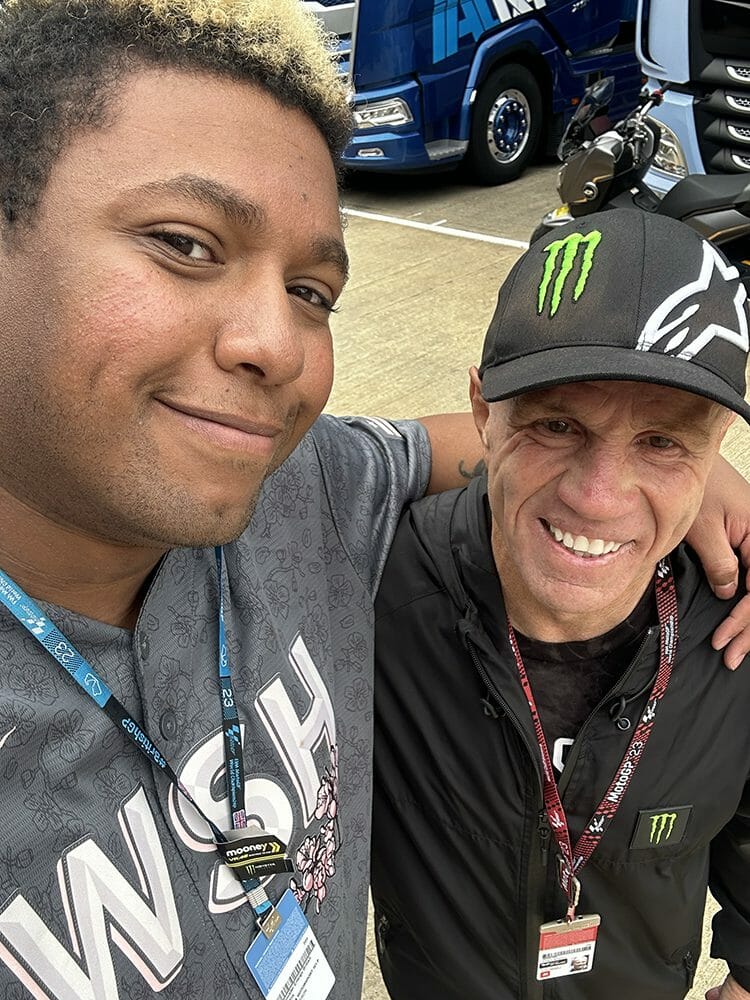 So to have him for 45 minutes on a Scooter, watching free practice together at Copse and Maggetts and Becketts and talking about the state of the sport, the riders, the changes to the bikes over the years and his fears for Japan's influence on bike racing as the Europeans have taken over, was fascinating and inspiring. The man even said I sounded like a broadcaster and I genuinely welled up inside. If I could take one thing away from that weekend, it'd be that.
After practice was done, we headed to the Silverstone Rally School just outside the track. Just one problem – I've never driven a car before! Look, I've lived in West London my entire life, and its public transport system is genuinely brilliant, you don't need a car here! So for my first time ever in a car to be a Nissan Micra upgraded to Rally spec with no Power Steering and a guy with leadfoot and bad with instructions had me shitting myself. Shoutout to everyone there at the school though, it was immensely rewarding and gratifying to drive a car on a skid pan for the first time and do a baby handbrake turn too. Jane in particular who was in the car with me was an angel. An amazing time, even if it's taken me three days to emotionally recover!
Closing out the night with the Chase and Status concert was a good laugh too. Deserved a bigger crowd, but glad Silverstone's been genuinely trying to turn the GP weekend into more of a festival after admitting they've been focusing too much on F1's golden carrot.
Saturday
One more big Monster treat in the morning and that was being a VIP in the back of the Mooney VR46 Garage during the very wet FP2 session. I'm standing friggin' three feet from a MotoGP bike. Luca Marini is just on the other side of the wall. The noise of these bikes is incredible, the mechanics working so hard to get the bikes set up right. The sensory overload was amazing. Absolutely insane to see in person.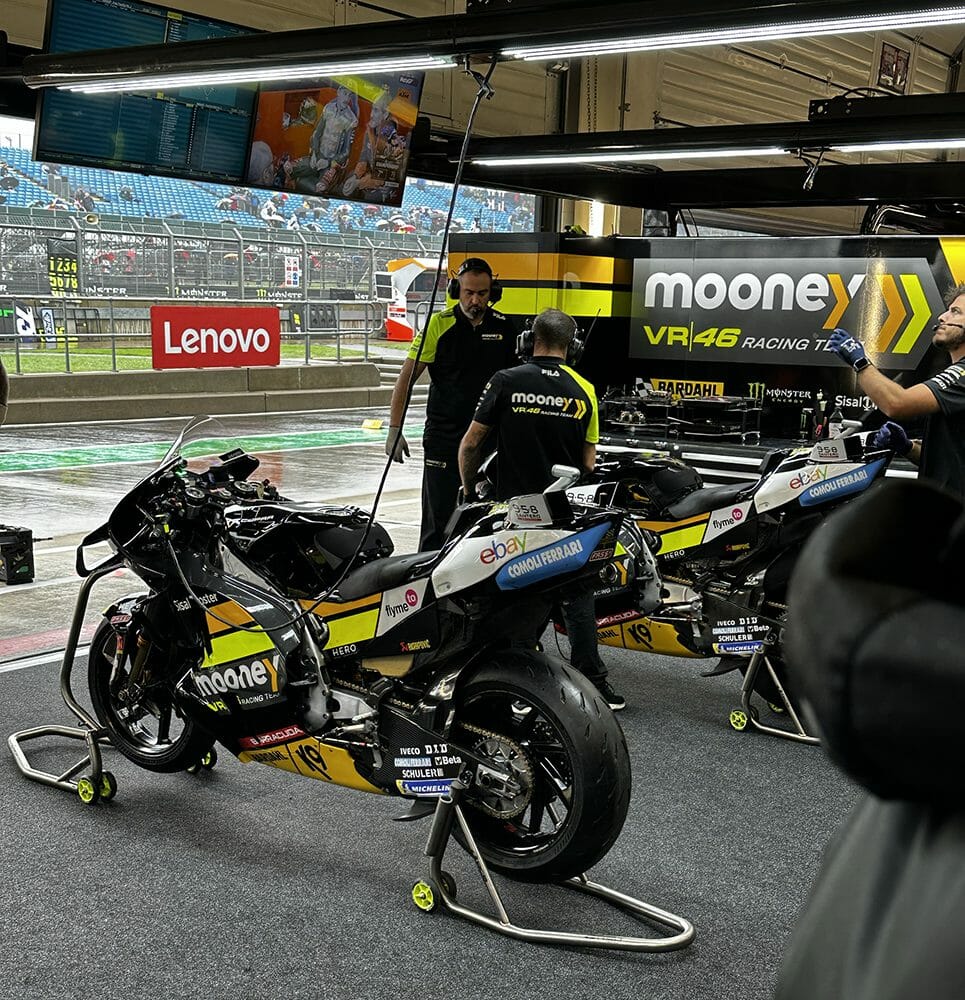 And that rain was something, let me tell you. Almost an inch of it overnight. It was right on the brink of what I'd say were "call it" conditions, as the top bikes were as much as 20 seconds a lap slower. Glad we got through it with only superficial crashes but not a good sign when Alex Marquez takes time out of his Sprint win to call out Race Control for not Red Flagging it. Also got to check out the VIP Village on the balcony of the media centre, and I got to pose with the Championship trophy. Neat stuff. (Even if I felt the greatest use of it was being able to park right by the paddock and save myself the 20 minutes of extra walking.)
Sunday
And of course, everyone was buzzing for race day. The media centre gets just as gassed up over racing than I feared I would be, so that was awesome. And because my own head was in the clouds, I was roped in to help The Race out over the media debriefs and again, that conflicting nature of being a fan vs being a journalist while nervous asking questions during media debriefs is a headfuck, but in kind of a healthy way I guess?
After that, I got to lock myself in one of the commentary huts to record my debut on The Race's MotoGP Podcast with Matt Beer, Simon Patterson and Valentin Khorounzhiy (Out now, if you haven't heard it), of which I am nervous as heck but I think I held my own pretty well on, as well as chip in with a couple of written pieces you'll see over the next week or so. All written while cramped up on an overbooked train back home from Milton Keynes. The less I talk about the £65 taxi back from Silverstone, the better my mental health gets.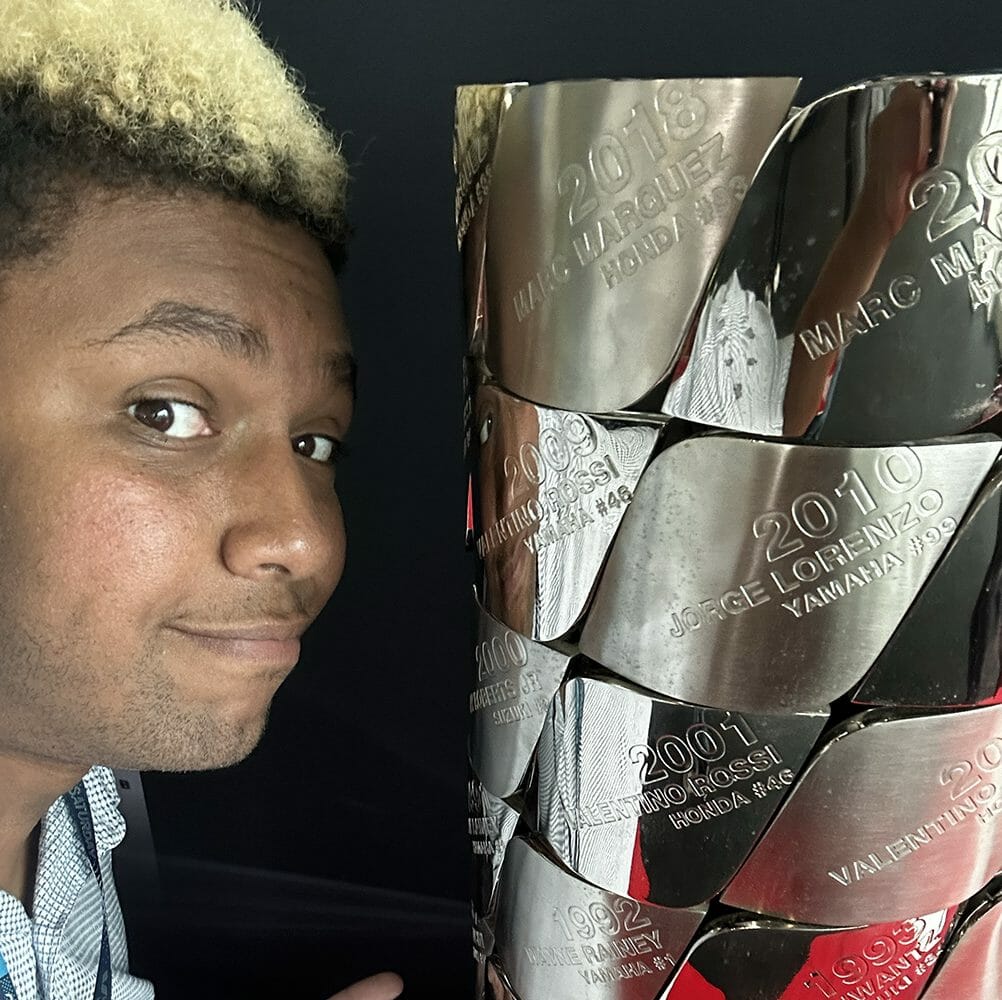 So before I talk about the actual race itself, a huge thank you one more time to Tom Baker and everyone involved at Monster for having me, to Mooney VR46 for the hospitality and back of the garage access, to Matt Beer and Glenn Freeman at The Race for thinking of me at the time, to Simon and Maddi Patterson for taking such good care of me during a genuinely nervy weekend, and to everyone who I met who was kind, compassionate and helpful. Couldn't have done it without you all and I'm forever grateful.
Wait, Bagnaia actually got beaten?!
Man alive, the sport needed this one. The vibes when covering MotoGP haven't been great for a good year and change with the state of its racing, but take a little bit of grip away and put them on one of the best race tracks for MotoGP, fast and wide, and you get a brilliant race, and this is what the British GP was.
And that was with the idea that I felt like Francesco Bagnaia was going to do what he's done so brilliantly for the last calendar year. Get to the front and stay there. That double move on Bezzecchi and Miller through Copse and Maggetts was incredible. And with both factory Aprilia's and Brad Binder getting into an almighty bar fight after Marco Bezzecchi crashed made for one hell of a show.
I thought we'd seen this story before. Bagnaia is such an incredible front-runner when he's dialled in. I know it's easy to dismiss due to his crashes, but right now that's not happening. His pace isn't automatically break-neck. You can stay with him, we've seen several riders do it, like Maverick in Portimao, or Binder in Jerez. But finding the extra two-tenths in a part of the track to make the move has been nearly impossible without taking a ludicrous amount of risk. Bez found out the hard way, locking his front brake while in Bagnaia's slipstream towards Stowe and tucking the front.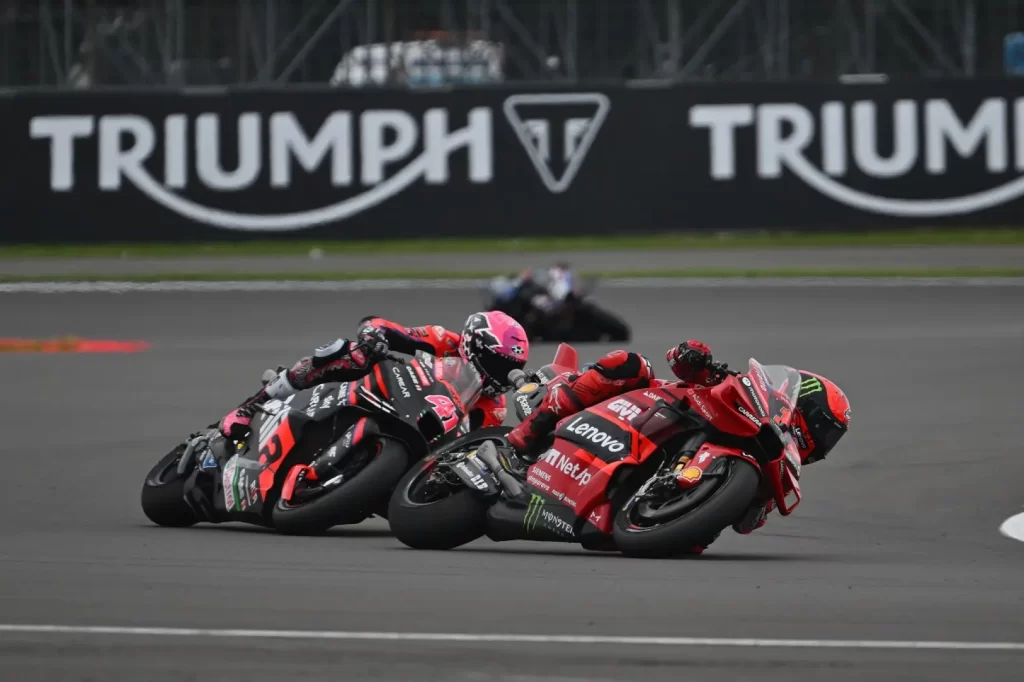 But the way Aleix Espargaro pushed towards the end, setting Bagnaia up in Sector 2 before just the smallest of twitches from the Italian through Copse, opening the door for Aleix to make an incredibly brave dive into Maggetts was a move worthy of winning any race. A sensational ride from 12th on the grid for Aleix, arguably even more impressive than his first GP win. But that's just how he'd want it. Aleix likes being the kind of the underdogs, it's been a staple of his career, clawing away at anything he could get and riding with a massive chip on his shoulder. But he is now truly an elite rider, and when Aprilia is able to maximise lower grip conditions and excel as the rain came down, he is the best of their fleet of talented riders.
For the first time in its history, the Noale factory team of Aprilia and their customers at RNF CryptoData all ran in the Top 10, with Miguel Oliveira's comeback of his own from 16th to 4th easily his best ride of 2023. More on that over on The Race when the piece goes live later in the week. If only they could figure out a way they could do this more often…
The First Domino Falls
Ducati has won 14 out of the last 19 MotoGP races. Three of the five of the races they haven't won, have come from Alex Rins. From two different teams. He came into 2023 in rampant form but it was officially announced during the weekend that he's heading to Yamaha. All of a sudden, the Japanese factory has for me, the best line-up in MotoGP. And what does that say about the state of Honda that Rins is more than willing to cross enemy lines just to avoid crashing three times a weekend?
The reshuffling of the decks at Ducati will be the most interesting part of 2024's silly season. Marco Bezzecchi's going to have to choose between his current crew and 2024 machinery at Pramac. I personally think Bez has to take the factory bike if the option presents itself, even if he loves VR46. Enea Bastanini did so valiantly last year but I'm still not fully convinced you can mount a full title push on the previous year's machine. Bez is accidentally in the exact same position now and look what Enea did a year later…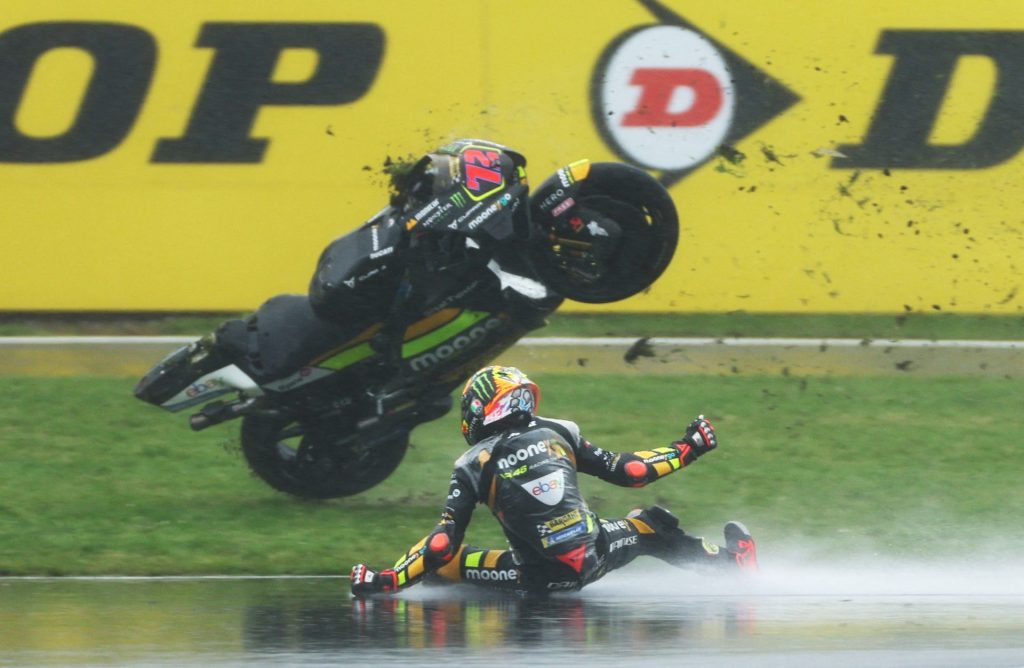 Johann Zarco is likely to head to LCR Honda to replace Rins and it was startling to see in his debrief just how open he was talking about being their redemption story. I like Zarco as an experienced baseline veteran who's ridden for four different factories now, something Ducati just doesn't need as much with their fleet of young and hungry riders being gathered up. He could do well in Honda… but it's Honda. G'luck.
That leaves Franky Morbidelli heading to VR46 next year, Ducati seems very keen to bring him in believing he's still the rider he could be before his ACL tear in 2020. For me… this is such a wildcard signing. Franky was incredible at Petronas Yamaha but as the factory has slipped, so has he, and it's hard to tell how much of that slip has been on him, especially now in 2023, he has genuinely run closer to Fabio Quartararo. I think he'll be good on a Duke, but it's a big ol' grey area.
Bez will dictate the rider market for 2024. He said after the GP that next week he'll talk with his management and make his decision. I know what I'd do, but in any case, they'll be ramifications.
The Lightning Round
Good on Silverstone for getting the Sunday crowd up to nearly 50k. The musical additions did help, but I wonder if the choice of musicians were a "bit 2006". (Chase and Status, Radiohead and The Kaiser Chiefs). I don't think they need to be chasing F1, but they need to be figuring out where the massive biking audience the UK has had before, has gone.
Iker Lecouna has as many finishes for Honda this season as their entire Repsol Honda factory team combined.
Good for Alex Marquez to take his first Sprint win in brilliant fashion. His pace has been solid all year young and he finally got circumstances to break his way.
During the Sprint, Marc Marquez deliberately sat behind Joan Mir to see how his bike was handling. If that isn't the biggest indication you've broken the biggest risk-taker in MotoGP history, I don't know what is. During that Sprint, Japan had their bikes in six of the bottom seven spots. The other was Pol Espargaro who hadn't been on a bike in four months. Holy hell.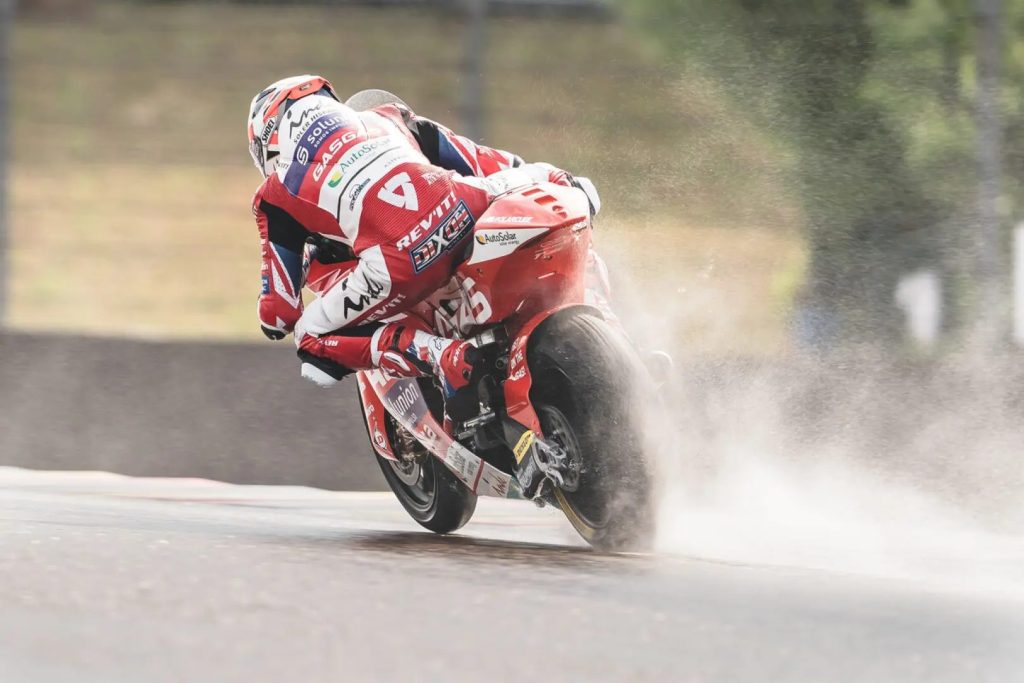 This might be controversial – I didn't like any of the Jake Dixon situation post-Moto2 race. First of all, I really don't think Darryn Binder did too much wrong. Dixon is trying to pass around a one-line corner at the end of the lap. There's contact, but Binder has the inside line, there really isn't much he could do. So for Dixon to absolutely blow his lid, allegedly try to fight the guy after the race and then do an explosive interview with TNT Sports afterwards where he calls for a race ban and calls him an absolute idiot seems… at best, very harsh.
Darryn Binder is hardly an elite rider, but he's been absolutely plastered by fellow riders in the last two years and since then he… really hasn't done much? He was largely fine in MotoGP, and I distinctively remember the riders discussing MotoGP having F1's superlicence in 2021 JUST because of the news he'd been picked up by RNF. I know it's hard to escape being typecast, but some of the Binder criticism seems unfair, and while I respect and appreciate not all of Motorsport's personalities being so media-trained, and I generally really like Jake, TNT platforming him mere moments after a crash on home soil seems like it was pouring gasoline on a fire. No one wins.
David Alonso goes from last to first to win a Moto3 race and Colombia's first-ever GP winner. Glad someone got to pick up where Yonny Hernandez left off. Another potential star of the future right there.
Dre's Race Rating: 9/10 (Incredible) – Race of the Year contender and the best in MotoGP for a good year and a half I reckon. This race told an incredible story of Bagnaia pushing his way to the front, thinking it was going to be another case of him being a brick wall while the factory Aprilia's diced with the bullish Brad Binder, the shock of Miguel Oliveira getting involved down the stretch and THAT final lap pass for the win made it a great race that's well worth repeat viewings. The sport needed that one. See you in Austria.