"The Streak Is Over."
I've mentioned it many a time before on this blog, but Motorsport fans are precious people. We're a lot more like football fans than we care to admit. Most Formula 1 fans, don't actually like F1 that much. We know deep down it's an engineering sport at its core and that the best car wins 75% of the time. We bitch and moan every time despite walking in knowing almost every race is a 5/10.
But we'll die to gatekeep and defend our right to be the only people who get to call it out for what is. If someone from IndyCar gets too cute about how much better their series is, they'll diss the fact it's a niche of a niche series or use Marcus Ericsson's failed F1 tenure as an excuse to bash it. Every Motorsport series has its fair share of these kinds of fans. We're Vegeta from Dragonball. "The only person that gets to kill Kakarot is me!", in sports form.
#PleaseLikeMyDumbSport is a common expression I use to describe this phenomenon. The Singapore GP was exactly the kind of race, why we as F1 fans put up with all of this bullshit. Let's get into it.
The Stars Are Bright, Carlando
It became pretty clear early on this weekend that Red Bull wasn't sandbagging this one. They genuinely struggled. Singapore is an incredibly unique track that catches out even the most dominant teams. Who can forget when Ferrari's shorter wheelbase in the first gen of the turbo-hybrids constantly found a way to keep beating Mercedes?
Red Bull can't run anywhere near as low to the ground as they can at most conventional tracks, sacrificing some of that precious downforce it's so good at generating with its suspension and floor layout, as Singapore tends to be inconsistent with its track surface, even more so given parts of it got resurfaced this year. And as the track evolution got bigger as more and more rubber got laid down, the worse the problem got with the Bulls struggling for rear grip. Add in their inherent setup style of packing understeer on the car and struggling to get heat into their tyres, it's why Liam Lawson knocked Max Verstappen out in Q2.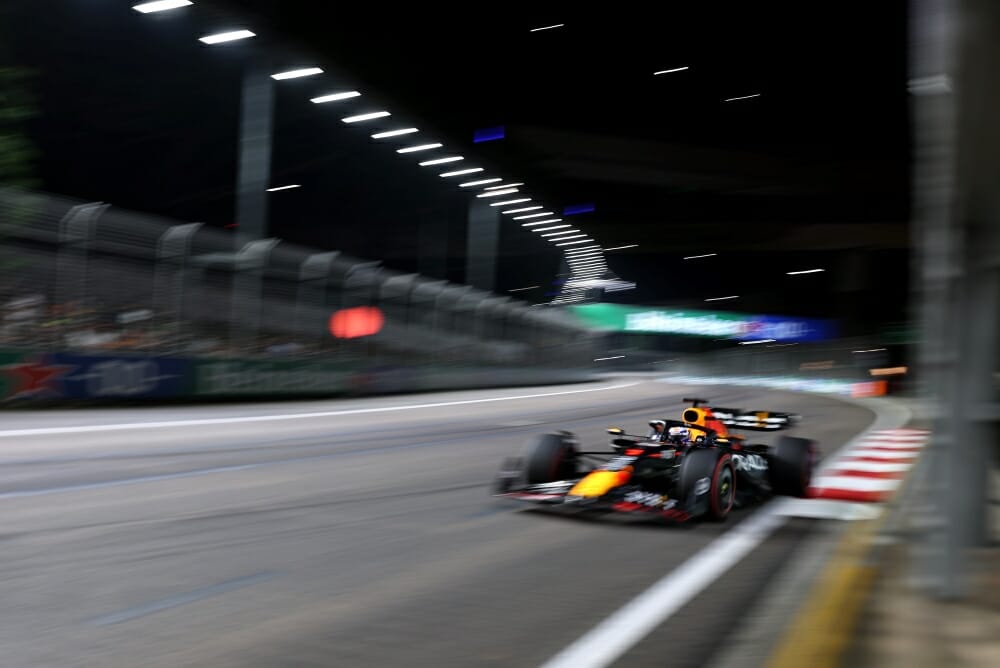 Amazingly, I think there's an alternate universe where Red Bull could have still challenged for the win if the Safety cars that landed in this race dropped in different spots. Logan Sargeant clattering the wall was right on the window for the Soft/Medium runners to make their free stop to the end, and it was a pretty much free gamble for Mercedes to box for Mediums when Esteban Ocon's car died due to a gearbox failure.
Honestly, I praise Mercedes purely from an entertainment standpoint because for once, they took the aggressive option and went on the charge of the leading group, the group of Carlando after Charles Leclerc had to nurse home an over-heating power unit. It's what made this race the classic it will likely be remembered as.
Carlos Sainz deserves some credit. I've been harsh towards him for some time. A consistent, solid performer, but hard to shine and stand out when Charles Leclerc has that upside that so often steals the headlines. Even during this race, putting Leclerc on the Softs to start out with quickly turned him into the cork in the bottle, sacrificed to protect the lead car. Hardly a shock given track position is so important at Singapore, and this was a race that wasn't anywhere near maximum speed.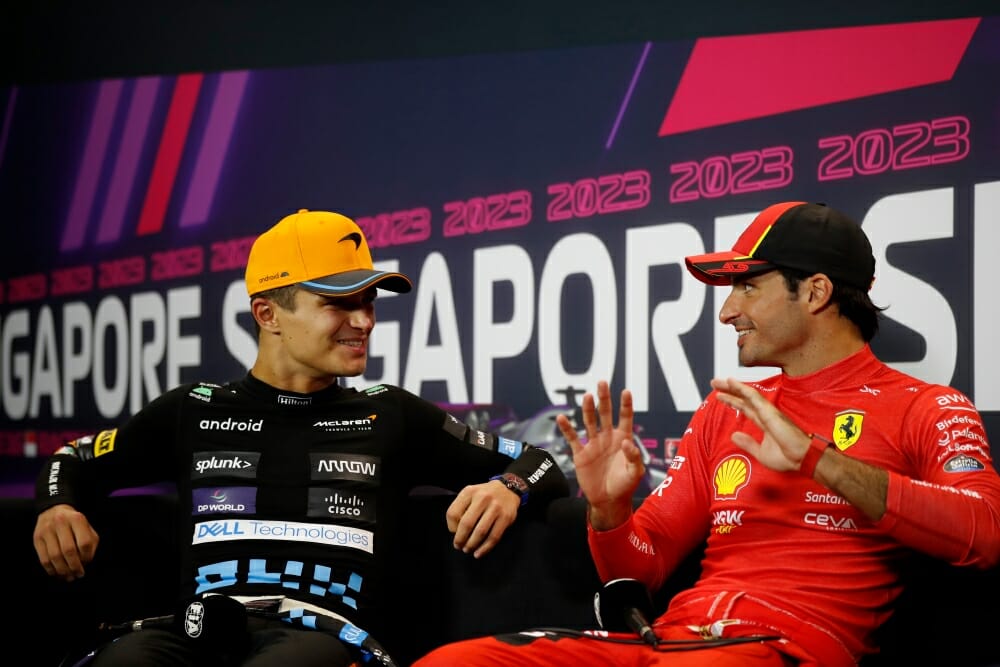 This was Sainz's moment as the thinking man's driver that he is. This was a tactical race, and Sainz played his hand to perfection, especially at the end when Mercedes forced them to up their pace. Seeing Sainz and Lando team up was (and to borrow another Dragonball reference) like Goku and Vegeta teaming up to take down Kid Buu. Sainz deliberately backed off to give Norris DRS, not enough of a gain so the McLaren could pass him in a straight line, but also enough to defend against George Russell on fresher mediums at the end of the race. (The Medium was the only race tyre worth a damn, Pirelli is weird…
It worked to perfection, with Sainz winning and Norris second, with George Russell cracking under the pressure and hitting the Turn 10 wall hard enough on the final lap to brake his wheel and end his day. A crushing blow for the Brit who's been back on form in recent weeks, and a nice reward for a persevering Lewis Hamilton, who's openly admitted he's struggling to nail his W14.
Singapore was two-thirds intriguing tactical race as the sport played chicken at 195mph, and one-third batshit finale with four different drivers, three different teams, and two different strategies all fighting for the win. That's why we like this dumb fucking sport sometimes. 
The Liam Lawson Conundrum
Red Bull and sister team AlphaTauri are going to have a real pickle on their hands here. They've clearly got a three-into-two driver problem that doesn't work.
Liam Lawson had his best F1 weekend yet in Singapore. Made Q3 as others faltered in the messy qualifying session, and kept a cool head in the race to finish 9th, AlphaTauri's best result of 2023 so far, and its Lawson just one point behind Yuki Tsunoda in the overall standings.
This was clearly not the plan for Red Bull. This was meant to be a free half-season hit for the energy drink suppliers to see how Ricciardo stacked up in a race setting against the current crop. But he's now missed three races through the broken metacarpal he suffered at Zandvoort and Liam Lawson's taken full advantage of an opportunity he was never supposed to have in the first place and has it abundantly clear he belongs on the F1 grid, sample size be damned.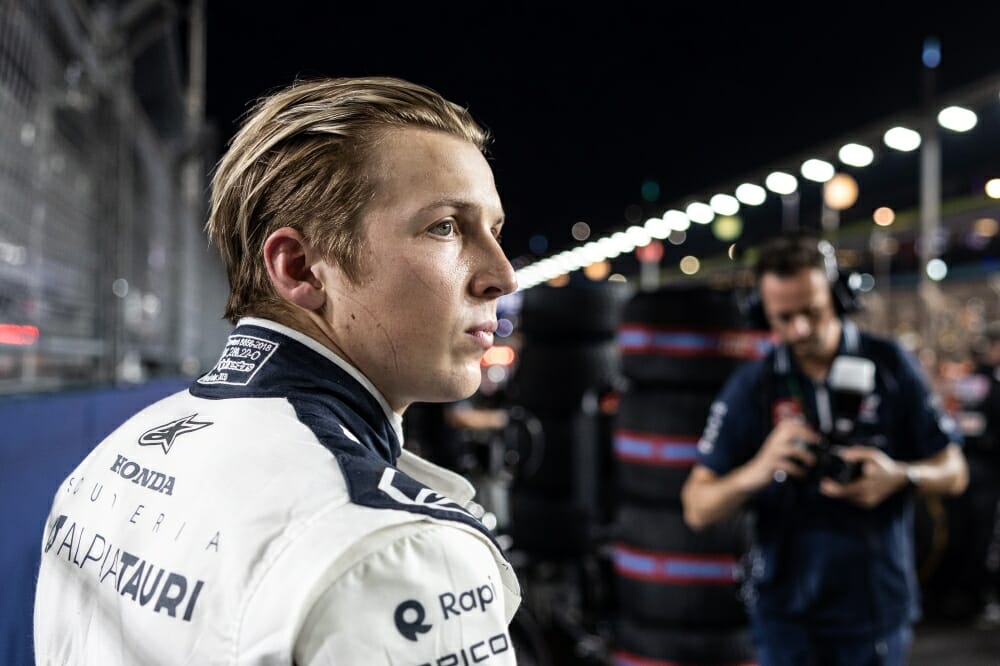 So now what do you do? You've got three drivers that you could very easily make an argument they should all be on the team, and yet, something has to give. Let's weigh it up:
Yuki Tsunoda – There's no doubt that the Japanese driver has anchored the team well in life after Pierre Gasly. He was consistently hovering around the points in the first half of the season, which is exactly what Franz Tost wanted from him going into this season in a campaign that was targeting the Top 5 in the standings (Aww, cute). The problem is, that his improvement has come without a valid yardstick. Hiring Nyck De Vries last year had a knock-on effect beyond his obvious shortcomings. It puts into question everything Tsunoda's done.
How much of Yuki's solid 2023 is down to genuine improvement? And how much of it is down to the lack of a quality teammate? If Yuki had a sample size against Pierre Gasly that was better in his previous two seasons, I think more people would be convinced. Right now, especially with some rotten luck post-summer break, it has made Yuki vulner- *record scratch*
*Since me writing this section, AMuS has reported that Tsunoda will likely be confirmed before his home Grand Prix in Japan this weekend. Good for him. Personally, I think he's earned the right to have another chance.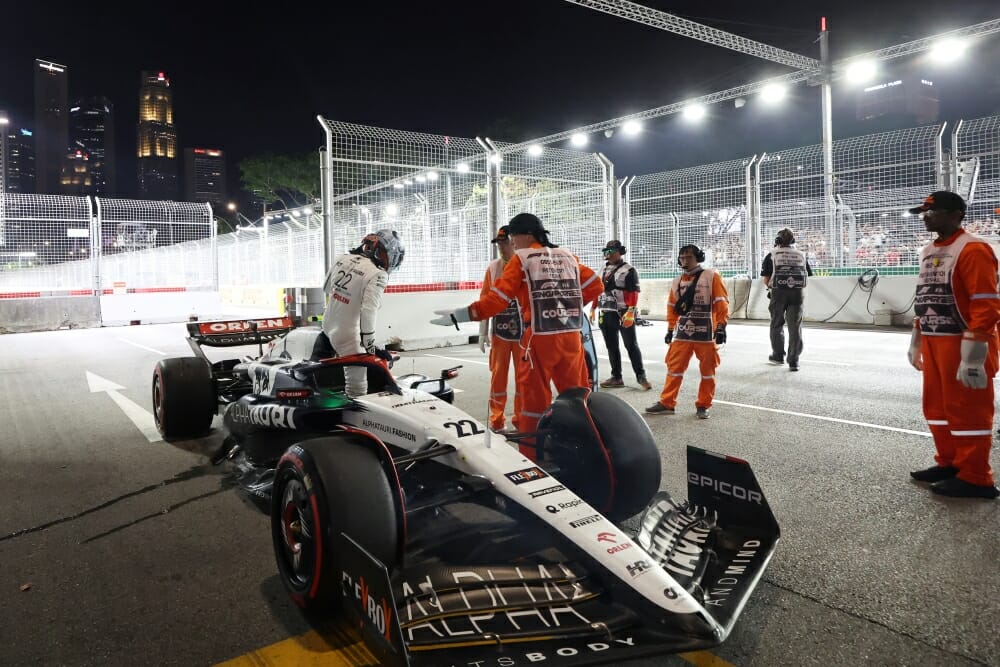 Daniel Ricciardo – Ricciardo was the "Get Out of Jail Free card" for Red Bull somewhat admitting without doing so that they got 2022 completely wrong. They tried to sign Colton Herta and failed after not being able to get the Superlicense system tweaked in their favour, and Marko took a punt on Nyck De Vries after a Monza weekend that was always going to make the Dutchman look better than he probably deserved. Safe to say, that didn't work out.
You have to keep Ricciardo in the mix now, you made it abundantly clear as a team that you were okay with the Honey Badger trying to make a run at the 2025 Red Bull seat. If you let Lawson drive for the rest of the season, that ends right there and then. This whole restructuring was pointless. You have to see this experiment through because two races just isn't a large enough sample size. Not to mention, if my hunch is true and that Red Bull is pivoting AlphaTauri away from being a junior team and more of a sister team, and with big-name rumours swirling like Adidas and Hugo Boss potentially as title sponsors… you want Ricciardo in the house as one of the sport's most well-known and likeable drivers. There is a marketing value to Ricciardo that's far greater than Tsunoda and Lawson combined. It's something you have to consider as a brand.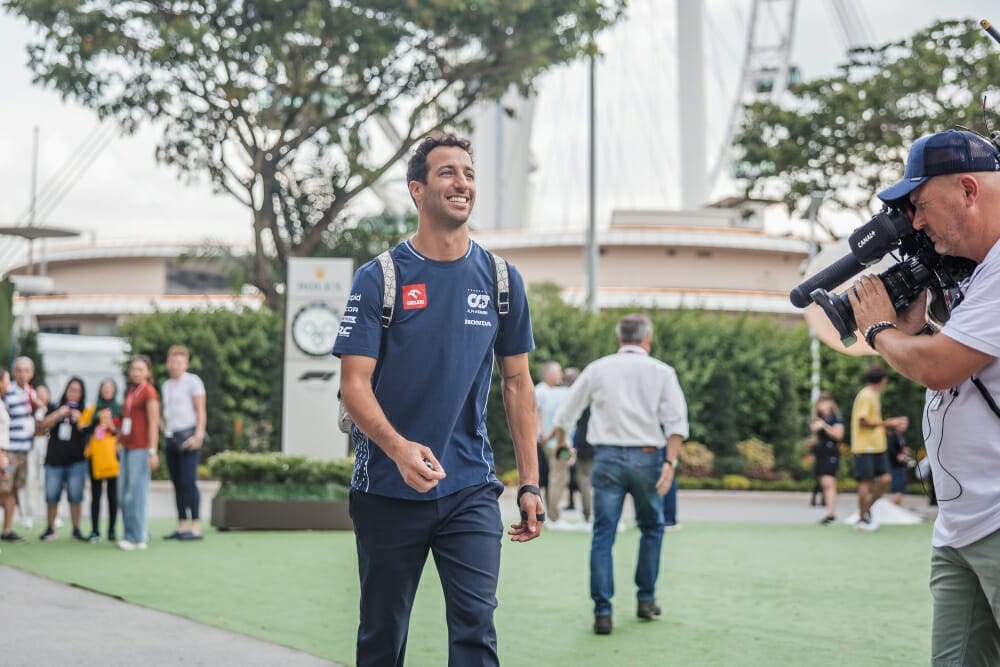 Liam Lawson – Well, it's hard to argue that he doesn't belong, right? Three race weekends and he's performed incredibly well in all three of them. Kept it clean in Zandvoort, challenged for points at Monza and got in there at Singapore. He's passed every test you can ask for an emergency standing who's having to learn on the fly and has been too good to simply sit and pretend like nothing happened.
Say what you will about the nastiness that comes with the Red Bull academy (and many others to be fair), but they give their drivers at least a chance. By accident, you've given Lawson one, and if you don't follow through on it now, what hope is there for anyone else in your academy, like Dennis Hauger, or Ayumu Iwasa? It's a messy, messy situation.
I think a lot of people are looking in the wrong areas here. I don't think anyone should be released from their contracts… except for one driver. And it's Sergio Perez.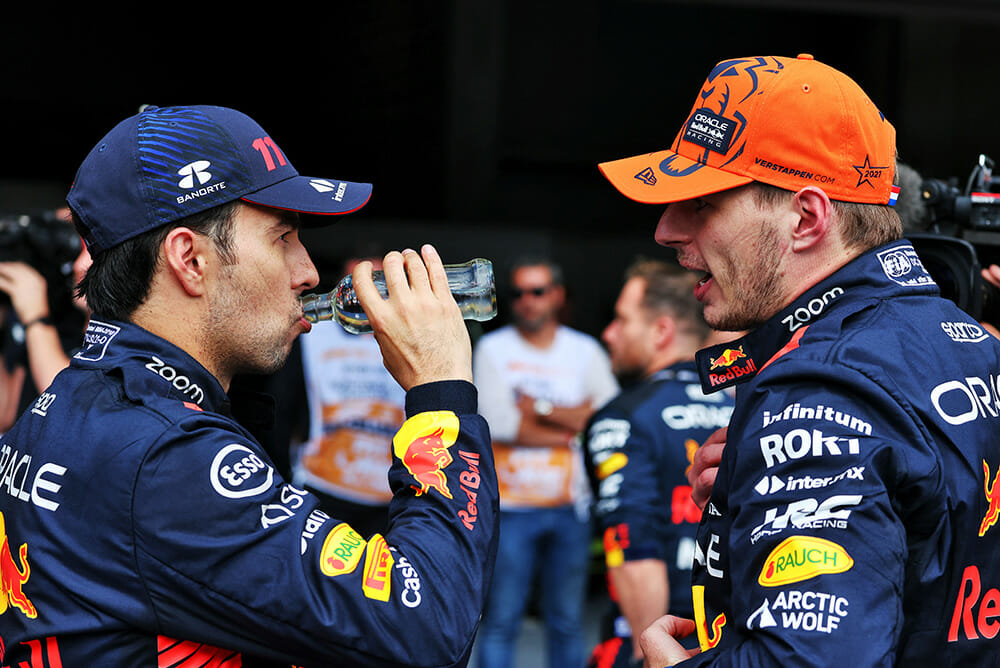 At this point, I think releasing Checo is the best solution for all parties. No one's saying he's going to beat Max Verstappen, but his performance compared to the #1 is such a discrepancy at this point, that it leaves them potentially in trouble down the road. He's had 15 GPs this season. How many has he actually brought home a "par" result? Maybe 6? Is that good enough for you?
If you're confident you've fixed Daniel Ricciardo's McLaren issues, I don't see what you lose in bringing back a familiar name who is the ONE driver that's faired reasonably well against Max in his team since becoming its de facto leader. You keep Tsunoda for another year and if you've got as much faith in Liam Lawson, they can go head-to-head to see how they stack up in direct competition. I think that's the best solution for all parties. 
I don't think any of these three drivers are the issue within AlphaTauri. I think the cork in the bottle is in the big team itself.
The Lightning Round
Don't worry, I also wrote about the Verstappen impeding incidents and the clumsy nature of stewarding and qualifying over on WTF1, you can check it out here.
Speaking of which, I'm not a fan of Sergio Perez's lunge on Alex Albon which led to the Williams driver likely missing the points and Checo getting a redundant 5-second time penalty. However, I think we need to be careful before we start seeing the idea of punishing drivers more harshly for causing a collision. I agree we need to use more of the punishment system than just the bare minimum. But punishing people based on how much speed they have over someone else is really sketchy logic. Punish the crime, not the outcome. Yeah, it sucks that Perez's 5 seconds didn't lower him from his 8th place, but we don't know how the rest of that race plays out afterwards.
Where was this complaint when Carlos Sainz dropped EIGHT spots for the same punishment after Australia?!
Aston Martin is getting a bit unserious. They've slipped to fourth in the Constructors after their first scoreless weekend of the year. I found it strange that Mike Krack took a big accident for Lance Stroll in qualifying that ended his weekend and used it to prove his commitment. Lance has raced on two broken wrists this season, the one thing about him I WON'T question, is his commitment. Add in Fernando nursing a broken wishbone, driving over the pit lane entry line and then spinning later on was… rough. The bubble might be bursting a little bit at Silverstone.
Happy Birthday Esteban Ocon, have a retirement from a Top 6 finish. Good ol' Alpine.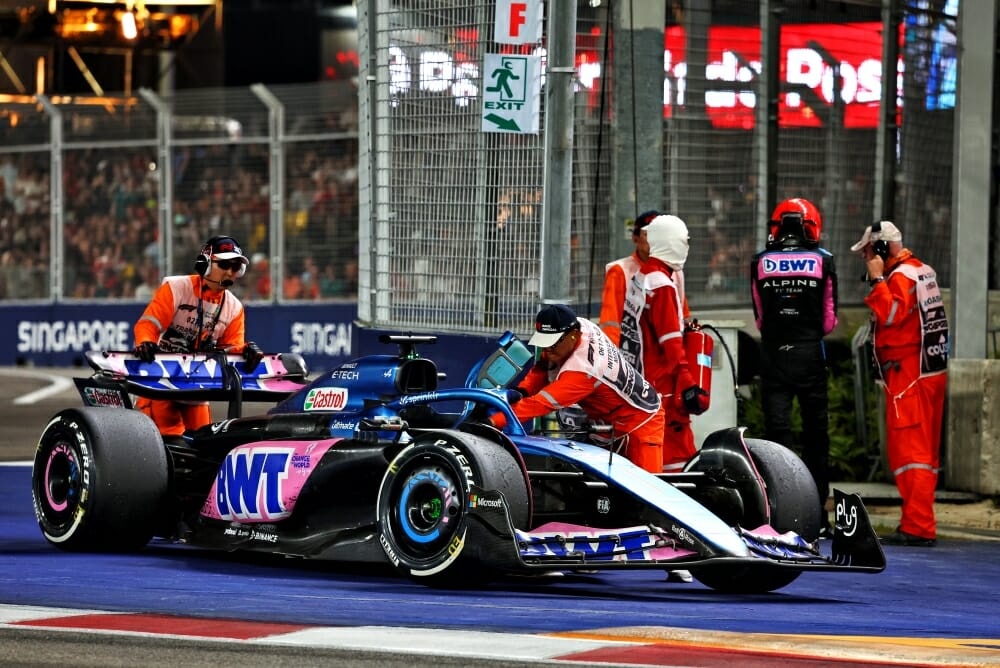 In between Monza and Singapore, Dr Helmut Marko made another set of xenophobic comments about Sergio Perez and "South Americans" lacking the mindset to win in F1. As much as it's clearly starting to piss some people off because he actually apologised for once, it's still utterly infuriating that he largely gets off scot-free for continually coming out with horrible, shitty comments.
Annoyingly, when you have no one to answer to in that camp, and there's little F1 can do besides write another statement saying "xenophobia is bad" (And they didn't even manage that this time, but did when it was Nelson Piquet. Odd.), so we have to go on this feedback loop for a week every time this comes up. Yay. Red Bull needs to start thinking about why so many of these incidents are in their own backyard.
Dre's Race Rating: 9 (Outstanding) – This was your classic F1 race of the year that's an absolute belter that reminds you that at its best, there's nothing quite like this sport for enjoyment. A tactical, intense race. DRS made passing hard, but not impossible. A key flashpoint and a gamble from Mercedes led to a thrilling chase and an incredible finale. That's F1 at its best, and I wish we had that more often. See you in Japan. (It may be a little later than billed due to me being in FRIGGIN' VEGAS NEXT WEEKEND. Holy shit, this is my job now?!)