"Dreaming Is Free."
Welcome back to the Festival of Speed. Formula 1 hit Monza and it didn't suck? Look, a lot of this came down to a genuine struggle to overtake, and an inspired Ferrari on home soil. But if your house was on fire and you saw a bucket of water magically show up in your house… would you question how it got there? Or would you use the bucket?
Let's get into the Italian Grand Prix, one of the best F1 races of 2023.
The Honse Paradox
I love the moment Ferrari looked competitive, a bunch of people understandably immediately thought: "Ah fuck it, they've cranked their power units up for the home win to look good!". And I don't blame them for thinking that, but there is a little more to it. Now, forgive me as I'm not going to go into massive amounts of detail (I've done work for the day job which will be up later this week), but long story short, the strengths of Ferrari's car fit Monza like a glove.
The two things that the prancing horse specialises in on their wacky-ass car are straight-line speed (They brought the slimmest rear wing they could and were nearly 5mph up on Red Bull on the speed traps), and low-speed corner balance (They can rotate their car better than Red Bull can). Those two traits on a track with a 160mph average speed, separated by multiple chicane complexes, really work for Ferrari. It's probably why Charles Leclerc qualified on pole at Baku too, another similar track in terms of characteristics.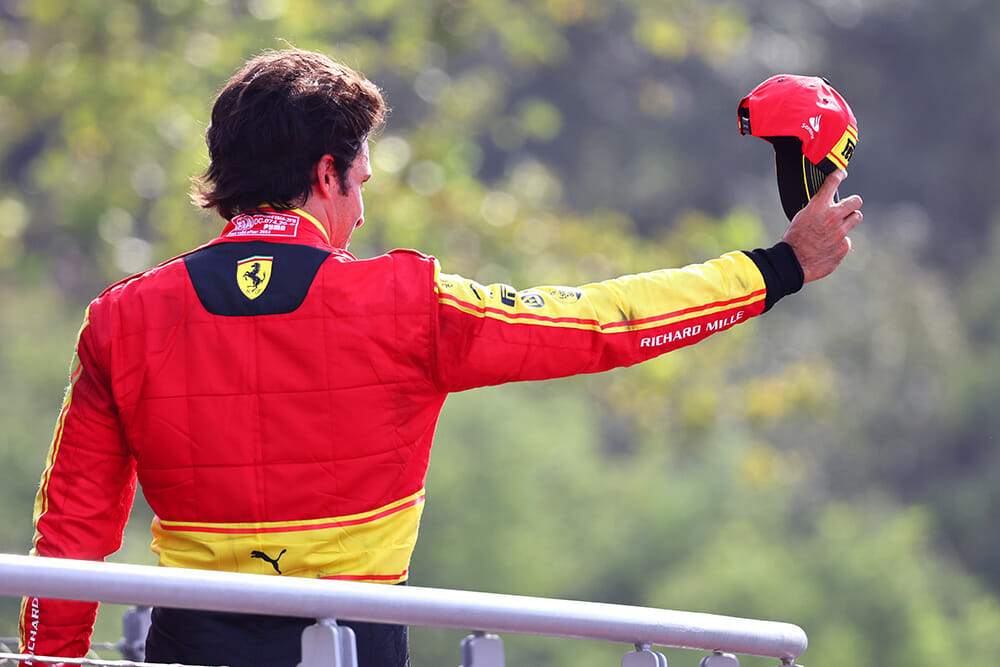 So seeing Carlos Sainz beat Max Verstappen to pole by literally 4 inches, no wonder people jumped out of their chairs. And bless him, the man tried. He really tried. He led 14 laps of the race, the most anyone has taken out of a Red Bull this season. Sainz dumped most of his battery on the front straight and forced Verstappen to try what he did with Hamilton in 2021, trying to go around the outside into Turn 1. You have a huge advantage as the defending car at Monza because the defending car can just pinch you into Turn 2 and out the other guy in a yield or escape road scenario. That's why Verstappen enacted Rule 34 two years ago.
But you forget, we're dealing with Max Verstappen here. For those who maybe don't know, Red Bull deliberately set their cars up to compromise on Saturday to maximise Sunday. Their suspension layout and trick floor setup mean they generally struggle to get heat into the tyre at the start of a lap but get stronger at the end. Hungary when Hamilton beat him for pole was a peak example of that. In race stints, Red Bull's rear tyre degradation is cracked.
Max sat behind Sainz early on and knew he was going to goose himself as early as Lap 4 when he noticed the Spaniard sliding around on his rear tyres in a desperate attempt to stay in front. 11 laps later, Sainz locks his front and gives up the lead, and Max Verstappen has 10 consecutive wins.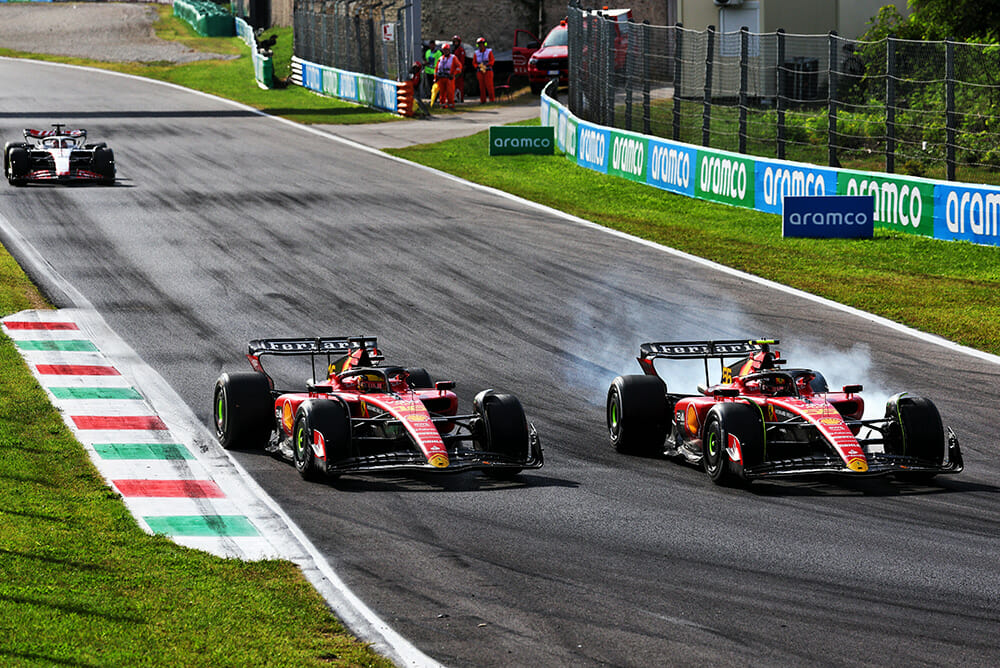 Perez eventually took advantage of Charles Leclerc being stuck in Sainz's dirty air, dropping back and picking off the Ferraris for a Red Bull 1-2. And while it's objectively been a good weekend for Ferrari – A 3-4 finish and a pole position, Sainz's 1st podium of 2023 etc… I wonder if they denied themselves a chance at 2nd via letting Leclerc through after Sainz clearly cooked his tyres.
Sainz almost certainly went over the limit in his defending of every position he could get. Every dark art in the book of race craft was enacted here. Weaving, turning under braking, and by the end, even light contact and cutting corners to keep Leclerc behind him. I'm glad there was no beef by the end of the race and that everyone enjoyed it, but Sainz clearly took full advantage of the Stewards' general attitude that teammate clashes are waved off.
If Leclerc got a clear run, could he have held off Perez for 2nd? We'll never know, but I do suspect there would be no way that Sainz would willingly give up track position in this scenario. Maybe Ferrari should have used Leclerc as an undercut to force Red Bull to react? Just because it's a good day doesn't mean those questions shouldn't be explored.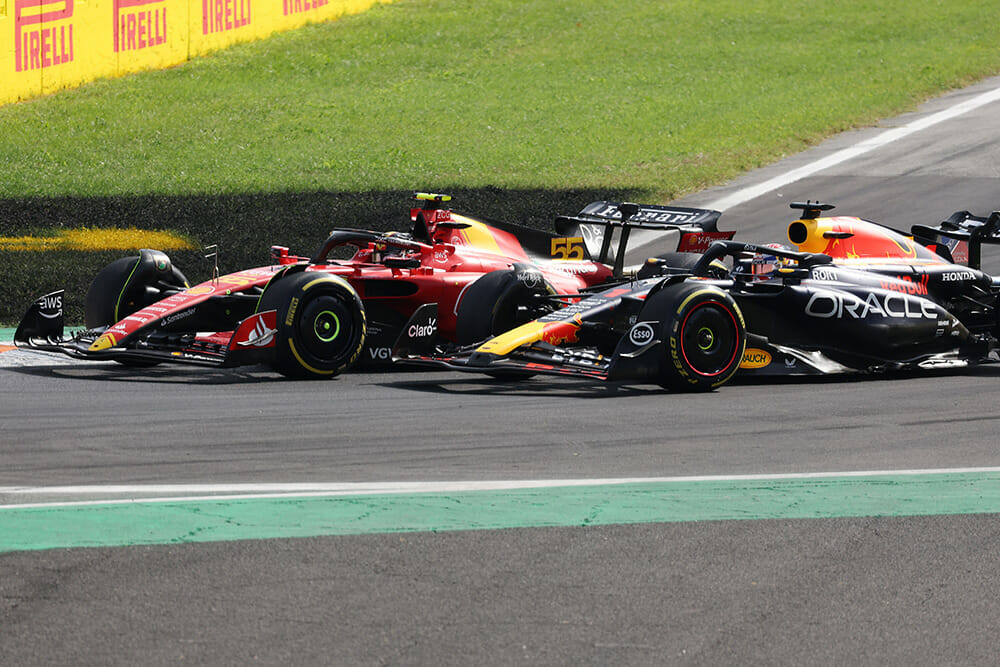 Props to Ferrari for making a genuine effort out of it. And another salute to Red Bull for a crushing victory. Records are made to be broken, and 10 straight for any driver at any time is absolutely insane. Max has had every possible scenario thrown at him in this run. Sun, rain, strategical compromises, starting from down the grid, having a bird stuck in his brake duct, you name it. He's driven like a man in complete control of his car and its surroundings.
And Red Bull has been virtually perfect from an operational standpoint. Hannah Schmitz on the strategy bench and their exceptional pit crew have barely put a foot wrong. 15 straight wins dating back to Abu Dhabi 2022 is bonkers. And they passed the cost cap this time, so we can't even use that as a petty excuse! We're probably witnessing the single greatest season in F1 history. Whether you care to appreciate that is ultimately down to you.
The Lightning Round
The Mercedes vs. Red Bull feud is quickly becoming Round 2 of the Pettyolympics. I wrote about it for WTF1 in my post-race column, but I'll give you my abridged thoughts. Lewis Hamilton knows exactly what he's doing when he mentioned Verstappen's quality of teammates to the Italian media, he's trying to diminish Max's dominance. It ignores all nuance of how Red Bull and Mercedes hire their drivers but it was clearly a jab. Max of course calls Lewis jealous and tells Mercedes to look in the mirror because Max has never seen a fight he thinks he should back out of.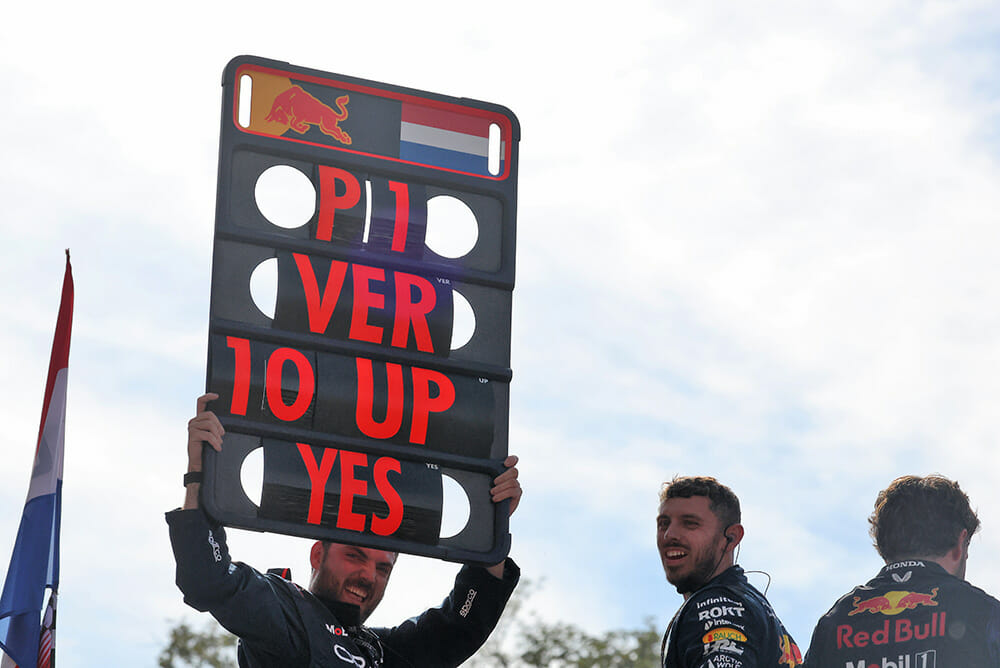 And Toto Wolff's comments about 10 straight wins being exclusive for the realms of Wikipedia make me sad. I make no bones about it, I am a colossal nerd, and spend many a time collating data from Wikipedia, but everyone uses it. Mercedes had won 10 straight races three times in their 2014-2020 reign of terror. I remember all the stats being run off when Lewis had won his 100th. Or the Michael Schumacher helmet when he got to win #91. Posters were literally sold with them on it. So miss me with the nonsense about how the stats only matter for nerds. That's what Toto was implying and it's just not true. They absolutely do matter. But hey, they're probably a lot easier to dismiss when you're not the one who's breaking records any more. Call all of this what it is, petty mind games from a team who knows at the moment it can't do its talking on the track. 
Alex Albon's 7th place for Williams might have just sealed them 7th in the Constructors with 6 more points. Yes, they always go well at Monza, but holding off the McLarens to do it will always be mad impressive. Albon for me is quickly becoming one of the drivers of the year. Immense drives.
On the other side of the coin, with Liam Lawson having a pair of very solid rookie performances on short notice, and Oscar Piastri largely being excellent, Logan Sargeant is running out of excuses as a rookie. And yes, I did notice James Vowles on Sky on Saturday being VERY non-committal on the American's future. Does James still have Mick Schumacher's number? Asking for a friend.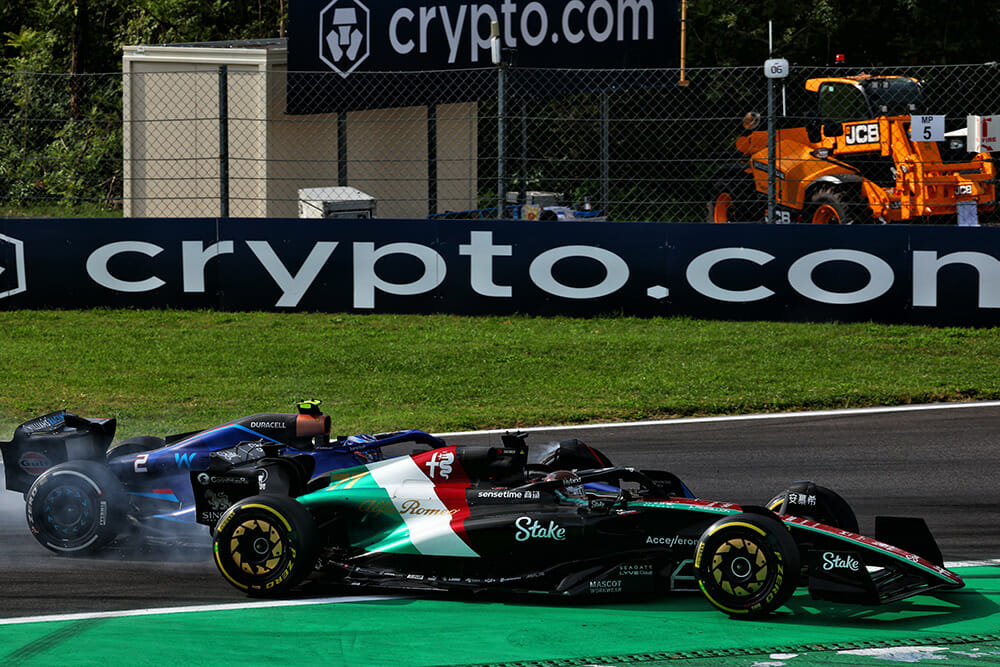 And how many more good Liam Lawson performances does he have to nail before we wonder if the Daniel Ricciardo experiment is already a badly timed bust? Because the Kiwi is going to give Marko a headache if this keeps up. The man looks like he belongs.
Speaking of, Oscar Piastri was clumsy in his minor tag of Lando Norris on pit exit, but McLaren isn't slick with favouring Norris on strategy. They knew exactly what they were doing with that undercut.
Lance Stroll finished 86 seconds off the win last week and half of that was too his teammate. This is the sort of performance that has people wondering if he's even mentally wanting to be in F1, fairly or unfairly. All I'll say is, if this was in any other team, his performances would be untenable.
Is it just me or has Ferrari's special Monza livery shit grown on me? Yes, I know it's a bit Belgium football and a bit McDonald's, but I just… like it. Forgive me folks, I'm not Zhou Guanyu when it comes to fashion.
Dre's Race Rating: 8 (Great) – A small tangent to close if you'll allow me. If you didn't enjoy this race, I'm not sure why you're watching F1 at this point. I get it, many a fan will only be fully intrigued if there's a title fight and Max took that way some time ago. But this was a great race. Ferrari was genuinely competitive, Carlos did exactly what many fans would hope he'd do and that was take the fight to Max as hard as he could, even at his own detriment and the fighting between the Ferraris, the Bulls and George Russell early on was superb racing, and it was all the way to the end. At Monza of all places. There is absolutely hope in these regulations and for this weekend at least, they got it right. I pray, look beyond the blue and this is still a fascinating season, especially in that upper midfield. See you in Singapore.