"The Switch."
I love the Brazilian Grand Prix. I still long for it to be F1's season finale, something it hasn't been since 2013. The vibes, the fans, the great track, the increased risk of changeable conditions, it all comes together as the perfect place to close an F1 season that isn't as scarred by blatant sportswashing.
And yet… this one was only mid, and man was it disappointing. But I'll give it this, Brazil definitely asked some very interesting questions about the state of the field, and it did leave us with one last gift for 2023, and a final lap battle for the ages. Let's get into it.
---
A Hint Of Papaya
Max Verstappen's reign of terror continued. 4th Sprint Win of 2023. 17th win of 2023. 32nd win in his last 42 starts (Yeah, it doesn't get any less ridiculous). But, if I took away one big thing about the state of the field, it's that McLaren is emerging as Red Bull's nearest challenger.
I acknowledged this in my Ask Dre post from last week, but behind the scenes, I was a little reluctant to go all-in on it. This was because their strongest weekend in Qatar was a little bit based on circumstance, with Qatar becoming a weekend based around raw speed over tyre preservation. This was a better case of why McLaren is almost certainly the #2 team in F1.
And a lot of it boils down to Lando Norris. The man is putting together a tremendous back half of the season. The second-place finish he had yesterday was the five podium he's scored in the last six races, with four of them being runner-up spots. Without a doubt, the strongest run of the young man's career and he dedicated himself to being a pest for Verstappen all weekend long.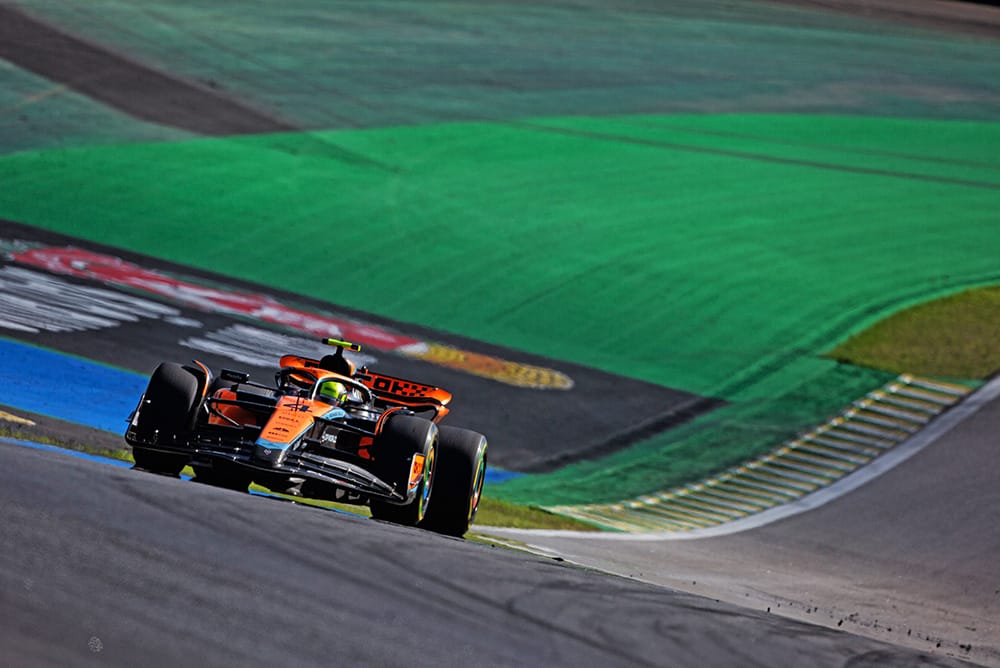 Norris took the Shootout pole in the more representative Saturday conditions and only a superhuman launch from Max (0.15 reaction time is about the human maximum), got him back in front early and led to Max taking the Sprint, but even so, Lando stayed with him for the majority of the running.
Then in the Grand Prix, Lando took advantage of the poor Aston Martin getaway to go straight to second off his third-row start and I love the fact he tried an audacious send around Max at the outside of Turn 4. It immediately took him out of DRS range and slowly drained any hope of the win, but I will never criticise a driver for trying to take an opportunity when it presents itself.
And Lando was within five seconds of Max almost the whole way through. By any measure, it's the closest anyone has run Max all season outside of the Singapore outlier. I even love the fact that Norris took the fastest lap honours with an astonishing 1:12.4, which at the time was 2.5 seconds faster than the field. Lando wants to make a point that he's the in-form "best of the rest" driver in this championship right now and it's hard to argue against it.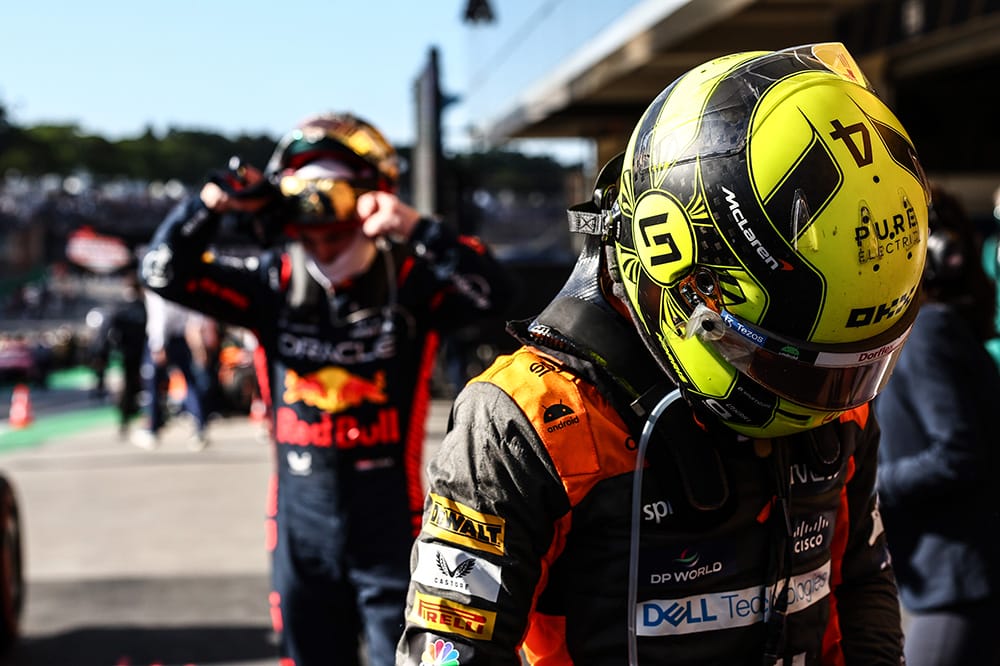 To put this form in perspective, the easy parallel is the switch in form between himself and Aston Martin, and their star driver, Fernando Alonso. After Canada and the final race before McLaren started rolling out its upgrade package, Norris was 105 points behind El Plan. It's now only three. McLaren as a team only had 17 points through the first eight weekends. They've scored 270 in the twelve weekends since.
And the scary part is, Oscar Piastri will only get better too. I'm glad some of the crazier takes on him have calmed down after a tougher flyaway period, but you gotta remember that he's had a euro-centric junior career and flyways are rare. Once he gets used to the flyaway rounds, Piastri has Norris-level potential. Two of them in a competitive car could be something Red Bull has to keep an eye on. And it's probably why Sergio Perez has come under such fire lately. More on that later.
Does Anyone Want To Finish Second?
The big two teams in the fight for second had an awful weekend for different reasons. Charles Leclerc was his usual self. Fast as heck in qualifying but then had his electronics kill his power steering for him to go spinning into the wall on his formation lap. Carlos Sainz had a driveline problem that was harming his gearbox and he had to nurse his car home to seventh.
But then across the aisle was arguably the least competitive Mercedes since the turbo-hybrids began. A horrible combination of having to raise their car higher off the ground, a floor package that just isn't all that competitive, having to run a massive rear wing to compensate for the lack of downforce, making the car draggy in the straights (They were 6mph off the Bulls in the speed traps), led to a Mercs that was butchering its tyres and wasn't fast enough to make up for their massive losses.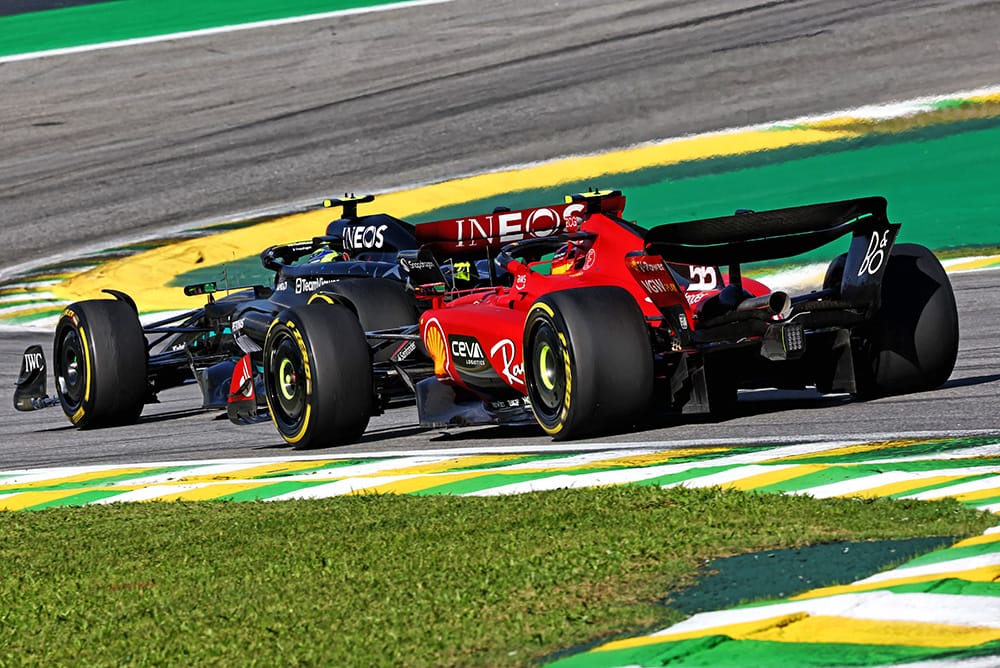 Toto Wolff was apologising to his drivers and described the car as "miserable". Described their performance as "inexcusable" and that the W14 "doesn't deserve a win". Lewis Hamilton was eighth, his joint worst finish of 2023, and Russell had to be parked due to his car overheating but likely would have been out of the points if it weren't for the abnormally large attrition rate. And the worst part of it was that Toto didn't seem to know what was causing the issues.
And that's what makes Ferrari's weekend all the more frustrating. They were 24 points behind Mercedes heading into the weekend and while taking that gap down to 20 is a plus, it'll also feel like a big missed opportunity to ramp up the pressure on Brackley. With just two race weekends left, Ferrari might not get another chance to land a haymaker on Mercedes.
Man, if only Aston Martin and McLaren had been able to put together a full season…
Lap of the Gods
I love that Aston had to deal with the humility of essentially going back in terms of the specification of their cars and going back to what made them fast at the start of the season. And as if by magic, they put together their best weekend of 2023. And Fernando was cooking out there.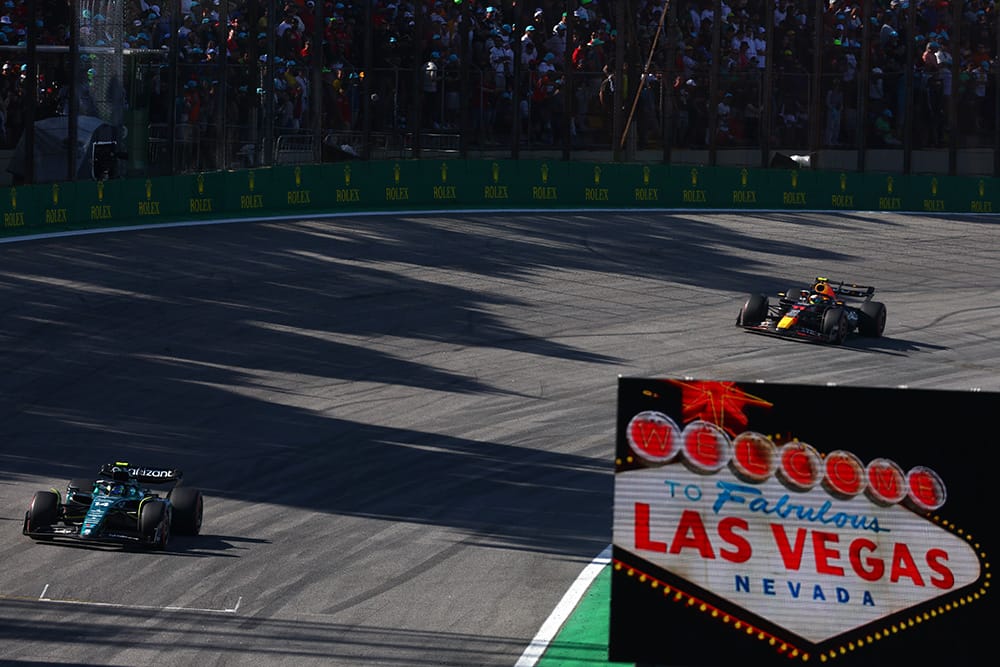 Sergio Perez was closing him in during the second phase of the race and I just assumed given the strength of the car that Perez would go straight past, but Alonso did a brilliant job of keeping Perez at bay. Then Checo tried the undercut and got even closer on soft tyres, but Alonso did what Carlos Sainz did so well to Daniel Ricciardo during the Sprint – He nailed his exits out of Turn 2 and always broke off a tenth and a half, doing just enough to keep Perez at bay into Turn 4.
With two laps left, Perez dumped the whole battery into the front straight to get the move done. He did and briefly had the final spot on the podium, but Nando came back and got it done with an all-in sweep across Perez around the outside of Turn 4 on the final lap, holding on to win the drag race to the line by 0.053 seconds. Three-quarters of a car at length 200mph. Fernando Alonso is still him and that was masterful defensive and offensive driving. Pushing Checo around into making tactical errors and then finishing the job when it mattered most. Outstanding. The best fight on track that we've seen in 2023.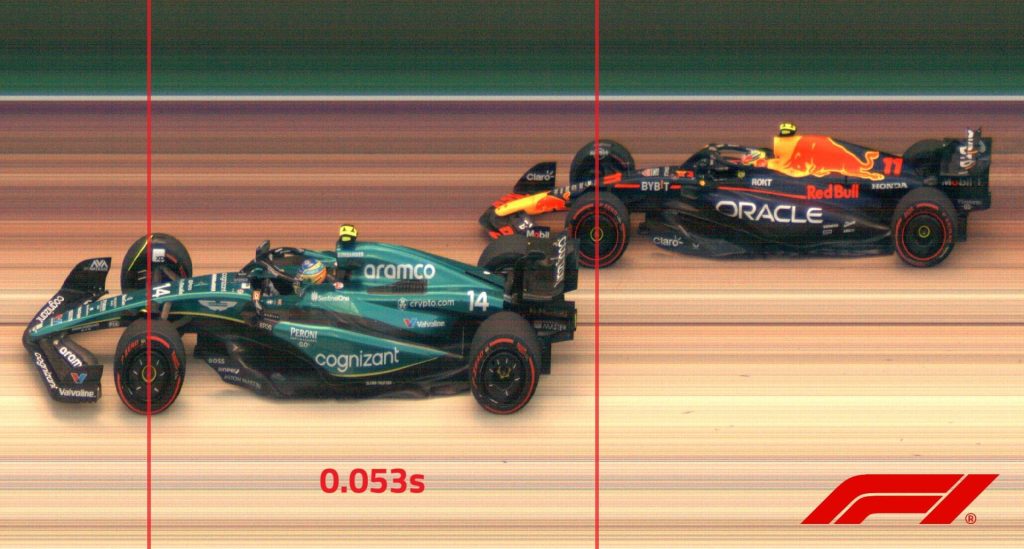 For Alonso, his eighth podium of the season and a reminder of what the team can do. For Checo, another eyebrow raised. Despite it being a better weekend, you have to think he shouldn't be getting beaten by anyone in an Aston Martin. Alas…
The Lightning Round
Being 100% real with you readers, I think sometimes as fans we have an inflated sense of self-importance. If you're reading this blog, chances are you're a hardcore F1 fan who will watch almost any part of the sport and it takes him a good amount of your social footprint. Chances are, you're going to watch the content the sport gives you regardless of how it is presented. Screaming about it on Twitter isn't going to change that.
If you're going to keep watching Friday Qualifying, you're going to have to accept that the Sprint isn't going anywhere. Because that honeytrap is the vindication for the sport as to why it's still here. Trust me, I've read the press releases from F1, viewership is way up across most Fridays and Saturdays, which is exactly what the sport was trying to do. As I've always said, if you don't like what you're watching, you need to vote with your time, your money and your remote. That's what leads to action.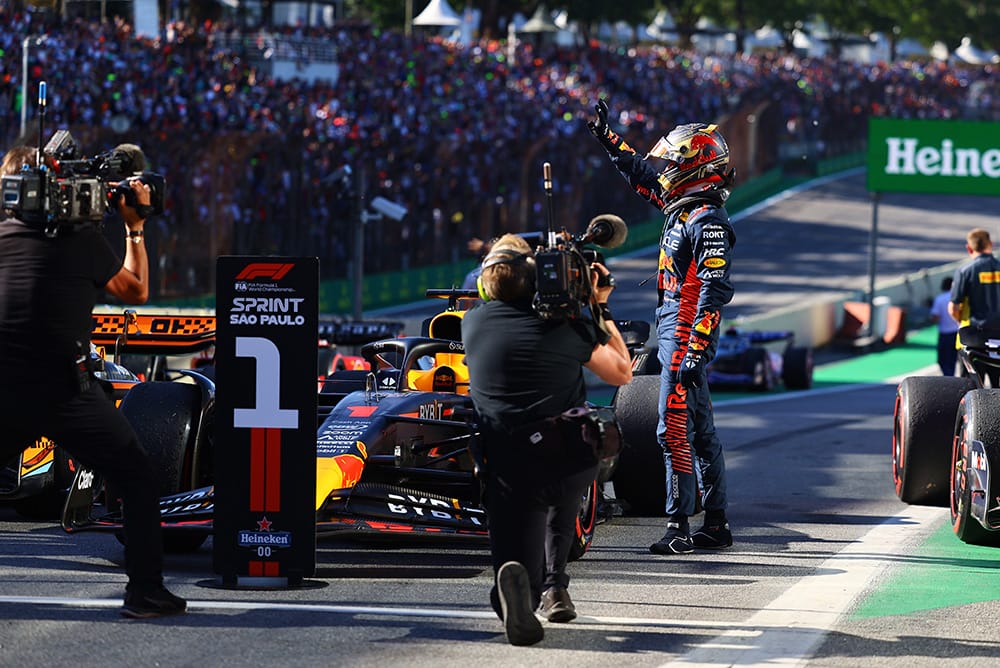 But I promise, I am trying to fix the problem. I wish I could tell you more here but rules are rules. Head over to WTF1's website on Wednesday for more on how I'd fix the problem.
And hey, if you did watch Friday Qualifying, how wild was that storm? It's like someone was playing the F1 games and modded in "night mode" to the track before the torrential rain hit minutes later. 60mph winds and part of one of the grandstand roofs blowing off were genuinely scary but thankfully, no one was seriously hurt.
Five more points for AlphaTauri in the fight for seventh after Yuki Tsunoda went P6/P9 in the Sprint and Feature. Williams was unlucky Albon was collected on that Lap 1 Red Flag and Logan Sargeant was 11th but I don't think they looked like scoring threats anyway. Very interesting fight down the stretch.
Who genuinely had Pierre Gasly picking up where Fernando Alonso left off at Alpine? Man's putting together some really solid weekends lately.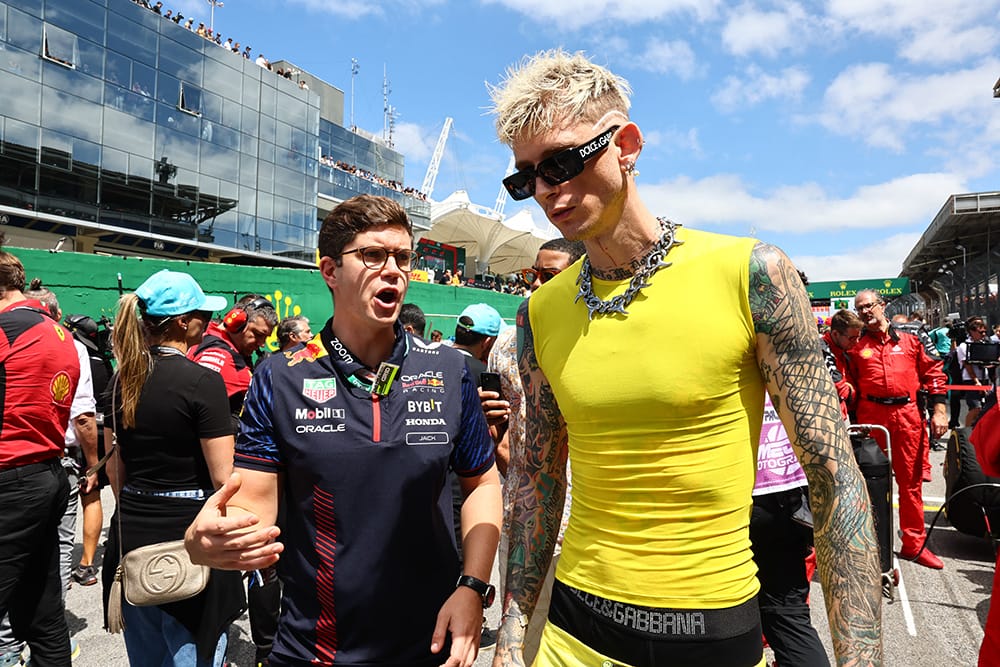 I can appreciate the FIA trying to figure out a solution to the pit lane blocking crisis, but I'm not sure encouraging drivers to be aggressive on exit in order to beat the traffic is going to solve the problem.
Adriano being the paddock was the highlight of my weekend. Seriously.
Machine Gun Kelly's interview with Martin Brundle was an all-timer in awkwardness, and for once I can't really blame the broadcaster for it. MGK's head was somewhere on Mars. +1 for Brundle for at least walking up to Bernie Ecclestone and rinsing him by saying: "An expensive month for you given HMRC!". Banger.
Dre's Race Rating: 5½ (Okay) – An extra half point for the Perez/Alonso fight at the end. And you know what's funny? The Sprint was way better than the race itself. Outside of Lap 1's shock Red Flag and that end fight, the race itself was rather drab outside of seeing the surprise of seeing Mercedes struggle so badly in the upper midfield and it never really seemed like Lando Norris could challenge for the win unless Max got shenanigans that never arrived. See you in Vegas.