The Running Diary of Francesco Bagnaia
Finally, a Sprint Race in MotoGP where no one got injured afterwards! Thank god! And I loved Alex Rins in this race. He's always been good around the Circuit of the Americas (Remember, he was the man who broke Marc Marquez's win streak and had to beat a still-good Valentino Rossi to do it), and he had the perfect game plan to try and beat Francesco Bagnaia…
…Show him a wheel and try to spook him out of his rhythm. Rins was hyper-aggressive and tried to block-pass Pecco at every heavy braking zone but he just didn't have the outright pace to stop the Ducati man from taking the most comfortable win of his GP career to date. But Rins taking 2nd was a hell of a result and a reminder that he was one of the fastest men in the sport towards the end of Suzuki's run.
Francesco Bagnaia? Was him. That was a brilliant, dominant performance. If he's in full flow and the road is clear, he's virtually unstoppable to beat. The only man who's beating him for the Championship at this rate will end up being himself. He is that guy. What guy? That guy.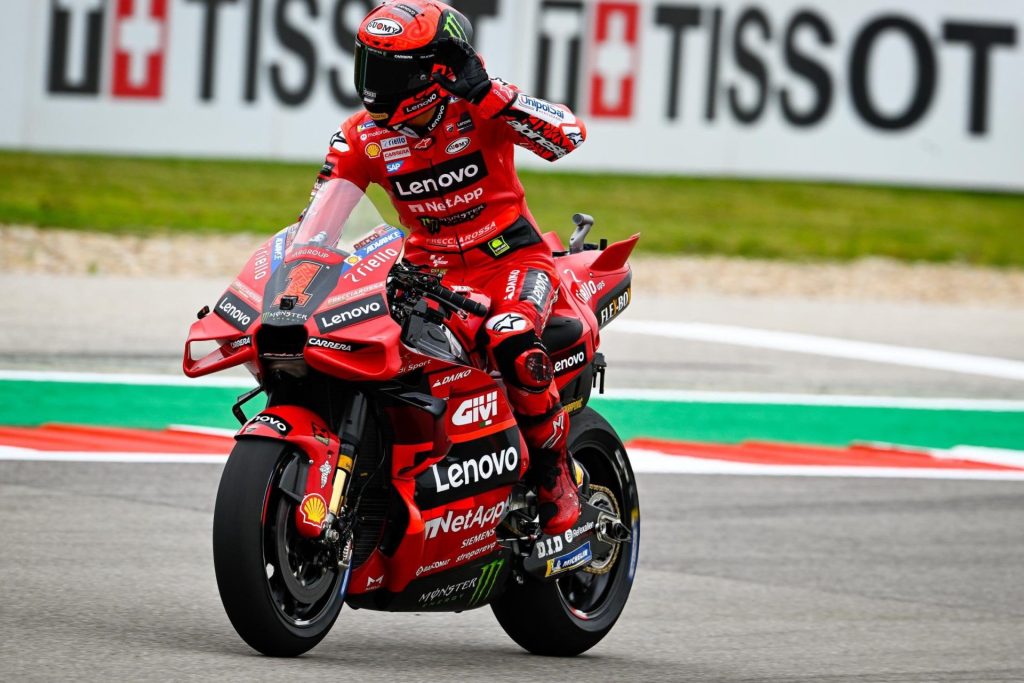 But it was refreshing to see that the riders are clearly starting to get used to the Sprint format now after three attempts, and are getting better at gauging how aggressive they need to be without going over the line. Unless you're Fabio Quartararo, who binned it at the top of the hill after he finally got a decent start for the first time this season. Ouch.
I do sincerely hope that this is a step in the right direction for a Sprint that started out in shock over how potentially scary the extra aggression was. COTA also had some of the more familiar signs of the sport's racing problems; like managing front tyre pressures and struggling to pass late on, but as a format, I'm really starting to think the half-distance running is better for what the sport is now than the full GP distance. As I said in Argentina… I wonder if that was the intention. 
Okay, a confession readers… I cheated a little bit. I wrote the above part of the review on Saturday night after the Sprint, thinking it'd save me a bit of time tonight. I promise you, I didn't change a word of that. This was before the Grand Prix happened. I guess you can call this a running diary of the weekend. Because here's me AFTER the race finished! – Dre
…Pecco. BRUH. If you hear a faint scream in the back of your head, that's my co-host Cameron Buckley's vocal cords exploding.
Look. I'll give Bagnaia this. This track was clearly treacherous. When nine riders don't make the flag, you do have to wonder about the state of the track. But it's also fair to ask a question of the rider himself when he's done this seven times since his title-winning season started.
When we were watching this race together on the Motorsport101 Discord, we were just annoyed more than anything else that he keeps crashing while in comfortable positions. This was like a carbon copy of Misano 2021 when he was just starting to pull away and establish a lead and then… you know the rest.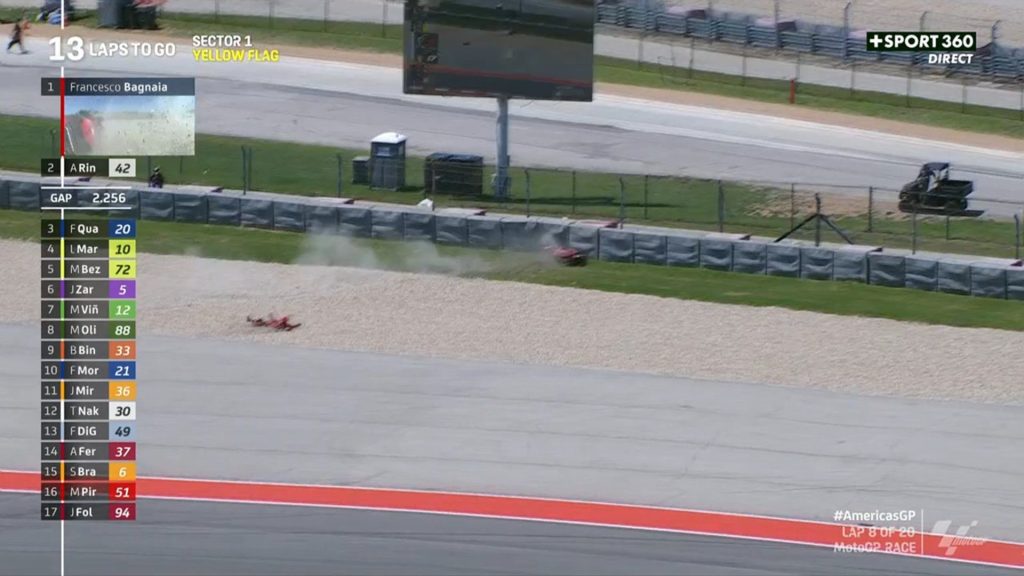 I feel like I'm repeating myself from Argentina, but again, I need to stress the title situation at large here. Your teammate Enea Bastianini is taking longer than expected to recover from his broken shoulder blade. Marc Marquez is taking longer than expected to heal from his broken thumb. There is little to suggest Alex Rins is a long-term threat, as was Fabio Quartararo or Luca Marini behind. Bez, the championship leader was 6th. This was another golden goose that the man has squandered. He cannot keep getting away with this and the chaos of the championship behind him is probably the only reason he's not criticised on a larger scale.
This is just flat-out poor discipline for a World Champion. Full stop.
Alex Rins, the American Prince
Still kind of wild that the only two men to win at the Circuit of the Americas in the premier class not named Marc Marquez have been Enea Bastianini and Alex Rins. And he's now done it with two different manufacturers. This was the first non-Marquez Honda win since Cal Crutchlow's "Don't Doubt Me" from Argentina 2018, and the first win of any kind in 18 months.
I loved Rins's controlled aggression. He didn't get Bagnaia a moment's rest bite early doors trying to lead and forced Bagnaia into that mistake, and after that, completely controlled Luca Marini and Fabio Quartararo behind him, the latter actually getting clean air on track for the first time in a while.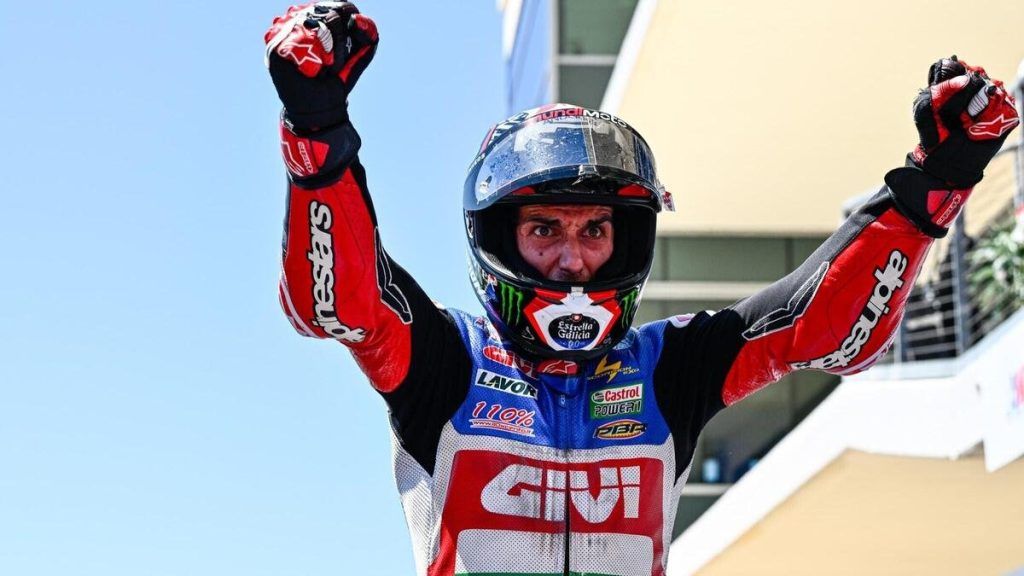 Going back through last season, this is Rins' third win in the last six races, and with two different bikes. On any level, that's a remarkable bit of form and it doubles down on what I was saying last year… did the factory team go for the wrong man?
In any case, Alex Rins is a brilliant rider. I hope the Suzuki folks were smiling, who raised him to be the talent he is today. And that their bosses can seethe over ending a winning project.
The Lightning Round Longer Than Alex Marquez's Crash
Wonderful to see Jonas Folger back in MotoGP after six years away and battling with Gilbert's Syndrome. And four points were a great reward for keeping his nose dry.
A brilliant fight between Pedro Acosta and Tony Arbolino in Moto2. That was a brilliant tactical dogfight with Arbolino maximising every bit of late braking he could muster, only for Acosta to figure it out right at the end when it mattered most. And Arbolino nearly pulled off the up and under off the final corner. *chefs kiss*. Can we get this all season, please? And a shoutout to Bo Bendsenyder for his first podium in 7 years, and on the weekend his grandfather passed away. I'm sure he'll be immensely proud up there.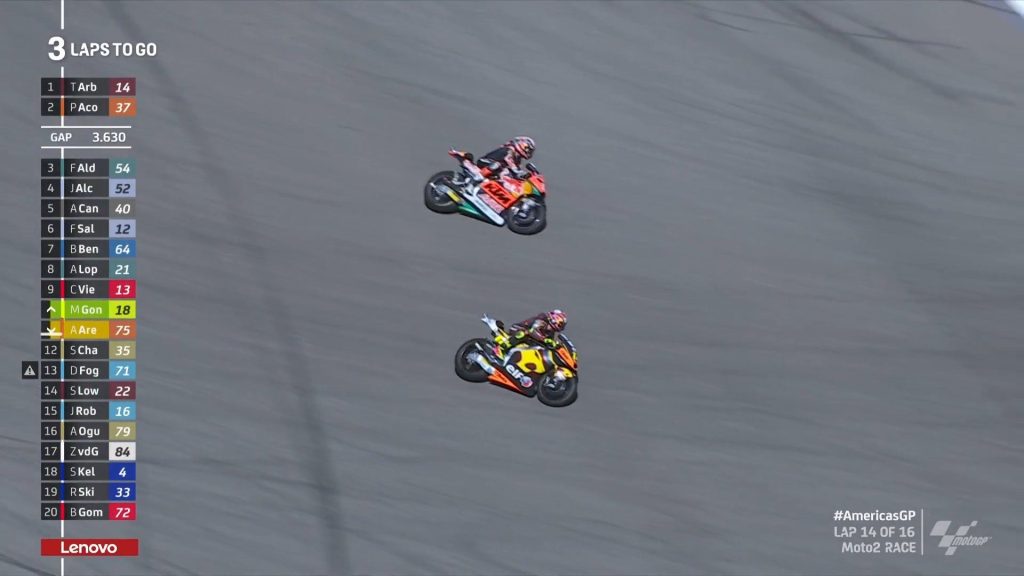 Also, weird that Motorsport.com reported that SEVEN Moto2 bikes shut off during Saturday's running and an emergency meeting was called during the evening and no one between Triumph and Magnetti Marelli could figure out what was wrong. Sincerely hope the retirements of Sergio Garcia and Marcos Ramirez weren't related.
Can someone please tell Ayumu Sasaki to keep it upright in Moto3? Man's pissing away a title campaign where he's clearly as good as anyone in terms of raw speed. Brilliant win for Ortola mind you, and I hope he kicks on. Also, the horrible nature of bike racing where a team celebrates its first win in the same race their teammate Stefano Nepa breaks his leg for a second time. Yikes.
Both Aleix Espagraro and Raul Fernandez had their ride height devices fail. What's it going to take to make a compelling enough case to ban them on safety grounds?!
Love that MotoGP hired a former NBA guy, Daniel Rossomondo as their new Chief Commercial officer. The NBA has been outstanding in recent years in making their sport more accessible, especially when it comes to being liberal on sharing highlights, so much so they've encouraged people to take their footage and repackage it.
Motorsport (F1 and MotoGP in particular) have been very strict in their use of footage and copyright claims and they fail to realise that easing up on that is free advertising for their sports. If Dorna can tap into some of that, they might be able to break some more ground online for their sport. Yours, Dre, content creator for many places and still constantly salty that people snitch on us using literally a few seconds of race footage and asking us to take it down. >_>
And on the other end of the scale – Suzanne Santo who sang the US National Anthem, has a Twitter page promoting transphobic and anti-vaxxer takes. Massively disappointing to have someone like that be representing your sport and some basic vetting would have avoided that. Motorsport is for everyone and trans rights are human rights. Whatever platform I represent as my career goes on, I will always defend the LGBT+ community and they need all the cis-gendered allies they can get in a horrendous time for their very existence. We have to do better.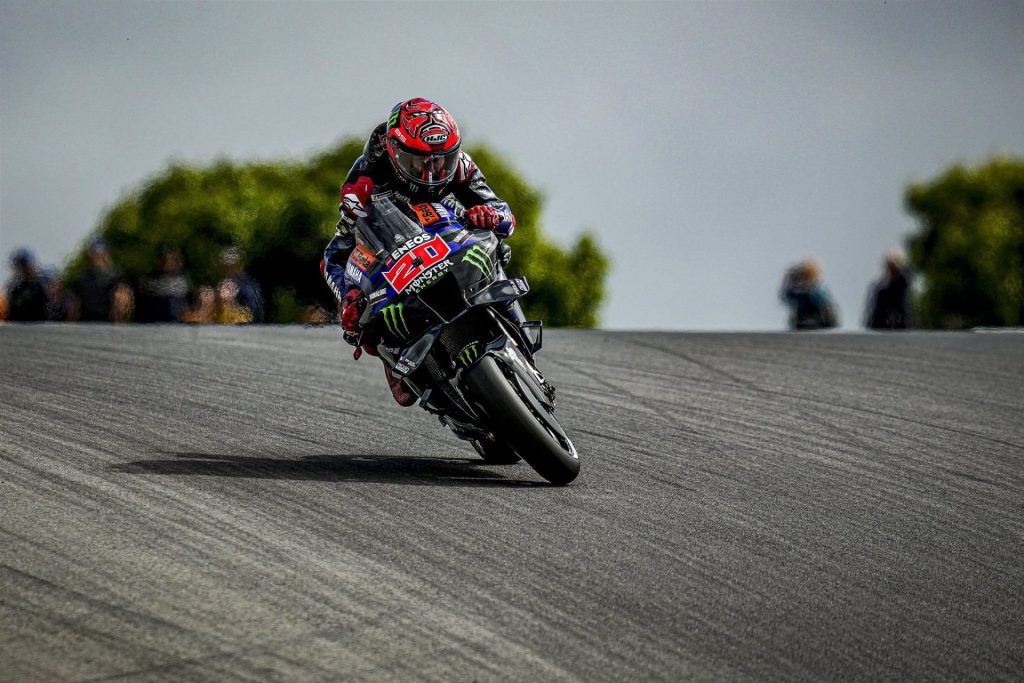 Fabio Quartararo pretty much said the quiet part out loud now that Yamaha needs a complete reboot of their M1 if he wants any chance of doubling his World Title haul. Being the last of the in-line fours in a world of V4 engines and the man himself claiming they're "Years behind on aerodynamics" is a frightening statement. But again I do wonder… if he knew where this team was going, why did he sign a two-year extension when he could have put feelers out there as far back as 2021 in regards to his availability?!
And across the garage, it looks like if Franky Morbidelli is going (Which to be honest, looks likely), former World Superbike Champion Toprak Razgatlıoğlu won't be the replacement after an underwhelming test in Jerez. I wrote last year that mentor Kenan Sofogolu's mentality of being the "big fish in a small pond" might not have been the best career path for his star talent and it seems I was proven right. A shame, because I'd have loved to have seen him in MotoGP and given an opportunity.
But with WSBK riders content to not move aside for anything less than factory gear (Not wanting to finish 15th), and MotoGP's own ladder being so good that no team boss wants to gamble (Why would you when Moto2 and 3 have generated prospects out the ass for a decade), that pathway is just about dead. Danilo Petrucci and Cal Crutchlow were the last of a dying breed.
Dre's Race Rating: 5/10 (Meh) – This was sadly; beyond the shock of the winner, a drab race with little action. Only 13 riders saw the finish line, the lowest in a MotoGP race since Assen 2016, the race with atrocious rainfall and Jack Miller winning. The same old problems – Riders struggling to deal with their front tyres with all the aero and excessive speed, only combined with a bumpy track that lacked grip off the racing line. As much as it's easy to torch Bagnaia, there was something to be said about a track where Jack Miller crashed SIX times in a weekend. Sigh. See you in Jerez.