"God. Save. The King."
IndyCar's third round of the 2023 season had the series head to the streets of Long Beach for one of the blue ribbon rounds of the season. And within it, redemption for the Road To Indy's greatest graduate, one of the biggest teams and names in Motorsport absolutely harpooning the field, and vindication for us making a 75-minute YouTube special on someone named Kyle.
The Coronation Of King Kirkwood
This will be one of those races that have way more meaning than the Box Score ever will show. You have to go back through the years on this one. Trust me.
Kyle Kirkwood was the magnum opus of the Road To Indy junior programme. In the space of six years, he won the F4 US title, F3 Americas, USF2000, Indy Pro 2000, and Indy Lights titles. He had won basically everything worth a damn in North American single-seat junior racing. Within those five seasons, he won 55 times across the board.
Kyle collected a cool $1.2m scholarship cheque with that 2021 Indy Lights title and Andretti had a potential once-in-a-decade talent… and then immediately loaned him out to AJ Foyt's team. Looking back on it now, it was kinda clear that Andretti wanted someone else to take the seat, hence Devlin DeFrancesco making his full-time debut and claiming there was a "multi-year" plan for him in place. I'm not saying this was a pay driver move… but Devlin hasn't cracked the Top 10 in a race yet, in 20 attempts.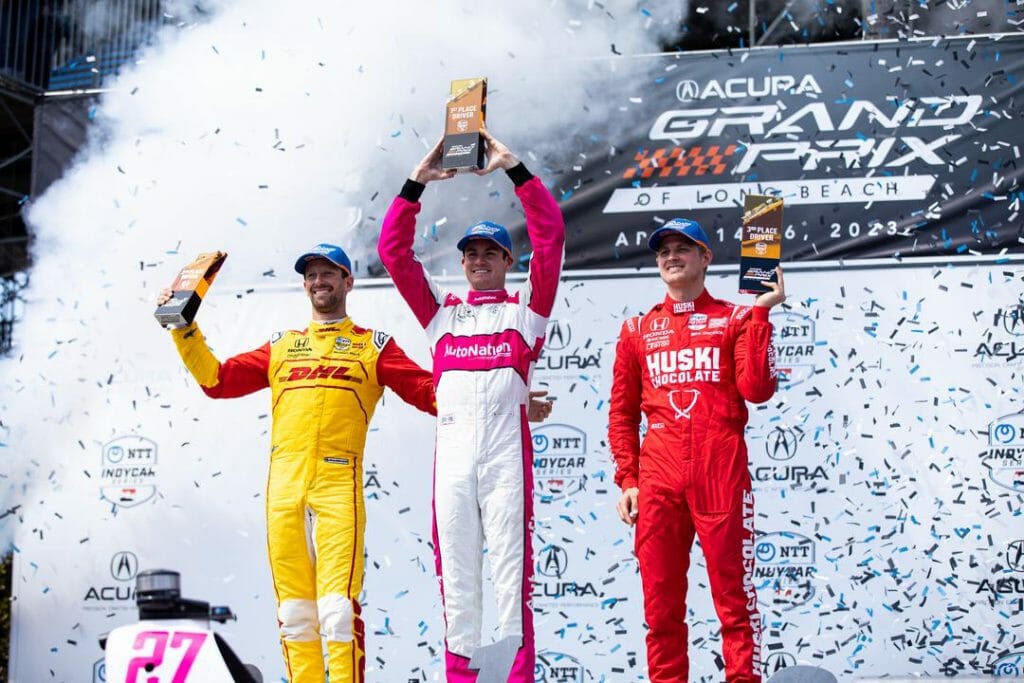 And as many an IndyCar fan will tell you, AJ Foyt is probably the worst team in the series right now. They've gone through quality drivers in the same way that I go through packets of Nutri Grain. This weekend was the 10th anniversary of their last win in the series and some serious drivers like Takuma Sato, Tony Kaanan, Conor Daly, Carlos Munoz and Sebastien Bourdais have all been and gone with very little to show for it. Not even Kirkwood could salvage anything, crashing out often due to overdriving his limited machinery. It was a pointless loan deal that helped absolutely no one in the medium term.
Kirkwood's Andretti debut was a year late and sadly a dollar short. His season to date has been his car doing a Fosbury Flop impression in St Petersburg, and then getting speared by an overzealous member of Alexander Rossi's pit crew in Texas. (Hey Alex, if you were still salty about the whole Andretti breakup, you could have been a bit more subtle about it. He's definitely laughing at this joke, honest.)
But for KK, this weekend was everything we'd been hoping and waiting for, and man did it deliver. A pole position, narrowly beating Marcus Ericsson by half a tenth and then pushing everyone around him in the race to the point where no one could touch him.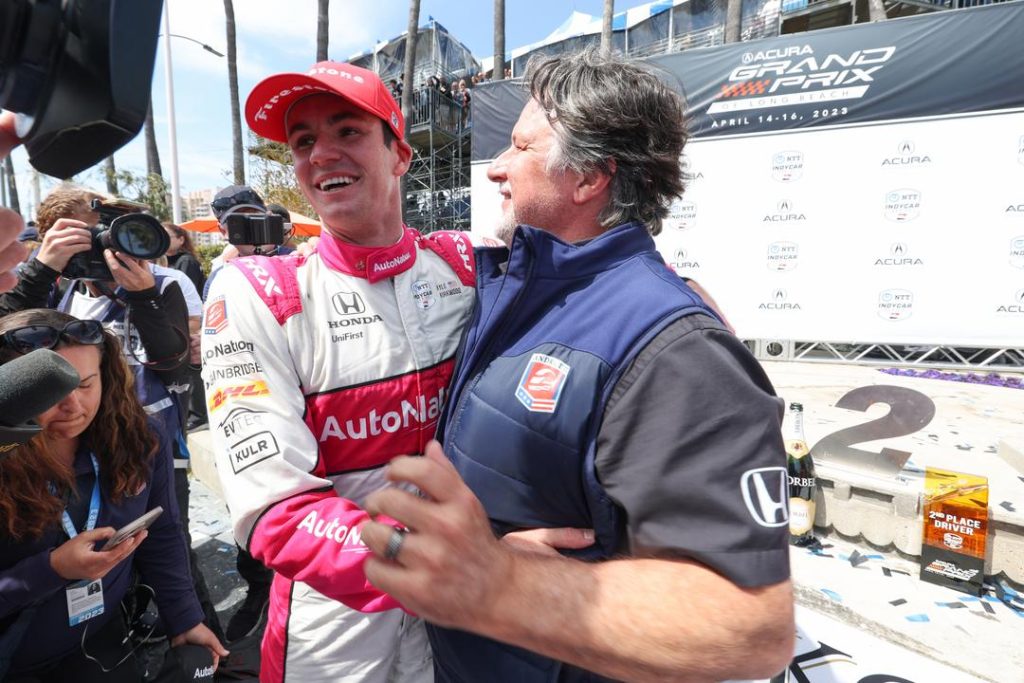 We thought a caution for Scott Dixon being put in a wall (More on that later), was going to gift wrap Josef Newgarden an easy win from the front, but it turns out Penske was seven shades of mid the whole weekend and he faded fast. It came down to a fight between Kirkwood who overcut his way to the front, and teammate Romain Grosjean still desperate for that first dub.
Grosjean had to juggle staying in range and saving fuel for a final Push to Pass splurge (If anything he underdid it, he could only use 90 seconds of his saved 160 in the final three laps), but he just couldn't get near enough to think about a pass, and Kirkwood led 53 out of 85 laps en route to his first series win, and a 1-2-4 finish for Andretti Autosport. The team's best finish since they locked out the podium in Mid-Ohio in 2020.
And let's not forget what this team has gone through since then. Multiple years of talk that they were stretched too thin with four cars. An F1 deal collapsed due to control issues at Sauber. The continued fight to get onto said grid with a sport that wants to protect its franchise model. Colton Herta's future up in the air on two separate occasions and his career to date feeling a little disappointing despite some incredible results. The 2022 Mid-Ohio collapse. Losing one of their 500 winners to McLaren, their new rivals in the upper class and people genuinely asking questions as to whether the Woking imports have overtaken them.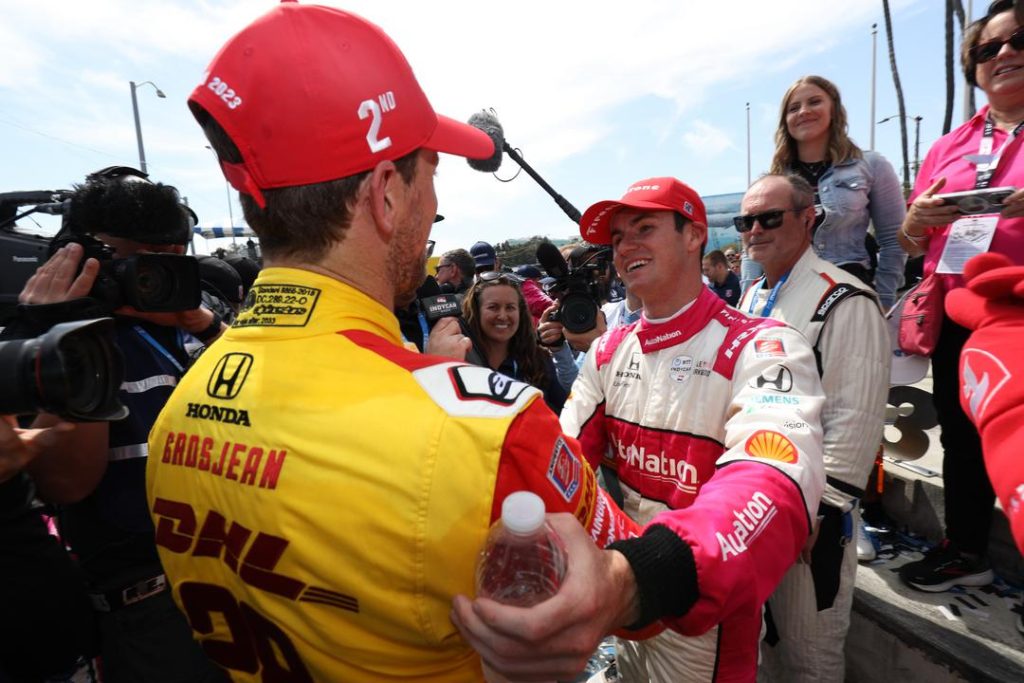 Even this season, all four of their cars were collected in St Pete through no fault of their own. Grosjean crashed on the penultimate lap of Texas, with Herta's 7th the only car in the Top 10 so far this season. Winning really does solve everything, and Michael Andretti's tears on victory lane were a perfect microcosm of the last few years and why this win meant so much.
There's hope for Andretti again. And man, have they needed it.
We've Been Due An Angry Dixon Smash
It's been a while since series legend Scott Dixon got involved in a good old-fashioned barney, and in Long Beach, Pato O'Ward was happy to oblige. An inside lunge before the tunnel from Pato put Dixon into the wall and eventually out. Pato was very apologetic… to everyone but Scott. Because you see, he tried a similar move again after the restart and nearly turned Marcus Ericsson into mincemeat, backwards and grazing the tyre wall.
Scott Dixon essentially said: "Guess the gloves are off" in response, while the known barrel of laughs Emma Davies-Dixon said on Instagram that they've already lost three Championships due to poor officiating. Which… look, she may be right, but when you've already won six, it's a bit like Elon Musk trying to claim a tax rebate on an Easter Egg.
My opinion? Both parties have a point. Dixon was caught napping and left the inside narrow path wide open for an attack. But Pato committed very late to that move and at some point, Dixon had to take the corner or eat concrete salad. Yes, Pato made the corner, but he had to essentially hug the wall by going way over the curb to do so.
Once again, I put this one down as a symptom of a larger problem. Stop me if you've heard this one before, but it's inconsistent stewarding. I genuinely do not know what warrants a penalty anymore. The sport's system doesn't help either. Unlike in F1 where there's more wiggle room via time penalties, IndyCar goes from zero to back-of-the-line and drive-through penalties.
In a series that leans on Safety cars far more than F1, that might as well be the death penalty. So if you're going to hit someone with the book, you'd better be sure it's fully justified. Almost anything with a grey area gets the "No Further Action" call, which leads to the fans getting headaches out of frustration because you can get away with using your car as a battering ram and get away with it 8 times out of 10. And given we had multiple wall-bangers and cars turned in St Pete and only Will Power caught the pen for the Herta shove, I still don't know what actually counts as a penalty.
At times I want to lock Niels Wittich, Freddie Spencer and IndyCar's steward's panel in a small room with a beehive until they can figure out how to properly officiate a motor race. Speaking of which:
The Lightning Round
Benjamin Pedersen's car was stranded and blocked an escape road at the bottom of the track, sideways, for a good 60 seconds and had to be rescued by people on track. No caution because IndyCar insists on waving around the leaders to see if they want to pit under green. This remains the dumbest and most dangerous officiating in Motorsport. It's a middle finger to one of the best safety teams in Motorsport. Fucking stop it.
Stop calling Marcus Ericsson the "Sneaky" Swede. It's an injustice. At this point, Marcus being great in IndyCar isn't a surprise anymore.
I love that while being interviewed on his race, Pato O'Ward was surrounded by four dozen fans who wanted selfies and autographs. I hope it becomes his gimmick like he's a Pro Wrestling character. Because it's either that or he's hired private security to protect himself from EDD, likely carrying a shovel.
Another day, another occasion where Alex Palou runs long and gains half a dozen spots. How many times do I have to say the man is just a sorcerer?!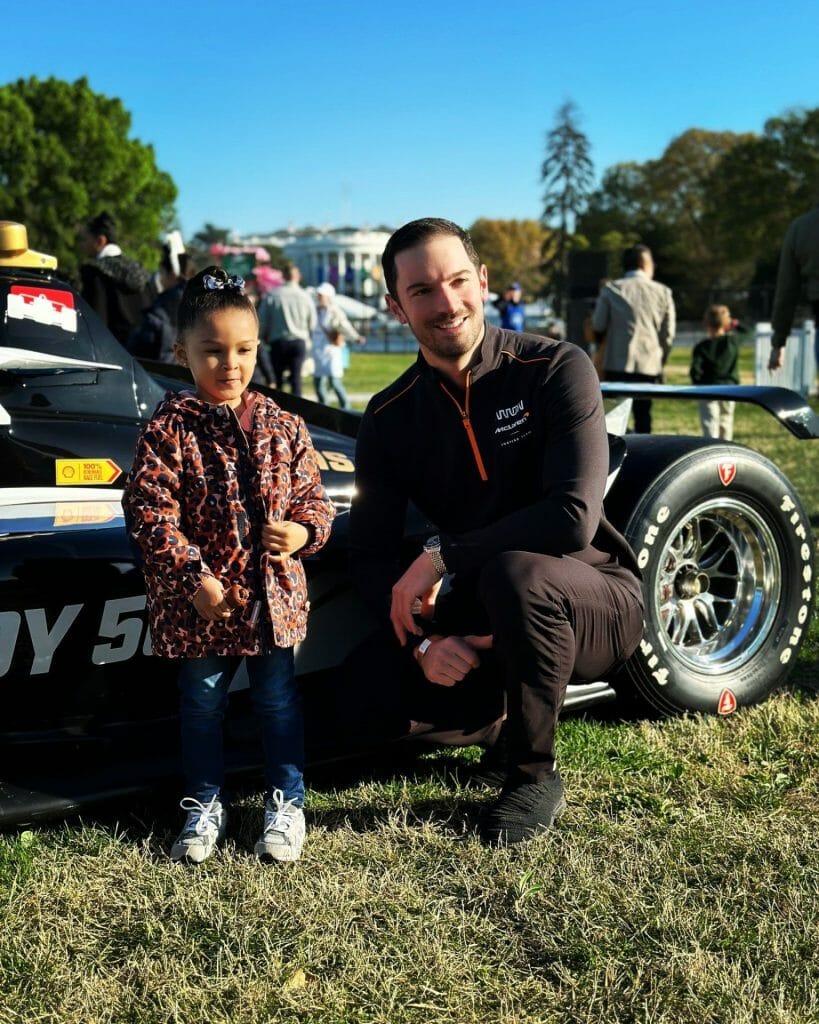 Between Texas and Long Beach, Alex Rossi got to visit the White House as part of their Easter facilities. If this is the first you've heard of this story, congrats, this is everything wrong with IndyCar promoting itself. (And no, there wasn't a massive embargo, because Rossi's partner posted the trip on Instagram.) But I hated the fact that Scott McLaughlin was wrong and strong, setting his 80,000 Twitter followers on the excellent @RacingKate on Twitter for pointing out his error. I've mentioned Kate before but they do a remarkable job in collating social media stats on elements of the series and breaking down the direction the series is going in marketing-wise. There are few if anyone on Twitter better educated and can back up what they're saying about the series than they can, and they're made to be the villain because the driver ALWAYS gets the benefit of the doubt.
I'm a cis-gendered man and have been a Motorsport content creator for nearly 12 years now. And let me tell you something, as a man, I get a level of privilege in this industry that anyone not identifying as one often gets – The fact that everyone immediately takes your word for something. I'm very fortunate to have women and enby friends, content creators and journos in this space and they get their knowledge questioned at every turn, even when they've done their homework. It's sexist bollocks and it grates me every time it happens on here. Which sadly, is about once a week. I wasn't joking when I said the series has a culture problem, and incidents like this one is all the proof needed.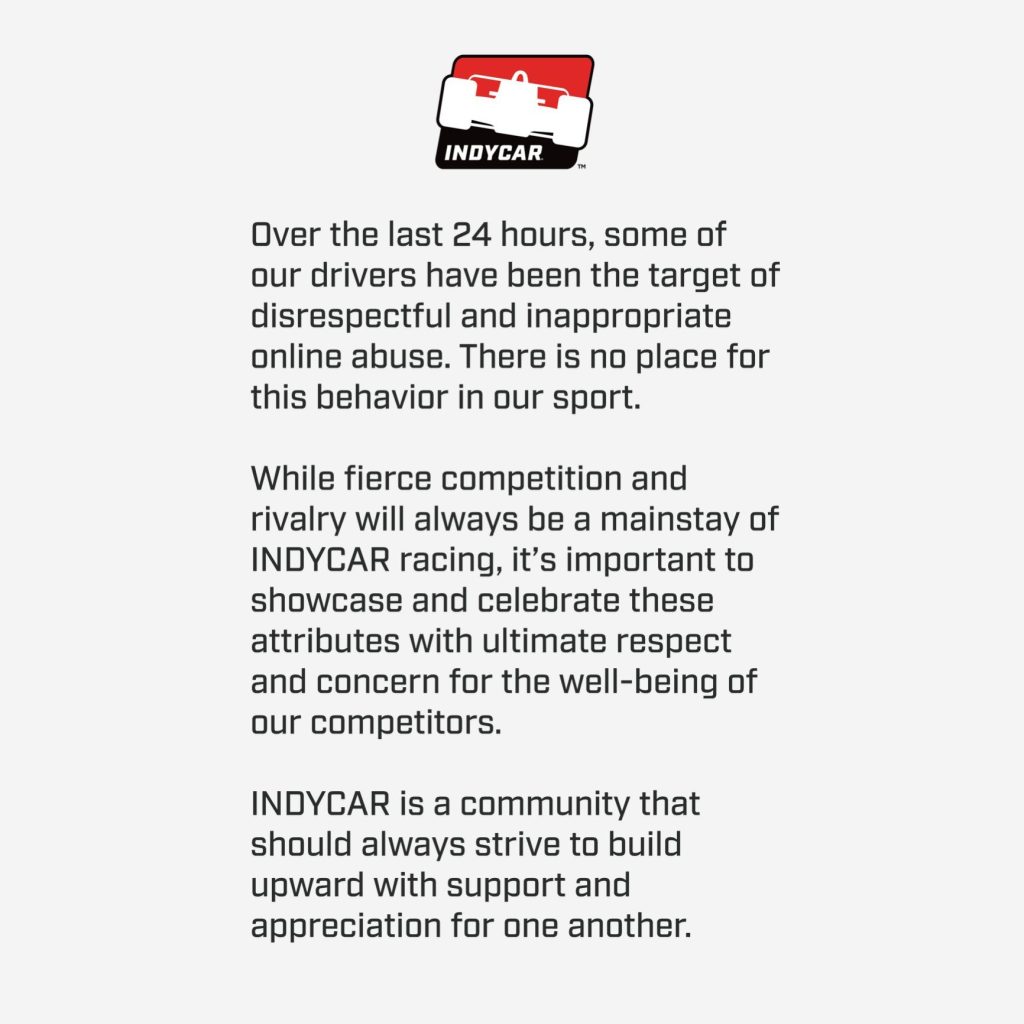 It is completely unacceptable to send Callum Illot or anyone else death threats over social media. And if you're someone who thinks that's okay because of your love for the sport, the wild west nature of social media or any other idiotic reason, please seek help. I hate that the warm and genuinely good rookie campaign of Agustin Canapino might get tainted because his fans are acting like wankers. It shouldn't have to come down to the series itself and its hottest new name in Pato O'Ward to tell fans to lay off the sauce.
And finally… I didn't even know IndyCar had a travelling monastery until yesterday's Twitter discourse. I'm not a religious man, but I'll tell you for free, I have no problem with a small group of volunteers who want to pray, which to me is just channelling positive energy and support the people of the paddock who need or want it. I'm going to be real with you chief. If you have an issue with that… I think you're the problem.
Dre's Race Rating: 7/10 (Good) – If this was being scored on a Long Beach scale, this is a 9. I can't stand Long Beach and the generally over-aggressive driving that comes from it. But this was a good one. Some tactical intrigue early on with Josef, Romain and Kyle, and a genuinely tight finish with Ericsson bearing down on the Andretti's as they themselves had to juggle fuel economy and speed. Throw in some drama and this was a good all-round street race, without me groaning at all the overtake attempts like I did in St Pete. See you in Barber.