"No, Bahrain wasn't a hallucination. They really ARE this good."
Welcome to another edition of Dre's Race Review, as Formula 1 went back to the ever popular Jeddah for the Saudi Arabian Grand Prix. And this race was an alarmingly straight-forward affair like Bahrain was, but without that new season excitement feeling you get from the opening round. Yay.
But F1 can't F1 without some degree of drama and we got a LOT of that here, with Fernando Alonso being the centre of attention for the second race straight, only this time for very different reasons. And I can already see the narratives forming about Red Bull as the structure of where the teams are in terms of performance are becoming clear. Let's get into it.
When's A Penalty, Not A Penalty?
So for those who haven't fully kept up with this – Fernando Alonso got a 5-second time penalty for lining his car up outside of his grid markings. Slam dunk penalty, he definitely had a wheel out. But when Fernando came into the pits to serve the penalty during the Safety Car period, there were murmurs (Mostly from Mercedes, let's be honest here), that the penalty wasn't served correctly.
Now, this wasn't like Ocon's penalties from Bahrain where it was straight forward that the mechanics touched Ocon's car early. This was an accusation that the jackman had touched the car early when he was sliding the jack underneath to prep for when the 5-seconds elapsed.
The FIA initially cleared Alonso of any wrongdoing. But the FIA's new Race Operations Center had Race Control take another look… DURING THE FINAL LAP OF THE RACE. On the second look, the stewards reviewed footage that showed the jackman did indeed tap the brake light of Alonso's car. That was deemed as "working" on the car, and as a result, Alonso's penalty wasn't served correctly, and like Ocon in Bahrain, he got a further 10-second penalty demoting Alonso from 3rd, to 4th after the podium ceremony had finished.
Aston Martin then used their right to review, and when talking to the stewards, they pointed out seven examples where a jack had touched the car while serving a time penalty in the pits without an investigation. It went completely against the stewards belief that they had a gentleman's agreement with the teams that touching the car was deemed as "work". And because of that conflict, Aston Martin had the penalty overturned and they were allowed to keep the podium finish, Fernando's 100th in Formula 1.
Now the fact that I've had to write two YouTube Shorts worth of scripts to explain this in full, says a lot about the state of F1's officiating again. It's still a shitshow.
I hate continually having to retread on Abu Dhabi 2021, the focal point of everything nasty in F1 sports fandom – But one of the genuinely positive things to come from that embarrassment was that the FIA took an honest look at themselves in the mirror, admitted a lot of their own shortcomings as an organisation and turfed out their own race control process. One of those solutions was having a second race operations centre specifically designed to take deeper dives into cases like this one. It was meant to be F1's equivalent to Football's video-assistant-referee.
Now if you're not a football fan reading this, let me tell you that VAR for football has had a… difficult inception. Video cameras not having the frame rate to determine when passes have been made for offside decisions. Offside rules having a "Benefit of the Doubt" towards attackers that's been taken away because VAR insists on drawing lines on a screen to determine distance.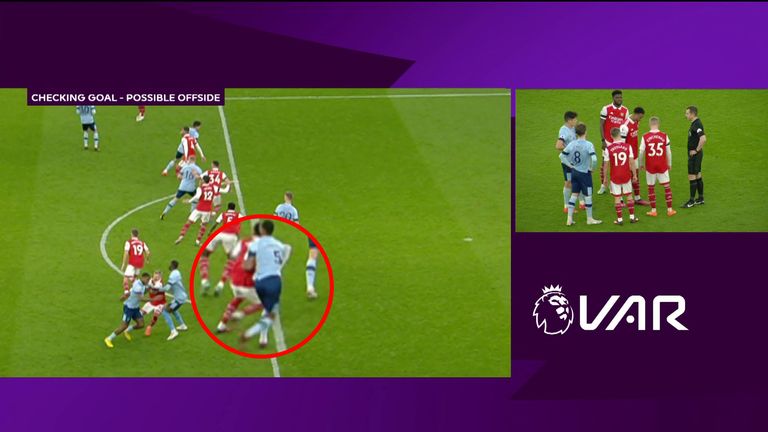 The time taken to make key decisions in a very free-flowing game like football. The implementation of technology in a sport where decisions on discipline like red cards can remain very subjective. And arguably the biggest problem – Using tech in a sport that is only ever going to be effective as the referees who operate it. And football refereeing is in a worse place than it's ever been. (Like seriously, why the fuck would anyone want to be a football referee in today's toxic landscape?)
That brings me back here. This FIA ROC was brought in to help fix EXACTLY this sort of problem. The fact that the powers that be had to take two bites of the cherry, the better part of an hour apart to determine whether Alonso's crew broke the penalty rule correctly, only for then to be a conflict between the rulebook, the stewards interpretation of said rule (They believed they had an understanding with the teams that touching the car was a no go). And then for all of that to be dismantled in seconds when Aston Martin pulled out a very easy case of inconsistent officiating makes everybody look stupid.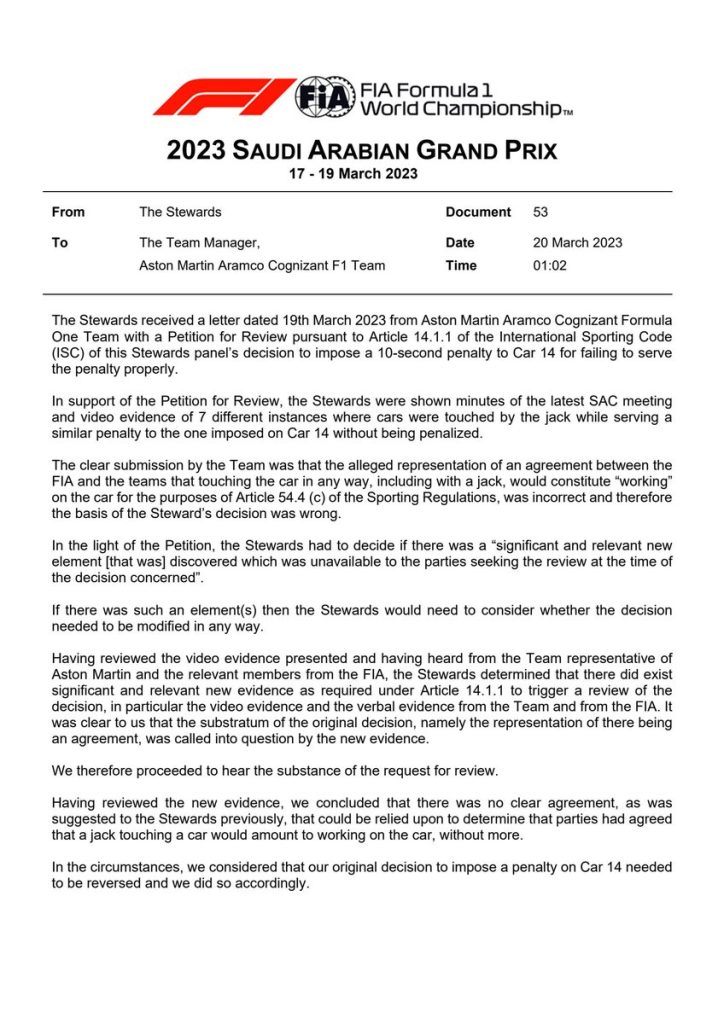 Not to borrow from another sport, but this is extremely cricket, where there's this underlying "spirit of the rules" that can be very easily undone when teams get serious. And no-one wins when this keeps happening. George Russell got catfished into thinking he was on the podium after being denied a genuine celebration, only to have to give that trophy back again hours later. The fans are left annoyed and confused due to all the political wrangling going on behind the scenes and not knowing when a penalty is actually a penalty. 
This in a sporting environment that already has severe trust issues with its audience. I don't like entertaining conspiracy theory driven F1 fans (The high profile ones are mostly idiots), but when the sport itself is fanning the flames through its incompetence, it's only going to piss off more and more people.
The FIA's again admitted its failings here, and the rule regarding serving a penalty in pitlane will be clarified before the Australian Grand Prix in a fortnight's time. It had better get it right.
Because… (We Have Got Beef Motherfuc-)
Yeah, if Saudi Arabia confirmed anything else about the state of play ON the track, it feels like we're back in a 2014-scenario where we're only getting a two-car title fight.
Red Bull completely dominated this race. Fernando Alonso was still 20 seconds back on a track better suited to Aston Martin on paper in 35 laps of green flag racing. Max Verstappen finished an easy 2nd from 15th on the grid after a driveshaft failure in Q2 ended his day early. (And fun fact: His Q1 time would have put him 4th on the grid.) Barring a shocking turn of events, this title fight will be Verstappen vs Perez.
And we've already seen more evidence that there could be more teammate beef on track, as Max shadily took the fastest lap of the race bonus point away from Perez on the final lap. This on top of Perez being fed different information to keep to a target laptime as close to two laps from the end.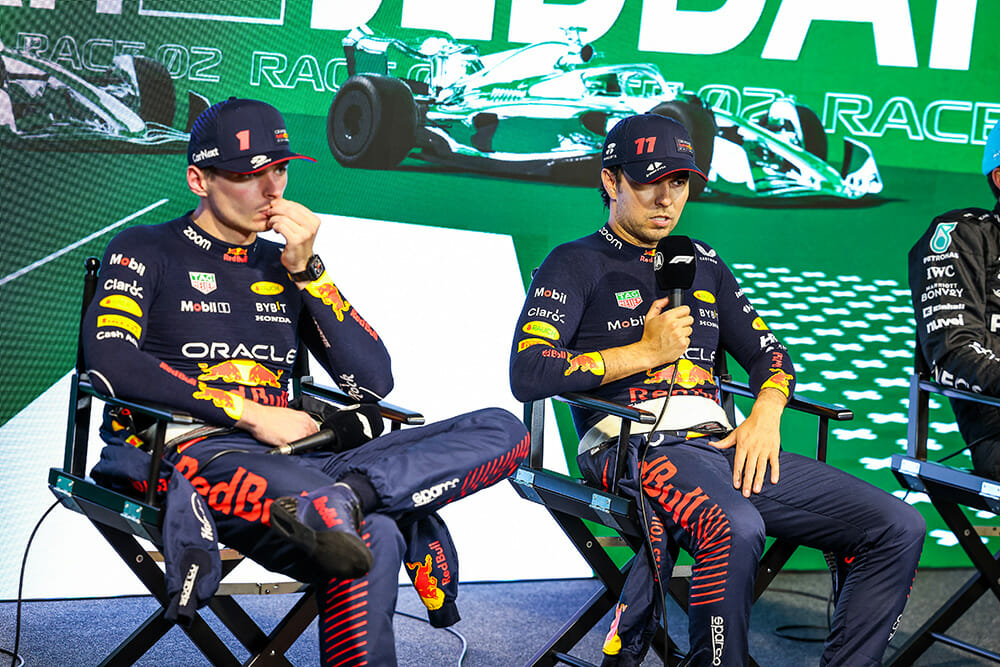 Now, let's be real here – Verstappen was always going to go for the fastest lap. He knows exactly what I've just written above this paragraph. This is a two-horse race and every point counts. It's a two-point swing for fastest lap and any smart driver would go for it. But it's also a very firm reminder of the state of play at Red Bull. This is Max's team and Checo had his pants pulled down publicly again.
It's a shame that being the journos we are, this will be the big takeaway from what was arguably Checo's best drive for Red Bull since joining. He was absolutely perfect in controlling this race. Didn't panic when Alonso jumped him at the start, got him back, and managed the pace well.
And when the Safety Car came and went, he broke Alonso at full speed early and generated that five second gap while Verstappen took another four laps to pass Russell and Alonso. And once that gap was there, Max never really had an answer. How much of that was in his own head with driveshaft fears that never materialised, but Perez's pace was more than good enough to take that win on merit and it was well deserved.
He's going to need a lot more days like yesterday before more people take him seriously as a title threat I imagine, but it's a big step in the right direction that I hope he can maintain.
I say that because F1 might NEED something here. Drive to Survive's novelty is beginning to wear off. S5 was not received well critically. The uneducated fans it pulled in years ago are starting to see through a lot of the bullshit now they've stuck around and seen how the sausage is made as hardcore, news-following fans. And when you realise that seasons like 2022 and 2023 are a lot more common than 2021, or 2012, where engineering dominance is the real reason this sport is the way it is, a Red Bull title fight might be all we've got.
The Lightning Round
Lewis Hamilton called the Red Bull RB19 the most dominant F1 car he'd ever seen. God bless him. I remember that Bahrain 2014 race where he and Nico Rosberg were fighting for a win while breaking off two-seconds a lap on Sergio Perez in a Force India. Or when Daniel Ricciardo was 45 seconds back in Spain. Fun times.
So with Lance Stroll the only decent name failing to make the flag, and Alpine coming in a very quiet 8th and 9th, is the power rankings Red Bull, Aston, Mercs/Ferrari, then Alpine? Given how clear they were of Haas and a fighting Tsunoda, the points seem almost locked out. That could be bad news for the third group of chasers because points could be very hard to come by this season. It might be time to use MotoGP's Top 15 scoring system… (25-20-16-13-11, then -1 down to 1 in 15th.)
Have Ferrari EVER been so anonymous in an F1 race in recent times? There was nothing really "honsey" about them this time round. Both drivers drove well, the strategy department did well to come out ahead of Stroll on track before his DNF, but got caught by the timing of the Safety Car and were then just… there. 6th and 7th, 35 seconds off the win in a 35 lap race post-SC. Again, I feel for Fred Vasseur. He's had to deal with a Round 2 grid penalty, a slow race car, and allegedly disruptive Italian media that seems out to get him from Day 1. Even when Ferrari aren't honsing, they're honsing. Honseception?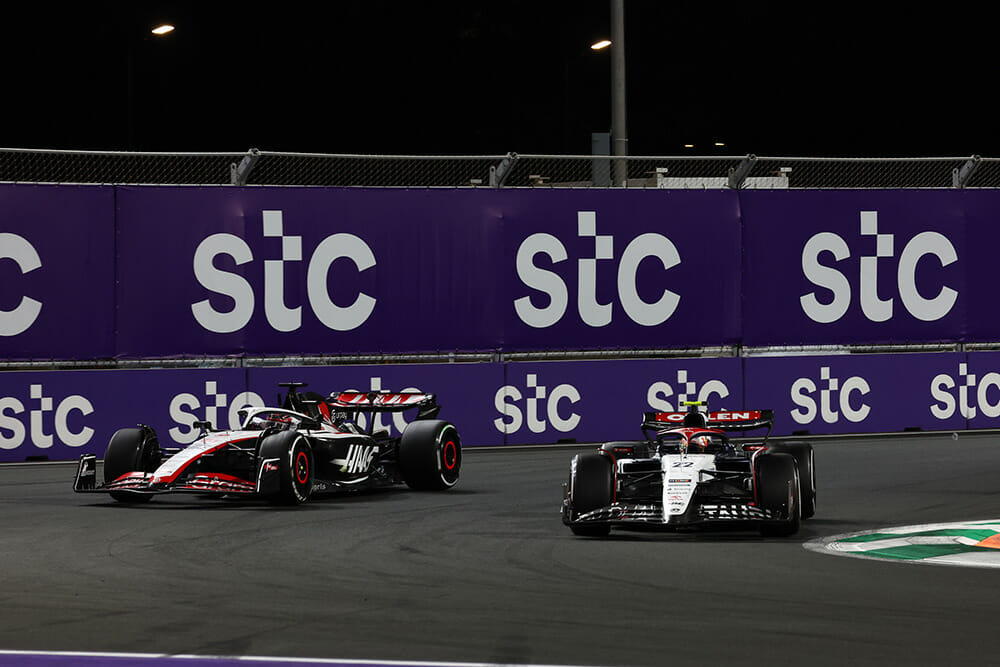 Shoutout to Yuki Tsunoda. Got up to 8th due to the timing of the Safety Car, and then got into a great old-fashioned scrap with Kevin Magnussen for the final point. And for the second weekend in a row, Yuki lost out and finished 11th. Now given his team boss Franz Tost openly admitted this weekend that he straight up doesn't trust his engineers and that the AT04 "lacks everything needed to be a fast race car", Yuki is putting in WORK. Work that might just have him keep his job. Because his car looks ass and he is stepping up.
Oh, McLaren. Just a sloppy weekend all round. Lando Norris out in Q1 for clipping the inside wall, and then Oscar Piastri ruins his brilliant Q3 appearance in 9th by losing his front wing 20 seconds in. It only makes their season even more frustrating because at least Saudi Arabia proved the car does have a bit of speed.
Was this the first F1 weekend that Zhou Guanyu genuinely had the measure of Valtteri Bottas (Even before the latter drove over Piastri's broken wing?) Answers on a postcard.
Dre's Race Rating: 5/10 (Meh) – Yeah, the gloss of a new season has clearly worn off. I gave an extra point here because the midfield is genuinely fun right now because the second half of the grid are clearly really close. Logan Sargeant, Nico Hulkenberg, Kevin Magnussen and Yuki Tsunoda were all in the wars in fights for 10th down to 16th and that made for good TV. But when the big story of the weekend was Max Verstappen's comeback and even that was boring because we thought he was so dominant he was 7/5 to WIN FROM P15, you're clutching at straws. See you in Australia.
Rest peacefully, Commander Zavala.