Wait, is that episode name an Initial D reference?! Welcome back to Dre's Grand Tour for Episode 7 of Season 2, and it's a stacked deck with a brilliant Audi vs Lancia piece, a way to refuel while on the road, and a new Lamborghini that is a stunner… oh, and a Boxer and wrassler are in the tent! Sounds great? Because it is! On with the review!
---
The episode starts off with Richard Hammond in the new Lamborghini Huracan Performante. It's an upgraded, 630bhp, more aggressive version of the Huracan. It was immediately a great call to have Hammond review it, as he reviewed the original Huracan on Top Gear towards the end of their run. For what it's worth, Hammond wasn't a big fan of the original, for the reason of that it lost that crazy, mad, Lamborghini effect that a lot of their older cards had.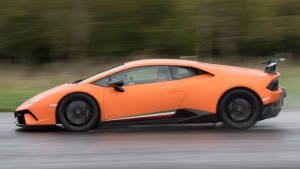 Luckily, he loves the Performante, and it shows. It includes a brilliant James May cameo in a Ferrari 458 Speciale, and some superb show driving. The Huracan looks planted, thanks to its new aerodynamic system that can assist with speed on the straights, with the flaps adding more downforce through the corners. Clever, brilliant car, and a superb lap from Abbie Eaton putting it 2nd on the leaderboard with her hot lap. The best Supercar review The Grand Tour has had to date.
Conversation Street has a collection of a ton of new small name Supercars, and I love that Hammond quickly points that you'd never want to buy one from a smaller brand like it. There's a throwback to Series 15 of Top Gear talking about women getting turned on by handbrake turns (Seriously, why is this a thing?). I do like they mock the new Bentley off-roader and some of the middle-eastern jabs were funny, as well as people in the country and clay pigeon shooting parties… until Hammond starts talking about dogging. Mhmm.
Next up, Hammond and May conduct in a comedy piece about trying to refuel cars while still moving. First up, they use the [fusion_tooltip title="I see what they did there." class="" id="" placement="top" trigger="hover"]Motorway Inter Lane Fuelling[/fusion_tooltip] device, a flatbed with some crane arms, to refuel a car on the move. What's funny is, they're also using the same runway that Fifth Gear did for a ton of drag races and car reviews.
I have to admit, the whole thing is rather fancy and not totally impractical for The Grand Tour… until James' electronic finger misses and breaks the mirror. He then breaks the fuel filler flap, but it actually works… until the fuel box falls off, and the whole car explodes. Because of course! Next up, they try again with a small Suzuki van (The same one Hammond used in the "Man with a Van" challenge), and a couple of "Chinese men from the circus", jump on the car to fuel it by hand. The first guy falls off the car, and I have to admit, I laughed when they pretended he exploded.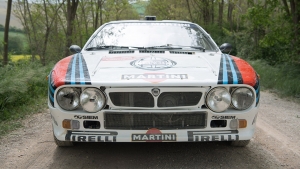 The third act of this is a giant moving bed with ramps on either end… and it actually works?! I mean sure, it's totally implausible, but I was impressed!
Celebrity Face Off next and it's the "Fastest person in the world who earns a living punching and strangling other men", and HOLY SHIT IT'S ANTHONY JOSHUA AND BILL GOLDBERG!!!
I'm not going to spoil anything here, but this is a FANTASTIC segment. Anthony Joshua was decent, but Bill Goldberg is a truly larger than life character. He's witty, he's funny, he wasn't afraid to take the piss out of himself, he had funny stories… Everything you could want from a celebrity interview and more. A must watch, even if you're the sort of person who hates these sort of things.
The final segment is a piece from Jeremy Clarkson on the epic Audi vs Lancia fight in the 1983 World Rally Championship. Essentially, David vs Goliath, on mud. Now, I'm not going to copy it word for word, because if I did this piece would be 5,000 words long, and I'd never do it justice, but I'll give you my favourite highlights to look out for:
– Audi bending the rules to get 4WD drive rally cars to compete
– Lancia bending every rule in the book to get advantages in their two-wheeled car
– Lancia getting around having to make 400 versions of their road car (You'll piss yourself when you figure out how)
– Walter Rohrl. EVERYTHING to do with Walter Rohrl. He's hilarious and wired a bit differently.
Seriously, this is a magnificent, magnificent segment, and I'll explain a bit more why at the bottom. That ends the episode!
---
Dre's Thoughts
I'm not going to beat around the bush here… This is the best episode of The Grand Tour so far, in either series, and it probably isn't close.
It had everything you could want in a great episode from top to bottom. Richard Hammond needs to review every Supercar now, he's just really good at it, I think more so than Clarkson these days, who just makes a shit-ton of metaphors.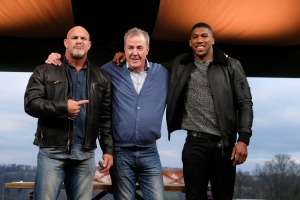 The refuelling segment was a little crass but genuinely better than a lot of their usual straight-to-DVD comedy sketches. Conversation Street was solid. Celebrity Face Off was outstanding and Bill Goldberg absolutely stole the show. And the final 20-minute piece on Audi vs Lancia was absolutely fantastic.
[fusion_tooltip title="You can find old clips of Clarkson's Car Years, Inventions that Changed The World and War Stories… All great watches." class="" id="" placement="top" trigger="hover"]documentary narrator[/fusion_tooltip]It's easy to forget that these three were all originally car journalists and Clarkson is at his best when he's a and broadcaster. Not to mention, I never reviewed it on here, but THE single best segment on Season 1 of The Grand Tour was when James May talked about Ford vs Ferrari feud at Le Mans. The historical segments, combined with the budget that Amazon gives them, can come together and produce some magnificent television, and that's exactly what the Audi vs Lancia segment was. If anything, it's frustrating because we can talk about TGT's problems till the cows come home, and it's often because episodes like this one can prove what they're still capable of.
This is the first episode of The Grand Tour that I would happily re-watch again in my free time. It holds up against anything they've done before. Go out of your way to see it, you will not be disappointed. Thanks for reading.
9.5/10 – Incredible