You know, The Grand Tour Season 2 has been going surprisingly well so far. Okay, the opener wasn't great, but it served its purpose, and the last 2 weeks have been pretty great…
*realises that Episode 4 was named "Unscripted"*
…Oh for the love of G-
---
The episode starts and we're straight in with Richard Hammond in a McLaren 720S. Okay, the car looks friggin' stunning. And it's fast as all hell. Despite a couple of continuity problems that the fellas joke about in a minute, this was one of The Grand Tour's better car reviews since the comeback. A couple of silly jokes about McLaren being boffins, but nothing major.
Fun Fact: It set the exact same lap time around the Eboladrome as the McLaren 650S did as a benchmark car. Hammond to be fair, mentioned that the 650 had the super sticky Pirelli Corsa tyres that supercars now run for fast 'Ring times, so that would probably explain the 720's poor time.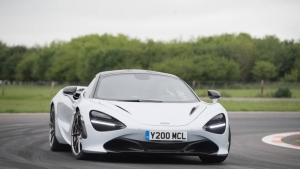 Conversation Street next, and for this week, it's another rip-off of the Top Gear Awards. Mocking poor looking Baby 4×4's, the Land Rover Discovery's backend being lop-sided, and Richard Hammond, who ruined the McLaren 720S by filling the petrol tank with water rather than fuel via a jerry can. The cut of the bigger water bottle joke was pretty funny here, I do admit.
Time for the Main Event and Clarkson is addressing social media, by bringing up social media complaints that the show has gotten too scripted. So, to counter this, the boys decided to do an unscripted, unplanned film, set in Croatia.
Over there, Jeremy brings the new Audi TT RS, a 400hp rocket ship, and he struggles to find a metaphor to describe it. Ah, I can see where this is going. Hammond brings an Ariel Nomad, but Clarkson says he knows because he's done it already in voiceover. It doesn't really make any sense as the Nomad is basically a big 70 grand quad bike. James shows up in a Lauda Riva, claiming he's spent 800 on it, leaving it 1,200 for upgrades… to turn it into a fire engine. Yeah… I REALLY see where this is going. By now, because it's unscripted of course, some locals ask for Selfies, and they all go off to do their own thing.
Because "unscripted", Hammond gets stuck in traffic, and Clarkson gets some cool shots in the outskirts of the city… before having to stop for metaphors on the side of the road. Hammond catches up and challenges Clarkson to a race… but they run out of road, because of it being "unscripted". Meanwhile, James was getting to work changing his Lauda into a fire engine. Again.
Next up, Hammond and Clarkson try to race on public roads. It goes about as well as you'd expect, especially given the Paparazzi are around, chasing for interviews. They rock up an airport for a drag race, but it's a commercial airport, who won't suspend flights for them. Because "Unscripted". Clarkson's statement: "You could film a waste disposal unit for years on end, and transmit the pictures, waiting for a cat to fall in. OR, you could push the cat in, and get it over with." More on that later.
They build up the tension as they find an abandoned runway for their drag race. But then they realise they can't start it themselves as they have radio's to operate. They cut back to James, who's trying to change the concept of a fire service… via a police-style patrol. It's really shit. It's shitter than you realise that "because unscripted", he had to drive around for a real fire.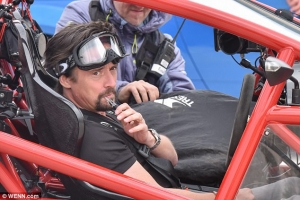 They cut back to the drag race, and of course, the "local" is an attractive young woman. Of course. They can't start the race because the boys are too distracted… so they put her at the finish line, and get the ugly sound bloke to start it instead… Wait, couldn't they have done that at the start? Anyway, Hammond's broke his clutch, so Clarkson brings the "local" in the car for a drive around. Apparently, she's got to go and "feed her cat". Was that a sex joke?!
Meanwhile. James deliberately put out a bin fire he started himself. Yay. Hammond's clutch is fixed, they start the drag race, and unsurprisingly, Clarkson's Audi wins. That ends Part 1.
Celebrity Face Off next, and this week, its: "Who is the fastest classical singer who has a minor association to the British Car Industry", and it's Alfie Boe vs Michael Ball. Don't skip this on the show, I swear to God, it was a HILARIOUS segment. They just ripped the shit out of each other for 10 minutes, it is excellent, and I highly recommend it. I'm kinda annoyed because this segment has seriously been great all series long.
Part 2 of "Unscripted", and Clarkson and Hammond are out looking for a quarry to prove it's better than the Ariel off-road too. Meanwhile, James puts out someone's barbecue. Ha.
As Clarkson and Hammond park up by a waterfall, James rocks up with one of the old challenge scoreboards that they used to have on "Old New" Top Gear, and Jezza throws it in the river because "unscripted". The other two, find a quarry for a rally stage. And to make it easier, Sylvia, the Croatian local, is timing it. In a great filmed showdown, turns out Clarkson's Audi was 2 seconds faster than the custom-built off-roader. Mhmmm. Totally believable given Jezza probably fed Sylvia's "cat".
Turns out James has offered a presentation to the other two, so they drive over there to see it while stopping for more metaphors to describe the Audi.
James's demonstration is deliberately starting a bushfire, with his fire engine already there. Turns out, the bushfire, and the wind, spread quite quickly, enough so that the ACTUAL fire brigade was called in, due to James running out of water and fire extinguisher. The Croatian fire service flies in, dropping six tons of water on it to put the fire out… and completely destroy James' fire engine. End of the segment, end of the episode.
---
Dre's Thoughts
Be honest, you're expecting me to trash this aren't you? Well… No, actually. Not really. This wasn't a bad show. Everything BESIDES the main segment was great. The McLaren 720S, Conversation Street, and Celebrity Face Off were funny and entertaining.
The main segment though… well. It wasn't terrible, in a vacuum. I can see what they were trying to do. I could see the potential as to how it could be funny. And that's the problem. It wasn't. I didn't laugh once at the whole thing. It was obnoxious, and the whole thing felt like it was a "fuck you" to any of the show's critics, more trying to justify why their segments are how they are.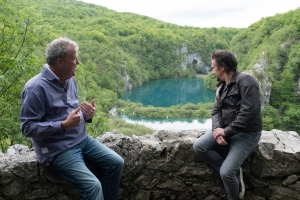 All the "unscripted" jokes in the segment, weren't funny. They didn't really explore the concept, or even mocking the idea that the show is heavily scripted. Everything with the fire truck and James felt contrived, mostly because James can't act to save his life. So the whole thing, ironically… felt really scripted and forced. Was that the joke here? That's not meta or layered, that's just stupid.
And to be honest, their use of "Sylvia" in this episode could easily be seen as objectifying. Of course the local has skimpy clothes, the men want to fuck her, and they make innuendos about said sex. Of course. I don't expect Top Gear's trio to be a solid moral compass (It was the glue that held the old show together at times), but it doesn't make it any less cringe to watch now I'm 25 and not 15.
See, The Grand Tour has had a habit of this forced humour that I feel has often made their segments cringe, or worse than they could. "The Holy Trinity", "Opera, Art and Donuts", and "Italian Lessons", were all examples of this, from the use of dildos to deliberately making cars look worse for the sake of a quick joke. It's dumb. It doesn't need to be there.
You know why the last two episodes were so good? Because it cut the majority of the bullshit, and just let the cars do the talking. They spoke to the car nut, rather than the stand-up comedy fan. That's a script they need to stick to because episodes like "Unscripted" sell themselves short.
Check back later this week as I check out "Up, down and round the farm". Thanks for reading.
6/10 – Decent