Merry Christmas everyone! Dre back at it with another episode of The Grand Tour to review! Sorry this took a bit longer… seasonal issues. In "Bah Humbug-atti", James reviews a fun Kia, Paddington's dad hits the track, and Jezza pretends he's even richer than he actually is!
Show opens up with a tree in the background for Crimbo. Although given the weather, I suspect they filmed it a while ago and it looks really out of place. They joke about James having to stand in for Hammond… with another joke about his Rimac crash.
---
But anyway, segment starts in Mallorca, with James in the new Kia Stinger, their first attempt at a more sporty hatchback rather than a cute city car. Have to say, it looks cool. Definitely ticks off a lot of the sports saloon boxes. Around £40k too, so cheaper than a lot of its competitors.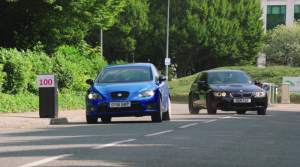 Speaking of which, to try and earn its stripes, he has a crossover race with a pair of downhill skateboarders, sometimes capable of 75 miles per hour. Which is bonkers. They race on a cliffside in Mallorca, James going uphill, and the skaters going downhill. It's very cool, actually, some great shots while filming, and I was stunned at those skateboarders. James ends up winning by a handful of seconds, which the skaters respond by telling him to Go f*** himself.
Conversation Street next and this is one of those Christmas themed news-esque segments. Clarkson has a cross on the tree. James quite rightly pointed out, that its a tribute to the dead Jesus, rather than his birth. Whoops. "What that is, is a big spoiler alert!"
A look at some Xmas presents, and Clarkson roasts Scalextric. (To be fair, it IS mad overrated in my opinion.) James claims the set should come with a little sister. I just… No. Anywho."I can see why you didn't like it Hammond, you put an electric car on a race track and the next thing you know, you've crashed."
Clarkson gifts Hammond his broken Rolex from the Rimac fire, in the form of a gift box. Engraved on it: "Made in Switzerland, Carefully perfected on 10th June 2017 by the British". SAVAGE. James gives him a pair of Morgan running shoes… with "Anus" on one shoe. Clarkson gives him an alarm clock with a crashed car on top, that sets itself on fire when it rings. See where this is going? It's turning into a savage roast of Richard Hammond. There's some velcro pants too, for when the paramedics have to cut him out of his clothes.
May gives Clarkson a shirt with his pneumonic lungs on them. Clarkson gives May a mini-fridge with a Submarine door for no good reason.
Next segment is James and Richard in Dunstable, who in an attempt to spruce up office lunch breaks, make a race track out of an industrial car park, using some industrial tape, and some chairs. They put up two firms in the park up against each other, first with a series of time trials, and then a 1-on-1 shootout race in the final. A nice selection of cars shown, from an M3, to a Fiat 500 Abarth, some MX5's… these IT dudes make good money, shocker. It's a good laugh, and a well done final between the M3 and a Seat Leon Cupra R. Nice segment.
Celebrity Face Off next, and this week it's the fastest "person in the world who lives with a bear", as Downton Abbey and Paddington star Hugh Bonneville, goes up against American wildlife expert Casey Anderson. Seeing the clips of Paddington 2, and Casey's bear drinking beer was great, a surprisingly entertaining segment.
Okay, let's cut to the real reason you're here, the Bugatti Chiron segment. The angle here is that doing a Grand Tour if you're rich used to be easy, you'd just use your private helicopter, obviously. But can you do it in a car?
Clarkson spends the segment pretending he's super-super rich, with his private boat and servant, Giovanni. Very jet-set. Jezza starts in Saint-Tropez, and has to get to Turin for dinner with a "contessa" by nightfall, but he also wants to do some Skiing in-between at the Alps.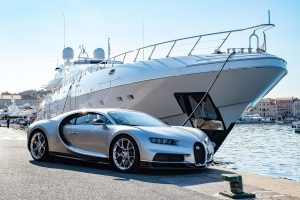 The car is a stunning spectacle, 2.5 million pounds, 1,479 bhp, 0-60 in under 2.5 seconds. Top speed… 269mph. Just when you thought the Veyron was the "Concorde" moment for Supercars… Yeah. Bonkers. It's hard to put that into context, so props to Giovanni for setting up a ¼ mile drag race with the BMW M4 to see just how faster it was… and it won by over a second. I mean.. Wow. Flat out, it'll kill its 12 gallon tank, in 9 minutes.
Also, good lord, the Chiron is stunning. Doesn't look or feel as "bloated" as the Veyron did. Beautiful, beautiful car. Clarkson makes it to the Alps, where you can see the Chiron on mountain roads. It's funny as Jezza can't actually appreciate it fully as the car is still heavy for what it is, and it's actually too fast between the corners! The best way, apparently, it to just cruise along, and that's when it comes into its own. Makes sense, because the average Supercar enthusiast isn't buying one for the speed, but because of the social status.
After some very nervous looking skiing from Clarkson in a fancy shirt, he heads to Turin, blasting through to make his dinner date. Once he gets to Turin, they film a tribute to the movie "Rendevouz" where someone tried to cross Paris from one end to the other in 9 minutes. Instead of Clarksonisms, they film a segment of him driving really fast through the city, with a lot of engine noise, dashboard footage, and not a word is said for the final 3 minutes of the episode. It's epic. Clarkson makes it just in time, and the segment ends. As does the episode!
---
Dre's Thoughts
I thought this was a good episode on the first watch. What's funny is, on the second watch to properly critic it, I enjoyed it even more. This was just a really strong episode from top to bottom. The Kia segment was nice, by a mile the funniest Conversation Street they've done, which was basically the roast of Richard Hammond. The Office World Series race was good harmless fun. Celebrity Face Off was great…
…And the Chiron segment? Beautiful shot, and a wonderful segment from top to bottom. Props to the Torino police for letting them film that, as unique and poignant as anything The Grand Tour has done to date.
I've heard rumblings that the Chiron segment was largely unscripted. I'm speculating here, as they reference Hammond racing him in a helicopter multiple times in the episode… Was that the plan before Hammond broke his leg? I'm guessing getting a Chiron might have been a one-shot deal…did they have to make this one up on the fly? If they did, this makes that segment truly sensational, because they pulled it off beautifully.
Chiron segment alone was worth the price of admission, everything else is worth staying for. Excellent episode. Speaking of unscripted… see you next week.
8.5/10 – Excellent