Hey guys, Dre here again, and welcome to Episode 2 for Season 2 of The Grand Tour! This week, the gang head to New York for a race! And there's a Supercar review! They can't possibly screw this one up, right? Right?
---
Very little intro build up, pretty much straight into the main film, and it's a race between Jeremy Clarkson in the brand new Ford GT against James May. Race starts in Central Park in New York, and ends at Niagara Falls by the Canadian border. James has to get the subway system to JFK Airport, fly to Buffalo, then get a bus to the falls. Jezza has a straight 420 mile drive. James has another problem… he has to race with Richard Hammond, fresh off his fractured knee and in crutches. Get the jokes in early as James walks way ahead of Richard.
In the downtime, Jeremy Clarkson calls the flight providers for Hammond and May, and deliberately drops them down from Business to Economy class. He's such a bastard. More jokes about Hammond on crutches struggling to get through the subway turnstiles.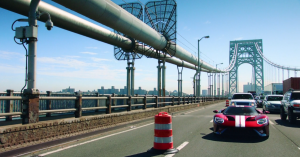 Have to say, the new Ford GT in this film, looks stunning. Albeit very impractical. Wider, longer, and less visibility than the older GT he used to own. Oh, and it has a 12 gallon fuel tank. And it costs $400k. Useful. Hammond made the point at the start that it seemed to be more of a race car for the road… I suspect he was right. Meanwhile, Hammond takes the piss out of James for sitting [fusion_tooltip title="(This is how you know James May lives in Hammersmith)" class="" id="" placement="top" trigger="hover"]in a disabled seat[/fusion_tooltip].
Jezza hits the Motorways and opens the taps, and it sounds amazing. Savage, raw… from a twin-turbo V6 of all things. Very cool. He calls James, who's named "Vagina" in his contacts. James and Richard are getting the airtrain to JFK, and the train pulls up 50 yards away.
More cool Ford GT factoids… Apparently, only 20 people worked on the car, and Ford themselves had NO idea it was being worked on. Meanwhile, he's got audio support too… it's an audiobook of James May fixing an alarm clock. The usual.
James and Richard are at JFK now, and they've gotten Hammond a wheelchair to speed things up. However, because of the pins in Hammond's knee, he sets off the airport metal detector, and because he can't walk, he had to have a pat-down. Which includes all THOSE areas. It's exactly as awkward to watch as it is for Hammond to actually go through. Jezza pranks them further by calling the airline, lying about them just coming out of rehab and that they can't be served alcohol. That's just MEAN. The tease with James and Richard about to board the plane, ends Part 1.
Hammond makes a genuinely great point about how we could do so much more for disability access in modern life and how we take it for granted until we have a major injury yourself… then Jeremy jokes that next week, "we'll be caring more about 'BLT', instead of "LGBT". *sighs*
Conversation Street next, and some F1 jokes about Kimi Raikkonen at Mexico having a chug of champagne, and that Finns drink a lot. In fact, there's a lot of talk about alcohol, as Jeremy has become an ambassador for a vineyard. And they joke about extortion, a lot. Apparently, James was once bribed NOT to wear his famous pink and purple shirt. That was funny. To be fair, one line is a belter: "Why don't we take bids for companies to put logos on the bottom of Richard Hammond's car? Oh no, he's crashed it, Pepsi!"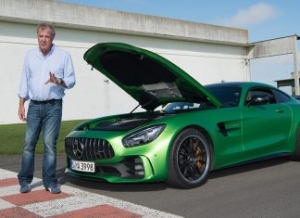 Next up, a car review! Yes, they're still a thing! The new Mercedes AMG GT-R. It's like the SLS, only slightly different and a bit less lairy. And it's in green. Jezza says it appeals to the sort of people who have a mental age of 8, but it's mightily impressive. It's very fast, and extremely grippy, and it's kinda why Jezza doesn't like it as much, because it's a bit too pointy and not a shouty riot-mobile like the other cars in the AMG range. He's also said that Mercs have kind of alienated themselves because he knows they'll end up making an even faster version down the road at some point. It's a 577bhp twin-turbo V8… in a world where their bigger saloons are running 600+. Oops.
They send it round the Eboladrome. They've dropped The American! And replaced him with a woman with no name! (More on that later), and it's the 3rd fastest lap they've set so far, with a 1:18.7.
Celebrity Face Off and this week, the category: "Fastest person in the world in who makes a living catching small balls." Guessing Baseball vs Cricket wasn't as catchy. Anyway, going head-to-head was former England cricketer and sly texter Kevin Pietersen, vs Brian Wilson, known in the past for his epic beard, and being former closing pitcher for the San Francisco Giants. Normally, I'd write off these interviews and move on, but to be fair, these guys were great and they had great chemistry, with some nice stories thrown in. VERY close times as well, so close I won't spoil who won, unless you click this [fusion_tooltip title="KP won by 0.3 of a second. Close stuff. And both were WAY faster than last week's guests." class="" id="" placement="top" trigger="hover"]tooltip[/fusion_tooltip]. Definitely worth watching through.
Part 2 of the main segment now, and we pick it up as Hammond and May awkwardly board their economy seats. And have to go through a 75 minute flight with no beer. Bummer. Jezza has to go through the first of his two fuel stops (The Ford was doing around 19mpg on the Motorways, which was a miracle in itself.) There's a great scene of Jezza filling up his car, and not knowing how to pay, and he gets the station owner to run it through his card for him, and Jezza says: "See, you talk like Hugh Grant, you can get anywhere!"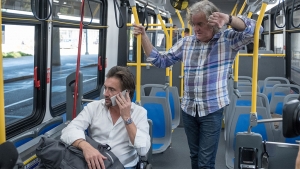 Oh, and there's the awkward reaction of Hammond and May finding out they couldn't get a beer. Also, it's kinda terrifying to see Jezza be allowed to overtake on the motorways like its something out of Need For Speed Underground 2. Well, until he hits a traffic jam. This happens as James and Richard are landing in Buffalo. Jezza is 130 miles behind at this point… and it's not looking good. James/Richard only have two buses and about 25 miles left, luckily for them, their plane actually landed 15 minutes early!
We're now in that editing nightmare phase where May and Hammond are now in that final leg, and it seems like Jezza just can't win. He'd have to drive 113 miles in the time it takes for the buses (stops and waits included), to do 23. In a throwback to Top Gear Season 19 and the race to the Mexican Border, Jezza has to contemplate whether he can stretch his fuel tank to run it on a 1-stopper. He quickly works out, he's gonna run out 18 miles from the finish, so he has to go again, as James/Richard get on their final bus to Niagara Falls.
As I said, editing here, both talking about how close they are. I can't really write much here, but I'll just say, if you've seen these Top Gear races before, you'll know what you're getting here.
It's all really tense as James is now pushing Hammond's chair through to the park, and Jezza driving like a mentalist through the final handful of miles, as they both race to the observation deck… Who wins? Well, you'll have to watch it and find out. But everyone's shattered, the ending is great and Clarkson has promised that he'll bring it round the Eboladrome later in the series. And that's the end of the show!
---
Dre's Thoughts
I watched this with Brother Ryan the first time round. We both said the same thing… probably the best episode of The Grand Tour so far, in both seasons. I still think that's probably valid on the second watch.
See, the problem with this review series is that I always watch every episode twice. I do this to see if I pick up anything I missed second time around, and allowing my thoughts to fester a bit. The "race" format for Old New Top Gear and The Grand Tour is easily the strongest and one that's practically foolproof. It's nearly impossible to screw up, and this one was no exception.
Only downside is, the replay value takes a hit when you know what's going to happen. It's why I didn't spoil who won. Of course, there's an element of that with ANY episode of anything, but the drop-off is larger on races. A shame, but out of the box, this episode is undisputedly great, and one the show badly needed.
The race itself, was superb. I didn't mention this so much in Episode 1, but some of the footage they're getting is as good as any form of media in the world. Their use of drones in particular, are exceptional. The race itself was funny, thrilling, they did a great job of using the Ford GT as a weapon for excitement, and James was just enough of a dick to Hammond to keep it funny, without it being too awkward. I know their races are set up to be close, but I was rooting for Jezza the first time I watched it. When you're doing that, you know you're onto the winner.
Even the filler was above average. The Mercs review was solid, and Celebrity Face Off was well above average given the personalities they had.
Just one small issue… their new driver. Now, the eagle-eyed amongst you have probably already clocked on that the woman driving was Abbie Eaton – 2014 BRSCC Mazda MX-5 SuperCup champion, raced a Maserati GT4 in British GT, a BMW M3 GTR V8 in GT Cup and won her class in a Ferrari in a [fusion_tooltip title="Thanks to old sparring partner Scott Woodwiss for the extra details!" class="" id="" placement="top" trigger="hover"]Blancpain GT race[/fusion_tooltip] at Monza last year. So no doubt, she can drive. On the face of it, it's a great move that one of the biggest franchises in all of media is hiring a woman as its star driver. However, how they handled this on screen was… off.
See, during the show, they never mention Abbie by name. They talk about how great she was, but that's all she's called. "She". Props to Kristen Lee of Jalopnik for pointing this out as well, who reached out to Amazon as to why this was a thing. As the article says, a spokesperson was speculating that because of the backlash for Mike Skinner as "The American" on Season 1 and the character he portrayed, they wanted to reduce the role of their driver on screen.
Which is fine… but even Mike, and The Stig of yesteryear, had names, so I don't think there's an excuse here, even with Top Gear still having an anonymous driver. The whole thing came off as a needless distraction and irked me while watching, especially given her name is in the goddamn credits. Hopefully, they correct that down the road, because how they handled this doesn't make any sense, and this is a move that imo, is worth celebrating in terms of diversity, and TGT on Twitter are taking all the credit for said diversity, but are failing to address how marginalised her debut was. Weird.
Anywho, this is absolutely a great episode, well worth watching even if you've given up on GT at this point, or aren't making it a priority watch. Hope it continues. Until next week, thanks for reading!
8.5/10 – Excellent