So, after last week's questionable effort, Dre's Grand Tour heads to Episode 5 from last week, as Jeremy Clarkson tries Gymkhana, Richard Hammond drives a tank, and James May tries a small Volkswagen, with mixed results. Hopefully the humour's a bit better than last week. On with the review!
---
We're straight in with Richard Hammond in the UAE, driving a 1,500 horsepower dune buggy, and it's bonkers. So much so, it friggin' wheelies on sand. It's ridiculous, and I'm still trying to figure out how they got so much power into such a small engine block.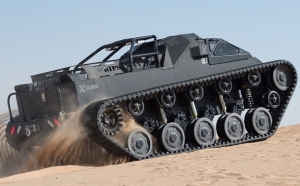 Hammond heads to Dubai, and when he gets there, he finds a £300,000 toy – A Ripsaw. In other words, it's a friggin' 4-ton, 700 horsepower tank. A ridiculously sophisticated one, with enormous tracks, brilliant suspension, and Hammond got to show it off by punching it through the wall of their most famous mall, which you've probably seen 15 times by now via various trailers. (This would have been WAY funnier if it wasn't in the trailer, but still.) Hammond gets back to the desert and I have to say it's an incredible bit of engineering on the tank, being able to drive up 75% gradients, and on sand at 60mph. It's ridiculous. And it's road legal in the UK, because the tracks are rubber and won't damage the roads. Yay! I'll take 4.
Yay for an actual car-themed Conversation Street this week… It's sad that this is a surprise. Some funny chat about the new Bentley Continental GT, as well as the AMG Project One, designed by Lewis Hamilton, which Clarkson ripped into him for – Said it would have pierceded door mirrors, the sat nav would say hashtag #Blessed, and that it would cost 2 million quid, with no word as to whether it included tax. OUCH. Some more crazy stuff with a new Lamborghini concept with "nanobots" (Very Terminator Genisys), and an even more powerful Dodge Challenger, which immediately gave Hammond an erection.
Next up, James heads to the Eboladrome for the first time with the new Volkswagen Up! GTI, claiming that the modern hot-hatch has too much power and that a little 108 bhp city car is the way to go. It's a solid looking, enjoyable review, and the jokes between James and Jezza were pretty funny, as Clarkson owns the latest Golf GTI that has 300+ bhp. It's the slowest car around the track by a mile, given the soaking conditions. Still weird their driver Abbie Eaton is just called "she".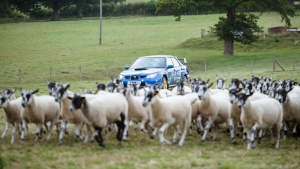 Celebrity Face Off next, and in the "Fastest celebrity who had a failed career in a band", we have comedian Bill Bailey go head-to-head with Dominic Cooper, star of Preacher and Captain America. He's also the youngest looking 39 year old ever and I'm very jealous of him. It's not a bad segment again, Bill Bailey is definitely funny, even if he's repeating some old stories from his last Top Gear appearance way back when. Turns out Dom was a second and a half faster, but still a good watch on the whole.
Final segment and to start, Clarkson does a small piece on Gymkhana… you know, those viral vids you get of Ken Block doing some ridiculous stuff in a 600hp Rallycross car. Clarkson then claims its that anyone can do it, and he made his own version in the British countryside, known as "Farmkhana"…and I can't lie, it was actually very well put together, including all the "heroic" faces Clarkson made in the film. Great stuff…
…It then gets cut off early as Hammond and May said the whole thing was fake, and that they had the cutting room floor footage. Hijinks ensue as they breakdown all the ways that Clarkson "faked" it. Including a speedo that was on 0 mph despite the engine revving. There was a scene where Clarkson couldn't drift through a gate, destroying it twice, and they had to get an actual rally driver to do it.
Even the great scene of him herding the sheep was made to look like he'd killed 12 of them. I can't lie, it also includes a laugh-out-loud scene where Clarkson tries to jump the river, and he lands it head first in the bog. That was hilarious. The whole thing ends with the back-up car "an old Audi" being wrecked via air cannon. This ends the film and the episode, and BOY do I have some mixed thoughts on that finale.
---
Dre's Thoughts
I think I'm suffering Deja Vu, here. This has some SERIOUS vibes of last week. This episode was definitely a little bit better though. I loved Hammond's segment in Dubai with the Ripsaw, even if some of the potential was lost for the sake of trailer footage. Celebrity Face Off was solid, we had the funniest Conversation Street of the series so far, and James and the Up was a nice change of pace and it was nice to see him on track for the first time in a while.
The Gymkhana film… Yeah, no. I had some problems with this one. I get it, the inside joke was to appreciate just how great Gymkhana is, and that you had some skit comedy with cars with making Clarkson looking stupid. Couple of issues with that. First up, the Farmkhana piece was actually very entertaining and great, and there's a good reason for that. Deep down, we know a lot of these scenes require multiple takes, and reshoots, and clever editing. But we as viewers and consumers of media don't mind suspending our disbelief to enjoy a piece of entertainment. If that wasn't a thing, Pro Wrestling wouldn't be growing in popularity again.
Problem #2 – The "unedited" clips were fake too, which made the whole thing look a bit silly. Besides the car jump (Which even that was a little too obvious given how far away the ramp was from the river), they just weren't funny, as you kinda knew it wasn't going to be great. Like, was this the joke?
My issue was that the 'how it was faked' bits were ALSO fake so it was just kind of dumb. Like I'd legit like to see how they use both JC & a pro/stunt driver or see real outtakes/bloopers but those clips were obviously silly & OTT, so…what was the point?

— Loramir (@Loramir) January 10, 2018
My friend Lora summed it quite well, I feel like this segment was like a car version of "Breaking The Magician's Code", only not as curious and in parody form. Not terrible, but not as good as I think it could have been.
Overall, not a bad episode, just not as good as the sum of its parts. I suspect putting the Gymkhana spoof last wasn't a good idea as it left a bit of a bad taste in the mouth.
I'm off to Autosport International this weekend on Friday and Saturday so come say hi if you spot me. I'll be the twat in the obnoxious trainers. Expect Episode 6 when I come back, but until then, thanks for reading.
6.5/10 – Decent