"It was safe. And that's all that really matters."
It was an emotional weekend as Formula 1 returned to Japan and the Suzuka International Circuit, a year after the tragic events of Jules Bianchi last year. It was a race that seemed to be over at the first turn, but as Lewis Hamilton matched his hero's 41 wins, the future of McHonda was called into question and Mercedes moaned again… but not for the reasons you would expect. Let's try to make sense of it in this review.
---
41 And Done
[fusion_builder_container hundred_percent="yes" overflow="visible"][fusion_builder_row][fusion_builder_column type="1_1″ background_position="left top" background_color="" border_size="" border_color="" border_style="solid" spacing="yes" background_image="" background_repeat="no-repeat" padding="" margin_top="0px" margin_bottom="0px" class="" id="" animation_type="" animation_speed="0.3″ animation_direction="left" hide_on_mobile="no" center_content="no" min_height="none"][fusion_imageframe lightbox="no" style="bottomshadow" bordercolor="" bordersize="0px" stylecolor="
" align="left" animation_type="fade" animation_direction="right" animation_speed="1″]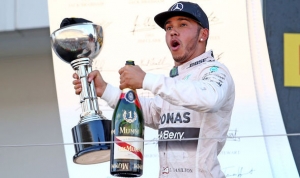 [/fusion_imageframe]Nico Rosberg was on pole and lead for a grand total of… two corners. Woot. It was a bullish move from Lewis Hamilton, but one that was ultimately fair, he had the corner and made it stick. It killed Rosberg's race before it had even gotten started, struggling to overtaken Bottas and needing an undercut on his final stop to finally dispatch Sebastian Vettel to 2nd. A nice recovery, but you have to wonder what it's going to take for Nico here, as Lewis just seems a cut above right now.
Hamilton took a dominant win from start to finish, and Sebastian Vettel finished 3rd to replicate the exact podium from last year, and made it the seventh time in 14 races that the three in question made the podium. A 50% rate. That's crazy. As for Lewis, he extends his Championship lead to 48 points and matched his hero Ayrton Senna with 41 wins. I look forward to the Internet dismissing any comparison with Senna… because you've all been drinking the Sky kool-aid.
Also, well done to Max Verstappen for finishing 9th from 17th on the grid, and a nice return to form for Nico Hulkenberg for finishing 6th after the disaster from Singapore.
The Revolution Will (Not) Be Televised
[fusion_imageframe lightbox="no" style="bottomshadow" bordercolor="" bordersize="0px" stylecolor="
" align="left" animation_type="fade" animation_direction="right" animation_speed="1″]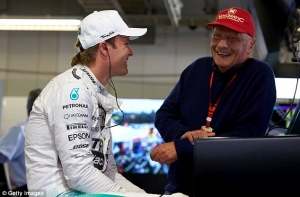 [/fusion_imageframe]So, one of the biggest complaints post-race came from the Mercedes camp. No, seriously. Niki Lauda complained that their car wasn't on TV enough. No, please stop laughing and hear me out for a min- Ah sod it, it's just as laughable as you think it is.
Mercedes were featured on TV predominantly for around 6 minutes, according to the folks at @F1Broadcasting. That would be like two complete advertising breaks. Hardly a "lack of time" in my opinion. Not to mention, there was NO race for the front beyond Lap 1. There was zero reason to give significant focus to Mercedes beyond Rosberg's 2nd stop and the "fight" for 2nd. And funnily enough, this was actually more coverage than Mercedes usually get.
Including the start, @MercedesAMGF1 was featured prominently on the #JapaneseGP FOM World Feed for around 6 minutes. pic.twitter.com/QjkopVSo0V

— F1 Broadcasting (@f1broadcasting) September 27, 2015
This was a race that was dominated in terms of action, by the midfield fights of the Toro Rosso's, Alonso, Sergio Perez and the Lotus boys. The TV director's job isn't to satisfy the advertising budgets, it's to produce as entertaining a product as possible, even if it includes shitty sidepod cameras.
Niki's argument was baseless. You know what gets you advertising money? Winning 27 out of the last 33 races. Stop bitchin'. Speaking of which…
Alonso loses his rag…
[fusion_imageframe lightbox="no" style="bottomshadow" bordercolor="" bordersize="0px" stylecolor="
" align="left" animation_type="fade" animation_direction="right" animation_speed="1″]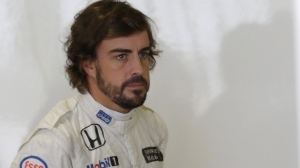 [/fusion_imageframe]Fernando Alonso's always annoyed me. He's an outstanding driver, but the man has an ego the size of Jupiter and is a real diva when things don't go his way. He's been defending his McLaren Honda since the opening round, and without question, he (apparently), truly believes that Honda will be the team that can challenge Mercedes down the road.
But when Carlos Sainz and Max Verstappen swept around the outside of him, I suspect the REAL Alonso came out, as his radio message said: "GP2 Engine…GP2…Argh!", slamming his team for his "embarrassing" engine.
It pains me when Fernando behaves like this, when you see his teammate Jenson, be far more diplomatic and mature about the situation. Fernando is in his 14th season, trying to hide behind his PR Manager and call for "privacy" on radio calls, while slamming your team when the chips are down, reeks of someone who's trying to blow smoke up the arses of his fans, and is looking for an excuse.
You made your bed Nando. Now lay in it. Sometimes, people respect you more when you accept you may have gotten it wrong.
And before anyone uses Button from Singapore as a comparison, sometimes, your reputation precedes you. Button has been a superb professional for pretty much his entire career. He'll always be more likely to be given a pass, than a known diva like Nando.
A Confusing Sentiment
It's a shame when a F1 race gets overwhelmed by the media and the stories coming out of it than the race itself, and the race itself was actually pretty good. A shame we didn't have a battle for the lead, but thinking about it, how many times have we actually seen that this season? The midfield carried this one, and sometimes, that's okay.
And I hate to go back on my last paragraph, but I have to also praise Sky and the BBC for the grilling they have Ron Dennis post race. Sure, he still spoke in Ronspeak/Parseltongue, but it was the most honest I've seen him in sometime, and I'm glad that Martin Brundle, Johnny Herbert and the BBC's Suzi Perry, were giving him the grilling he deserves for what's been a really bad weekend for the team, coming off the back of the Jenson Button retirement rumour, which of course, was baseless. Yay, media. But yeah, the whole thing is below, shoutout to the awesome Ky for being so generous with his recordings. You're the goddamn man.
6/10
[/fusion_builder_column][/fusion_builder_row][/fusion_builder_container]