It's been a rough year for just about everyone in 2020. After the ugly weekend in Melbourne where a team withdrew and lines of fans were just a few feet away from a potential outbreak, it's hard to imagine eight months later, we'd get an old-school, 17 race calendar in.
Now the dust has settled on one of the most hectic, condensed, and arguably one of its most important seasons in recent times, I thought it would be fun to do… almost exactly what I did for MotoGP back in November, and look at the situation team-by-team, talk about their seasons, their future in the final season before the 2022 regulation changes, and the sport as a whole.
So without further ado, let's talk about the reigning Champions first, Mercedes.
Mercedes – The Crossroads
First and foremost, I have to give Mercedes some heavy praise. You can be the cynic and call it cashing in off virtue signalling (they'll always be an element of that on the table), but they've been the only team that appears to have given even half a damn about the social constructs of their sport. More on #WeRaceAsOne at the end of the piece, but of everyone's response, Mercedes have:
Repainted their car black for this season and the next, promoting change
Were the only team in the field honest enough to publish figures on the make of their largely white and male team, and committed to diversity and sensitivity training, as well as promising that 25% of their new employees will be of an ethnic background by 2025.
Created a new partnership with a school group to promote children of colour into STEM careers.
Mercedes give a shit. On and off the track. For that, I applaud them. And honestly, it's funny. Remember at the start of the year when there was so much fury on their Dual Access Steering on the wheel during testing? It feels like it was half a decade ago. But it didn't matter.
The last couple of years had seen some of Mercedes trademark hybrid-turbo dominance pegged a tad. Okay, the 2019 Ferrari may not have been totally above board, but Mercs not winning a race wasn't a massive surprise anymore. 2020 felt like a throwback to 2014, but you reversed the colours on the Instagram filter. The beatemdown' was back. Out of the 34 possible poles and wins for the season, Mercedes had 29 of them.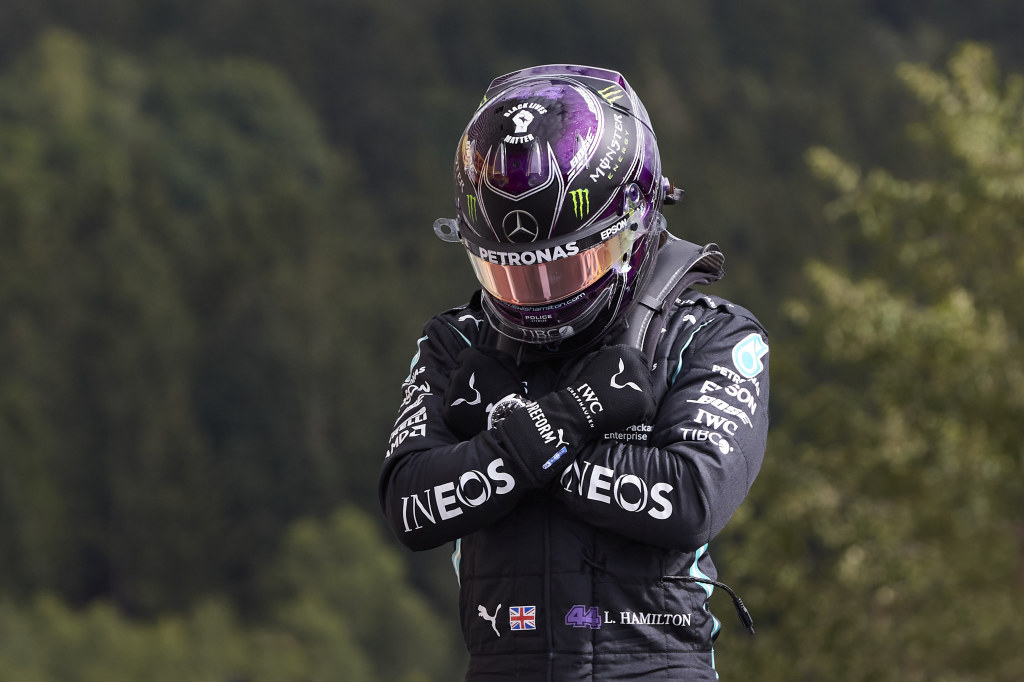 When I saw Hamilton out-qualify the field by over a second around a soaking wet Styria or seeing his pole lap in Hungary, when his car looked like it was on rails, it was clear the combination of the W11 in Hamilton's hands was pretty special. And Hamilton had the potential to win races by half a minute at times. HE WON A RACE ON THREE FREAKING WHEELS FOR CHRIST SAKE.
11 wins again, only this time in the 16 races he took part in, rather than the 20-22 that F1 seasons would normally have. And no doubt, Hamilton becoming the greatest statistical driver the sport has ever seen, was fitting for his incredible stranglehold on the field he had all season. He's going to have 100+ wins and poles by the time it's all said and done, with at least 8 titles, because I'll be shocked if anyone else catches him in 21' either.
Which leads to the other side of the garage. 2020 will also go down as the year we finally gave up on Valtteri Bottas. So much so that even his signature catchphrase of "To whom it may concern…" just felt, kinda embarrassing in a season where he only won twice for the year in quite possibly the sport's greatest ever car.
I try to have some empathy for Val because being a #2 in the sports' #1 car is a loveless, thankless. The biggest indictment of his top-flight career will be that he isn't Nico, who spoiled us by keeping Lewis Hamilton honest for the 4 years they were teammates. That was the bar Val had to get to for us to feel like he belonged… and he's run out of excuses after a handful of mediocre seasons. Getting blown out by 120+ points to Lewis is bad. Being so bad in a car somewhere between .3-.6 ahead of the competition and nearly being beaten by Max Verstappen (A man who had multiple DNF's that weren't his fault), is when it starts becoming a detriment to the team.
And Sakhir… Was the worst-case scenario for him. Sergio Perez goes from 18th to 1st and wins a race on tyres older than Bottas was on. George Russell was in a car that literally doesn't fit him and he smacks Val around for most of the weekend, even keeping up with him in Quali (Val's best asset). That race was Russell's win. The late puncture saved maybe 10% of the embarrassment, but the damage was done. But when your boss talks about your 1-year extension afterwards as "We had to make a decision on what we knew at the time", it's a damning statement about your state in the team.
And that's the interesting crossroads Mercedes is in. They've just split the ownership of the team three ways with INEOS. Toto signed a three-year extension, but this was a guy considering the "Guile" from Street Fighter approach of going home and becoming a family man. If I didn't know any better, giving up a part of your ownership sounds like an exit plan. And when Mercs inevitably stop winning, what else will they be in it for?
Hamilton's 36 this month and in the twilight of his career. I don't see him going for more than another two years. One to win title #8, another for the curiosity of seeing what the 2022 cars do. Bottas would be vulnerable as a #1, being beaten by Vettel and Verstappen in different machinery is damning. George Russell proved to a whole lot of people that he is every bit as good as he was advertised. Seeing how Mercs handles a lot of different avenues coming together at roughly the same time is going to be very interesting. How much longer does Hamilton go? If not Bottas, then who? Is Russell really your guy? (We've seen evidence to the contrary in the past) Do you finally go all-in to poach Verstappen to take a seat if you have to blow it up?
Their actions will cause dominoes to fall up and down the field. Stay tuned, this team is one of the most fascinating going forward, even if their dominance might be boring at face value.
Red Bull Racing – The One Man Army
I'll be honest with you readers, writing about Red Bull is kinda boring because, at this point, we know the story. Max Verstappen is exceptional, often at the direct detriment of the second driver. 2020 was no different, only this time, we really, REALLY liked the guy who lost out.
And you know what an amazingly ironic part of the problem is? We still don't rate Max Verstappen highly enough. At worst, pound-for-pound, I think he's the 2nd best driver in the world. So much so, I might even call him 1b. Like, if you said to me you think Verstappen's better than Hamilton, I wouldn't laugh you out of the room. Some of his performances in a Red Bull that just isn't on Mercs level was exceptional.
Max Verstappen had 5 DNF's this season. None of them were directly his fault. In the other 12 races in 2020, he finished on the podium in 11 of them. With two exceptional wins at the 70th Anniversary and Abu Dhabi GP's. And he's still only 23. It's such a shame that he is so goddamn bad at handling the media with his mouth because we should be having to pull our jeans back up every time we talk about his talent.
He's brilliant. Almost too brilliant. So much so, we came up with Red Bull's constant problem, their lack of a secondary scorer. Say what you will about Val, it almost doesn't matter when Hamilton won the Constructors title ON HIS OWN. And I know that it goes against conventional team structure to have two big hitters under the same roof, but Alex Albon was the next notch on Red Bull's big ol' bedpost.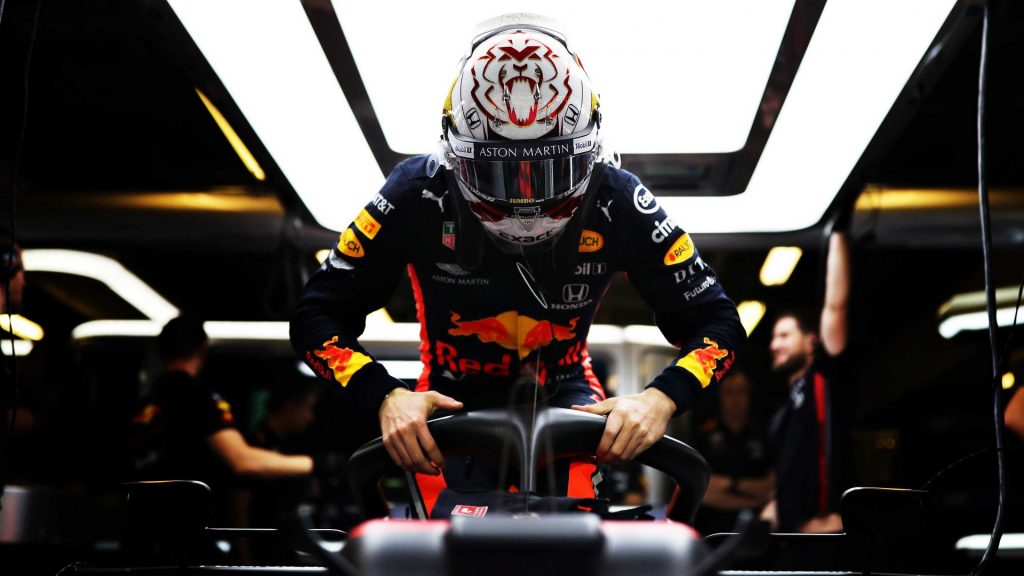 Their gamble didn't work. I guess you can shuffle dudes around when you have a pool of younger drivers that other teams don't have. But whichever way you slice it, Albon just wasn't good enough at the highest level. I mean, looking competitive against Max after just 10 career races is something that anyone would struggle with (Heck, Daniel Ricciardo did at one point), but when you combine that with Sergio Perez's career-saving late run of form, Albon was doomed. And that sucks that you can be in and out in two seasons without really getting a fair shake. But when you're driving in the era of Leclerc and Verstappen as the sport's two best young guns, that's the standard now.
Going forward? Well, Sergio Perez is going to be the ultimate "smoking gun" as to just how much that car favours Verstappen's climate. It's a moment of history too given it's the first time Red Bull's broken protocol of in-house hires for more than a decade. So this is a big test. Gasly and Albon were not competitive. Perez, with years more experience and in his prime, might be. If not, then the situation gets messy. Is Gasly vs Tsunoda a genuine 2022 shootout? Or is it just to see how Yuki sizes up? Would Marko admit he basically got it wrong with Gasly if he continues to look great and they cut bait on Checo after just one season?
Not to mention, it'll be Year 6(ish) of Max Verstappen at Red Bull, and he's still no closer to a title? How much longer is he gonna wait on this?
McLaren – The Boys Are Back In Town
It's easy to forget that McLaren was not in a good way when this season started. Don't let the bright orange and internet jokes fool you. They had to lay off 1,200 staff, use the furlough scheme on the rest and had to borrow a loan from the Bahraini Royal Family, to keep the team running this year. It was no coincidence that Zak Brown was one of the most vocal supporters of the upcoming cost cap and if anything, wanted it even lower, around the £100m mark.
Lando Norris' brilliant 1st career podium on the first day of racing was the perfect antidote. One of the highlights of the year really. Seeing Lando go all-out to keep within 5 seconds of Hamilton after the late restart, the TV director knowing to keep the gap on screen, and Lando setting the fastest lap of the race at the death to get on the podium. Everyone went berserk. And rightly so. It was a sense of relief for a team that was probably under even more pressure than we thought at the time. And it set the tone for McLaren's best season since 2012.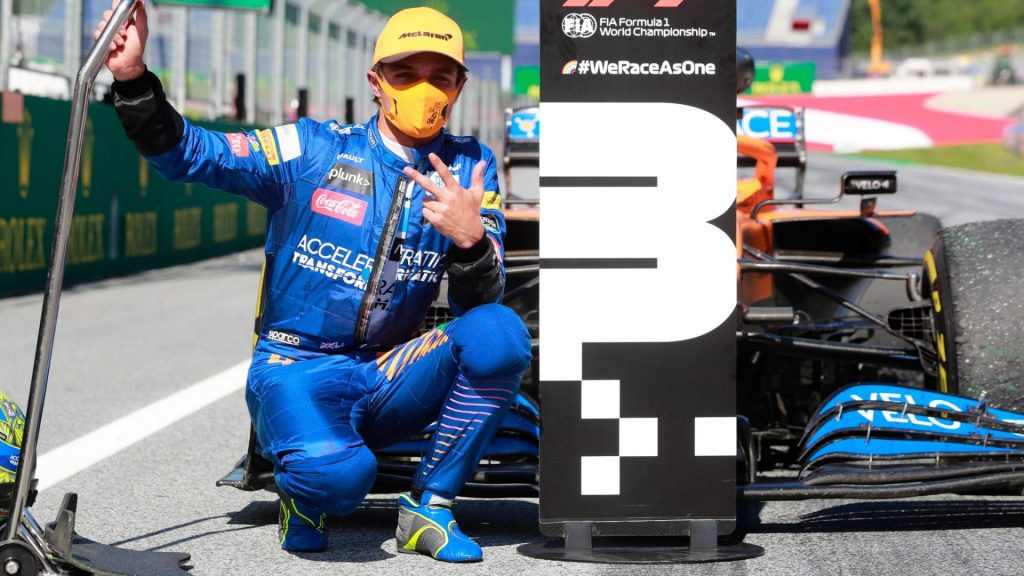 McLaren didn't quite get the ultimate high that their cousins in pink down the road did. Heck, Carlos Sainz Jr. was probably a lap shy of his first career win. But they were consistently solid, didn't make many errors (Sainz in Russia probably being the worst of them), and just kept racking up points week to week. Just two, pretty evenly matched, good-ass drivers, getting along delightfully. Sometimes, it's really as simple as that. And to hell with it, beating the factory team of your power unit supplier can't hurt, right?
There's a lot to like about this team going forward. Andreas Seidl is becoming one of the best team principals in the biz. They're getting Mercedes power, nullifying the main gains of their biggest rivals in pink. And Daniel Ricciardo is one of the few men on the grid on Carlos' departing level. And he's a merchandiser's wet dream alongside Lando, who is genuinely going to have gold YouTube badges in his house by the summer break next year. They'll certainly be aiming for more than two podiums next season, hopefully wanting to upset that Top 3 car bubble at the top. And who can blame them, especially given their financial future is secure, even if it cost them a third of the team.
Welcome back McLaren, we missed you.
Racing Point – The Entertainment
If there's one thing you can say about Racing Point, they certainly brought the entertainment. Remember at the start of the season how we joked that it was a Pink Mercedes… until it was proven they actually were a Pink Mercedes? Not that we knew it at the time, but that actually cost them 3rd in the Constructors via a 15 point penalty.
And crazily enough, that wouldn't even make the Top 3 of crazy shit that this team has gone through this season.
We had BOTH their drivers catch COVID-19. Perez missed both Silverstone races, flying in Nico Hulkenberg in at the last hour, us as an audience pretending to like him again, and then only actually drove in one of them because his car didn't work the first time. Then had to drive into the 'Ring on 12 hours notice because Lance Stroll caught COVID, but we didn't find out until after he flew home. And then Hulk went from 20th to 8th on the day, winning the DOTD award.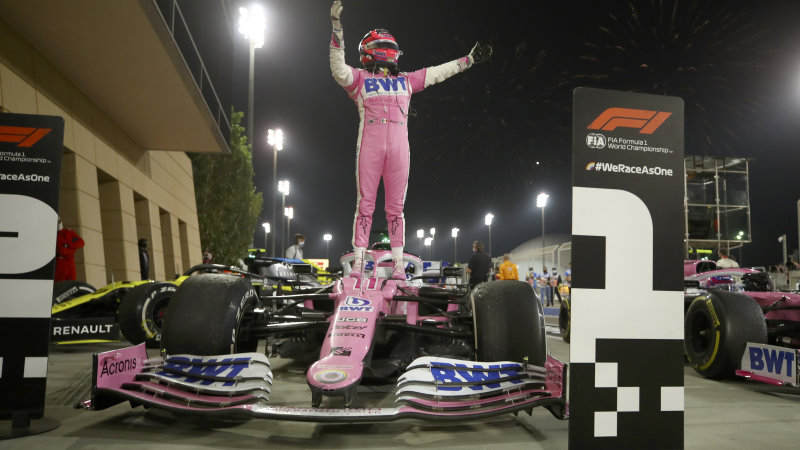 And let's not forget the small unimportant matter of SERGIO PEREZ WINNING AT HIS 190TH ATTEMPT. The longest anyone's ever had to wait before getting that first win. I remember 2012, thinking he had one, maybe two really good chances to win just slip through his fingers. I remember seeing his one chance at a top-flight team collapse around him in a horrible case of timing and circumstance. He came back from 18th after being tagged on the opening lap to come back and win. And believe me when I tell you, while George Russell stole a lot of his headlines, and rightly so, not a single driver in that field deserved that first W more than the undisputed king of the midfielders this past decade.
Say what you will without Sergio's ability and whether he deserves the immense seat he's about to fill. Just don't forget, he single-handedly kept that team afloat, and potentially saved a lot of jobs when he put the artists formerly known as Force India into administration. And while I found his sympathy tour a little frustrating after Racing Point understandably chose Sebastian Vettel over him, there was absolutely a valid case to keep Checo on, in any scenario. If anything, I find it amazing that given what we knew in June, it turned out better for just about everyone involved. Apart from Alex Albon. Sigh. A career-defining season from Checo, that would have been even better if he didn't take that inadvertent holiday.
As for Lance Stroll… A frustrating year with peaks and troughs. As said, man caught COVID, mid season, in the middle of a miserable run of form. A puncture in Tuscany, collected in Russia, turned aggressor in Portugal, then losing a front wing in Imola. He got snappy with the press and looked miserable at one point. He had great highlights with podium finishes at Imola, and Sakhir, but often in the shadow of even greater days around him. Monza summed that up so well. A 3rd that maybe should have been better after some sloppy racecraft (Just like Sakhir), while Pierre Gasly and Carlos Sainz stole the show. He was brilliant in Turkey, with his first pole position, but minor damage completely ruined his race while his team stormed home in 2nd.
Stroll is a weird case to evaluate. He definitely has an ace in the hole with his wet weather speed. But he still has fundamental issues with his qualifying (Losing 10-4 to Checo this season), giving himself too much work to do. And when that happens, he tends to make minor mistakes. It's hard being in the shadow of your teammate in his finest hour, but it's hard for me personally to care when his job security just isn't the same as others in the field, for obvious reasons.
And while it's cool as hell Aston Martin will have an F1 team of its own, rather than being a title sponsor, I'm going to miss the image of Racing Point, the pink, and that intangible feeling of it being the little team that could.
Renault – The Strange Road Ahead
Someone had to lose that tight three-way fight for 3rd in the Constructors Championship and Renault drew the short straw. Daniel Ricciardo was sensational, he absolutely held up his end of the deal, 5th in the Championship with two podiums (Their first as a factory since 2011), and finishing 8 out of 17 races in the Top 5. Ricciardo has had a bit of a rough time the last couple of years since his slow exit from Red Bull, but if there was any season that was a reminder of his class, it was this one. And moving to McLaren for 2021 might seem like a side step, but I feel like that's the midfield spot you wanna be in right now. Still wondering when Cyril gets a Citroen badge on his tramp stamp.
Esteban Ocon, gets the Motorsport101 award for "Just kinda being there". I don't envy his situation. He's been out for a year, it's an unfamiliar car, and his teammate is a borderline-elite level driver. He'd really have to go some to look good against him, but that's the nature of the game sometimes. At least he got his first podium in a hectic Sakhir. But ultimately, losing 28-6 in head-to-heads in Quali and Race trim isn't great. Oh, and Fernando Alonso's back next season. Good luck.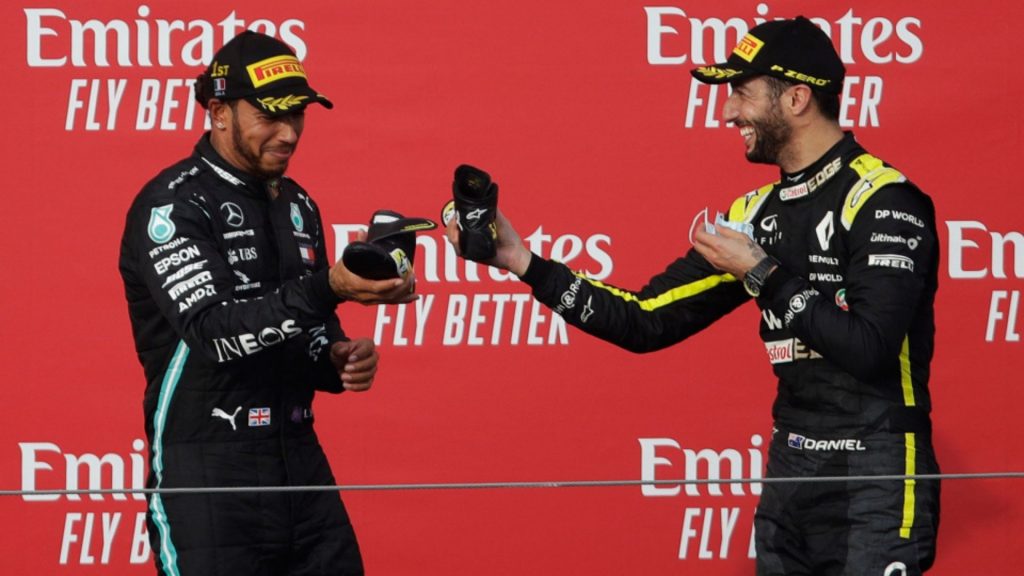 It's a strange time for Renault. A brand shift to the Alpine marquee for 2021, and the aforementioned return of Fernando. Reminder, Renault has not retained a driver line-up since coming back full-time in 2015. I do wonder if the lack of stability is holding them back. Makes their situation with their "academy" and recruitment even stranger.
Christian Lundgaard and Guanyu Zhou are solid, marketable young driver options with genuine ability. It's as good a situation as Renault have had in the juniors since they had Markelov and Aitken… And instead, you go for two years of Fernando. It'll be his Age 41 season the first year the new hybrids come into play. Are you sure about this one? I'm not saying Alonso's cooked, but this screams like being a bit of a punt. Especially given they chucked Nico Hulkenberg out for essentially not being French. Odd.
The management of the team has been questionable at best. Cyril Abiteboeu has been largely criticised for under-performing given their , there had been rumblings about the team quitting before the 2020 Concorde Agreement was signed. There's also been rumblings that Marcin Budkowski and even Suzuki MotoGP team boss Davide Brivio might be heading over in senior roles. Chuck in Fernando Alonso's ego and I'm gonna be wondering how this team actually runs.
I don't know what to make of Renault going forward. There are potential gains to be made given they'll be the only team on their own power unit for at least a year, but I'm not convinced they'll make ground on the Top 3 where they really want to be.
Ferrari – The Pain
What a greek tragedy. I'll keep it simple for you readers, in the form of a question… What about Ferrari was good this year?
Besides Turkey, and a couple of superhuman drives from Charles Leclerc at Silverstone and Austria… Next to nothing.
Let's try and make sense of it. The big stuff first. They fell from 2nd to 6th in the Constructors Championship, their worst season in 40 years. They brought the fury of every non-Ferrari powered team over a behind the scenes handshake agreement about what was going on with their 2019 power units. Purely a coincidence I'm sure, they entered 2020 with the worst power units in the field. They admitted they screwed up their windtunnel numbers. They lied about keeping Sebastian Vettel until he himself leaked it to the German media while they were secretly negotiating with Carlos Sainz over Christmas. And when Binotto was asked about it, he tried to blame COVID-19. You know, in a team spending over £200m a year in car development alone.
The car was horrible. So bad that Vettel made mistakes and span multiple times, the Internet wasn't anywhere near as harsh because this time, we all knew that the team was the larger culprit. It was slow, its chassis was always below par, and handled erratically between their two drivers. We evaluate Ferrari in the context of major Championships. Three podiums, and one of their drivers on just 33 points is a miserable haul.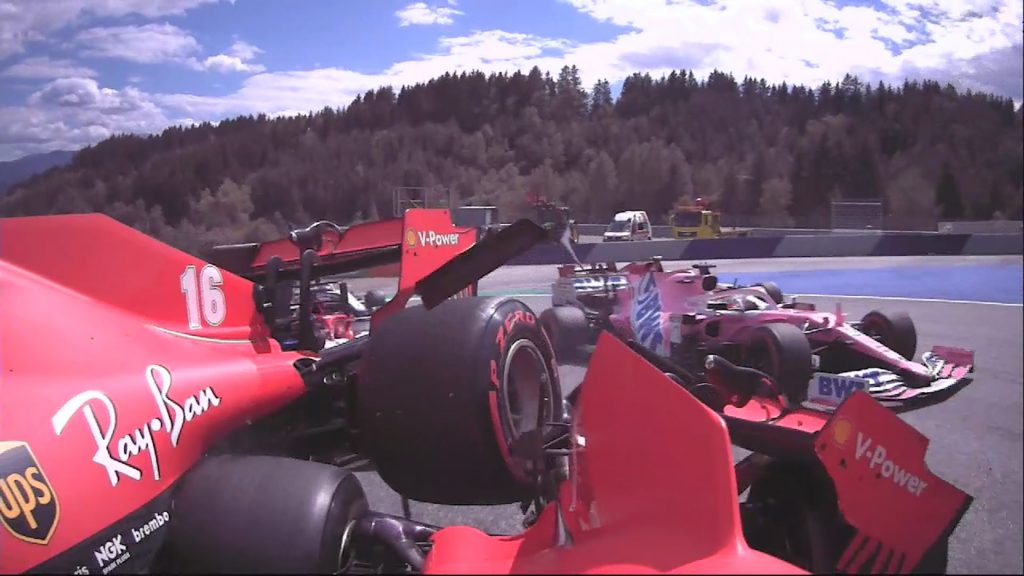 Leclerc at least was able to salvage some great results out of a very poor car. Sebastian Vettel was left by the wayside. Some of that is on him. Some of that is on Ferrari management, and team strategy (Even the pit stops like in Turkey and Imola were poor). It was just a mess watching this team, like you were waiting for the next error to come.
What next? Well, Vettel might have actually won the war by moving to Aston Martin, a far better team in the current climate. Charles Leclerc seems stuck with a temporary midfield team for another four years, and now he's got a very under-appreciated Carlos Sainz alongside him. To be honest, Carlos still gives off big "placeholder" vibes given Mick Schumacher's ascendence into the top division, but I also think Carlos will absolutely give Charles a run for his money. We didn't vote him as our Driver of the Year twice by chance after all. But given Ferrari's thrown their hands up and admitted that 2021 isn't looking much better, it could be awhile before we see Ferrari at anything near their best again.
AlphaTauri – The Underrated
First of all, amazing how much clout Red Bull has, when they can just rebrand their entire 2nd team just to sell overpriced T-Shirts. Did Kanye West buy them out? What a flex.
Seriously though, I feel bad for AT. Someone had to lose the enormous five-team scrap we had for 3rd, and it's clear the car just wasn't quite on the level of the others week to week as the shortened season. But the highs were clearly enormous. Danill Kyvat came 4th in Imola, and next to no-one gave a damn.
Okay, let's get the obvious one out of the way, Pierre Gasly at Monza. When I asked Twitter, what their favourite moments in Motorsport were in 2020, the resounding #1 pick, was Gasly's win. So much so, we completely ignored the fact it was an awful race to watch, just because the winner was so unpredictable.
Joking aside, I completely understand why this felt so special. Gasly was a man who'd been to hell and back in such a short amount of time in the sport. A victim of Red Bull's unusual massive acceleration and sudden cutting, he lost his best friend in Anthoine Hubert, he had his house robbed, and his confidence shattered, and yet, he had arguably his finest season to date carrying a lower-midfield team to a great season, reminiscent of one Sebastian Vettel a dozen years prior. A shining example of human perseverance and making the most of the shitty hand you've been dealt.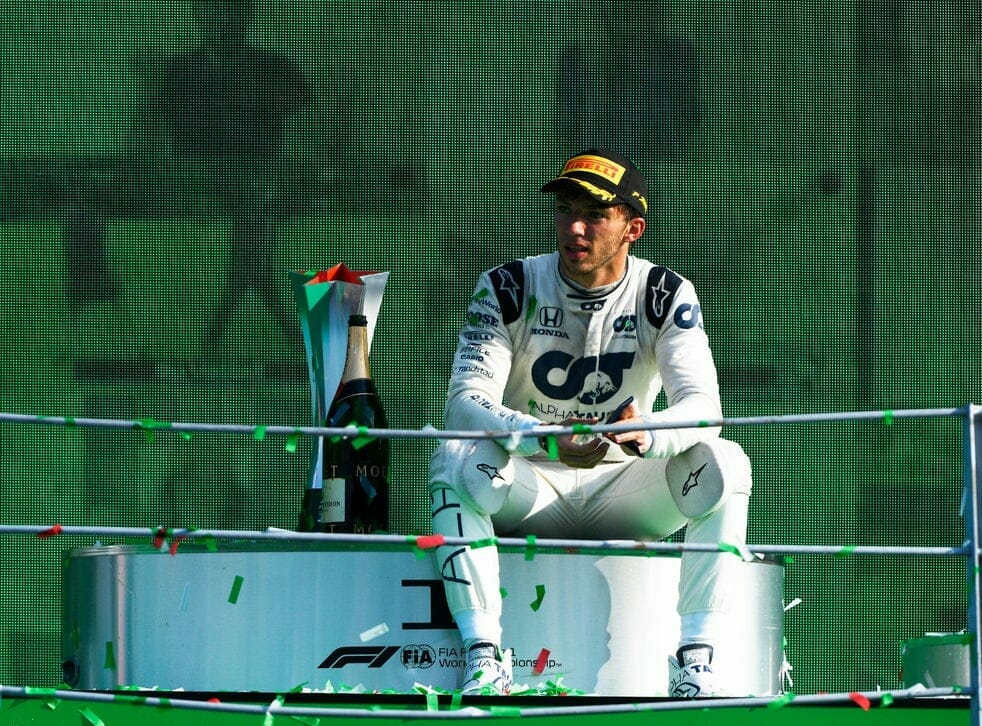 Hard not to feel somewhat bad for Danill Kyvat. We know he's been the posterized fall-guy for the Red Bull outfit in general, but in race trim, he only lost out to Gasly by 1, 9-8. It's just that the former's highs were just a lot higher than the other's. Lost his car though, and his girl. Sincerely, I hope the man takes whatever dignity he has left from the sport and finds his own way with a team that actually appreciates him for who he is.
I'm genuinely really excited for Yuki Tsunoda coming in next year. In terms of sheer talent, youth and speed in which he's climbed the juniors, he might be as exciting as Mick Schumacher coming in at Haas. He will probably steal the headlines too given the better representative car compared to the other graduates. Fact he's so small (Like, Dani Pedrosa tiny), will actually be an advantage for ballast too. If he's good, he'll be the 115th driver in-line for the factory seat, trust me.
Alfa Romeo – The Drop-Off
And now we get to the backmarkers. Man, the drop off here was remarkable. Alpha Tauri cracked 100 points and were unlucky to finish 7th overall as Ferrari's mediocrity led to a greater point spread in the middle of the field. Alfa Romeo, in eighth place scored… eight.
By default, it's harder to judge and comment on these teams because they're so limited for resources and it's hard for them to leap off the page. Gio actually held his own over a lap, winning the Quali battle 9-8. He got smoked in race trim though, losing 12-5. But Gio did have one little thing going for him – More positions gained off the line than anyone else this season. Lance Stroll will send his Lap 1 award to him via Hermes, so he'll probably get it sometime in June. Speaking of starts, shoutout to Kimi's outrageous start in Portimao winning "FIA Action of the Year" for coming all the way through the field in sensational fashion. One of the year's genuine highlights easily lost given Carlos led a lap or three.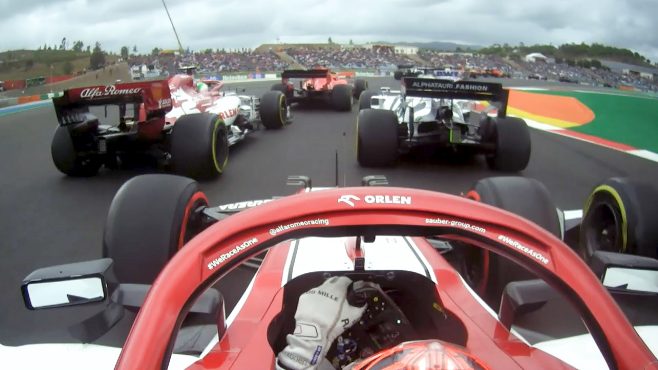 The biggest fuss over Alfa, was their future. Let's be honest, no-one was really here for 41 year old Kimi anymore (Especially with his questionable choice of face covering) Gio only just keeping his seat last season carried into 2020, and when Ferrari seemed to have three elite prospects coming through their driver "academy" at the same time (Robert Shwartzman, Callum Illot and Mick Schumacher), we all fought he'd be the fall guy. Turns out, Alfa kept them both, much to the chagrin of the Internet. Shiny hood ornament syndrome, struck again.
Look, I'd be lying to you if I had a decent reason to actually move on from these two drivers, that doesn't involve just the sheer curiosity of seeing what Ferrari's juniors could do. Alfa Romeo needs a better car and more resources to close the gap given they can't coast on Charles Leclerc's talent anymore. Alfa seems content to let Kimi do his thing for however long he wants to continue the "hobby", while Gio definitely has shown improvement, I fear we could be having this conversation again with him in 2021, especially given Robert Shwartzmann is probably going into F2 next season as title favourite. I fear he's gonna be another fall guy, so he needs to really take the team by the horns.
Haas – The Overshadowed
The section I've been dreading to write. Because sadly, Haas as a team and car was so bad this season, there's very little to talk about here. Ten total DNF's, Magnussen had 7 of them, more than anyone this season. Head-to-heads, pretty identical (8-7 Kevin in Quali, 7-6 Grosjean in races). Just three points between them, by far the worst since debuting in the sport. Both drivers won't be back, but I'm curious to see where Uncle Romain ends up, and a great coup for IMSA to have Kevin Magnussen head stateside to race alongside his Dad.
No, there are two obvious elephants in the room to talk about here. Firstly, the optimistic one. Thank goodness Romain Grosjean is still here with us. We were seconds away from RoGro becoming another statistic. The Halo device, alongside the prompt response from the medical team of Alan van der Merwe, Dr Ian Roberts, the first responders, and Alpinestars race suit saved his life.
As traumatic as it was to watch in real-time, the fact he was able to walk away from such a horrifying incident, is a testament to how far we've come in terms of safety, but also, why we should never ease off in making this sport as safe as it can be. It's a shame that Romain never got the happy send-off he should have gotten for a decade-long career with some great moments sprinkled in, I'm just glad he's still here. It's a small shame that he only stopped becoming the butt of jokes on here regarding "that Baku spin" and being crash happy once he escaped a near-fatal incident, but empathy is something our audience often lacks. More on that later.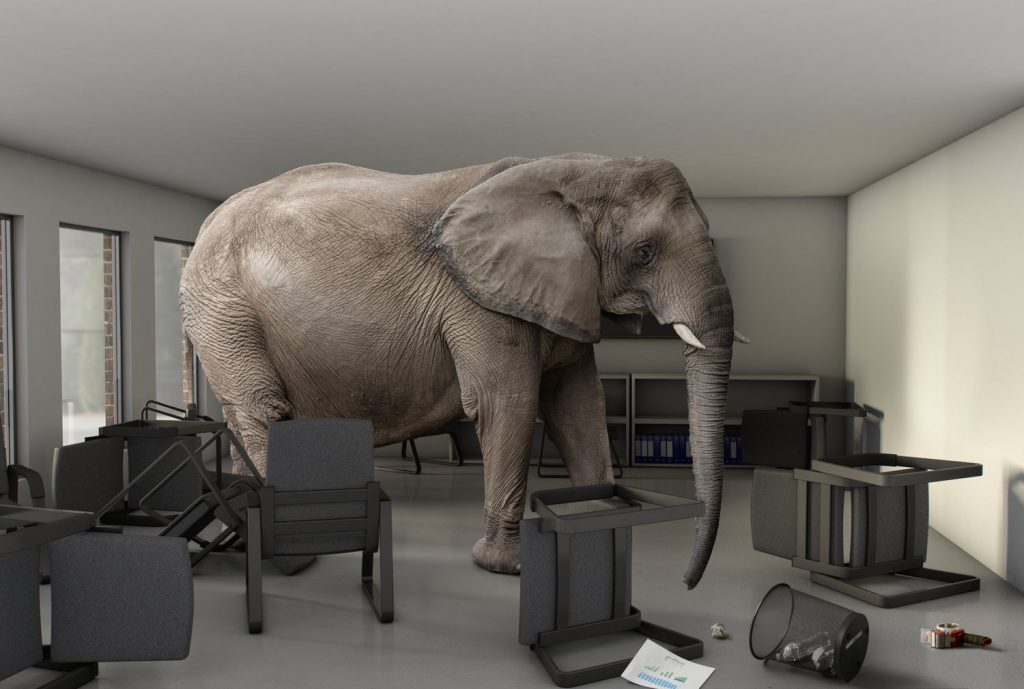 No, we've got to address the other elephant here. "Alleged" sexual assaulter, Nikita Mazepin, who's taking one of their seats in 2021, alongside Mick Schumacher.
Mazepin had already come into the view of most F1 fans by straight up dodgy behaviour on the Internet. From questionable jokes about George Russell's sexuality on Instagram, to joking about the COVID-19 pandemic. But it was a deleted video of him groping a model's breast on his Instagram story that led to the infamous #WeSayNoToMazepin hashtag literally trending on Twitter. Initially she claimed that it was fine and consensual, but later stories seemed to confirm it was anything but. Haas acknowledged the video. Called it abhorrent, but decided to deal with it internally. And despite an endorsement from the sport itself in the way Haas dealt with it, it was later confirmed that Mazepin will keep his job.
This is a difficult situation to write about. I had considered making an individual post about this, I personally have been a victim of sexual harassment myself. It didn't sit right with me to talk about it on my own when I didn't have a woman/non-binary person alongside me. Because while there is absolutely an element of this I can relate to, this isn't about me. This isn't even so much about Mazepin or his victim. Mazepin's actions are a symptom of a larger problem in Motorsport, and that's the treatment of women in its environment. From the micro-aggressive condescending and cat-calling, all the way up to the harassment that Mazepin disgustingly gave out.
If the sport had anything resembling a moral compass (And trust me, it gets lost on that point more than we care to admit), they would have removed Nikita's Superlicense for bringing the sport into disrepute. They sat on their hands. Disappointing, but not surprising.
With Haas, it's more complicated. "Doing the right thing", would genuinely jeopardise them as a team. And as much as Mazepin is a reprehensible human being, I understand why Haas had to keep him on. We all know that in this sport, it's a matter of survival if you're not in the Top 4. Gene Haas is haemorrhaging money year-on-year just to keep the team running. He wants to sell. Nikita's dad is a Russian oligarch worth billions of dollars. In the words of Big Chris from Lock Stock: "Want me to draw you a picture?"
There are tens of millions of pounds, and hundreds of jobs potentially riding on that seat. As optimistic as the cries for Callum Illot were, his lack of funding had no chance. It's such a horrible shame because we should be excited. Mick Schumacher's there too, was excellent in F2 last year and it's wonderful to see the 2nd generation of the family make it to the highest level and see how high he can climb, a sport still hurting from his Dad's accident.
But everything associated with this team now feels rotten. We're dealing with a team owned and run by a convicted tax dodger. Their team boss is now more known for being constantly angry for no good reason. A team already conned and embarrassed by Rich Energy, a money-laundering scheme masquerading as an energy drink brand, and now, it has a driver that's alienated a massive subset of the sport's viewership. Fantastic. Mick better excel. If Charles was anything to go by, there's a lot of people hoping he does just that. Maybe, it's for the best.
Williams – The End of an Era
It's a sombre feeling writing about this team. The most impactful thing to come out of this team was the departure of one of the sport's most iconic dynasties, because after 40+ years, the Williams family sold the team, just before the Italian Grand Prix. 16 combined Championships, 114 wins, 128 pole positions, and 740 races as a team, nearly ¾'s of the sport's modern history.
Sir Frank and family will always have my respect for their determination and stubbornness. It's what made them who they are. They didn't want to just be another customer team, or someone that caved into the big players. They innovated and engineered their way to the front. Pretty much dominated the Mid 80's-90's doing just that. However, I always got the impression that that same stubbornness was also what led to their downfall. Not accepting partnerships, not adapting when the hybrid era landed, refusing the help of others until after the team was sold. Selling the technology centre was like selling the crown jewels and the writing was on the wall. This team was done as we knew it.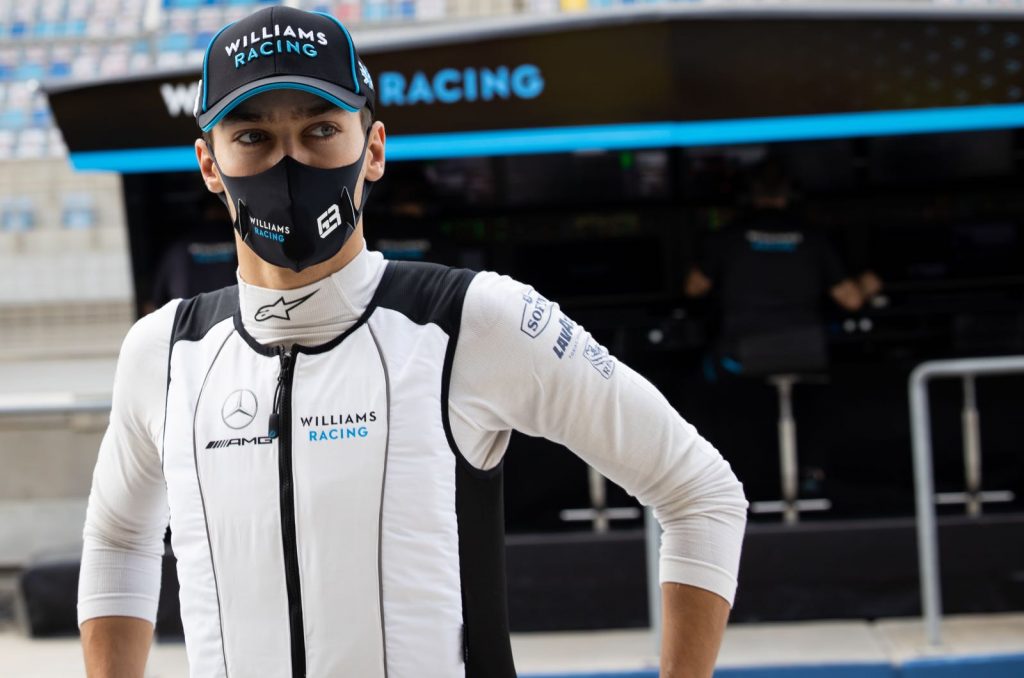 It's sad that while the name will stay going into 2021, it's a different team now. But there are positives to take away. It may not have been via their own car, but George Russell proved a lot of people right to have such faith in his ability. Williams has a real gem of a driver on their books, even if it's only for another year at best, it seems. Nicholas Latifi was always going to get the new "pay driver" tag, but had some decent results over the course of the season, and may be worth keeping tabs on to see if he improves.
The car was a million miles away in 2019. They're now probably better than Haas. The new owners announced a customer deal for Mercedes gearboxes in 2022 alongside a technical partnership, so there finally might be some compromise on development and using the resources available to them. So I really don't think it's all doom and gloom at Williams. Sir Frank and Claire stepped down because they knew the time had come to take the team in a different direction. I sincerely hope that happens, because this sport is better for it when Williams are good.
So, what did I make of it all?
This, by all counts… Was actually a pretty fun season. Turkey, Sakhir, Eifel and Austria were genuinely good to great rounds. Monza might age really badly with time, but it gave us an iconic winner. A lot of the new calendar adjustments were intriguing and led to decent races. Imola doesn't count, that can get in the bin. All things considered, for pure action, we've had a LOT worse than what 2020 put out there.
Two major things worry me going forward. One, the state of competition. Albon and Ferrari underperforming relative to their cars absolutely opened up podium spots to some more cars on occasion… nearly half of the podium spots for the year were still taken by Hamilton, Bottas and Verstappen, the clear "Big 3" in the field. It made for some really predictable GP's on occasion. I'm glad that the sport is finally acting to try and redress the balance with the cost cap (Even if I disagree with the salary portion of it), and a new concession system for windtunnel usage. Steps in the right direction, even if it might be awhile before we see its true impact. The second major point, I'll get to in a minute.
This sport also saw some hard questions asked from a moral standpoint. Overall, the sport itself started promisingly, but the cracks didn't take long to show.
Look, #WeRaceAsOne began as a genuinely promising diversity programme. Chase Carey himself put a million into the pot. It was targeting good areas to improve the diversity of the sport, from the schools to the media, to the ladder into F1 itself. Unfortunately, it immediately looked worse due to the division amongst the grid, with 7 prominent drivers choosing not to kneel, for a plethora of reasons, including "politics", "racism being complicated", and "I don't like violence, even if 99% of protests were made violent due to the police". Ahem. The FIA had to clamp down on its own podium procedure when Hamilton wore a T-Shirt calling for the police who murdered Breonna Taylor to be brought to justice, showing the mixed messages between the FOM, and the lack of discretion shown from the FIA, or its president.
I've written at length about that situation already, and the subsequent empty gestures, so I'm not gonna cover old ground too hard, but it's still alarming that over 6 months on from the official announcement, we STILL don't have a hard plan as to where that money's going, the plans in place, and what happens now the person who led that side of the sport when the plan was devised, has since stepped down. It's rather unsettling. The sport has a lot of work to do in terms of readdressing that balance, as well as convincing its audience that it is a cause worthy of their attention. That will be their challenge going forward.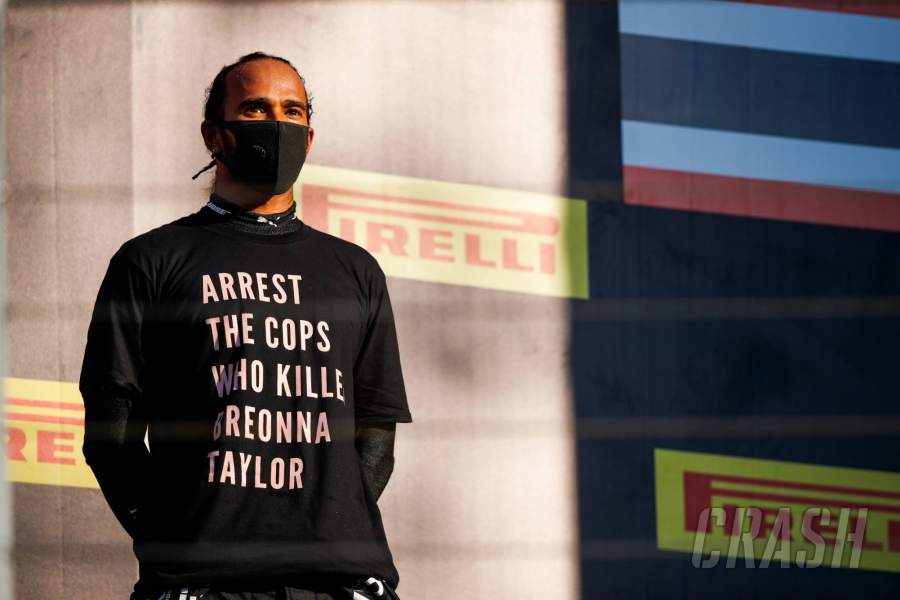 And that brings me to my second major concerning point, the way this sport is being followed on social media. I've been a content creator for nearly a decade now when it comes to F1 and Motorsport in general. This was, by a comfortable margin, the most difficult season I've ever covered the sport in. I say this with no form of hyperbole whatsoever… F1 Twitter is quickly descending into Football Twitter. If you know, you know.
This audience has gotten extremely divisive. It's very easy, too easy to blame Netflix's "Drive to Survive" for the new viewership. It's a lazy excuse. Seriously, where the hell else do you think an inherently boring sport with a dominant driver at the front is going to get new fans from? Even more so given more and more sports markets are going behind paywalls to keep the lights on. F1 is no different. It's the nature of being a niche sport. 
We're incredibly lucky a production company and Netflix gave enough of a shit to get in the bowels of the sport itself and portray a story about its characters and what makes it tick. Sure, it wasn't made for the hardcore fans. That's on purpose. It was made for the outsider, and the fact we've had a new wave of DTS fans is absolutely a net positive. I personally have had people I know behind the keyboard ask me about F1 purely because they watched the show and know I'm a fan. That's the power of Netflix and something that shouldn't be scoffed at.
Yes, it's led to a new wave audience that's a little more "fanatical", and yes, some of that behaviour goes way too far in that (Stalking drivers, for example), but this is what we as an audience, secretly, have always wanted. We care most about human stories and the drivers in the sport, way more than any other element of it. When the sport was on pause due to the pandemic, a quarter of the grid started live streaming, giving us unprecedented levels of access to these people. It's the embodiment of the social media era of this sport.
I saw this with the rise of MMA on Social media in the Early 2010's too, a sport in its ascendency desperate for "legitimacy". The reason why we as an audience have become so split, so fragmented, and have often led to nasty flame wars, group chats where fans have been literally driven off the platform due to abuse, and then some? I think it's partly because we as a fanbase are often really insecure about our dumb sport.
We criticise, we nitpick, we cry out in desperation for things to be better about F1. But the moment someone else outside of the sport drags it, we pile on them, like that footballer did last year, or when JacckMate did it, or when Ronnie O'Sullivan made the comments he made right before Sports Personality of the Year. The only ones that get to criticise this sport, is us, and only it's hardcore fans. We're like Vegeta in Dragon Ball Z, the only one that gets to beat that pesky Kakarot is him!
We want to be liked. We want to be taken seriously. It's why we were so desperate for Hamilton to get that Knighthood. To win that camera-trophy. To dunk on Ronnie's ass and validate why we like this sport so much. It's why we gatekeep the "DTS Stan", even if that's now become more of a general term for "not as educated fan we don't like because they care about Lando a bit too much". We're embarrassed about who we are sometimes, and don't like it. So we lash out.
When Saudi Arabia was announced on 2021's calendar, the quick reaction was to fire that same #WeRaceAsOne hashtag, in complete ignorance of what could be done to improve the country's human rights. In ignorance of what the people of that country could be missing out on. Should the innocent people of Riyadh miss out on a GP and a wonderful addition to its country because its government is awful? We weren't ready for that discussion.
Combine that with 95% of the sport's discourse happening on platforms that are incredibly poorly moderated and have zero consequences for what they say. If you're a woman or non-binary member of this audience, chances are you've had it worse. Erica North was ran off Twitter by fans threatening to rape her because they thought less of her. Why? Because she had an OnlyFans account and an opinion. Amelia Taylor has become the anti-christ of the edgier side of the F1 community. She also got misogynistic abuse and rape jokes simply because she had bad takes about the sport. A child.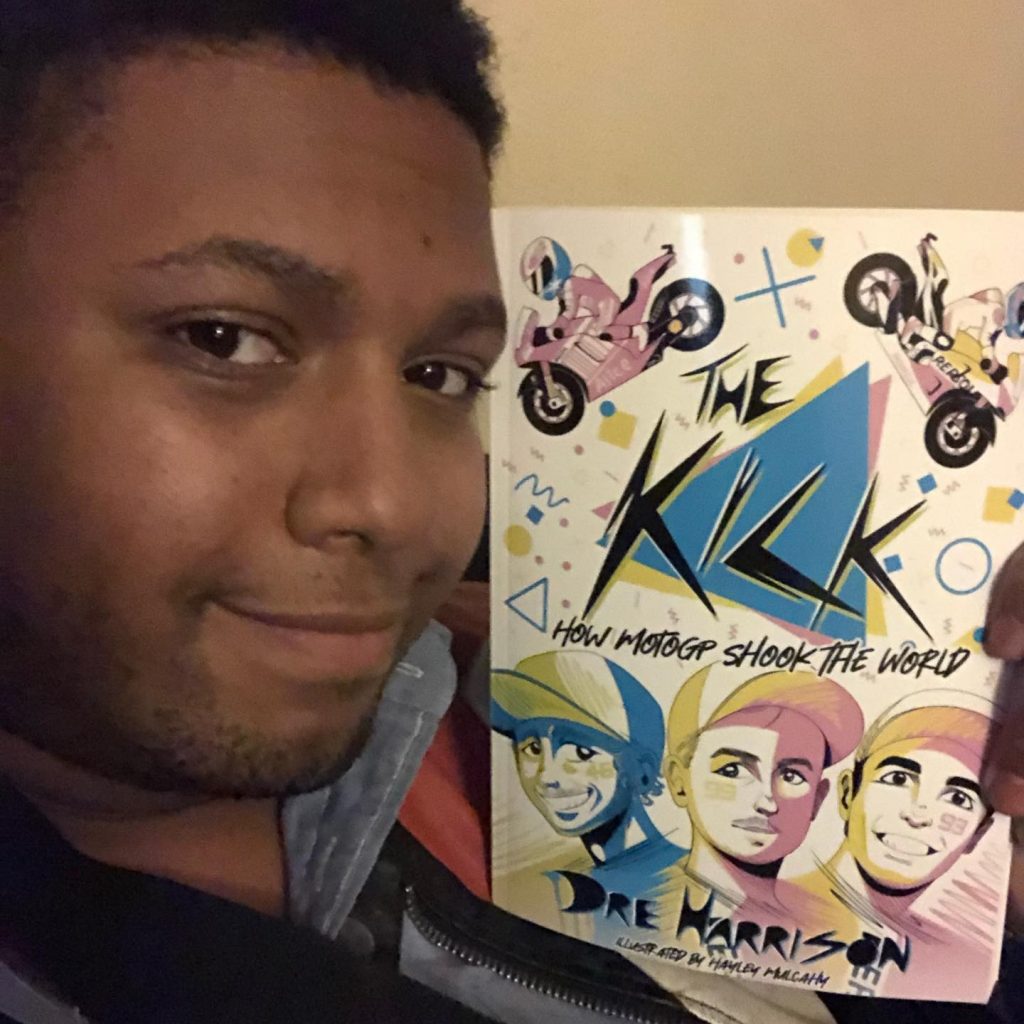 One of my best friends and colleagues who I respect and care about very much, was literally doxxed by assholes on Twitter. Gets disgusting abuse via email every day. It's ringleaders still have significant clout in this space. That alone angers me. I'm hardly perfect, and pile-on's are inevitable in public forums, but I know we can do better.
I had tweets trying to label me as a "representative of the black community" when I was just one person with a platform. Racist abuse via email and DM's when I spoke out for Bubba Wallace in NASCAR and the blatant racial segregation that goes down in that sport. I had black fans of the sport turn on me when I defended Lando Norris after Portimao, a man who was accused of racism by Kelechi Okafor simply because he didn't give Hamilton "enough respect" for his 92nd win. It happened again when I refused to ignore the fact that a lot of his success has come in one of the sport's greatest cars. Again, deemed to be "downplaying his achievements".
I don't want to discuss Hamilton on Twitter anymore. It can't be done rationally. His audience is sometimes so militant in their support of him, any discussion that has him as anything less than a deity is lashed out as "disrespectful". For my own mental health, I don't think I can keep doing that anymore. It just isn't worth it. We are an audience that now deals only in extremes, and in absolutes, little room for anything in-between. And until that changes, it'll only get worse. This year proved we aren't capable of nuanced discussions about this sport on a larger level. Why? Because we can't separate the take, from the person. It's easier to just insult them and move on.
I want to look forward to 2021, I really do. It's hard to get massively excited about it given a lot of the regulations are the same, and Mercedes really put their feet on the field's necks. They're back to their 14-16' levels of dominance. I love how tight the midfield has gotten, but we say that every year. It's hard to get emotionally invested over who finishes 4th, with the odd podium here or there. We gotta get through 2020.5 before the real change happens. 
Let's hope the action surprises, even if we as an audience don't. Thanks for reading.