Dre 1: You think there's any coincidence that the same week Will Smith's "Gemini Man" hits the box office, we're doing another one of these?
Dre 2: Would you rather come out of a lamp, be coloured blue in CGI and gave King three wishes? 
Dre 1: …True. So what are we really back here for?
Dre 2: Well, doesn't it feel kinda weird that it's the middle of October and pretty much every major Motorsport series is done, or certainly feels that way? Marquez wrapped up MotoGP FOUR FREAKING ROUNDS EARLY. The week before, Jonathan Rea made WSBK history. IndyCar's always been boned with a September finish, and it's now a matter of if, rather than when for Lewis Hamilton. It feels like we're done here.
Dre 1: Yeah, I can't wait for 2020 either. Shall we sum this all up in happy-go-lucky fashion?
Dre 2: Sure. Two wheels first and foremost, and let's give Jonathan Rea his due because of Sochi taking some of his thunder. Most importantly, celebration score /101?
Dre 1: Solid 65. (See what I did there?) Hollywood Walk of Fame is a little cliche, but I liked it. Who hasn't want their hands immortalised in dirty clay after a 40-minute bike race? Loved the blazer too. Not bad for a "Not-Rossi" celebration. Are we still pretending this dude has no personality?
Dre 2: To be fair, I think that ship's sailed. A bit surprised he won it as early as he did. Toprak suddenly going ballistic ended up being a blessing AND a curse all in the same weekend.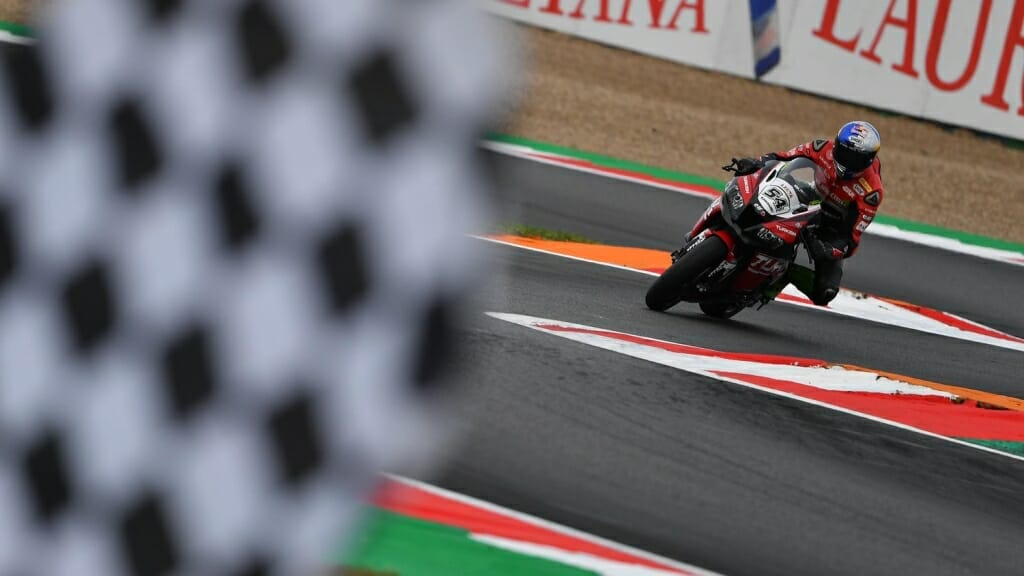 Dre 1: Where the heck did he pull THAT one out of?
Dre 2: He's been teasing it for a while. It's not been a classic World Superbike season by any stretch. Mostly a case of "pick your dominant colour between green and red". But Toprak is no longer the occasional big hitter. This was the crescendo after weekends like Misano and Donington where he was quite literally banging on the door. Winning from 16th on the grid was absolutely ridiculous on any scale.
Dre 1: Only he could win his first two top-flight races, and then do Jonathan a solid and accidentally but very accurately take Bautista out of Race 2 and gift wrap him the title.
Dre 2: Funny given he felt Kawasaki betrayed him by not running him at Suzuka.
Dre 1: Which I completely understand given how competitive and tight that race was. Go with the experienced names. Shame he and Kenan (His mentor) took it so much to heart. 
Dre 2: Indeed, as he'd be a shoo-in to replace the now departing Leon Haslam. What do you make of his move to blue?
Dre 1: Probably the best option available. No-one really wants to be Jonny's teammate and Kenan burnt that bridge. Ducati made their bed early, and no-one else has a competitive package week-to-week. It was time for a change at that team after another year of lacking real progress on the Big 2. I like Alex Lowes but I think at this point, Van Der Mark is clearly where the upside is. Toprak and him, is a formidable line-up, maybe the best in the field pound-for-pound.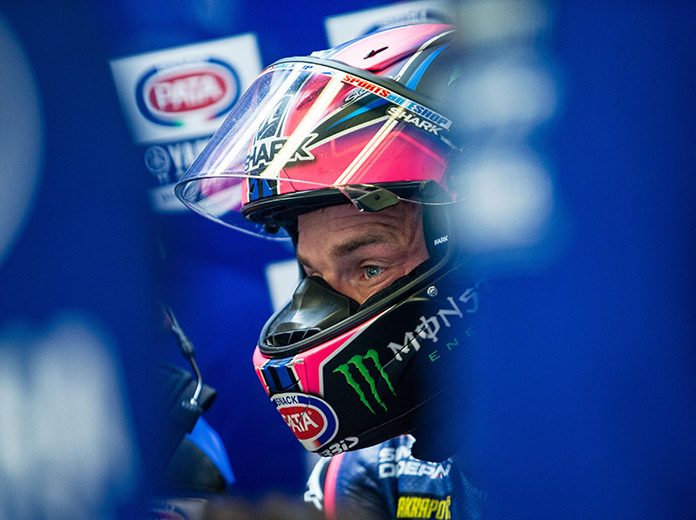 Dre 2: Hmm… Maybe over Rea and a rumoured Lowes? Or Bautista/Takahashi at Honda?
Dre 1: Quite possibly. Is Toprak the true title contender that we've been waiting for?
Dre 2: I'm not falling for this trap again.
Dre 1: Why's that Admiral Ackbar?
Dre 2: Because that was meant to be Bautista this year. The man who blew a 61 point lead at Jerez via a series of synchronised crashes. Of course, now he's leaving and the cheques have come through, the claws have come out. Talking about lack of upgrades, disputes over money and bonuses… man, it's gotten ugly.
Dre 1: I wonder if it's another classic case of Ducati just thinking "We have a Bazooka of a motorcycle, it doesn't matter who's on it, we'll just win"?
Dre 2: Then why is Chaz Davies still on the payroll?
Dre 1: Touche. The post mortem there won't be pretty though. How do you go from winning 11 of the first 12 to their current run of 3 of the last 15?
Dre 2: Lot of factors. Jonathan Rea is a cyborg who makes about one mistake a season. He'll keep the pressure on by maximising whatever results he can get. The 11 win Bautista start had Rea finishing 2nd, 10 of those 11 times. Kawasaki is way better at in-season development over a season, as it's not the first time Rea and Team Green has made gains in-season. And of course, Bautista suddenly pushing too hard and making a bunch of errors.
Dre 1: If anything, it was kinda funny seeing all the Eurosport boys waxing lyrical about his tyre and drifting expertise and how much fun he was having… until it all came crashing, quite literally, to a halt.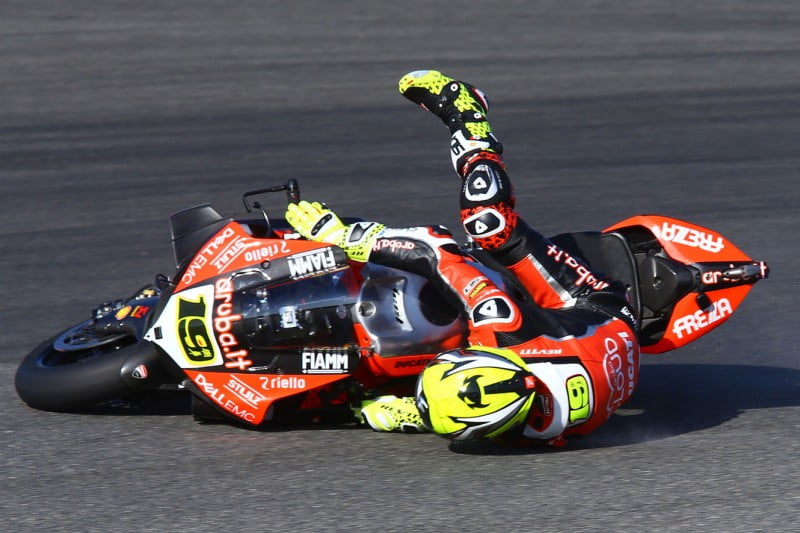 Dre 2: #BoysClub4Life. Anywho, what do you make of Ducati now then with Scott Redding coming in?
Dre 1: "And the crowd goes, mild?"
Dre 2: Isn't that kinda ironic given how outlandish he is?
Dre 1: I know right? Look, he's a solid rider, but he's not done anything in British Superbikes that we haven't expected. He's 1% better than two other guys on the same machinery in Josh Brookes and Tommy Bridewell. If those guys are giving him a handful after how easily Leon Haslam and Jake Dixon handled their business there last year, I'm not convinced he's the Rea-stopper so many crave. 
Dre 2: Would Toprak really be 2nd favourite walking into next season, right now?
Dre 1: He very well could be, but if GP's taught me anything, it's that the first year is virtually a right off while you learn the new bike. It could be two years before anyone poses a consistent threat…
Dre 2: Unless Honda's new Fireblade comes into play?
Dre 1: It could be that. I mean… active aerodynamics being patented for the new bike next year? Yeesh. This is TOTALLY sustainable for the sport going forward if we're just going to make homologated Superbikes for the road eh?
Dre 2: That cost £33,000 brand new…
Dre 1: Healthy. But look, Honda has a burning hole in their pockets if they want to pull the trigger. They have HRC backing them. They have a proven race winner in Bautista and a hot talent in Takahashi next to him. And a brand new bike. This is the official "sexy pick" for 2020, isn't it?
Dre 2: The new BMW.
Dre 1: And they'll have Eugene Laverty too. That's a really good team on paper, as long as they can find another 10 horsepower.
Dre 2: Figures. Look, we've accidentally turned this into a WAY too early 2020 season preview, but it's only fair we give Jonathan the last word on this one, right?
Dre 1: Sounds fair… Is there any argument left that Jonathan Rea isn't the goat?
"@jonathanrea has done something that nobody has ever done before!" #Rea5stars 🖐 pic.twitter.com/aaSzSapJEt

— Eurosport UK (@Eurosport_UK) September 29, 2019
Dre 2: None. None whatsoever. I loved me some Foggy, but this was the final test. The Jiren of biking scenarios. Could you beat a MotoGP level rider on a better bike over a season? And Jonathan beat Alvaro to a pulp. Five straight titles. 68 wins alone and counting in that half-decade, and 24 more than anyone else for his career, even with the Superpole race addition. It's a Valentino Rossi-esque level of almighty beating, only without the flamboyance or drama that the Italian so often provided. He's the GOAT. And I love me some Foggy.
Dre 1: Ah, Ducati World on the PS1, those were the days…
Dre 2: Quite. Shall we do MotoGP next?
Dre 1: Sure thing. Till next time…