"Not bad for a pay driver."
And now, for the real main event of Day Of Classics – The 106th running of the Indianapolis 500. And this year's contest pretty much circled around Chip Ganassi Racing and their total dominance of the fortnight's running. For 90% of the race, it looked like Scott Dixon was finally going to claim his 2nd plate on the Borg Warner… but Marcus Ericsson, his teammate, from out of nowhere, shocked the world.
He's Not Sneaky Anymore
Once upon a time, in 2018, Sauber F1 Team had an incredibly promising young driver come up from Formula 2. His name was Charles Leclerc. He was incredibly good as an F1 rookie. So much so, it would lead to the end of his teammate's F1 career. His teammate was considered a bit of a bust, a journeyman but not much more.
His name was Marcus Ericsson.
For those who maybe aren't the biggest of IndyCar viewers, you'd be right for a while if you thought he might have just been here to make up the numbers. His rookie season with Schmidt Peterson was a struggle, a podium in Detroit about the only standout moment. But with a move to Chip Ganassi, largely scoffed as a pay driver move with his chocolate backed sponsor, he's only gotten better and better with time.
I get why we've talked about Marcus this way. For so many of us Motorsport viewers, Formula 1 IS the big show. The be all and end all. The Indy 500 might be the one other race for the year that you even slightly give a shit about. So when you see Marcus Ericsson throwing milk over himself, and all you can remember him by is being driven out of Formula 1 by Charles Leclerc, you turn your nose up at it all.
My fantastic colleague RJ O'Connell described this Indy 500 win for Marcus Ericsson as "re-writing his narrative" in real time. I can see it, but I'd go one further. I'd say he's been doing that for a good year and change now, but it took this win for many others to see it. Last season, Marcus was a genuine title contender down the stretch. Yes, he went semi-viral for how he won at Nashville (You'd think he was taking flight), but it was one of two wins in the series where no-one won more than three. Throw in a 2nd at Mid-Ohio and a streak of nine Top 10 finishes in a row and he was 6th in the Championship last year. Ahead of Simon Pagenaud, Will Power and Alexander Rossi. Guys who have won everything you can win in this series multiple times over.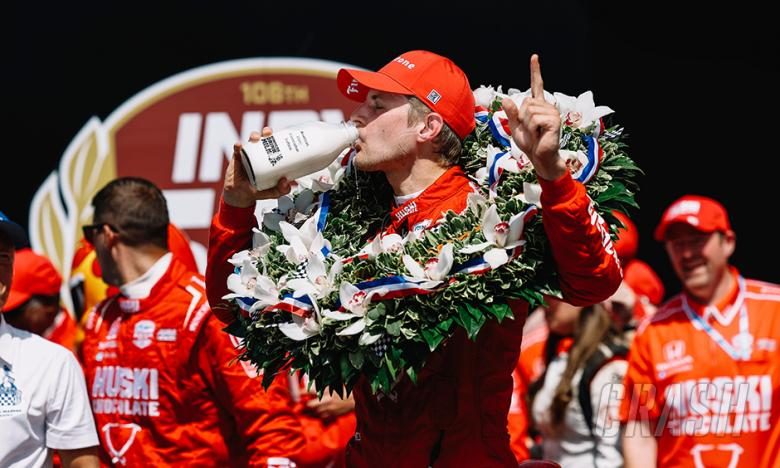 Fast forward to this Month of May, and while Marcus didn't take any of the headlines, he was always fast, and always in contention. Qualified 5th, and didn't finish a single practise session outside of the Top 10. And when others faltered and made errors, he took his chance and pulled out the fastest lap of the entire 500 on Lap 179. That got him to the front of the queue, and gave him control all the way through to that final 2 lap sprint. And yes, he weaved like a mother****er at the end of the race, but wouldn't you with a golden chance to win it all?
We should have learnt our lessons with the narratives RJ was talking about with Alex Rossi back in 2016. Yes, he was reluctant to embrace IndyCar at first, but he made the series his own, and at one point, was as good as anyone in IndyCar, heaped with World Class talent. Fernando Alonso's Triple Crown attempts showed the entire spectrum of how you can fit into a series that isn't your own. From nearly winning it, to failing to qualify, bumped by a part-time dirt oval team.
The greatest endorsement of Marcus Ericsson's success, is the fact it really wasn't that big a surprise he won it all if you were paying attention. There are 1,000 reasons why drivers and teams don't work out within Motorsport. It doesn't necessarily make the driver bad, or make IndyCar's field weaker. Hell, look at Marcus' former employer and the 77 car right now for proof of that.
And to think, Marcus has done it all, and only as of yesterday could you buy a T-Shirt of the man who's just won the 106th Indy 500. Not bad, for a pay driver.
The Contenders
Let's talk a little about the folks who came so close, but so far.
Pato O'Ward is really, really good at this. Having finally got his contract sorted with McLaren for the next three years, he was another man who just refused to go away. After Rinus Veekay departed making a very different kind of spin move, he became the main antagonist for all things Chip Ganassi over the remaining 450 miles. The McLaren's setup meant he was not going to have the grip at the end of the race, and it showed. But he himself had a chance to be a hero on the final lap around the outside of Turn 1… and he backed out of it. Oof. If that was a business decision, I'm not sure that would be the one I'd make.
Tony Kaanan turns 48 on New Year's Eve. He was the oldest man in the field, and during that red flag with four laps left, he said: "It's all or nothing". I shit myself just listening to him. And god bless him he tried. But 3rd for the man in his 295th IndyCar start is quite the feat. Bring him back, Chip.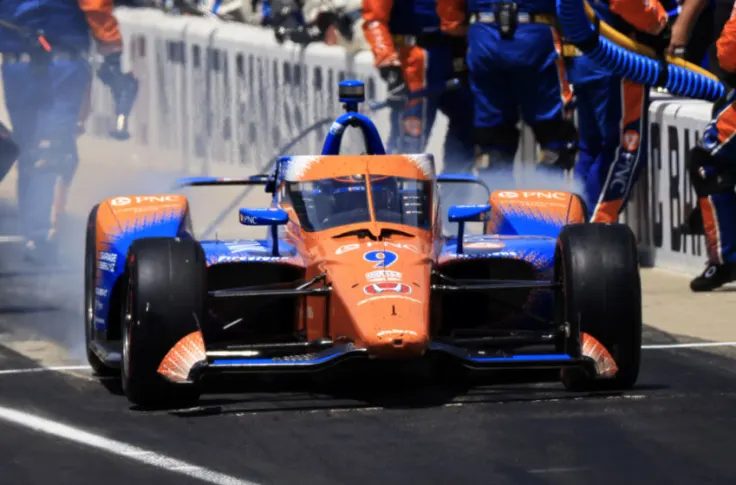 And it's hard not to talk about Scott Dixon here. So much history made for the The Iceman over the Month of May. That utterly, utterly incredible 234mph qualifying run, the greatest in the speedway's history. He led 95 out of 200 laps to become the all-time laps leader in 500 history, with no active driver even in his postcode. And with the race at his mercy with less than two dozen laps to go… drive-thru penalty for speeding. He choked it. And he knew it. The most consistently fast man in the field, wiped out of contention for the 500, and maybe the Astor Cup too. Taco Bell and Pancakes officially off the menu for another year.
At least Alex Palou was able to come from the back of the field to finish 8th. Palou had to take an emergency stop in a closed pit lane after Callum Illot spun into the wall right at the end of Palou's stint. Goes to show you the man had a car more than good enough to win this, and with his comeback, he's still only 14 points off the Championship lead. Palou got away with one here. Remember what I said about winning titles on your bad days?
And if anyone deserved a good 500 at least, it was "Bad Luck" Conor Daly in 6th. The hometown hero led 7 laps, popped the crowd when he took the lead and became the top Carpenter car after Rinus' early spin and Ed stalling at the end. Awesome, deserved performance.
"Rookie" Of The Year
Oh boy. We're doing this again? So the Rookie of the Year award went to Jimmie Johnson. Folks, if there was one thing I learned from Fernando Alonso winning the same award half a decade ago, is that it's a back-scratcher award. Jimmie Johnson was always going to win. Why? Because for those unaware, it doesn't just go to the best rookie finisher of the race. The criteria is the following:
"Criteria includes on-track performance in practise, qualifying and the race, media and fan interaction, sportsmanship and positive influence on the Indy 500."
See? No-one else stood a chance after no rookie really stood out in the race. Romain Grosjean spun out and crashed in a reasonably clean race. So did Callum Illot.  Jimmie Johnson made a critical error in his Fast 12 run and somehow didn't wreck it, then was the slowest of the CGR cars in race. Then wrecked it himself and nearly (accidentally) cost his team the win.
Christian Lundgaard was a non-factor. That left David Malukas, Kyle Kirkwood and Devlin DeFrancesco, with Malukas probably the best of the bunch. 16th in the race, and just outside the Fast 12. And it wouldn't be the first time that a Dale Coyne team member could make a case. Ed Jones missed out in 2017 despite finishing on the podium, to the aforementioned Fernando Alonso, who IndyCar's media looked at like an adopted puppy over the course of the month.
We all want Jimmie Johnson to do well. I get that, it's a win for everyone if he's great. And this was his magnum opus, the culmination of 18 months' work of getting used to the series. The big payoff for IndyCar scoring a coup to get one of North America's greatest racers onboard… He was always going to get the rub of the green.
The award as it stands is so up to intangibles and interpretation that you could bend an argument for anyone if you tried hard enough. Yeah, I'd be pissed off too if I was David Malukas. Even more so if a prominent member of said press room (Who don't all get a vote in this), was giving you shit on Twitter for it. *stares at the camera*
The Lightning Round
Really, really good 500 this year. Cool to see some records broken, relatively fast paced race, and it peaked very nicely at the end there. Even if Marcus Ericsson resembled playing Snake on your Nokia 3210 by the end of it.
Penske are so mediocre at the 500 now it's not even funny. Power the only man to make the Fast 12, but then 13th, 15th and a DNF from Scott McLaughlin after crashing. Their regular season form is so good it doesn't matter as much as it should, but Roger… you own the place now, come on!
Alex Rossi also spared Andretti's blushes for finishing 5th. Good recovery from him. The rest of them? 20th, 22nd, 30th and 31st. Colton Herta was parked by race control after his carb day wreck forced him into the backup car. That's probably his season over and done with.
A salute to Dalton Kellett. I know it's easy to rag on him for being a backmarker in the field, but no-one has done more speaking up regarding the horrific shooting in Texas than him, including a drive for donations towards the victims via links and his own web shop. Hit him up on Twitter and show your support if you can. Dalton, you're a class act.
Oh and before I go, a massive, massive thank you to everyone who turned in across the 8 hours of Classics V on our Twitch page. It was an incredibly fun time and I couldn't have spent it with better company. One more special thanks to Ryan King, Cam Buckley, Zoe Hamilton, RJ O'Connell and Elizabeth Blackstock for all chipping in to help out over the course of the week's coverage. And be sure to follow our new Twitch page to catch all our live shows going forward. You all are the best. Thank you. <3