"Championship Implications. Again."
WARNING: This post does contain physical violence and text that refers to horrific sexual acts. You may find this upsetting. Look after yourselves – Dre
For the first time in three years, we're back in Thailand for the 2022 Thia Grand Prix in Buriram. And if there was any doubt before about who the best wet weather rider on the grid was, it was revealed to be Danilo Petrucci!
Sorry… *checks notes*… The Dentist will see you now. More on that, the even more complicated Championship battle, and paddock culture. It's a doozy.
#RAINGAWD
This race very nearly didn't happen. We had a storm in the area for most of the afternoon. The Moto2 race won by Tony Arbolino was called after 9 laps and not restarted, so we only got half points for it. And within 15 minutes of the race finishing, the rain picked up to unrideable conditions. The sport got the window for a race absolutely spot on, so fair play to them there.
And we got a near-carbon copy of Indonesia at the start of the season. Miguel Oliveira is incredible in these conditions. Confidence, smoothness, all personified. He had to work hard for it given Jack Miller followed him home pretty much the whole way, but Miggy is just magic when his KTM is dialled in properly. I know I say it pretty much every time he does this, but can you believe he has FIVE wins for this factory now? And KTM wanted to demote him back to Tech3? Absolute loons.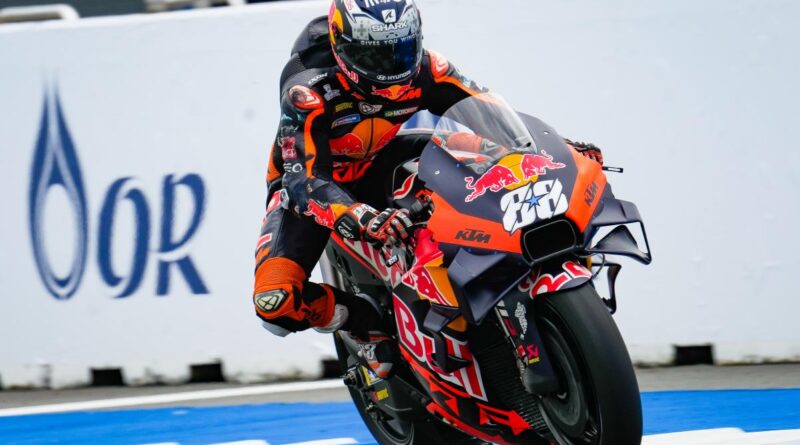 Yet More Title Implications
And of course, we got the fleet of Ducati's behind. Marco Bezzecchi sadly fell down the order from pole, the seventh of the eight of them to get one this season (Sorry Luca). But Francesco Bagnaia, Johann Zarco and Marc Marquez had a fun fight for third, with Zarco's pace mysteriously disappearing once he got past Marquez. The cheque is in the mail.
But it was a disaster for his other two main title rivals. Fabio Quartararo fell down the order early after Alex Marquez nearly took him out from the outside and never really recovered from 17th. Aleix Espagraro was already struggling after Aprilia had to deal with 2020-spec tyres that hurt their grip. Then he got a Long Lap Penalty for clattering into Brad Binder. He'd limp home in 11th but still keeps himself alive in the title race by going down to -20 behind. And now with Jack Miller's strong run of form, even he's only 40 behind.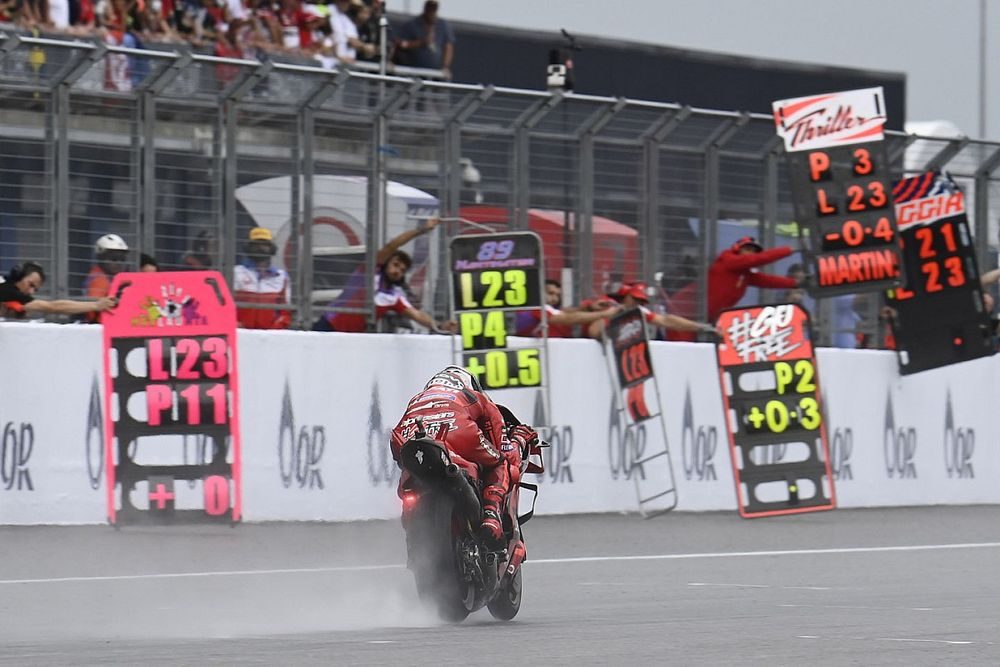 This World Title race is now essentially going to come down to who fucks up the LEAST. Every major member of the Top 5 now has fundamental weaknesses that could stop them from winning. Look:
Fabio Quartararo – Hasn't looked like he can win a race since Austria. Some combination between himself and Yamaha just hasn't been firing against the sea of Ducati's. Remember, he's had ONE podium finish since his last win in Germany and he had a 91-point gap over his main rival Bagnaia at that point.
Francesco Bagnaia (-2): There is ZERO middle ground for Pecco at this point. He either wins it or bins it. This 3rd in Buriram was only the 2nd time in the last 13 races he's not finished 1st, or in a gravel trap. He has the pace to win any given dry race on paper, but he's also had 4 DNFs of his own from his overriding, one as recently as last week. Can you say with confidence that it won't happen again before the end?
Aleix Espargaro (-20): His floor is still high. But the ceiling seems to be 3rd. And with Bagnaia above able to win almost at will, finishing 4th to 6th isn't going to cut it down the stretch. He's gotten away with it the last two weekends but time is running out for him to land another Argentinan-style haymaker on the field. Maybe Sepang?
Enea Bastianini (-39): A baby Bagnaia. Can win when everything is dialled in, but not quite at the same rate as Pecco. He doesn't have quite the lows either, but his bad days are still around the 8-11 mark. Not sure he can make up 40 on Bagnaia in just three rounds.
Jack Miller (-40): See above.
Who screws up the least? Find out next time on Takeshi's MXC, and remember: "Don't get eliminated!"
The Paddock Is Toxic
Sadly, this weekend wasn't without some nastiness. A video surfaced from the 2019 Thailand GP of a mechanic attacking then Moto3 rider Tom Booth-Amos in the back of the garage. It's horrific to watch and obviously, completely unacceptable.
The person involved is still employed under the Max Racing Team right now, their second major incident in three weeks. Even worse when you consider that the video was initially posted online as a joke. Someone held onto that video for 3 years, dropped it, and clearly wasn't expecting the backlash to the point where MotoGP themselves are now investigating the incident. Even worse when you consider that with Tom's statement on the incident, his team forced him to stay silent on the issue. If Tom was quiet about this, what else is being swept under the rug?
Well, I got a taste of that. A good friend of mine talked about how a mechanic, who I know is still working in the paddock, was caught trying to solicit drunken sex without consent. Racism was openly discussed in the paddock at Silverstone this season and I know from journos like Mat Oxley, far far more goes down off the record.
I've said it before, and I'll say it again. At least with F1, you get the impression they're trying, even if progress is painfully slow in terms of least acknowledging some of the toxicity within their own sport off the track. MotoGP has got its heads in the sand. Fully submerged.
We need to do better. And we need to stop protecting the worst of the men in the paddock.