"HE'S JACK MILLER, WELCOME TO JACKASS!"
Well… that was a surprise. MotoGP continues its gauntlet run with the flyaways as the sport headed to Motegi for the first time since a pre-pandemic world in 2019. And with it, quite possibly the most dominant ride from anyone in MotoGP in 2022, a silly mistake from one of the title contenders in the midfield, and a reminder of the class of the one-armed ant. Let's get into it.
He's Not Johnny Knoxville
Friday was a hint. Jack Miller's long run pace was an indicator that he might be troubling the winners this weekend. And while the rain played havoc with the grid in the aftermath of Super Typhoon Nanmadol, Jackass was just a class above everybody else on race day. And with this race being another exhibition as to why we need the ride-height devices and aero banned with such a spread-out field, it was the critical early overtakes from Miller to get past Marquez and Binder to get to the front that was likely the difference maker.
Once he got there, there was no one even with the power of God and anime that could stop him. There have been obvious question marks about Miller's race management over the years, such as cooking tyres and over-aggressive riding. But today, none of that mattered. Minus the celebration, he'd have won this one by over five seconds. If this was the last major win of Jack Miller's career, it was a nice reminder that the man can ride a motorcycle. Especially with his teammate 12 seconds back… and that was before he binned it.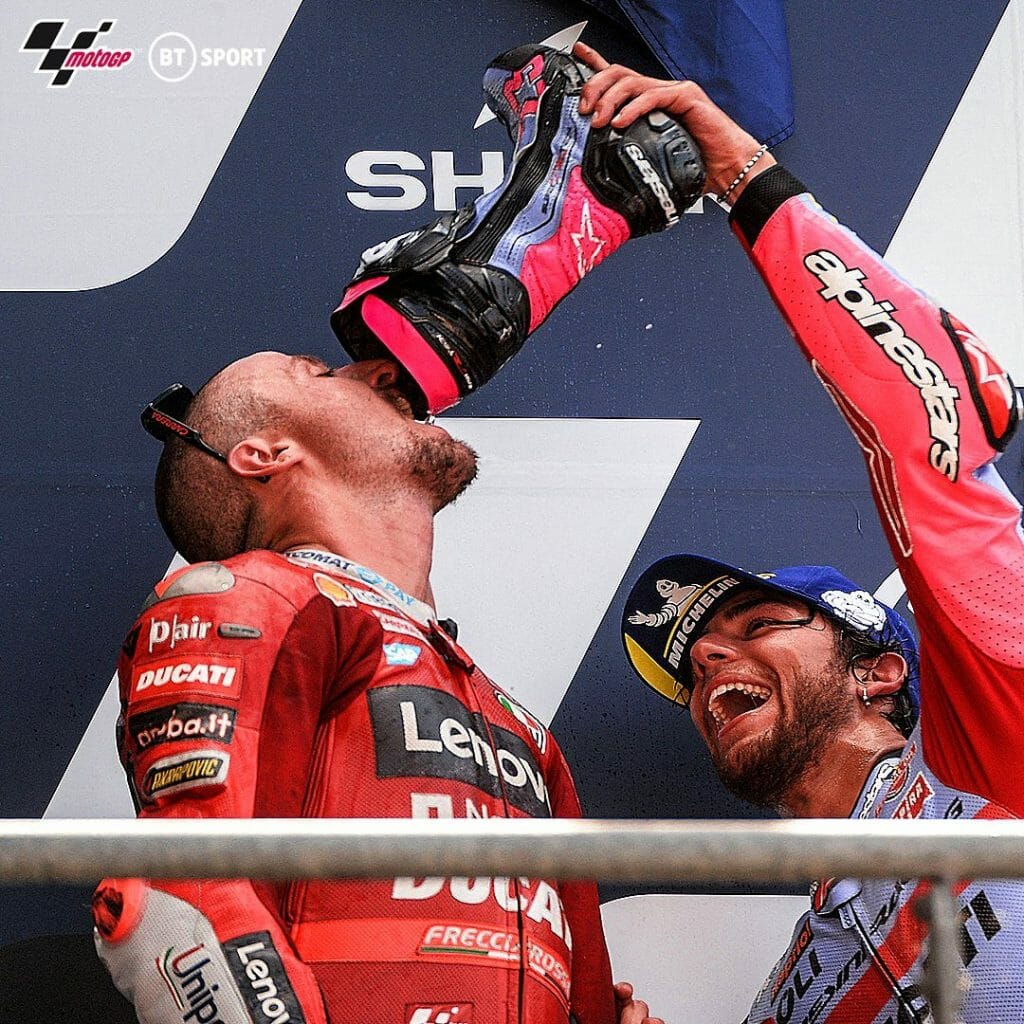 Title Flashpoint #17
Time for another completely batshit title flashpoint race. None of the guys at the front of the board had a good time. None more so than Aleix Espargaro, who had his #1 bike ruined due to Aprilia not removing the fuel-saving map from his ECU as he was on the formation lap. That led to an emergency bike switch, a pit-lane start with his #2 bike having a nearly unusable soft front tyre, and then being stuck being Fabio Di Giannantonio for 90% of the race. 16th on the day and another blow in the title race for Aleix and now getting close to the "must win" point for him. As my co-host Cam says – "Aprilia are farmers whose crops are indifference." Amazingly, Aleix is still within a round.
As said earlier, passing was a premium around Motegi, and Francesco Bagnaia was stuck in the midfield train pretty much all day. He took revenge on Bastianini with a brilliant move into the "Victory" corner and saw a chance to pass Fabio Quartararo at Turn 2 on the final lap. He bins and comes inches away from collecting Fabio too. Not a catastrophic crash given Fabio Quartararo was running 8th on the day and not up the front, but a golden opportunity to put even more pressure on Fabio in the title race thrown away. Minus one for finishing one spot behind is a lot better than -8 and a lost round for a silly crash.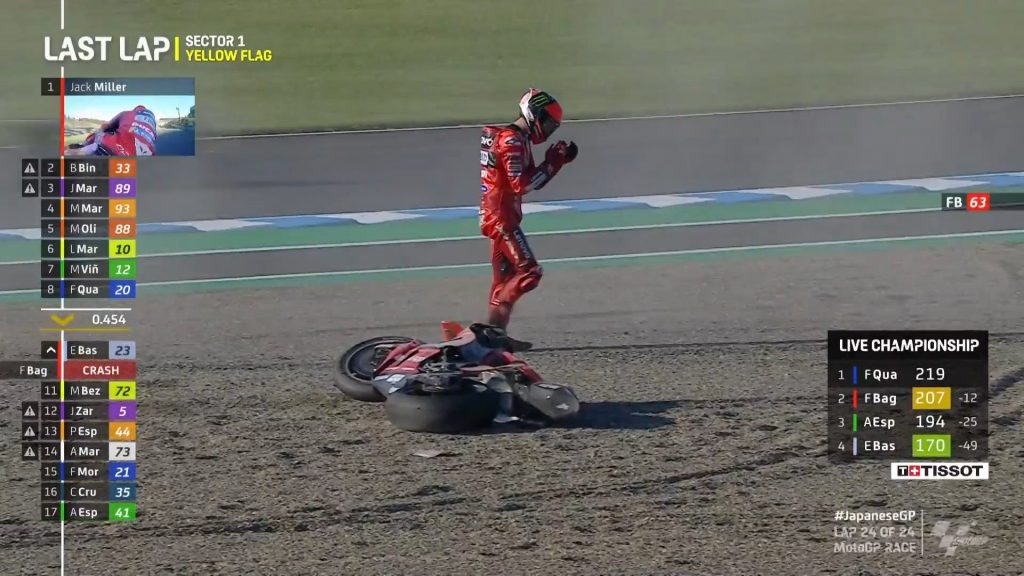 Does anyone want to win this title? Fabio has been objectively mid since the summer break and he's probably back in the driver's seat with one of his stronger rounds in Thailand up next.
Marc Marquez Is Back
I still don't think we say it enough – Marc Marquez is superhuman. Pole Position #63 in the top flight and his first in nearly three years came when he took full advantage of the wet conditions on Saturday, two tenths faster than one of the sport's fastest in Johann Zarco. That was another truly incredible Marquez moment and you could see the delight on his face.
This was the first full race distance Marc has completed in four months. We are all fully aware of Honda's problems as a bike. And Marc finished 4th, seven seconds off the win. Even pulled off a really slick pass on Miguel Oliveira at the end to seal it. 
The man is going to be sore as fuck tonight, he's nowhere near fully fit and the only way he's going to get back to his best is if he keeps doing this. But this was a tremendous sign that quite possibly the greatest bike rider ever is back to something near his best. A good sign for fans of Motorsport everywhere. Marc Marquez is special, and God's only made one of them.
The Lightning Round
A Suzuki catching fire while another has a slow puncture towards death is a pretty accurate summary of their 2022 season, isn't it?
Brad Binder finished 2nd and beat Jorge Martin in a straight dogfight to do it. I'll repeat myself from last week, I think he's easily a Top 6 rider in the field pound-for-pound and doing the Lord's work on a still largely not-great-KTM package.
Enea Bastianini still needs to raise his "floor" if he wants to think about a 2023 title challenge. As an old friend once said: "You win your titles on your bad days, not your good ones." He's only got 11 points on Jack Miller, the man whose job he's taken.
Ai Ogura became the first Japanese rider to win on home soil since Hiroshi Aoyama in 2006. It's getting to a point where his success is no longer a surprise. 
And if you're having a go at Aleix Espargaro for saying he could have won today… if the man mad enough to ride a 220mph motorcycle can't believe in the best of his ability, why would anyone else? See you in Thailand.