Francesco Bagnaia giveth, Francesco Bagnaia taketh away. After France and a race where Enea Bastianini ripped his heart out like Indiana Jones and the Temple of Doom, he'd bounce back to take his first ever Italian GP win. Meanwhile, Marc Marquez is going away again for a while, we qualified in a literal thunderstorm and Aleix Espargaro refuses to go away. Oh, and no-one showed up. More down below.
The REAL Marc Marquez
Absolutely gutted. Look, I make no effort to hide it – Marc Marquez is my favourite bike rider. The sport is for me, a far better place when he's at his very best. And it was crushing to hear that the man is going to need a fourth surgery on his arm after his humerus was literally rotating after it healed. They have to literally re-break his arm to fix it. The hope is that this will lead to a 100% recovery and hopefully Marc, back at his best.
I totally understand why people are genuinely concerned that this might be the end for Marc's career. I am genuinely delighted that we as a sporting audience generally have some more empathy regarding the health of the athletes in one of the world's most dangerous sports. We need more conversations about concussions, long-term injuries and asking when enough might be enough because whichever way we slice it, this sport is lined with the blood and broken bones of those who came before us. Today marks a year to the day of Jason Dupasquirier's passing. Concern is good. It means you care.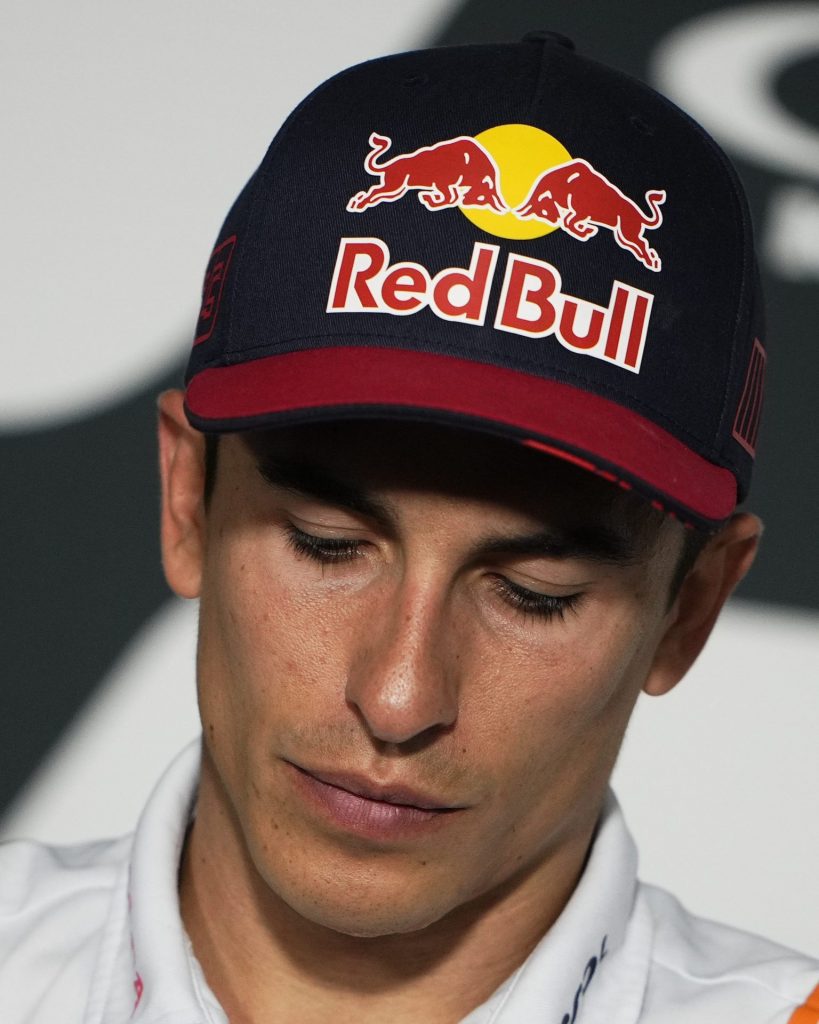 Optimistically speaking, I don't think this is the end for Marc. The man was finishing in the Top 6 almost every race with a twisting arm that made him unable to race his normal style. And if you heard his interview about it, saying retiring WAS an option and that riding like this was making him unhappy was a cry for help. This 4th surgery is giving him hope, more than sounding like him potentially retiring.
I don't know about you, but I'd rather he take a third season out and try to fix this and give himself a chance of being back to his old self, than grind this out with nothing to play for besides being more hurt and miserable. Marc Marquez is the ultimate example of NOT playing it safe. He's not here to finish in 5th. He wants to win. He's literally made a career out of pushing the envelope in this sport harder than anyone ever has. I wouldn't want him to be anything other than that as a selfish fan of his, and it's what has made him the 8-time World Champion he is.
No-one wants to see in my opinion THE Motorsport talent of this generation retire before his 30th birthday. Go well Marc. We'll miss you, but we can't wait for you to come back.
Another Literal Lightning Round
We qualified in the middle of a fucking thunderstorm on Saturday. And Fabio Di Giannantonio put it on the pole. Gresini's first pole since Alvaro Bautista in 2012. With both VR46 runners Marco Bezzecchi and Luca Marini on the front row. Because nothing makes sense anymore in this dumb sport.
I also find it wild how varied sports can be when it comes to lightning and handling it. For the second time this year, we had visible lightning on track, and nothing was done. If this was a game of cricket, and you can see it, no-one's allowed on the ground for half an hour. In IndyCar, you're supposed to evacuate the facility then wait half an hour, and even they seemed to ignore that with the Grand Prix of Indy three weeks ago. MotoGP… sod it, just race. Weird, and not surprising at all that riders were split as to whether it was even "safe" out there.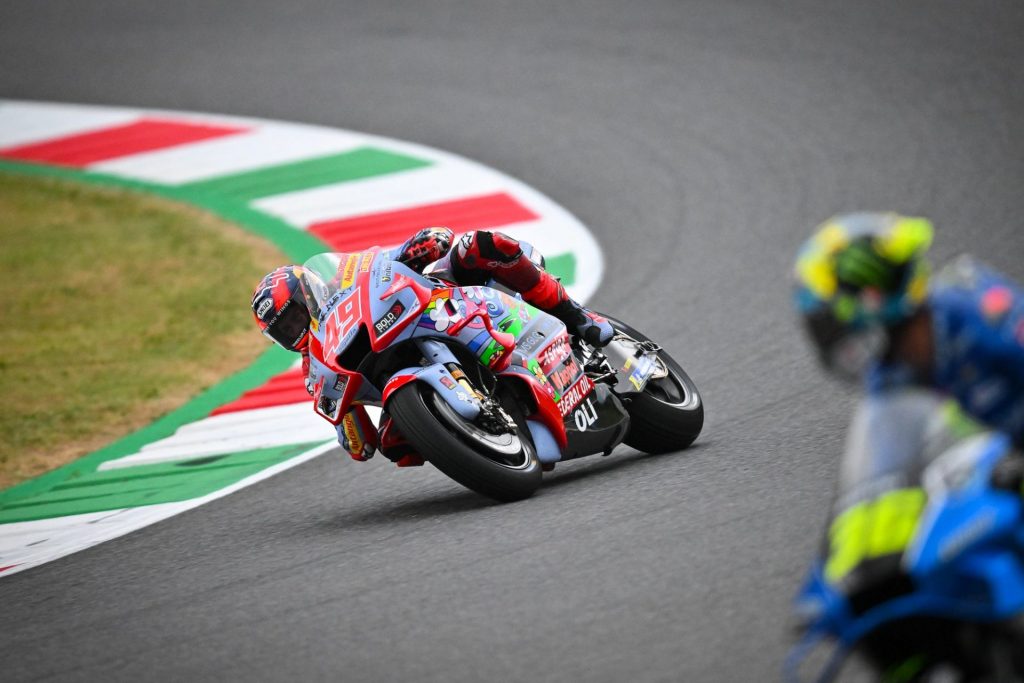 Brad Binder broke everyone's mind by doing his old Austrian "ride slicks on a raining track" trick, and it inspired Fabio to do the same. Add the extra 15 minutes of running through Q1 to gain confidence, and it all just clicked. Great moment for Diggia, who's been struggling massively since debuting, hopefully it gives some confidence to kick on.
Oh Yeah, the Race
This was a different sort of race. This was always going to be a game of "Whoever can clear out the surprises at the front would control the race"… race. Francesco Bagnaia got to the front of the queue first, and by the time Fabio Quartararo had done the same, we had another Jerez situation.
At their very best, Francesco Bagnaia and Fabio Quartararo are the two fastest riders in the world. If you wanted to make an argument that this is the new alien era, I wouldn't blame you. They are so evenly matched, that the second buffer Bagnaia generated at the front of the queue was enough to manage him to victory despite Fabio throwing the sink at him. Better in the more technical parts of Mugello, but losing maybe three tenths a lap on the straights because the Ducati has a nuclear reactor for an engine. More on that later.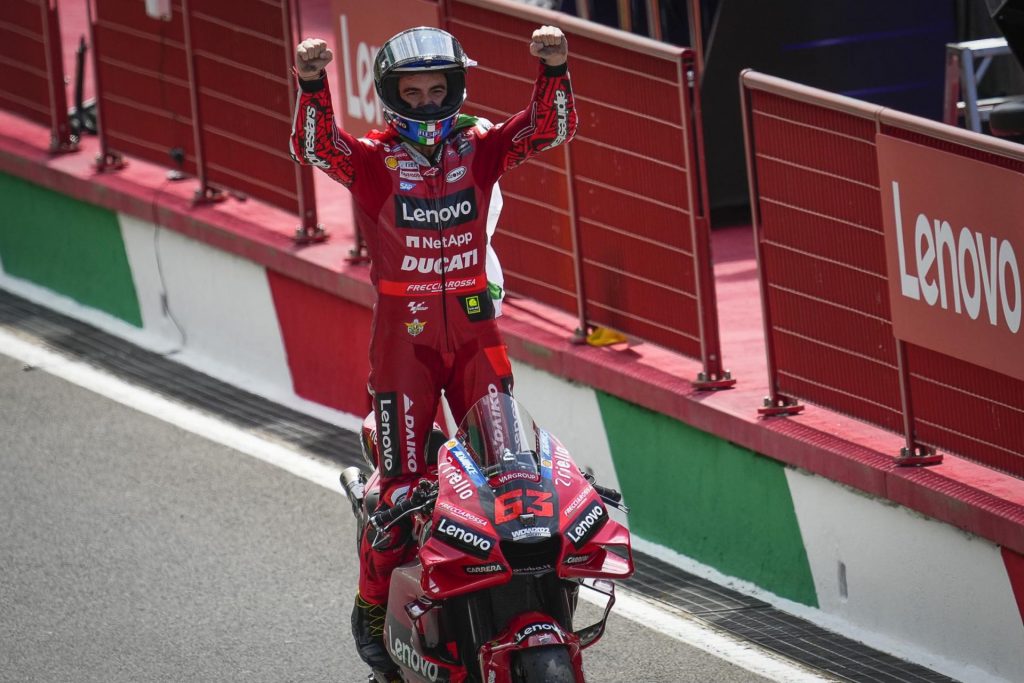 Fabio Quartararo trying to beat Bagnaia on home soil where the "GP21.5" was actually working was like bringing a knife to a gunfight, and he still found a way to stay with him all the way to the line. Bagnaia is great. Fabio is the best motorcycle racer on the planet right now, and my GOD Yamaha needs some extra quality to help him out because he cannot keep doing this on his own. His only blessing here is that with another DNF from Enea Bastianini, the only other man in the field who's been consistent has been Aleix Espargaro, now with four straight podiums on the year. I need a lie down, this sport is stupid.
And shoutout to the VR46 boys again. They managed to stay with the very best in the world for the vast majority of the race, with Marco Bezzecchi only just missing out on a podium with Johann Zarco barging his way through on the final lap. Bez is looking like a rookie with some real potential under the radar of 2022's barminess, and good to see Marini up there again too. No doubt that Ducati has the best bike in the world. Amazingly, I'm still not sure which one of them it is though!
The Balance of Acosta
Uh-oh, Pedro Acosta might have figured out Moto2. We're all in danger.
The signs were there at Le Mans where he crashed from the lead. The pace was there, but the control was still lacking. This time round, he was perfect. He took control of the race from Aron Canet, dictated the pace, and let the pace come to him after Canet had another crash from a strong position at Bucine corner. (That win is never happening is it? I NEED to know why he wears that goddamn bowtie, it's so cool!)
But with that dominant win, Pedro Acosta became the youngest intermediate class race winner ever, at 18 years and four days old. It's genuinely terrifying that a kid who's barely through puberty is now not only a World Champion, but a two-class race winner…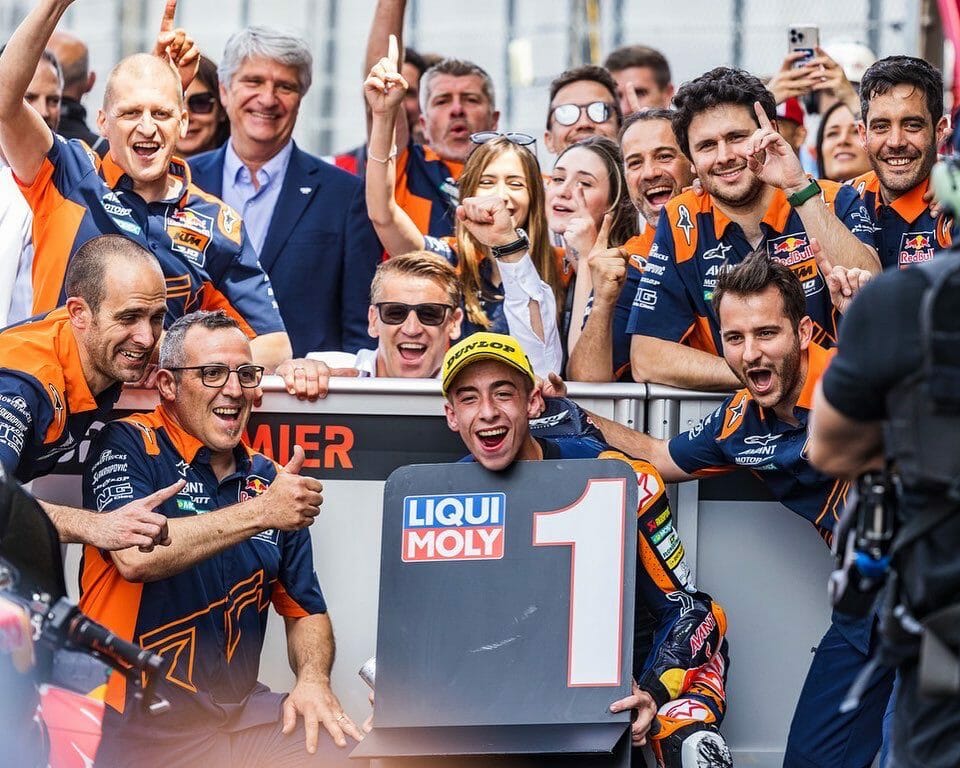 …But can we go easy on the kid just a little bit here? I know, I know, it's really hard to do that given how immensely talented he is. But the pressure doesn't help anybody here. There was talk about him gunning down the title leaders after that win. He's 63 points behind Celestino Vietti and Ai Ogura. He's in that hole for a reason, because he's still figuring out how to win in the toughest class of racing in the world to do so in. As I said in April's Ask Dre – It almost doesn't matter how well he does because we all know KTM tied him down for three years as a project with MotoGP as its end game. I compared it to another young rider who we all knew was destined for greatness, and that was Joan Mir.
Mir never won in Moto2, but cracked the podium after just a handful of rounds. By Mugello in his case, it was pretty much an open secret that factories were fighting for his signature, with Suzuki winning that war.
KTM has the luxury of being able to take its time with the riders they already have. They would be wise to do so.
The… Speed Round? (I already used Lightning Round, FFS) 
Jorge Martin broke the all-time MotoGP speed record this weekend. 363.3 kilometers an hour. That's 226 in Brexit units. The power of these bikes, combined with the aero is just utterly mesmerizing at times. I just hope circuits and safety can move forward alongside that increased speed, because this will never NOT terrify me. 
Alex Rins blaming Taka Nakagami for riding into him after a lunge of an overtake didn't work out is probably an accurate reflection of Suzuki's season. 
Isn't it kind of amazing that for all the messiness that comes with MotoGP's stewarding, the track limits is the one they seem to have finally gotten right? Sucks that Izan Guevara lost a win, but he absolutely did gain an advantage by putting his wheels on the green at the final lap. And when the podium is settled by 0.012 seconds, these rules matter. Tough break kid, you'll learn.
46,000 fans on race day? Ouch. Mugello is normally north of 80,000. Their record on a Sunday was just over 100k. There are a few factors at play here. Cost of living is definitely on the up. The tickets weren't cheap – allegedly £220 for a Grandstand seat for the weekend is a bit dear. But welcome to a MotoGP world without Valentino Rossi. This is what happens when you lose a transcendent star from your sport. Italy has a fleet of talent that is more than ready to climb the mountain, but nothing's ever touching what Rossi had, ever again. And when Italy has become a staple part of the sport's influence, that may be something to keep an eye on. 
And finally… We miss you Jason.