"This isn't over yet."
MotoGP's return to Misano is the next race to get the Dre Reviews treatment, and in this edition, we had another Ducati civil war between the future Ducati teammates, as Francesco Bagnaia held off new Ducati factory rider Enea Bastianini by just three-hundredths of a second in another close thriller. In this post, I'll talk about the impact on the title race, where Enea fits in and… ethics in MotoGP. Welp.
Welcome To The Future
Remember, a big part of Enea Bastianini climbing up the ladder was Misano last year when he finished on the podium twice on a Ducati GP19, a bike that was two years old. Enea is a monster around here, and he proved it again this weekend. That final lap was as great performance for Pecco as it was for Enea.
Despite the big wobble at Turn 4 that probably cost him 5 bike lengths in that fight, he still set the fastest ever race lap around Misano in an attempt to win, and only lost by 0.034 of a second. The closest winning margin in a MotoGP race since Alex Rins stole Marc Marquez's lunch money around Silverstone at the peak of his dominance. This could easily be a preview of the future fights to come between these two and it will be fascinating to watch.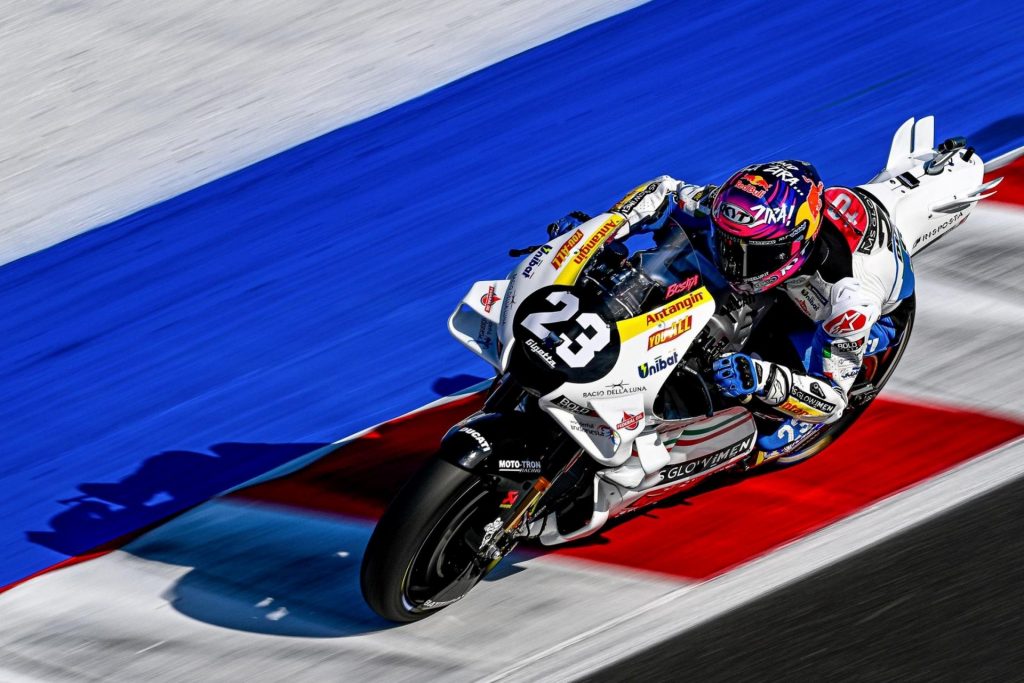 Fun Fact: Francesco Bagnaia became the first Ducati rider in their history to win four races in a row. If there were any question marks about how hot he is right now, he just slayed Enea Bastianini, at his signature track, on a bike that should have won here last year. Bagnaia's bottle is still very much there, despite earlier incidents this season like Le Mans and the Sachsenring. He knows he probably has to win at least 4 of the final 6 to give himself a realistic chance of the title. And without a doubt, he's holding up his end of the deal.
But at least the fourth straight win was significant. With Fabio Quartararo finishing only in 5th and unable to keep up with the Ducati's, Bagania's now only 30 points back. It means Bagnaia controls his own destiny again. He runs the table, he's now Champion. And Quartararo's least favourite round at Aragon is up next. Where Bagnaia won last year. This Championship is still alive. But it's not the winning for Bagnaia that's the issue… can he keep it upright?
#ThankYouDovi
Yesterday also marked another special occasion – The final race of the future MotoGP Hall of Famer, Andrea Dovizioso. Without question, one of the greatest riders to never win a premier class title. I still say to this day, that the only thing that stopped him from being a three-time MotoGP World Champion, was having to take on Marc Marquez in his prime. A combination that might have been the most unbeatable over a season, in the history of the sport.
But that's the most beautiful thing about Dovi's career. He made the unbeatable, look human. His duels with Marc Marquez were legendary. From the pissing rain in Motegi to two switchbacks at Qatar. Dovi was a rider's rider. A thinking man's rider. A genuine professor on two wheels who combined incredibly late braking, and superb racecraft to win 15 times in the top flight, and three times he was a series runner-up, beating Valentino Rossi and Maverick Vinales twice to do it. If you were going to win a MotoGP race, you probably had to have a plan to beat Andrea Dovizioso.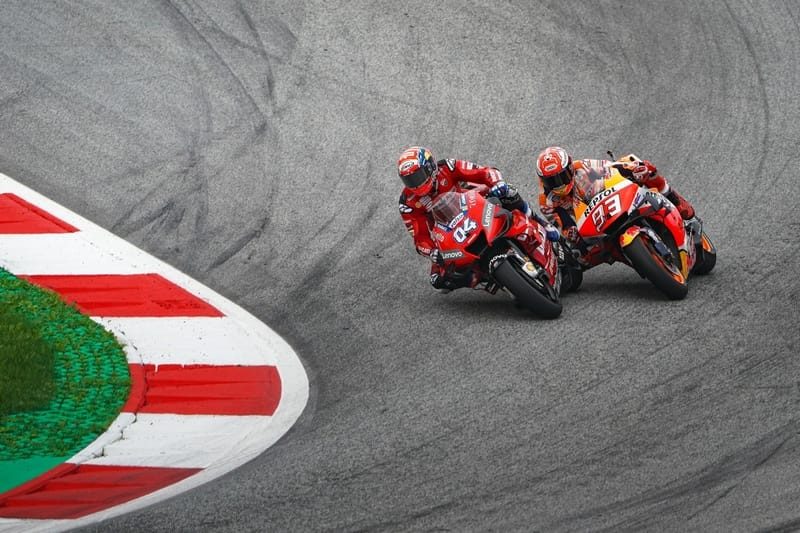 He was versatile, one of only five men in the MotoGP era to have won with two different manufacturers. He was competitive with Honda, Yamaha and Ducati, finishing in the Top 5 of the Championship 10 times. And as we celebrate Ducati now for having the best bike in MotoGP, you have to thank Andrea for playing a key role in Ducati becoming the juggernaut they have. Something we would have never imagined when they were playing third fiddle to the Japanese teams in the 2000s and early 2010s.
Andrea Dovizioso is a special talent, and you cannot tell the story of the "Alien" era without him. I look forward to his MotoGP Legend induction one day because that's exactly what he is.
The Not-So-Lightning Round
Two things can be true at once – You can still be pissy with Speed Up for their shitty treatment of Romano Fenati, AND be happy for Alonso Lopez getting his first Moto2 win. Hate the player, not the game. And man, Alonso Lopez is a stud. Where did they find this kid?! Is he part of a Spanish riding cloning experiment or something? Could be a serious name to watch for Moto2 in 2023. He's only 9 points behind Pedro Acosta for Rookie of the Year, and he debuted at Le Mans!
Marc Marquez is back on a MotoGP bike tomorrow. No, I can't quite believe it either.
Remy Gardner losing his MotoGP due to his "lack of professionalism" seems pretty laughable to me. You don't cut the current Moto2 Champion on the worst team in the field for the next man up in Augusto Fernandez without people looking at you like your house is on fire. Everything I've heard regarding KTM's management is a joke.
Dennis Foggia took his third win on the bounce at Misano to put himself only 35 back from new Championship leader Izan Guevara. Sergio Garcia completely lost his composure and then decided to mess with the leaders despite being a lap down. Bozo behaviour. Maybe, just maybe, it isn't totally the GasGas show in Moto3.
Francesco Bagnaia wearing a Dennis Rodman tribute helmet is incredibly fucking weird behaviour. My man, the press already can't stand you because you were done for drink driving earlier in the season. And now you're rocking the lid of a known domestic violence abuser with several sexual assault allegations made against him.
Annoyingly, this is a complicated matter. The NBA, the sport where Rodman made his name, still actively embraces him despite a lot of problematic baggage. He was celebrated as one of the 75 greatest players ever when the NBA had its 75th Anniversary last year. "The Last Dance" was a smash hit on Netflix and ESPN during lockdown and Rodman has multiple episodes revolving around him and his behaviour. I get it. It's a horrible friggin' look, right off the back of a sport that has openly claimed it wants to get more "18-34 women" into the sport as fans. But unfortunately, many a sports league and many people, in general, have problems dissecting the "art" from the "artist". Still think Bagnaia is strange as hell for that one though. Who gets up and thinks: "I'm going to pay tribute to Dennis Rodman!"
And yes – MotoGP is going to race in Saudi Arabia in the future. This should surprise, precisely no one. As much as it's become socially acceptable on social media to quite rightly eviscerate them for their horrible human rights record, it's equally as socially acceptable for sports leagues to take their money and be complicit in their sports washing, and MotoGP is if anything, late to the trend.
It's frustrating being a fan of this sport, because while Formula 1 at least pretends to give a shit about its own crippling lack of diversity and deeper societal problems… MotoGP is morally in the shitter. They were one of the first major global sports to hope on the NFT and Crypto wagon, they had no problem tweeting #BlackLivesMatter, but haven't really done much of anything addressing the sport's own lack of diversity (Shoutout to Josh Whatley and Francis Bradfield, there aren't many more of us out there), and now it's dipped into the Saudi well.
Yeah, it's incredibly tone-deaf… but as I said when talking about Formula 1's Saudi GP earlier this year, we're all still going to watch, because it's hard to take a stand over the things you love. Many can't afford to. And that's what makes it all possible. See you in Aragon.