This was the most chaotic 5/10 MotoGP race of all-time. A race with HUGE title implications on the first lap, and on the last. But in the middle, Fabio Quartararo absolutely dominated a track he loves to essentially put one hand on the Championship, and we're barely even half way in yet. Here's how:
The First Lap…
That. Was. Terrifying. We didn't realise it in real time with the aerial shots but Honda's Taka Nakagami lost the front into Turn 1, crashed, and had his head bounce off the rear of Francesco Bagnaia as both of them and Alex Rins hit the deck at the end of the corner. It was an incident so startling it ripped the visor off the front of the helmet. As I type this, Taka Nakagami's getting checked over at the local hospital, but amazingly no head injuries detected and he seems like he's going to be fine. Which is… remarkable. Arai Helmets deserve a lot of praise for an incredible product.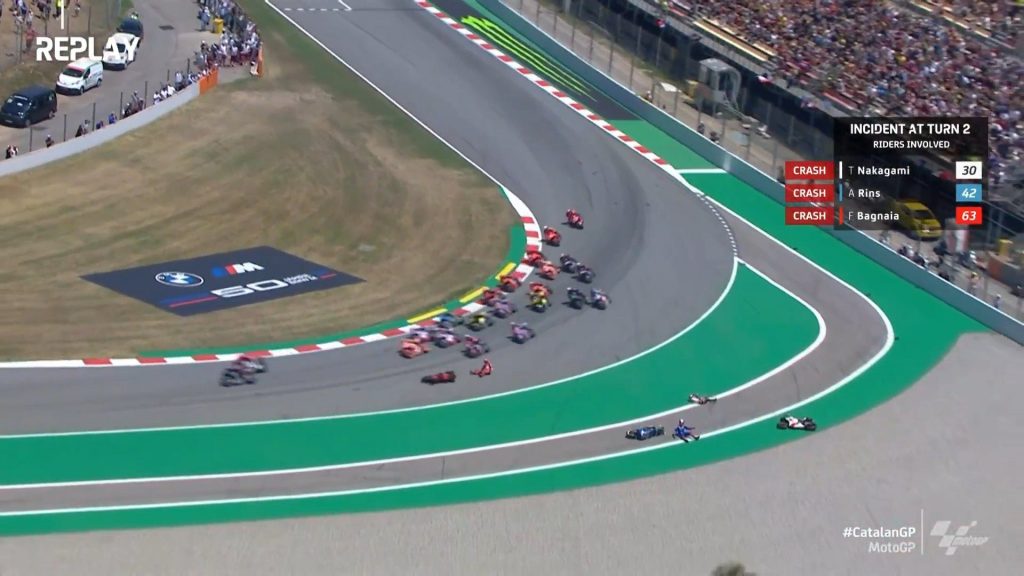 Still… I'm not sure how you don't punish Taka retroactively. If you're going in that hot to drop the bike entirely under braking for Turn 1, you were recklessly dangerous. I don't like the attitude that MotoGP is adopting here where if you crash, well that's punishment enough. You need to stamp that sort of riding out of the sport. I'm glad everyone's okay, but that was an extremely dangerous incident that could have been 1,000 times worse. How do we go from "No Further Action" to "Two race bans" with nothing in between?!
But it was a wreck with huge title ramifications. Francesco Bagnaia is now behind Johann Zarco, 5th in the Championship and now 66 points behind Fabio. And with Fabio riding as consistently well as he ever has, it might already be game over for the bookies favourite going into 2022. Speaking of title contenders…
…The Last Lap. (Depending on who you ask)
Oh Aleix. This race is one of those weekends where on paper will only tell half the story. He qualified on pole. He was running second in what would have been the best possible result he could have gotten on an Aprilia that does well in low-grip settings like Catalunya and its 55 degree track temperature.
…BUT THEN HE MISCOUNTS HOW MANY LAPS ARE LEFT ON THE FINAL LAP. What would have been second, ended up fifth, and with a huge amount of egg on the Spaniard's face. Look, I'm not going to go full internet personality here and start calling the man an idiot. Nothing I tell you here will be harsh as the man's already told himself. And his error isn't unprecedented, just ask Alex Rins back when he was in Moto3. But man, Aleix cost himself 9 points in a title race that he might be the only semi-realistic contender left. Ungood. Very ungood. And a nominee for the Motorsport101 Golden Cock.
Moto2's Race of the Year
That was a fantastic Moto2 race. At one point we had five dudes in contention for the win with three laps left, and Marcel Schrotter the gatekeeper was one of them!
Celestino Vietti and Aron Canet had a bar fight on the final laps of an excellent race where tactics were the order of the day. And we saw it in real time. Vietti reminds me a lot of his mentor, where he's demonically late on the brakes, and yet Canet was out braking HIM into Turn 1. Insane stuff. Vietti tried Turn 3 a couple of times but got his nose swiped. But Vietti had the Turn 10 pass under his back pocket, and he hit not once but twice. Canet saw it coming on the final lap but didn't square the corner enough to stop Vietti barging through.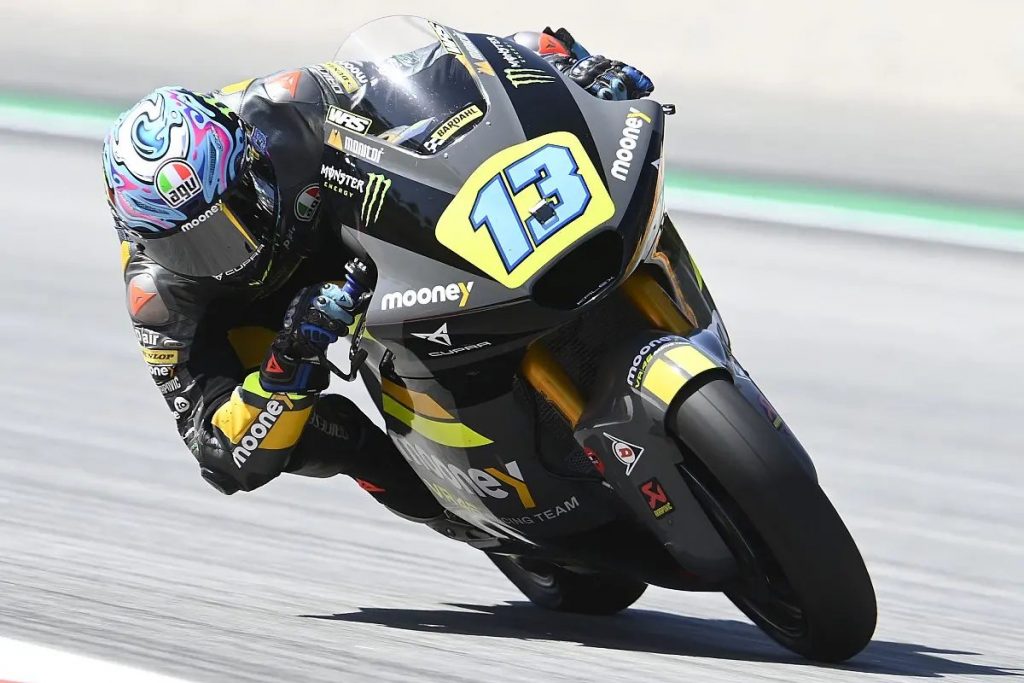 An outstanding race, and with Ogura down the order and Joe Roberts crashing from a comfortable lead, a critical one for Vietti's championship.
Can Aron Canet PLEASE win one of these? I NEED to know why he wears that goddamn bowtie!
The Lightning Round
Attendance for Catalunya was down a third in 2019, the last time we had fans at this venue. Last time, we had 91,000. Only 60,000 this time. Now again, there's some mitigating circumstances here. Inflation is on the up with the global economy struggling. And if you saw the F1 race, there were horror stories on the infrastructure of the track. But MAN, the lack of yellow effect is trending here. 
Happy 500 GP's for Aspar, and of course they celebrate it with another #Moto3 winner in Izan Guevara. And he broke the frigging field to do it too. Seriously impressive, and with Dennis Foggia's chain breaking, it's looking like an Aspar civil war for the title. Make no mistake, both he and Garcia are "those dudes".
David Munoz had to make his GP debut late because he only turned 16 before the Mugello race. He was second in his second ever Moto3 race. Where do we Spain keep finding these dudes? And why do we insist that these dudes have to be 18 like the kids are the problem?!