"Activity masquerading as progress."
MotoGP just couldn't keep itself quiet, could it? Austria's becoming one of the sport's headline rounds, and with the new chicane going down better than expected, this weekend could have been a good chance to again remind folks how good the sport could be.
Instead the sport announced its most earth shattering format change since the 800cc era. Because of course it did. Right, let's talk a little bit more about the Sprint Race change and the.…. shall we say, "rushed" way it's been handled.
The Politics of the Sprint
What gets me more than anything else regarding MotoGP's sprint race addition, is how out of nowhere the whole thing was. The first time any of us got any potential wind of it was in Nielsen's 114th Global Fan survey and because the language was incredibly similar to what we saw in F1's last survey, we as an audience didn't take it all that seriously.
We got murmurs as the riders touched down in Austria on Thursday that this might be happening, and by Saturday morning, we had an unexpected press conference where people were in shock over what they were watching.
The press conference was a bloodbath. It actually made the situation more confusing and exposed that the key shareholders, Carmelo Ezpeleta (Dorna CEO), Jorge Viegas (FIM President), and Herve Poncheral, President of the IRTA, may not have been acting in the best of faith. At best they were combative and defensive of the idea that they were apparently all on-board with because they all saw how much F1 fans liked it… *bursts into loud laughter*
The press conference revealed the riders hadn't been informed of the changes, because they didn't trust them to keep it a secret and others might already be leaving at the end of the season. Hardly surprising given every shareholder in this sport is in it for themselves. But YIKES. Until Sunday morning, we didn't know if a Sprint win was going to go in the books as an "official win", like what happened with World Superbikes, who changed their mind on the status of its Superpole race a year after its inception.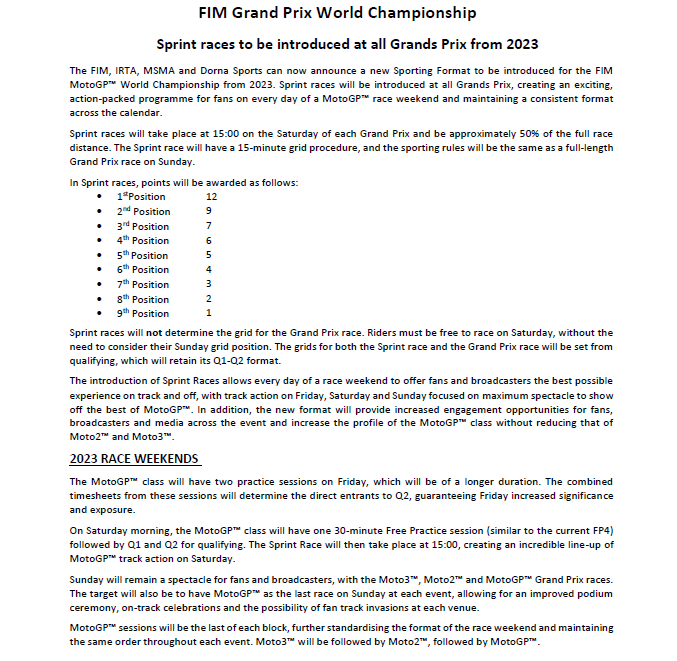 Carmelo was visibly angry and snapping at journalists when they came at him with rider quotes, the people that are most affected by this change. Talk of a riders union were laughed out of the room. The full plan on all of this was hardly set in stone, we've already had that aforementioned stat-keeping change within 24 hours of the press conference, and the statement from the FIM that talked about the changes.
And to be fair, I'm guilty of some of that selfishness I mentioned. When I originally talked about this change, I didn't talk about the biggest factor in all of this – The riders and their health. Motorsport at its most fundamental core, is about mitigating risk to try and win. MotoGP just jacked up the intensity of its entire weekend. I've said with F1's sprints that three days of meaningful action will always be better than two in the eyes of the shareholders. But in MotoGP now, EVERYTHING matters. Free Practise one and two now set up qualifying. Qualifying now sets the grid for two completely different races and 37 points a weekend instead of 25.
I was already asking questions of MotoGP going to 21 races a season in a sport that carries a lot of medium-level injuries; such as broken limbs and concussions (And sadly, worse). Now you're asking these people to be in the most intense of scenarios, race conditions, for FORTY-TWO times a weekend. That sounds ludicrous. But on the other side of the coin; World Superbikes, the true blueprint for this change, is currently at 36 races across a 12 weekend season. And from what I remember, I don't think there was a huge backlash against adding more races to its calendar. This in a series that has had two races a weekend since its inception.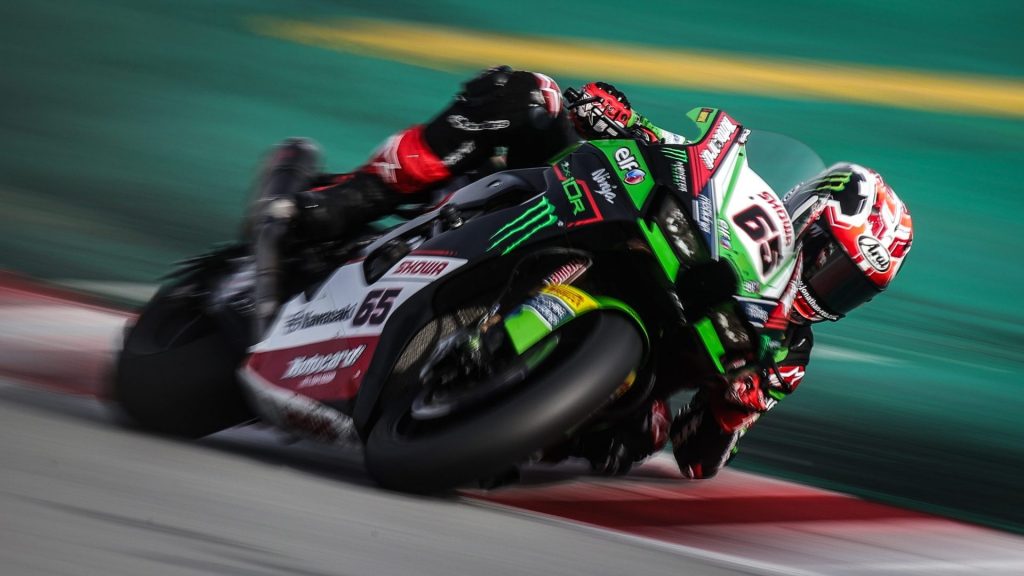 This is where I don't have a straight answer at to tow much is too much. Look, I'm not stupid. You will never have a riders union in MotoGP. It's nearly impossible to get 24 inherently selfish people to agree on anything. We we had dissention in the tanks on race weekends when riders have died in the name of the sport. The rider reaction has been split from what 've read online. Marc Marquez, Maverick Vinales and Jack Miller have all been for it. Fabio Quartararo and Aleix Espargaro, haven't.
Like I said yesterday, in theory, I don't mind the idea of a Sprint race. F1's sprints have hardly set the world on fire, but I don't think they're any worse than a standard race weekend. I think at worst, it'll be the same here. I'm all for dumping FP4, it bores me personally. I don't think anyone's really crying over less practise time for the junior categories. The sport has recognised it needs to improve and that's definitely a good thing. Remember, we had record lows for Silverstone's attendance and TV ratings just a fortnight ago.
But the way we're getting to this point, via haphazardness, dissention and MotoGP choosing the wrong battles to fight in order to improve the racing within, are going to alienate a large number of their (withdrawing) audience. Legendary MotoGP commentator and journalist Julian Ryder described the change as "Activity masquerading as progress". He could very well be right.
Hat-trick Hero
Francesco Bagnaia does his best Alana King impression and scores a hat-trick of wins. Another shining example of brilliant, front running control. Sebastian Vettel or Ronnie O'Sullivan-esque.
Passed the potentially very dangerous Enea Bastianini at Turn 1, controlled the pace over Jack Miller behind as his tyres inevitably faded (A bit), and held off Fablo when he finally did get in front. Its masterful riding and the Pecco we've all been hoping his campaign SHOULD have been. He's going to need help to truly get back in the title fight from here, but this can only help.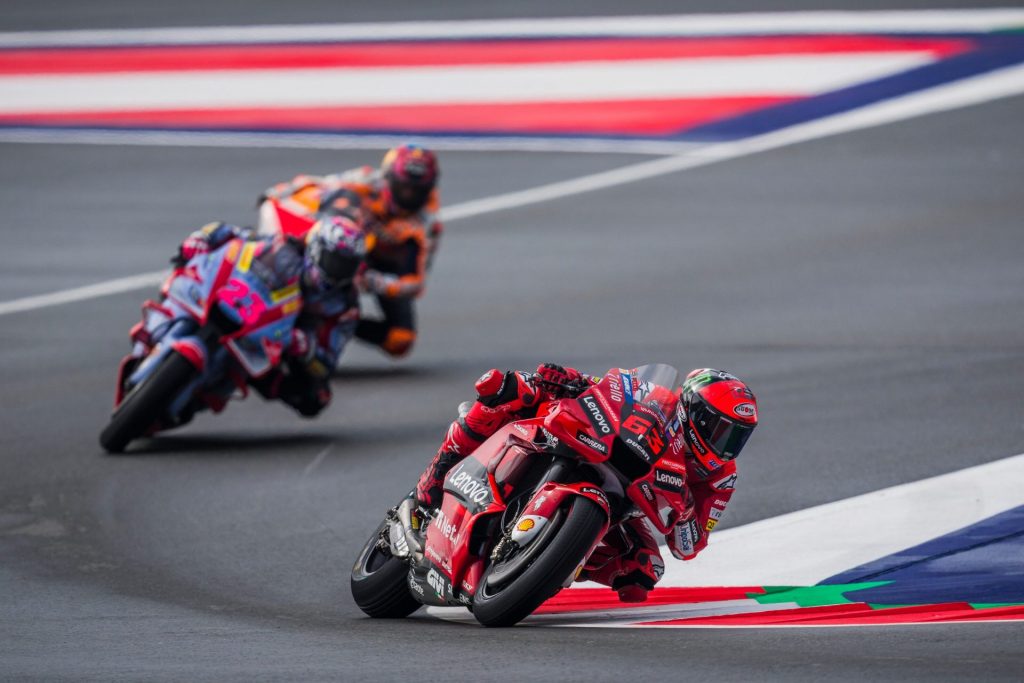 On the other side of the coin, Fabio Quartararo in 2nd. We all know this is Ducati country. So for him to finish half a second off the win on that Yamaha, including a stunning outside of the box pass at the Turn 2 chicane on Miller is pretty scintillating stuff. The cynical part of my brain still makes me wonder if the Yamaha is still as bad relatively speaking when he's pulling this out of the bag, but with the rest of the roster and the quality of the Ducati's he's fighting, it's hard to argue his class. These two are the two best riders in the world today and it's showing more and more by the week.
I also need to note, that can we please chill on a bit of the Jack Miller slander? The man finished third and barely a second off the clear Top 2 riders in the world. I get it, he has shortcomings, and yes, they are predictable. But no-one else is consistently performing much better on a GP21 or 22 with Bastianini and Martin both ruining their races again. If he wasn't already signed with KTM, I'd be making a valid argument for him top to keep his job.
Ah shit, we're just going to gas up Luca Marini instead, aren't we? Next man up! (That fourth was baller.)
The Lighting Round
Moto2 might be the most consistently excellent series in all of Motorsport at the moment. Another superb race as the Honda Team Asia duo of Ai Ogura and Somkiat Chantra had a superb race long fight for the win, miles ahead of the rest. The final lap was superb racing with Chantra setting up the big lunge into Jochen Rindt bend, only for Ogura to see it coming and take the Dovi sweep into the last, knowing Chantra would be slow to square the corner off. Sublime from both of them. Great ride from Jake Dixon to finish 3rd as well, his third podium in a row, with a similar pass on the returning Pedro Acosta.
Also, why in the cinnamon toast fuck does Ogura not want to move up to MotoGP next year?! Augusto Fernandez might be his only opposition now Vietti crashed from 3rd. He's now Championship leader in a series that is struggling to establish contenders, and if he stays, Pedro Acosta will almost certainly be way better in Year 2. Does he really want that smoke?! Bird in the hand Ai, bird in the hand!
Ayumu "Crazy Boy" Sasaki won a Moto3 after taking a Double Long Lap Penalty. He never had the pace to break away, but he had enough to ensurte that he was never under any sort of threat from Suzuki hehind him. And by the time we got to the final lap, he was under pressure from Denis Oncu and David Munoz, on the podium again in 3rd. I still love that Oncu is one of the few who realises that fighting early on is pointless, mind you. A bit quiet by Moto3 standards, but when someone's that good at the front, which is rare these days, you have to applaud it.
Aleix Espargaro is still a Top 6 rider in the field with a broken foot. What more does he have to do to get his flowers?