"BEAT EM DOWN."
Ouch. This one stung. Formula 1 was back after its one-month-long summer break and if you thought there was any chance of Ferrari getting back into this, Max Verstappen just slammed the door in your face. One of the great beatings of the field in recent F1 history, the future of Spa as a racetrack, and more in the return of Dre Reviews, on the Belgian Grand Prix.
"What do you mean he's still favourite?!"
True story here. For those who don't know, I work as a betting shop manager full-time. I opened my shop on Sunday morning, and out of curiosity, I checked the odds for the Belgian Grand Prix.
Now bear in mind that this was going to be a topsy-turvy grid. It almost felt like there had been a gentlemen's agreement amongst the field that this was going to be the round where people would take power-unit penalties given Spa's high-speed nature. Charles Leclerc took one because he'd already lost multiple components via previous blow-ups and then Red Bull responded because hey, it's essentially a freebie at this point. By Sunday afternoon, eight drivers had taken some degree of penalty, and with it, Max Verstappen would be starting in P14.
…His odds to win? 13/8. That's 2.63 in European decimals. +163 in America. FROM FOURTEENTH. I've been watching F1 for 20 years and have been in the gambling industry for 6 and a half. I've never seen that happen before.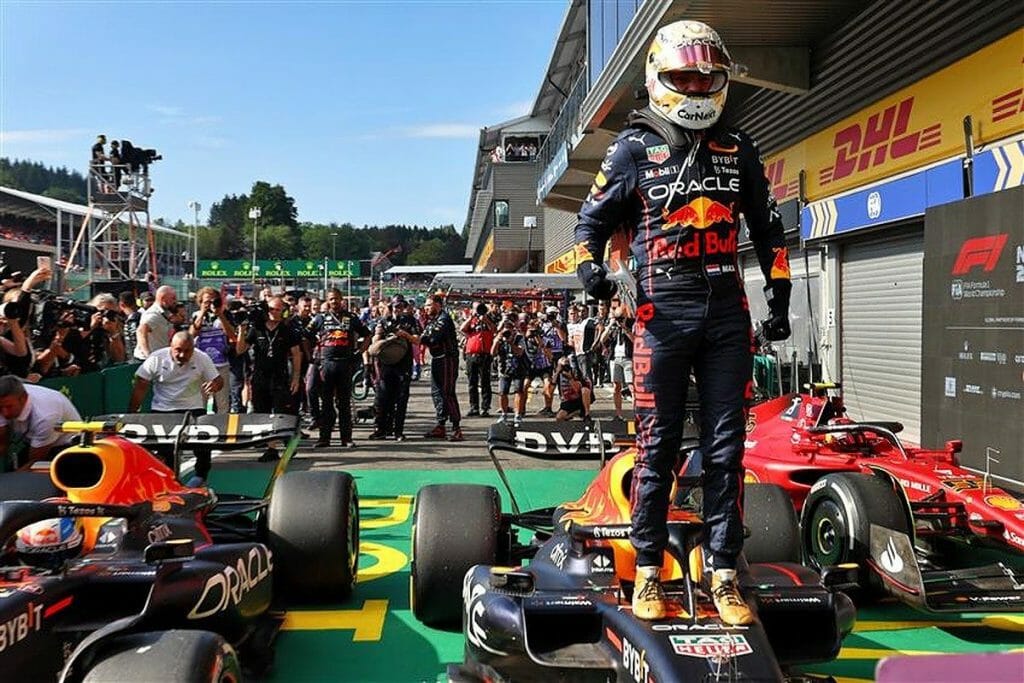 After setting the fastest time in Qualifying the day prior, there was an ominous vibe afterwards. A vibe that he could win even from back there. Normally, I hate that sort of cynical take, but the Internet got it right on this one. This was an unholy clobbering. He was in the points before the end of the first lap. Leading by Lap 18. Had the second longest stint on soft tyres. And then beat his own teammate in second by 18 seconds to win. On any level, that is completely ridiculous.
Sergio Perez wasn't good. He botched qualifying. Had a dreadful start and had to make up lost ground. And he was still a comfortable second because the RB18 was just that good. I know the narratives of this season will ultimately boil down to Ferrari's screw-ups and Mercedes' fall from grace; more than Red Bull's ridiculous success. But Max single-handedly sucked the fun right out of this race due to sheer brilliance.  That deserves some respect. Max Verstappen just became the first man since Bruce McLaren to win back-to-back races from 10th or lower. You're watching a future 2-time World Champion at work. Better get used to it.
Divine Intervention
Charles Leclerc, I have a message for you. You're seemingly a good dude. I don't know if you're a religious man, but if you are, I'd suggest becoming an atheist. Because your God clearly doesn't love you.
Max Verstappen's tear-off from the opening lap, landed in Charles Leclerc's brake-cooling duct. He had to take an early pitstop to remove it as the car was overheating. They try to run Charles on just one more stop for the race. They couldn't because the tyre wear was worse than expected.
They go for the fastest lap attempt with 3 laps to go even though the extra stop put them at risk of being passed by Fernando Alonso. He does just that. Leclerc has to repass him on the final lap and his best lap was six-tenths off Max's best. And then it turns out he sped in the pitlane by 1kph because a sensor was overheating, BECAUSE OF THE TEAR-OFF FROM EARLIER. The five-second penalty turned an opportunity of finishing +1 on points, into a -2.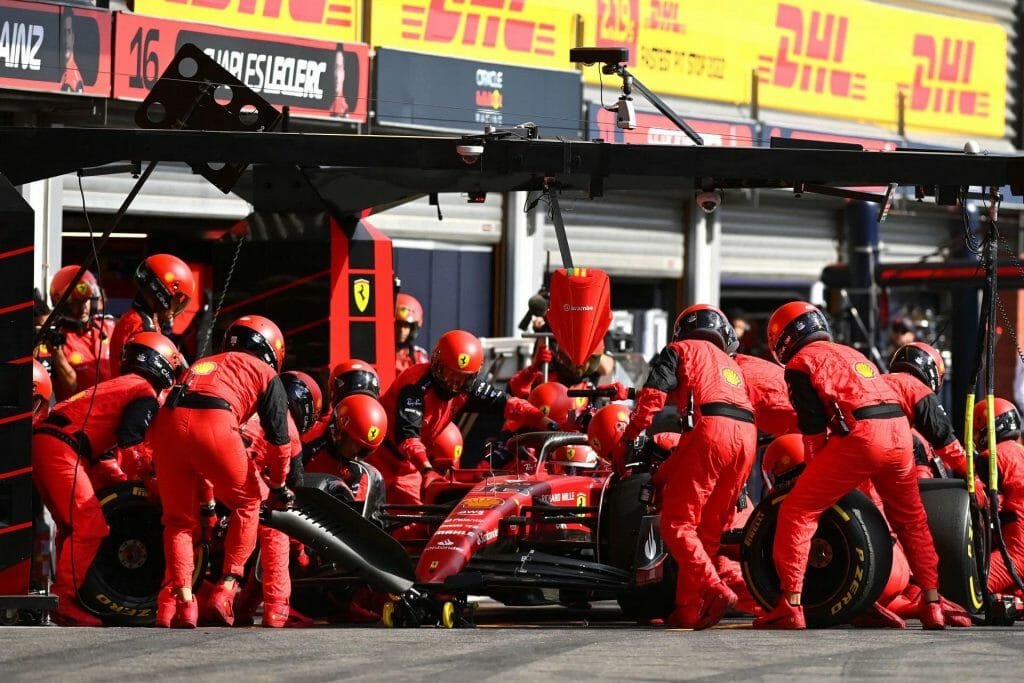 Sergio Perez is now back in front of Charles Leclerc in the Championship and is 98 points off the top. Carlos Sainz said the soft tyres he was on were good for only 3 laps, and the Ferrari's porpoising again after the floor rules update kicked in this weekend.
For Ferrari? At this point, "May your woes be many, and your days, few." 
The Lightning Round
Shoutout to George Russell for thinking the floor update was going to clip Red Bull's wings only for him to get his cheeks clapped, 29 seconds off the win. Ouch.
Lewis Hamilton is indeed human after pinching Fernando Alonso off the kerb on the opening lap. But I do find it hilarious that Alonso's angry radio outburst was so vilified, that he got cooked on social media despite having zero blame for the incident itself. The F1 court of public opinion is a ruthless animal.
Sebastian Vettel was running in the Top 5 for a large portion of this race and finished 8th in possibly the 2nd worst car in the field. Edd Straw rating in The Race's Monday article? 7/10. Never change, hyphen. Never change. 
Alex Albon is now cosplaying as an NFL linebacker with how wide he made that Williams in 10th. I love it, and I'm glad he's validating his spot in F1. Man can drive.
A reminder that Oscar Piastri wants to WIN his contract dispute so he can go to McLaren next year… WHY?!
Dre's Race Rating – 5/10 (Average): Yeah, when one guy is this good, it's hard to call it entertaining. That's F1 for you. Sometimes, it really is a bunch of guys going around in circles. Some fun at the start and the 3-way between Ocon, Vettel and Gasly was nice, but besides that, not much here. Are we sure we want to keep Spa on the calendar this badly? Because it's had a bunch of clunkers lately…