WARNING: The opening second talks about the three major passings in bike racing in the last week; Phil Read, Chrissy Rouse and Victor Steeman. You may find this upsetting. Scroll to the blue bar in the middle of the piece if you want to skip it. – Dre
I'm going to be honest, readers. I don't know how I feel about this one. My headspace isn't the best. It's been a tough week, month, heck… maybe even a year of being a bike fan. 
Do not get it twisted. This was a 10/10 race. Off the scale. The best MotoGP race since… probably Philip Island 2017. The 2022 Australian Grand Prix was everything we could have asked for in a series that's in desperate need of a positive headline, in a sport that's still very much hurting from one of its saddest weeks.
We lost Phil Read. A MotoGP Hall-Of-Famer. A seven-time World Champion. Quite possibly the greatest bike rider Great Britain has ever produced and a man who put Yamaha on the map.
We lost Chrissy Rouse. A 26-year-old Champion in the British Superstock Champion in the British Superbikes ladder. A uniquely gifted and talented man who was able to juggle the risks and commitment of motorcycle racing with being "The World's Fastest Maths Teacher" and entertainer via podcasts, succumbing to a fatal head injury he suffered at Donington Park.
And we lost Victor Steeman. A 22-year-old talented Dutchman competing for a World Championship in the Supersport 300 class at Catalunya. More pole positions than anyone in the series, ever. He also succumbed to his injuries in hospital two days later after being run over in a multi-bike accident at Turn 14. By being an organ donor, he will save the lives of five other people. But in heartbreaking news, his mother passed away from a heart attack on Thursday. It's just soul-crushing seeing the effects this sport can have on you.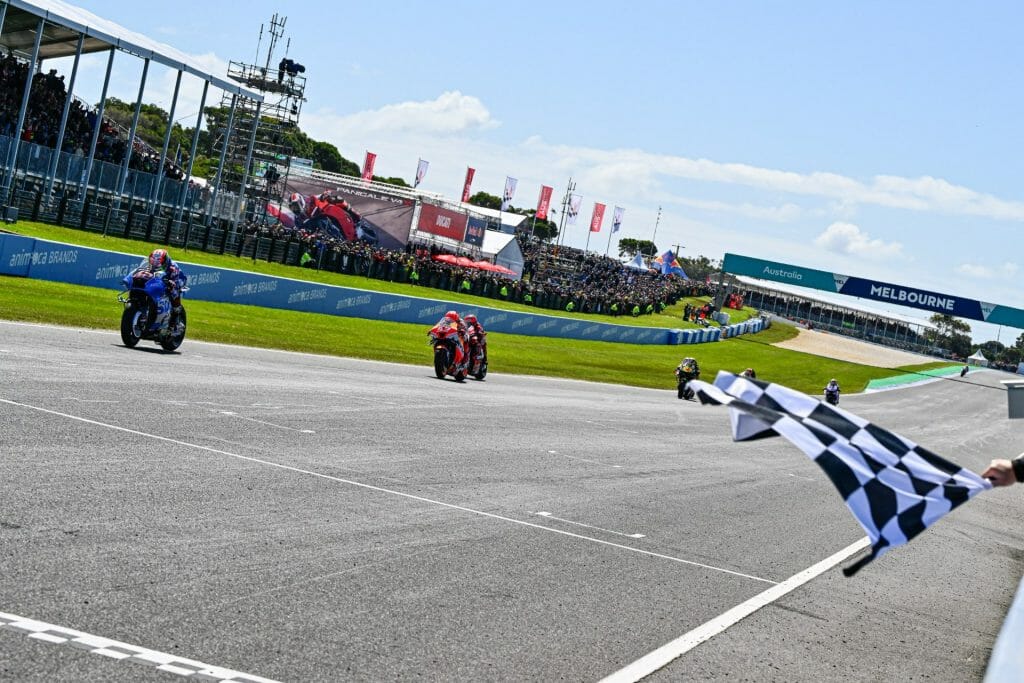 I was as optimistic as anyone else going into this race. Philip Island is the great biking equaliser. It mitigates weaknesses, it lets you follow and it lets you pass. In a series that has accidentally done everything in its power to stop that this year, this was such a breath of fresh air. Seven different men crossed the line within a second of Alex Rins' winning bike. Incredible passing, incredible tactics, incredible speed.
But man, it made me nervous. This was a MotoGP version of a pack race. No one could break that 215-mile-per-hour tow. It reminded me of a NASCAR restrictor-plate race in the 90s where one wrong move could potentially be fatal. The series where it's one of its biggest icons in Dale Earnhardt regularly screamed that the racing could kill someone if it wasn't checked… then he ended up being its greatest victim. At times, this race felt like the Moto3 racing that while spectacular, can also increase the chance of someone getting seriously hurt. I was extra nervous when Alex Marquez missed his braking point by 10 metres and ploughed into the side of Jack Miller. 
Maybe this is all an exaggeration. Maybe this is just the occasional existential crisis that being a bike racing fan comes with every once in a while. But I hate that I didn't enjoy this all-time classic as much as I probably should have. Bike racing is wonderful, but often, it's with a heavy heart. Let's talk about it a little more.
Keeping It On The Island
Suzuki is a strange, strange thing, man. They openly admitted they're doing a private test between Sepang and the season finale at Valencia for aero parts that will probably never see the light of day in an actual race and are probably just going to wrack up even most costs for the Japanese manufacturer before saying goodbye. But it was awfully nice of Alex Rins to remind us of what the Suzuki can do before its final swansong.
Alex Rins was superb. I know we all talk of the Ducati's immense power as very straightforward (Jorge Martin hit 221mph on Saturday), but Suzuki was right there with them in tow. And when you combine that with Rins confidence under braking, and the Suzuki being able to turn on a sixpence at the Melbourne Loop, it was the perfect combination to crack Bagnaia, a man that's very, very hard to pass. If that's the last we see of Suzuki at the best of the games, then it was a fitting tribute to a team that let's not forget, won a World Championship just two years ago.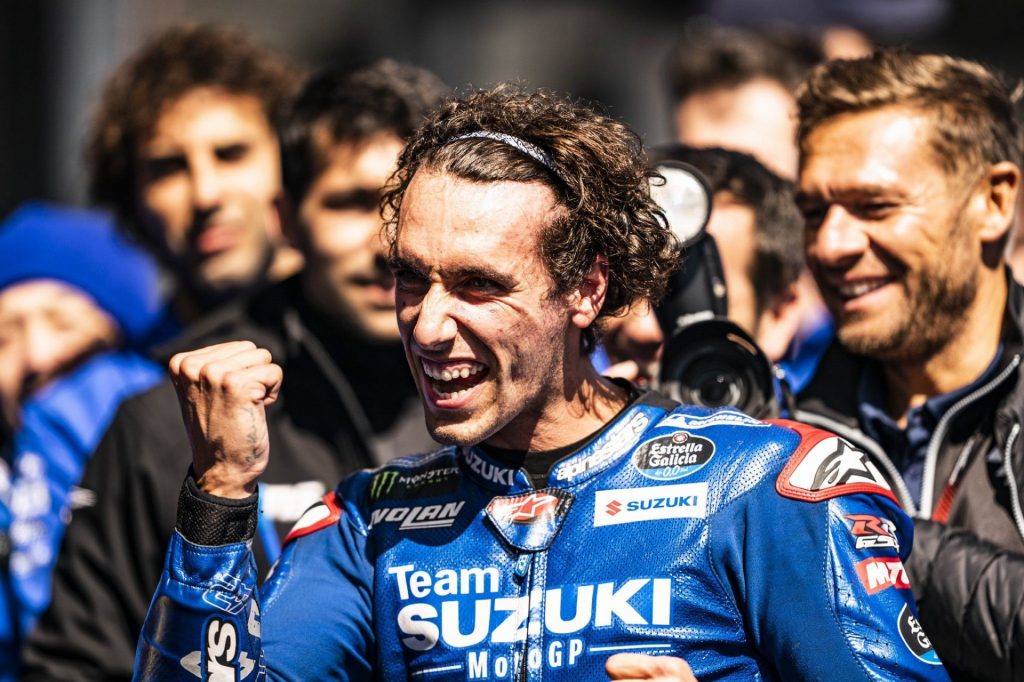 Marc Marquez continues to be inhuman. He wanted to prove to himself and to Honda that he could still race at the very highest level. How? By ignoring Honda's recommendation and racing on a soft rear tyre, the only man in the field to do so. He finished 2nd and less than two-tenths of a second off the win. He gambled on the race being a game of tyre management, it was, and took advantage of the race pace being slower than anticipated. He was right. His 100th top-flight podium in 152 starts. A 65% rate. That's… ridiculous. Especially given he's not been 100% since 2019. 
And now, it's probably Francesco Bagnaia's Championship to lose. It must genuinely be a nightmare being a Fabio Quartararo fan. I don't know where his accountability stops and Yamaha's starts, but combined, this has been another monumental collapse. Compared to Francesco Bagnaia, he's lost 105 points in the last 8 races. Some of that is Yamaha having a bike that's fundamentally flawed when racing Ducati's. He can't out-drag them, and the Ducatis are much better on tyres than they used to be.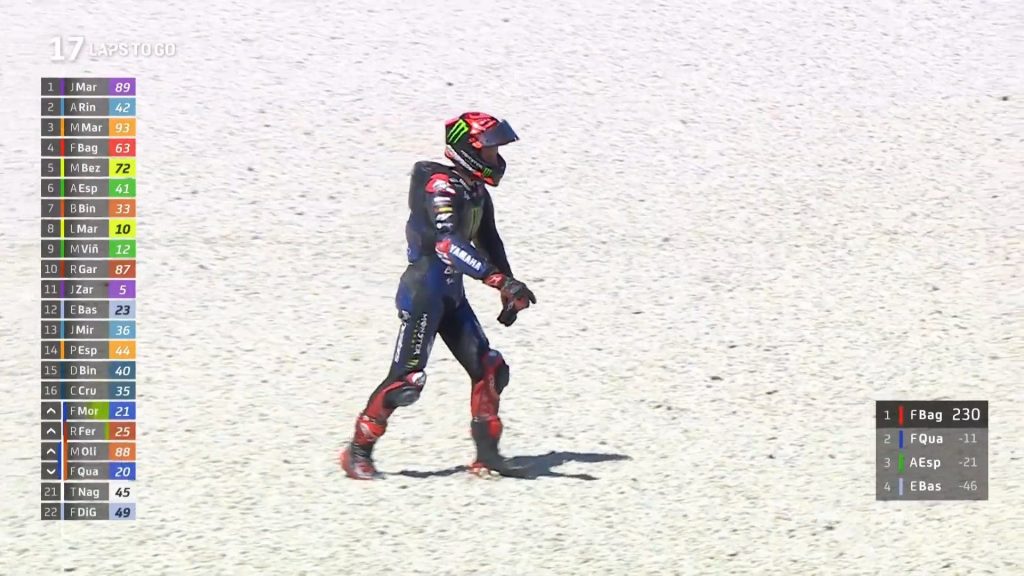 But some of that is on Fabio making big mistakes overriding the bike. He divebomed Aleix at Assen. He did it again at Philip Island and it dropped him to 17th, another symptom of the Yamaha only being able to make time via hard braking. His confidence in the rain has gone. And now, for the first time all season, he has to chase the fastest man in the sport. And don't feel too sorry for him, he committed to another 2 years of this when he could have easily had the sport lining up for him this silly season. This is the life he chose. And now he has to reap what he's sown. This is Fabio's 2nd Championship collapse in three years. He could have already owned this era with three championships. Instead, it feels like he's swimming against the tide as the field around him gets better.
And as much as it's easy to take some of the shine off him for the bike he rides, Francesco Bagnaia is an incredible rider and he's learning he doesn't have to win every race to take the title. Doing what he needed to do at Aragon, Thailand and Philip Island has now made him super odds-on to win the title. If he keeps up this pace of outscoring Fabio, he wins the title a round early. Who would dare predict that after Germany when he was 91 back?!
The Lightning Round
Of course, Jack Miller got speared like Roman Reigns by Alex Marquez at his newly renamed corner. How extremely Jorge Lorenzo.
Aleix Espargaro's title campaign might have finally fallen after tyre wear had him fall to 9th late on with the second wave of Ducati's finding late speed. Sepang is now an absolute must-win. If anyone can convert their testing speed over…
What is it with Marc Marquez and narrowly losing one to Alex Rins?
Did anyone else notice Enea Bastianini finishing 5th from 15th? Just me?
Philip Island has had three race-of-the-decade candidates in seven years. It's the best bike track in the world. And I'll hear no arguments otherwise. 
Izan Guevara is an absolute monster. The best lightweight talent I've seen since Joan Mir. Watch him, he's special.