"No respect for the life of the driver, no respect for Jules' memory. Incredible." – Phillipe Bianchi
WARNING: This column mentions the tragic passing of Jules Bianchi. You may find this upsetting. Skip to the gold bar if you want to avoid that discussion – Dre
Holy fucking, shit. What a morning. I'm 30 years old now, I'm literally too old for this shit. Look, we got a Japanese Grand Prix. I was really looking forward to seeing one of the genuinely feel-good races of 2022 back on the calendar, and on one of the world's best tracks.
What we got was the FIA having an awful lot to answer for, and a World Champion being crowned… but without any of the gloss and glory that comes with that. Let's get into it before my head explodes.
Have we learned nothing?
The race started… when it probably shouldn't have done. It was incredibly wet, and visibility was near zero. On the opening lap, Carlos Sainz lost it on the way towards Spoon corner and hit the barrier hard. That put debris on track and a recovery tractor on the track to recover the stricken Ferrari. The race was Red Flagged with Pierre Gasly (who started from pit lane), only a few hundred feet before the accident and the recovery tractor. 
This was one of the most horrific decisions that the FIA and Race Direction have made in recent years. AND THERE'S BEEN MANY.
This was a complete shitshow. And so unbelievably dangerous given the conditions. There was a marshal on track at the time the cars were coming through. There's a video of Daniel Ricciardo weaving under Safety Car only a handful of metres from the tractor as 17 cars passed through the incident.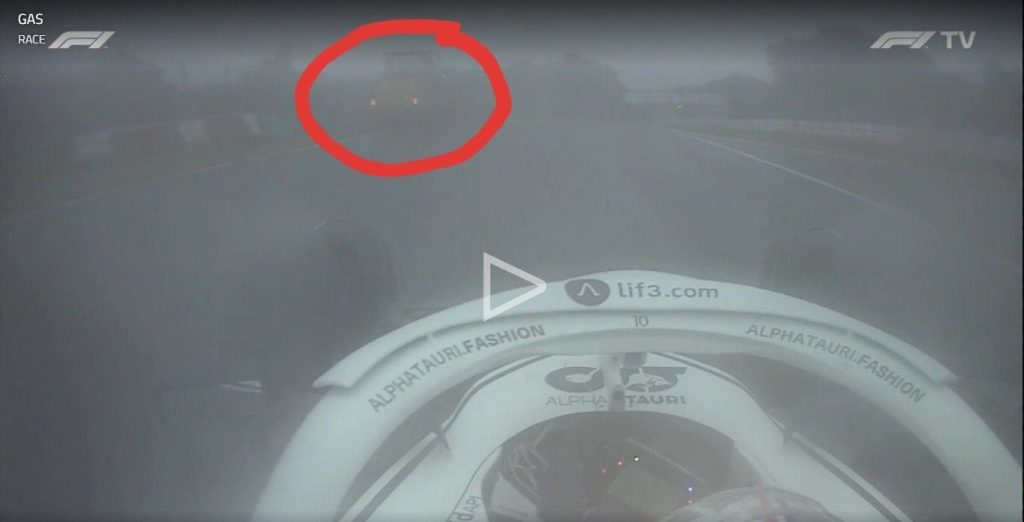 There were very real flashbacks to this race in 2014, where Jules Bianchi hit a tractor during double-waved yellows and eventually succumbed to his injuries. Many of the drivers, such as Sergio Perez and Lando Norris were quick to make this point, and you can't blame them when they're the ones playing Russian Roulette with their lives every time they step into one of these cars.
And to make matters worse, the media got a perfect alibi for accountability – Pierre Gasly being called to the stewards for excessive speed during the Red Flag. As much as it's obviously not okay to be doing 250kph under a red in ANY circumstances, it's a completely separate issue compared to the fact we had a tractor on track in conditions barely acceptable to race. And indecision from Race Control that came far too late. The fact that many people within F1 like Karun Chandhok were trying to "both sides" this to try and not step on anyone's toes was bullshit and many armed with a microphone aren't much better than the armchair racers we as fans sometimes try to be. (I hate this trend in modern-day media in general to be honest, but that's a discussion for another day.)
We were metres away from another potential tragedy. The pundits that are getting paid for this should know better. The people running this sport should know better. I sincerely hope the FIA's investigation into this incident teaches them lessons they should have been taking half a decade ago.
…Oh and Max Verstappen's World Champion by the way!
Congratulations to Max Verstappen on winning his Second World Championship. He has absolutely crushed the field like pillars of salt this year. Once Red Bull got their reliability taken care of, they've executed nearly flawlessly and Max Verstappen has driven at a level maybe even greater than he did last year. By any parameters, we are witnessing one of the greatest seasons in F1 history. Even today, he won a 40-minute timed race by 27 seconds. Ridiculous. But we couldn't even crown that Champion properly due to all the shenanigans.
Look, let me say as a disclaimer: We were NEVER going to get a perfect call. Verstappen's Championship win condition was always going to rely on Charles Leclerc finishing 3rd, something we didn't get until a good 10 minutes after the chequered flag. But the scoring for this race was strange. And it's kind of our own fault.
Off the back of Belgium 2021 and the "race" we got there, we had a rule change on how races would be scored depending on the percentage of the race distance:
Unfortunately, we all missed the part in red about the race not being resumed. Because we got the race going and finished with a chequered flag, full points were awarded. The problem was, EVERYONE seemed to miss this part. From me to the other people following on social media, to the teams and even Formula One Management themselves, who at times were showing graphics based on a 50% race, a 75% race (Because we did get 26 out of 53 laps in right at the end), AND the full scoring as normal. It's understandable that everyone was confused as to whether Max was actually the Champion or not. The broadcasters have a responsibility to inform their viewers, especially in difficult situations like these, and they goofed up too.
As I said, because of Leclerc's penalty, this was never going to be perfect because of a final lap incident that had an outcome on the result. But this was a needlessly confusing situation if we pay more attention to the rulebook. Because by their ruling, this was always going to be a full points race unless we didn't get a "finish".
The Lightning Round
…And no, I don't have a huge problem with the concept that we technically could have a 5-lap race get given full points because of this rule. No rulebook will ever cover every possible scenario and the parameters you'd need to get a flag 5-lap race with chequers is about the same as me marrying Jennifer Lawrence. 
No problem with Charles Leclerc getting 5 seconds for keeping his spot when he cut the final chicane. Good to know the FIA actually CAN make swift decisions when need be.
Sebastian Vettel's call to switch to Inters first and then hold off the hard-charging 2-stopping Fernando Alonso at the end for 6th by just 0.011 seconds might be his best drive in Green. Inspired stuff from the legend in his final Japanese GP. 
I hate that the cars are now so fast, the Extreme Wet just isn't a viable tyre. The Inters are too good at their job, and the amount of spray kicked up means if a track is too wet to use them, we're probably not racing at all. Pour one out for Mick Schumacher, woof. 
Hey, remember the fact the 2021 Cost Cap Reports drop tomorrow?!
PS: And if you think I'm scoring this shitshow, you must also think I'm on narcotics.