"It goes to Valencia. *giggle snort*"
Well, that was an interesting one. Francesco Bagnaia and Enea Bastianini engaged in a trilogy edition of their feud, Fabio Quartararo barely clings to his title, and Jorge Martin frustrates again. Death. Taxes. Ducati tucks the front. Let's get into it.
The Rubber Match
Gosh, Francesco Bagnaia and Enea Bastianini is fun. And for what it's worth, there was no way in hell that Enea was following the rumored Ducati team orders calls. Man still had an outside chance at the title, and he was going to give it EVERYTHING to try and win. 
But if anything, he went too early. Enea showed his hand with about 7 laps to go with a pass into Turn 4. Bagnaia had the pace to follow, got him back a couple of laps later, and Enea never really got close enough for a proper attempt again. He tried a strange move around the outside of Turn 8 but it never looked on.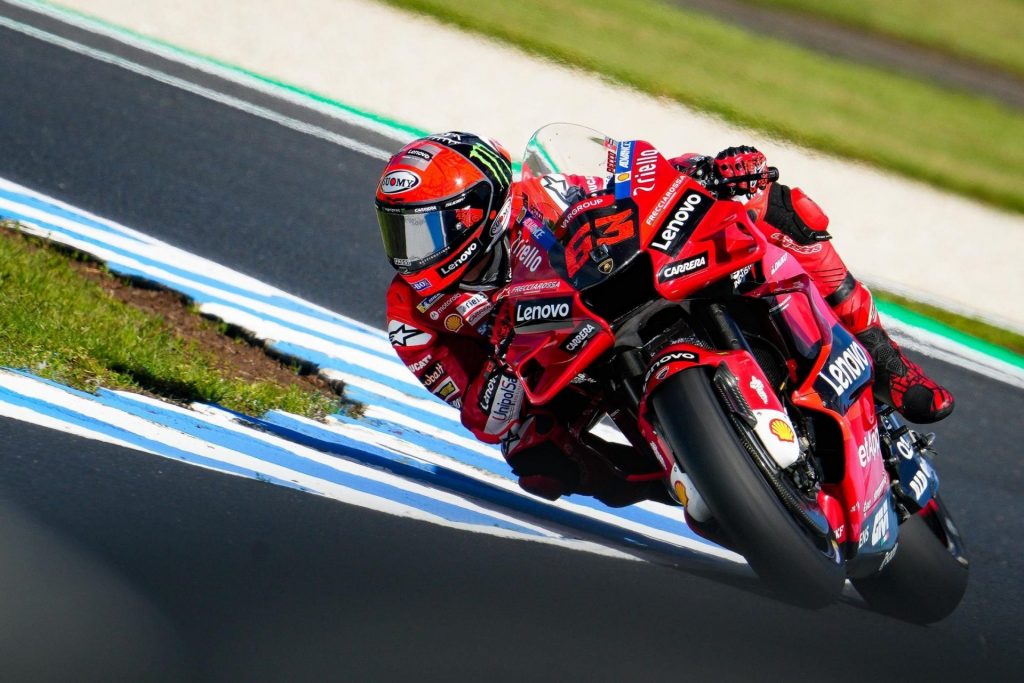 This wasn't Bastianini playing the team game. He absolutely went for it and you can tell by the shapes he was pulling. Bagnaia was just better on the day on this one. And that start from 9th to 2nd was just sensational, risky, but brilliant riding. Hard to believe given the way the years played out that this is his first win in five races? Bagnaia's evolving and taking his chances better. It will probably make him World Champion.
Also, good to see Fabio Quartararo back to something near his best. Fast, carefree, but competitive. Held off a hard-charging Marco Bezzecchi to keep his slim title hopes alive for the finale at Valencia in a fortnight's time. 23 points mean only 14th would be enough for Pecco to take his crown. But at least Fabio's going down swinging.
Oh, Jorge…
Jorge Martin frustrates me. I love watching him ride a bike. His speed is absolutely obscene at his best. 226mph in a straight line at Mugello. His qualifying on Saturday was incredible. Destroyed the field in Qualifying by nearly half a second, a new lap record for Sepang and the first man under 118 seconds. 
He was leading this race by a second and a half and then he bins it in classic Ducati front-tucking fashion. And this after all the footage of his understandable frustration of Enea Bastianini being chosen over him and wanting to prove Ducati wrong too.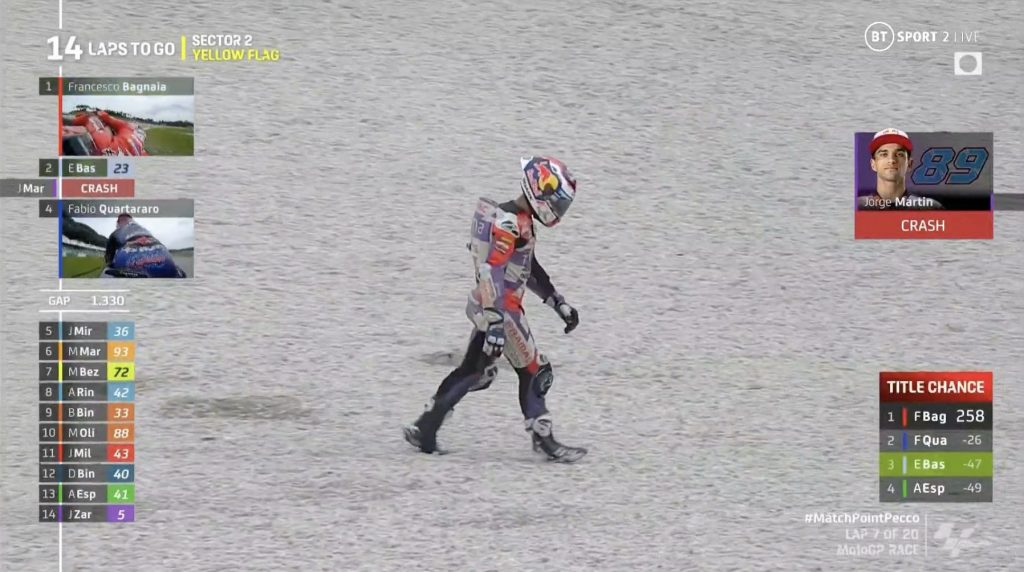 Jorge Martin is still, for the most part, a Saturday man. His speed is incredible, but it's just not that special in a field where almost everyone is fast nowadays. If he ever wants to be more than a flashy occasional challenger, he has to get some consistency going. For all the criticisms we level at Johann Zarco for not having said speed, he's 30 points ahead in the Championship. 
The Lightning Round
Marc Marquez is somewhat still human. Let's not forget, he's still on a Honda. And he smoked his teammate by 11 seconds.
Joan Mir hasn't scored a point since Assen. Good lord.
Aleix Espargaro last year said that he was a Top 3 rider in the field. We all laughed at him. For 19 rounds of this Championship, he has done exactly that. He won't win the title, and they'll be a few folks celebrating that, but he's been sensational this season and deserves immense praise for making Aprilia his own. For me, he's the rider of the year. 
Luca Marini DNF'd because his front ride-height device stuck open. Fuck em'.
Ai Ogura is an old-school bike rider. And for once, I don't mean that in a good way. He went for the Hail Mary send on the final lap of the Moto2 race going for the win and he crashed out. Instead of being back in control heading into the finale, he's now 9.5 points back. Just take the 20 points, my dude. It's Augusto Fernandez's to lose, and a podium finish guarantees him the title in Valencia.