"A reminder that overconfidence is a slow and insidious killer." – Darkest Dungeon, the video game
We were down badly on MotoGP after Germany. For most of the season as a matter of fact. We've ragged on the front tyre pressures, the shapeshifters, the lack of overtaking. And while it wasn't perfect, Assen came around and found a way to remind us all how good the racing here can be. Briefly at least. Let's get into the Assen TT
Maybe, Just Maybe…
I love that it looked like as recently as four laps into this race, Fabio Quartararo had nothing to worry about in terms of the title fight. But this time, we got a complete reversal of the German GP of last week. This time Pecco got the holeshot and got the early breakaway. Fabio then got desperate and cracked under pressure, only this time, his lunge at Strubben not only took himself, put also put Aleix Espargaro in the gravel, dropping him down to 15th.
What we didn't see coming next, was Aleix Espargaro pulling out the single best ride of 2022 so far. From 15th out of the gravel, he went on to break the lap record, passed multiple bikes aggressively but cleanly, got up to the leading group by the final 2 laps…
…then pulled off an absolutely astonishing double pass at the final chicane to take FOURTH. Aleix finished just 2.5 seconds off Francesco Bagnaia's comfortable victory at the front. Jack Miller and Brad Binder could only watch in shock, Aleix absolutely nailed his line and braking point and made it stick. Clean as a whistle. Stupendous.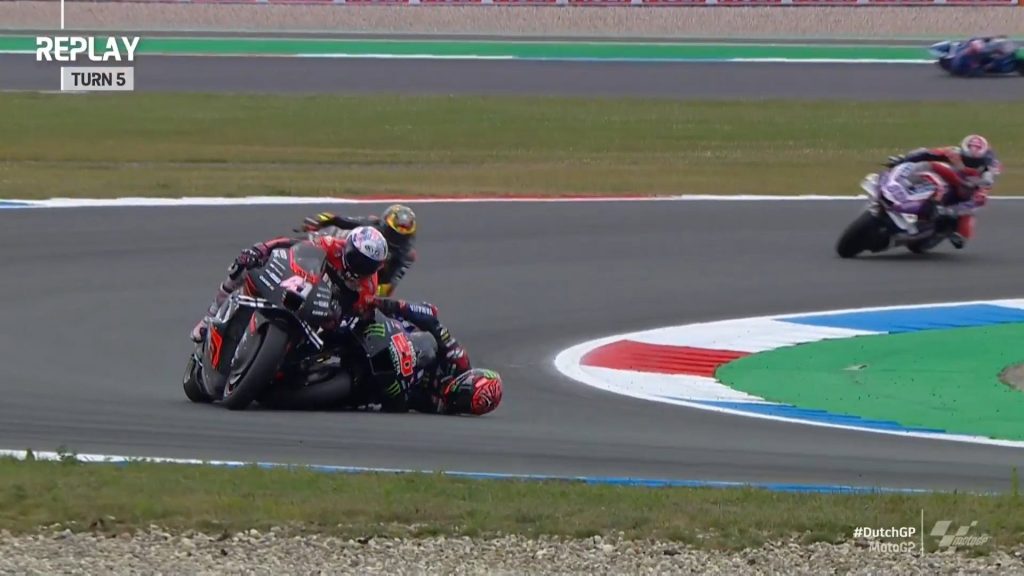 Look, I've never understood the dislike the man gets on the Internet. Aleix Espargaro seems to be the stick used to beat the field with because he was a midfielder for so long. The Catalunya miscount didn't help either. But after 292 starts, 209 in the top flight, this was proof that this man can ride as well as anyone in the world. That was an incredible performance, one that gets him within a race of the title. It's still a longshot from here, but on a critical day, Aleix pulled off the mother of all salvage jobs. He belongs at the very highest level, no doubt. A once in a lifetime performance.
A strong salute as well as Pecco, as good a front runner as we've seen in the top flight. Broke off the one-second lead and didn't look back. Marco Bezzecchi was superb in second, rode like he'd been here 5 seasons and his pace was superb. And good for Maverick Vinales to get his first Aprilia podium after a year of hell and difficult adaptation to the Aprilia family. But if Germany and Assen were anything to go by, this is a good sign that the old Maverick IS starting to come back.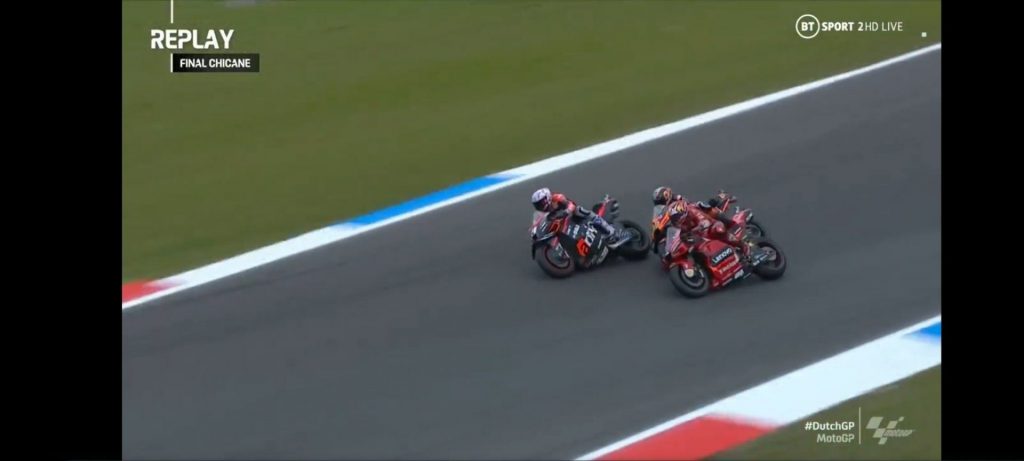 The Lightning Round
All THREE main series races were superb. Moto2 had an all-time classic at the front. With Augusto Fernandes giving KTM a real headache with back-to-back wins and now a share of the Championship. Where the hell did that come from? But to see him, Alonso Lopez, Jake Dixon, Albert Arenas, and Celestino Vietti all up there, AND Ai Ogura from 16th to finish 2nd was a superb display of racing. Go out of your way to find it, when Moto2 slaps like that, you know you're onto a winner.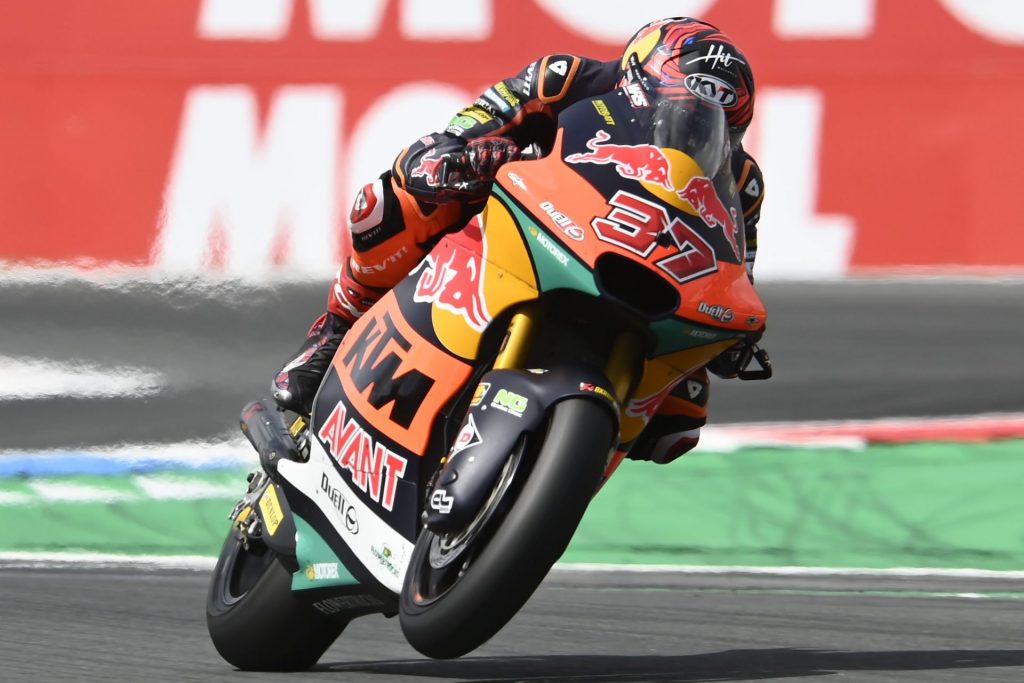 And Moto3 looked like it was going to be Izan Guevara getting a narrow hat-trick, but the field had it out for him on the final lap this time. One too many metaphorical punches to the nose, but delighted for Ayumu "Crazy Boy" Sasaki finally getting his first ever GP win, the win he should have had in Qatar before his side fairing came off. He called it to perfection. Also, David Munoz… welcome to the big leagues. Can't be taking liberties like that every time and getting away with it. This isn't the video game anymore.
Can anyone give me a good reason why Franco Morbidelli was kept on at Yamaha? Anyone?
And can someone please tell me why anyone thought sending Fabio Quartararo back out on track as in any way a good idea? I know they probably didn't know the traction control sensor was broken but that could have been catastrophic.
EDITOR'S NOTE: Turns out since the original posting of the piece, Fabio Quartararo has been given a Long Lap penalty for Silverstone for his role in the Espargaro incident. In a vacuum, I'm fine with this, as with the David Munoz Moto3 crash too. This wasn't a racing incident, Fabio took a lunge, got it wrong, and in doing so, shoved Aleix off the track. The problem here is, the sport is finally giving us what so many of the big names in the sport wanted – More punishments for incidents on track. The stewards were in an unwinnable situation. They listened to the complaints and acted, but now we're using the previous incidents like Miller at Portimao and the obvious Nakagami clash from Catalunya as the stick to beat them with. If they have genuinely turned the corner, we need to judge this move on face value. It's not fair to use their previous screwup as the previous yardstick.
TL:DR; – "We want proper punishment." "Okay, here." "No, not like that."
Alex Marquez confirmed at Gresini next year is a decent pickup. Look, I know Alex is another guy that we're down bad on for the most part. But Honda have been so asscheeks as of late that I can't be mad he gets a second chance on a bike we know he can perform on. Hope it works out for him there, we have more than seen what he can do.