"The more things change, the more they… Oh fuck it."
Double header of reviews? Double header of reviews. Also debuting this weekend was the 2016 MotoGP Season, and a lot of anticipation was in the air. Lorenzo/Marquez and Rossi at it again, the standardized ECU's of the field designed to bring everyone closer, the bikes have friggin' winglets now, etc. But in the end, Jorge Lorenzo wins. Shit.. But like certain other races, the journey was more intriguing than the destination. Read on and you'll see what I mean.
---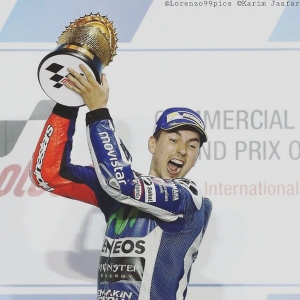 Yes, Lorenzo is still REALLY good.
See what happens when Jorge's helmet DOESN'T malfunction? He wins in near-dominant fashion. We had a brewing and awesome 5-bike battle for the front between the Yamaha's, the Factory Ducati's and Marc Marquez's Honda. A shame it quickly became four, as Andrea Iannone seemingly put a wheel over the white line and lost the front. Why he felt the need to be so aggressive with his own teammate in the early stages, I'll never know. (I eagerly await the Rossi fanbase and their tinfoil hats.)
Even so, Lorenzo lead from the front and in the closing stages, put together some brilliant laps to take a comfortable victory by a pair of seconds. I mean, a new Lap Record on the brand new Michelin's with 4 to go? Superb. Michelin have seemingly gotten good reviews for their first outing, which is definitely a good sign going forward.
Marc Marquez was superb today. Given the negative feeling out of Honda's camp in pre-season, while he often looked on the edge, he still brought home the bike on the podium, a solid achievement given he's not great around here, and that the Honda on paper, just doesn't look on the same page as their direct rivals. A superb effort from Andrea Dovizioso in 2nd as well, he looked down for the count going into the final lap, but pulled 2nd out of the hat. Again, easy to praise Ducati for a great GP16 debut, but we've seen them fade fast as the season develops. Is this the same old story, or does Ducati actually have a package?
Other things worth noting – Great to see Hector Barbera in the Top 10 on the Avintia Ducati 14.2. Always thought he was a great rider, but so often hampered by lacklustre machinery. This is where I suspect the new rules will greatly help riders like him in closing the gap.
Also, my word, Dorna's production for the series is now absolutely insane. The multiple onboards on the bikes now, and being able to see right into the riders eyes on their clear visors, to the beautiful new graphics packages, combined with the super-slo mo footage. Qatar was a beautiful race to watch and MotoGP for me, sets the standard for production values in MotoGP.
Also, Jorge Lorenzo's "zip it" celebration in Parc Ferme. Subtle stuntin'. Make no mistake, the disdain is real. This could be a brilliant season.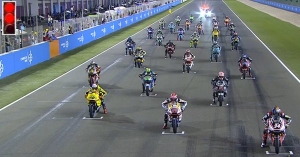 Moto2's Jump Start Farce
Oh dear. What the hell happened here? In something that wouldn't look out of place in a Three Stooges sketch, NINE riders jump the start as the Moto2 field got completely jumbled up (Zarco, Rins, Lowes, Morbidelli, Cortese, Nakagami, Mulhauser, etc.), and Jonas Folger took off to a dominant lead, before binning it on Lap 4. If you ever needed a microcosm of his career to date, that might be the one.
Besides that, it was sadly a rather uneventful Moto2 race, apart from the Luthi vs Morbidelli fight up the front, and unfortunately, the fight got cut short, as Race Direction didn't announce Morbidelli and Cortese's 20 second time penalties until the final lap, ending the intrigue of a 1 vs 1 race to the line, one that would have been separated by just 0.04 seconds otherwise. Shit.
As for this false start rule? Yeah, it's gotta change. Now. A rule like this is not something that should be open to interpretation, and whether a rider "gained an advantage". If you twitch in the blocks in a track and field race, you get a false start, as you could easily make other competitors do the same, which is EXACTLY what happened here.
This is a rule that needs to be black and white, as if the Andrea Iannone launch at Mugello last season wasn't another example. If you forgot, he launched at exactly 0.000 after the lights went out. Given the average human being as a reaction time of about .2 of a second, Iannone had to have guessed the start. For all intents and purposes, it was a jump. It's exactly why sprinters are punished for a reaction to the gun of 0.1 or less, as anything less than that, is essentially, a guess.
And why is the punishment so great for this? A ride-through penalty I'd argue is in the ballpark of 30 seconds, which can completely wreck a race, for an advantage of maybe half a second at most. Knock it down to a 5 second time penalty and let them race. Dorna can be so out of whack sometimes when it comes to penalties. Remember the "Drop 1 position" shit from Misano? Ergh.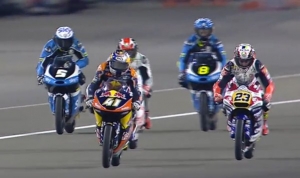 Antonelli wins an all-time classic
Wow. Wow. Wow. What an incredible Moto3 season opener, and one of the best races I've ever seen in the class. The Top 6 fight between Niccolo Antonelli, Brad Binder, the VR46 gang of Romano Fenati and Nicolo Bulega, and the Mahindra of Francesco Bagnaia, was stunning. I've never winced so many times at my screen because of the fact that they were so aggressive in their passing, yet was totally clean for the entirety of the 20 laps. Antonelli's comeback at the end was measured and timed to perfection. And how on earth Pecco got on the podium with a Mahindra still boggles my mind.
The slipstreams gave us different leaders into Turn 1 every time. Fenati's setup gave him a drafting edge, but he had to deal with Bulega joining the leading pack in the middle stages. And this kid, who's a disadvantage at 6ft tall, and as a 16 year old making his World Championship debut after winning the Junior Title in 2015, was astonishing. The kid is going to be a superstar. And also, while 7th might be ultimately a disappointment given the rest of his weekend, Livio Loi can be very proud of his weekend, the little Belgian seems to have really turned the corner, showing the talent he flashed at Argentina a couple of years ago.
Go out of your way to watch the Moto3 round at least, it was another brilliant exhibition of what Moto3 is all about, and on any level, it is tremendous racing and a brilliant advert for the Championship.
---
Dre's Race Ratings: MotoGP – 8/10, Moto2 – 5/10, Moto3 – 10/10