"Welcome to IndyCar." – Josef Newgarden
Oh boy. IndyCar's season is winding down but the tension went all the way to 11… Right until Scott Dixon won. Anyway, welcome back, to #BRIDGEWEEK. I was nervous going into the Nashville Music City Grand Prix after last year's complete shitshow. A race that had Marcus Ericsson win after being sent 15 feet in the air, and nine separate cautions caused by a poor track design and boneheaded driving.
So, would anyone like to guess what we got here? That's right! A poor track design and boneheaded driving! Let's get into it though, because it went deeper than that, in a quite nasty way.
Grosjean vs The World
The climax of this race happened with five laps to go, as at the first corner after the restart line, Josef Newgarden dived at Romain Grosjean, losing control of his car on exit and putting the Frenchman in the wall, ending his race when he was challenging for a podium finish. Grosjean was understandably livid afterwards, rotating his fingers outside of his helmet once out of the car and gesturing at Josef as he drove past under caution.
It got really ugly on social media afterwards. Josef Newgarden arguing with fans on Twitter who made perfectly valid points about his over-aggressive overtake that put a man in the wall and faced no format punishment in the series over. Now let me be clear, I'm a huge fan of Newgarden. Anyone who knows my work knows I've said for a good half-decade they need to promote and build the series around him, he's everything you could want your series to be as an ambassador. But in all of this he came off less like Superman and more like Homelander.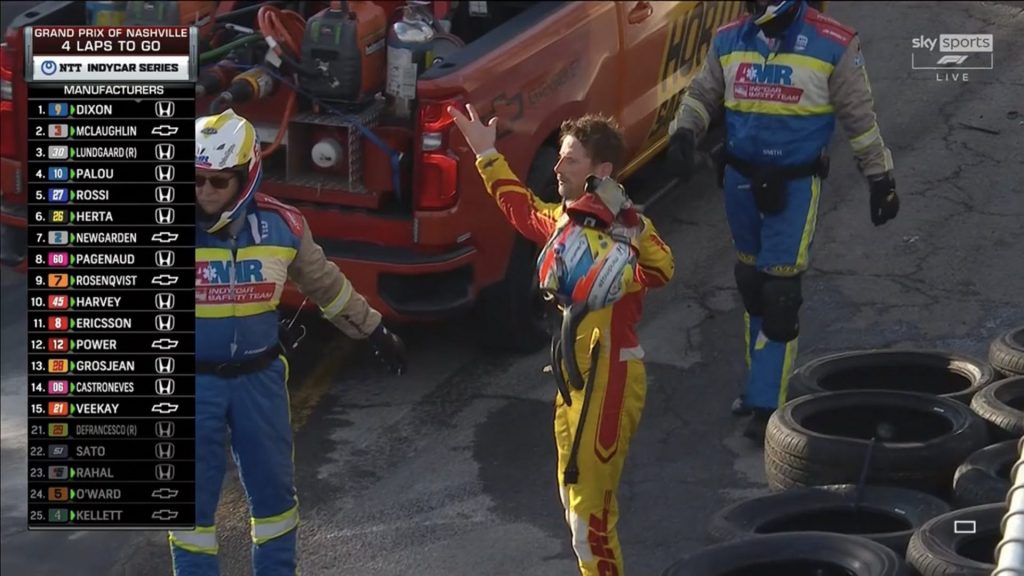 And the way Romain Grosjean was being talked about backed up what a LOT of people noticed about Graham Rahal when he completely lost his rag about him at Barber, back in April. Saying Grosjean should go back to where he came from was some very causal xenophobia that not many people picked up on, especially off an incident that ultimately equated to some wheel banging and no serious foul play. But the other comments Rahal made, like saying he got 10-15 texts from drivers backing his comments up, now seem to hold more weight, because Grosjean clearly has rubbed people up the wrong way since being in IndyCar.
Now don't get me wrong. Grosjean has had his fair share of aggressive behaviour since coming to IndyCar. Sometimes the criticism has been warranted. This was not one of them. And in general, he's no more aggressive than half a dozen guys in the series who we've just accepted as that being a part of their driving style. This is a series that I've been critical of all year long for driving standards that are often straight up silly.
I've lost count of the amount of hip-checks, running cars into the grass, and late divebombs I've seen this season. This is an across the board problem within the series. We saw Alex Rossi give Grosjean the piñata treatment at Mid-Ohio less than a month ago and he didn't face anywhere near the amount of criticism he probably should have gotten for essentially going rogue on his own team. Making Grosjean the scapegoat for all of this is inherently unfair and it's exactly the sort of "Boys Club" bullshit I've been critical about regarding this series for some time now.
When Marcus Ericsson, his fellow European who should know what it's like to come off nasty perceptions of his ability in F1, said: "What goes around, comes around", I balked. Josef flippantly saying "Grosjean's got away with worse". Refusing to take any sort of accountability for a wreck he was 100% responsible for, and then having a bunch of his fans clap in the background like he's done nothing wrong, while the stewards sit on their hands is a horrible look for the series. It makes you look bush league.
I love drama and chaos in my Motorsport as much as the next person. We've been spoilt for it in the last two weeks. And this is a series that absolutely REVELS in it, from the days of the #IndyRivals hashtag when I first got into this series about six years ago now. But it can absolutely be exhausting. And in the case of Romain Grosjean, who's seemingly been targeted by IndyCar's stalwarts don't like it when he, an outsider, comes in and shines a mirror in their faces.
This Track Though…
So if my maths is right, over 40% of the laps ran at Nashville since debut last year have been under yellow flag conditions. We've had 2 Red Flags, and SEVENTEEN cautions in that time. And the track is exactly what I thought it was last year. It is clunky, it's difficult to overtake outside of the bridge and it bottlenecks in a way that will create guaranteed cautions. It's actually worse in some areas because they had to cram the hospitality wing in.
And we saw that again as the track brought out the worst of the drivers. Devlin DeFrancesco put himself and Takuma Sato in the wall. Kyle Kirkwood took a late dive on David Malukas and they were both in the wall. We got a concertina wreck with Will Power, Graham Rahal and Pato O'Ward all hit as well on the uphill kink. Only half the cars in the field saw the chequered flag. It led to all sorts of funky running too, with Colton Herta and Alexander Rossi both go a lap down due to early contact, only to get back on said lead lap and challenge for the win by the end. And for me, the best driver on the day, Scott McLaughlin had to fight so hard for a 2nd place in a race that he wins on another day.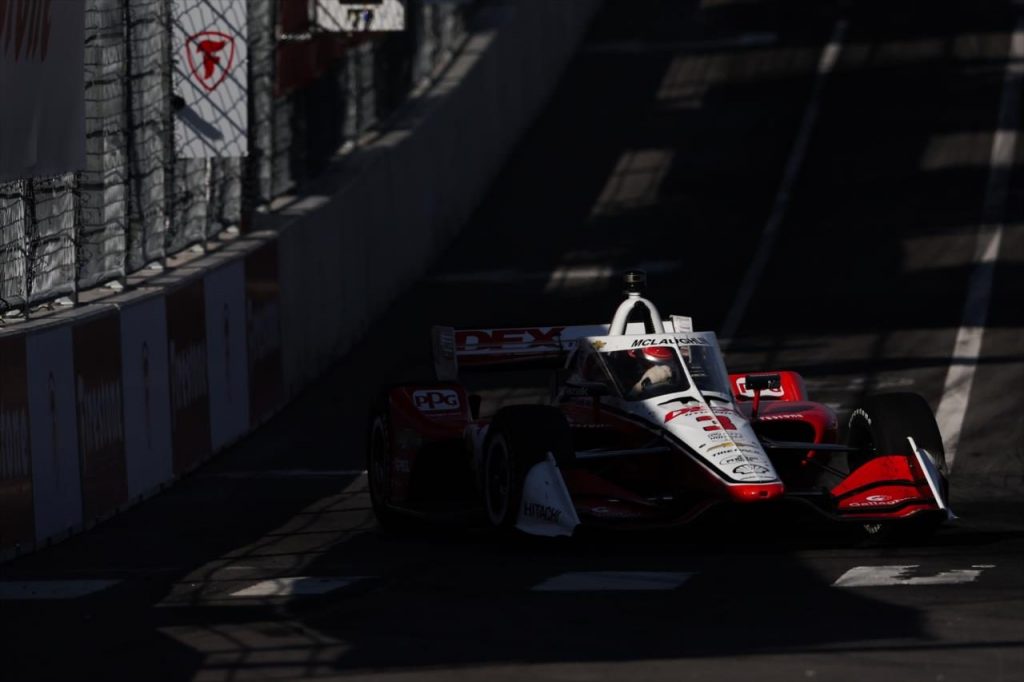 Nothing but respect for Dixon but the reason he won this race after being stuck in the pits for a good minute with a damaged floor was because he was the front of the queue of people who pitted a lap before a caution dropped. This race feels more like a lottery than any other on the IndyCar calendar.
I love drama and chaos in my Motorsport as much as the next person. We've been spoilt for it in the last two weeks. And this is a series that absolutely REVELS in it, and the broadcaster will be laughing at how many ads it got into a 4 hour broadcast after the hour long rain delay. But how much goodwill is there going to be for a track that has significant flaws, wrecks cars, and produces relatively crappy racing? And why couldn't we just race at the oval down the road?
The Lightning Round
Will Power (450), Scott Dixon (-6), Marcus Ericsson (-12), Josef Newgarden (-22), Alex Palou (-33)
The Championship Six is down to five after Pato O'Ward's unfortunate gearbox failure. The Top 5 are covered by 33 points. Marcus Ericsson's car died but he only lost three points off the lead. Will Power had a flickering dash and multiple minor issues but limped to 11th and only lost three points on his lead. Scott Dixon has had the quietest season of any contender here and of course we've all fucked around and let him sneak back in. We've seen this story MANY times before.
Josef Newgarden will be laughing all the way to his Twitter account given his shitty move and all-or-nothing off-sequence pitstop reduced his deficit to just 22. And Alex Palou, who was lucky not to get meatballed for a flappy front wing, is still only 33 back despite zero poles and wins on the year. The Gauntlet run for the series is now over as we go into a bye week and we're still no closer to knowing who's winning this thing. Your guess is as good as mine. A winless champ is still on the table!
Chip Ganassi hugged his #10 driver, Alex Palou, after finishing on the podium. While they've sued each other. I've never seen anything more awkward in my life.
So let me get this straight… according to Marshall Pruett, the McLaren press release on Felix Rosenqvist saying he was staying in the McLaren family for 2023 was a bluff to ward off potential suitors?! And that Felix might actually be a free agent at the end of the season altogether? And Felix just happily went along with that? I love drama and chaos in my Motorsport as much as the next person. We've been spoilt for it in the last two weeks. And this is a series that absolutely REVELS in it, but what in the hell is McLaren doing and what is Zak Brown telling his drivers that lets him get away with this wacky bullshit?!