2022 Mexico City E-Prix Review
So, after a strong and steady weekend of races in Saudi Arabia, Formula E moves back to Mexico City for Round 3 of the Championship. And in this case, it was a story of Porsche finally taking their chances in an absolute shellacking of the field, absolute carnage behind them and as a bonus treat from yours truly, a running diary as we take another look at the Duel format. Enjoy!
It's Time to Duel (Again)
Sadly, I wasn't at home on Race Day, as day job commitments called my name. But the shop was so quiet, I managed to sneak the phone in and check the Qualifying out, and I took some notes on the work computer as it was running. Here's a thought stream as it was happening. (Disclaimer: DO NOT DO THIS IF YOU WORK IN RETAIL, I AM NOT RESPONSIBLE FOR YOUR JOB SECURITY!)
Group 1 – Lotterer, Mortara, Vergne and Vandoorne qualify for the Duels
Yeah, everyone slept on the group stage part of the format change. It's still very F1 in Q2 where you've got a bunch of competitive cars fighting for maybe one or two spots in the duels. Sebastian Buemi was .23 off a Duels spot. He was 9th out of 11 cars. Brutal, and thrilling. Not too many surprises otherwise in that group given Lotterer looked real solid in practice.
Group 2 – Wehrlein, Da Costa, Frijns and De Vries qualify for the Duels 
And I thought Group 1 was brutal – Alexander Sims was 0.038 seconds from the Duels. He ended up 13th overall. Was startling that there was barely any track evolution either, only hundredths gains here and there. And I'm already regretting picking Mitch Evans for the title, what is going on with Jaguar?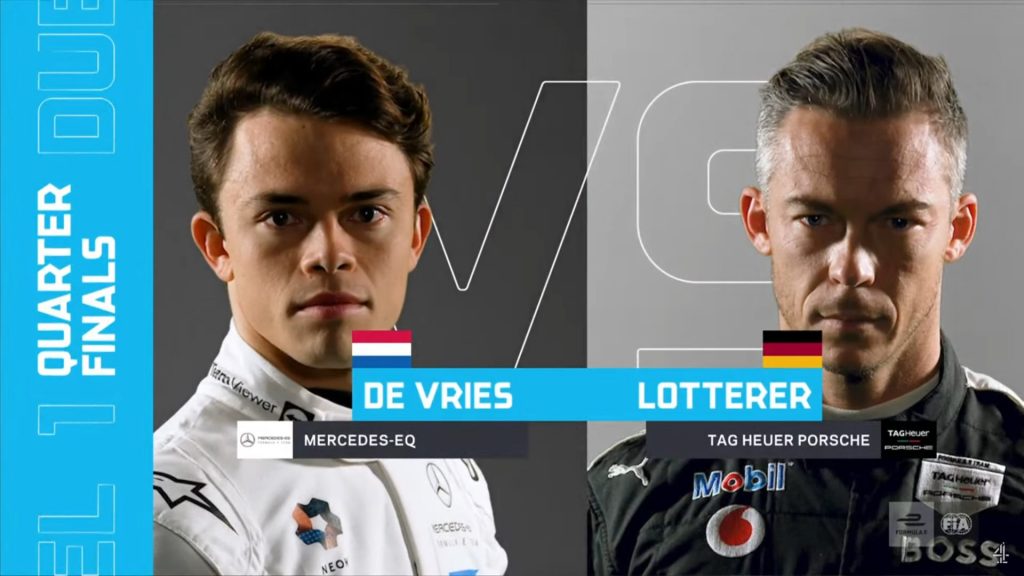 Duels – ¼ Finals (De Vries vs Lotterer, Frijns vs Mortara, Vergne vs Da Costa, Vandoorne vs Wehrlein)
I love the dramatic turns to camera for the duels. Straight out of those Sky Premier League shots where the players walk to the camera and fold their arms. Lotterer looks like a Bond villain with a tragic backstory. 
They've DEFINITELY sped up the duels since Saudi Arabia, only around 30 seconds or so between duels within the ¼'s. Excellent stuff and glad the series have cleaned that up.
So, who had Porsche beating Mercedes 2-0 in their respective duels? I know I didn't. Also, another time Vandoorne making a minor mistake costs him dearly. Welp.
Duels – ½ Finals and Final (Mortara vs Lotterer, Vergne vs Wehrlein)
Brilliant duel between Mortara and Lotterer. Blows my mind that Lotterer lost nearly a tenth in the final FOUR seconds of the racetrack going by the microsectors. Goes to show you how thin the margins are.
Stunning final sector from Wehrlein to find .3 on Vergne and put down the fastest lap of the weekend.
SICK FINAL. Mortara was absolutely determined to break his 50 race streak of not qualifying on pole, so badly he spun it going over the line! Wehrlein on pole in brilliant fashion.
Yeah… This format works. It's fairer, it keeps all the entertaining elements of the Knockout Qualifying we've seen in other series like F1 and IndyCar, and the field is so close by default you're guaranteed drama as the rounds go on. Awesome stuff.
Porsche Lays A Beating
Redemption seemed to be a phrase ringing high amongst Formula E after Pascal Wehrlein came back from early pressure to win in Mexico City. And it's easy to do that given Wehrlein's famous photo finish beating by Di Grassi a few years back. But can we talk about how that was a complete and utter beating?!
Porsche were so much more efficient they had 2% more usable energy than the chasing pack around them of Mortara, Frijns and the DS cars. And then with just a second left on the clock, they had the speed to hit the line to extend the race by a lap as time expired, en route to their formation flying over the line to win by 9 seconds. I can't remember the last time a team so comprehensively laid a beating on the field like that. It was like watching Sebastien Buemi in Season 2. Simply astonishing race strategy.  Imagine extending a race JUST BECAUSE YOU CAN. That's a level of control rarely seen in this series.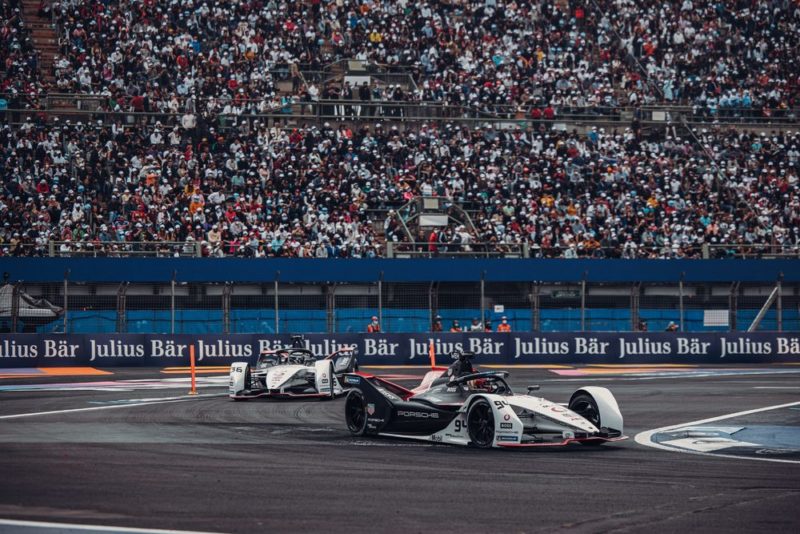 We saw the catastrophic effects of a self-enforced energy crisis. It bailed out struggling Nyck De Vries by bringing him up to 6th. Jaguar sank out of the points entirely. Andretti is struggling. Di Grassi took out Vandoorne off camera. BOTH Nissan's snuck into the points. If there was any fear about the series losing some of the madness now it's leaned more towards healthy competition… this was the good kind of crazy. One of the better races in Formula E history if you ask me.
And an extra salute to Andre Lotterer for clearly playing the team game and not even attempting to pass Pascal for the win, despite seeing nothing but his rear bumper for 15 minutes. You could tell he clearly wasn't happy about it at first until he saw his best friend Jean-Eric Vergne on the podium. D'awww.
PS: Whoever thought it was a bright idea to take a page out of Formula 2's 2021 calendar and leaving a two month break before the next round needs to be thrown out of the boardroom window.