"Motorsport is a funny old game, you send 22 people around a track in circles, and in the end, Mercedes wins."
Safe to say that Formula E didn't exactly have a lot of goodwill going for it heading into its 8th season. A farcical finish in Valencia that forced major regulation changes and worldwide embarrassment, as well as two big factories leaving the series by name with Audi and BMW departing, with Mercedes leaving in August.
No pressure then. Formula E needed a smooth, weekend where its new format and driving talent shined brightest. Did we get that? Not quite, but there were some positives to take away from Diriyah going forward.
It's Time to Duel
One of the biggest stories going into the season was a revamped qualifying format. Two groups of eleven with the best four in each, going through to a series of 1-on-1 one-lap shootouts in a knockout tournament to determine pole. For some reason, it was more confusing on paper than it was in practice, which was weird given it's very similar to IndyCar's system (2 x Half the Grid in Round 1 > Twelve Car Round 2 > Six Car final) but how did it play out in person? Pretty good, definitely an improvement.
This new format was definitely meant to cut out some of the randomness when it came to competition, where Group 1 would be essentially a death sentence. It definitely had at least a hand in turning a lot of Season 7 and seasons past into a lottery. Now, I can't say with 100% certainty that this has ironed that out, but it's going to take more than one weekend to get a true read on who the better teams are. But I think with Venturi, Envision and Mercedes at the thick end of the running, there's good signs the format's worked well initially.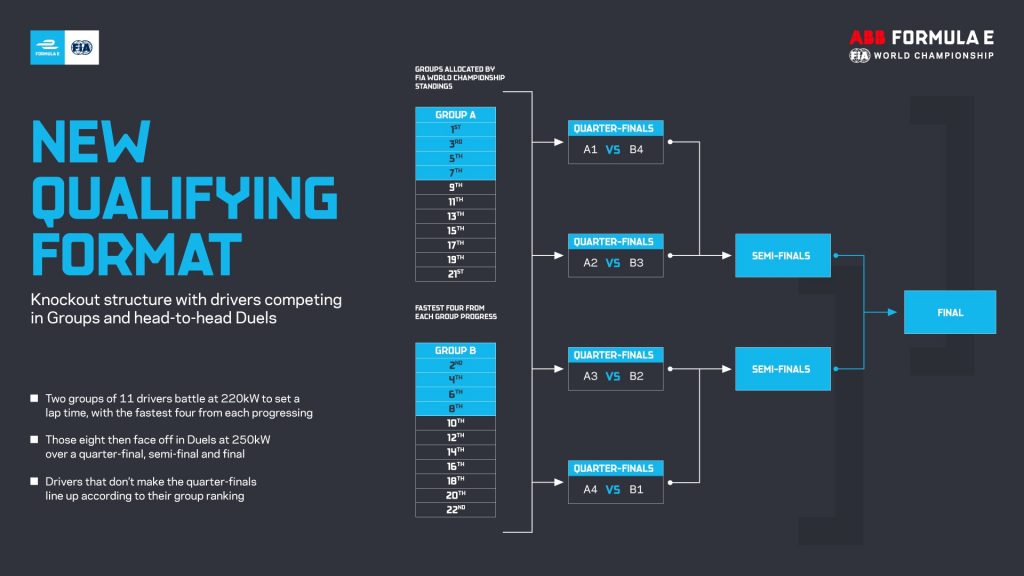 I think there's still some issues to iron out. With Diriyah as dusty as it was, we saw a return of that frantic final 2 minutes of running in the larger groups. Teams and drivers will always take advantage of that track evolution whenever they can, but it could still be a recipe for chaos.
Also, the time taken between duels was a little on the slower side, the action and then inaction in between wasn't the best for entertainment purposes. It did drag a little bit. But I think if you sped up that downtime a little bit (Maybe do both ¼ finals at once?), and maybe add a bit more jeopardy by expanding the points system (6-3-2-1 maybe depending on round reached?), and I think you're onto a winner. Regardless, a definite improvement on what we had.
A Test of Patience
This was an intriguing set of races. Diriyah is not the most conducive track for passing so a lot of the action was sitting in queues, saving energy and picking your spots to attack, via using Attack Mode, or pouncing on errors. Race 1 very much played out that way with Nyck de Vries taking advantage of Stoffel Vandoorne missing his Attack Mode activation, and having that second group of Dennis, Lotterer, Bird, Di Grassi, Cassidy and Mortar all fighting for a podium spot. Good to see Dennis keep up his superb rookie season form to break that pack towards the end of Race 1 with a proper elbows out pass on Andre Lotterer, who continues to defend like his literal life depends on it.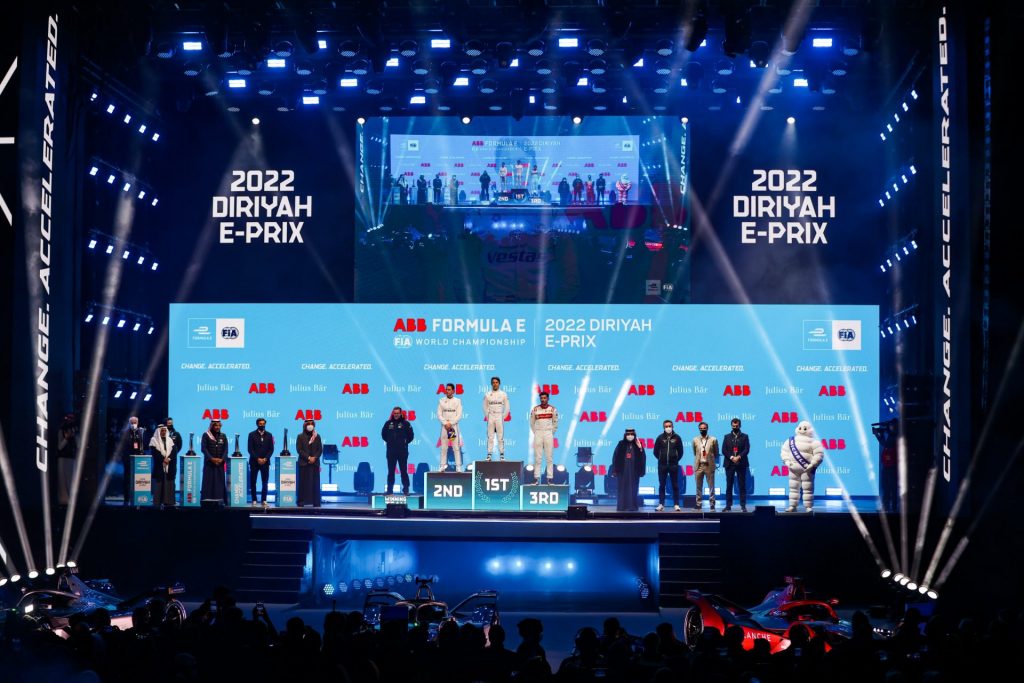 Race 2 was more of the same with Edo Mortara taking control for Venturi, in a surprisingly clean fight with Lucas Di Grassi. And this time Nyck was on the receiving end of a harsh but fair move by Jean-Eric Vergne, and with so many cars behind, Nyck ended up 10th as he readjusted to nearly being squeezed into the wall. As I said, harsh but ultimately fair. Just.
Shame that race had a rather sour ending…
Yet another weird FIA finish…
So, Alexander Sims has a dead car in the middle of the sweeping corner complex towards the end of the race. It wasn't an ideal situation to begin with in that they couldn't deploy a Safety Car in time to stop the field going through at near full racing speed. Then having to deploy a recovery vehicle which had to stop on track and led to a nasty domino effect of the Safety Car having to stop and having a concertina effect on the cars behind, who weren't told! (Dennis lost a chunk of front wing, Frijns hit Mortara by accident and son on)
And then by the time the crane does get there, they're lifting Sims' car almost directly over the field as they pass through the accident. Not a good look, at all.
Now let me be clear here, this isn't totally on Race Direction, but I'm glad Scot Elkins at least took some accountability for it. I don't know if there's a reluctance from the FIA to dish out red flags these days, but I think that approach to clear the track then either calling the result there, or having roughly a 6 minute finish under green was a better way to go. Because on TV, this was a mess.
The Lightning Round
One more note on that finish – If you used THAT Race 2 ending as your shining example for an FIA Race Event ending the way it "should have done", you're being deliberately obtuse to twist it into another "Justice for Lewis Hamilton" argument. Is that the sort of finish you actually want to watch in Motorsport (let alone the safety concerns), or is it just that biased perspective in that it would have won Hamilton the title in December?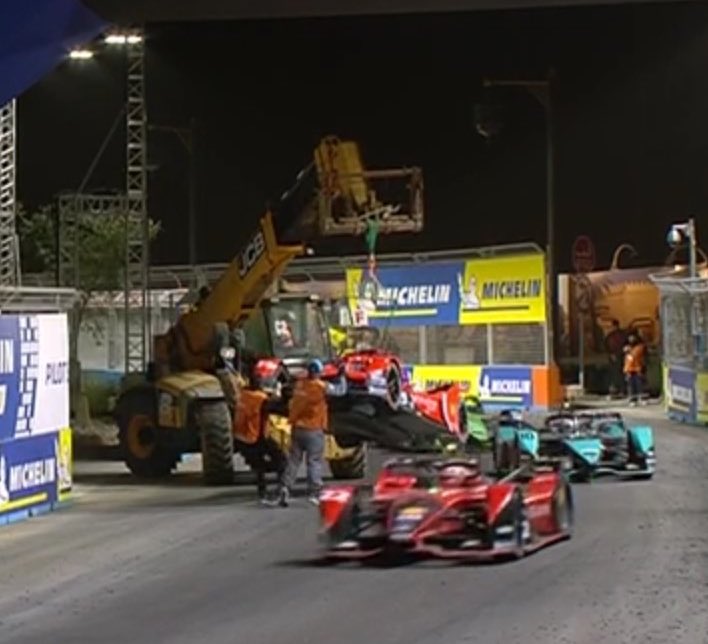 Actually a little reassured by the stewarding otherwise. They said they were coming down harder on more aggressive incidents and I think they got it right here. Still allowing the nudges and minor contact (It's inevitable in these cars and speeds), but clearing punishing when the line was crossed.
The Rowland/Frijns incident was a perfect example of that. Rowland getting 3 grid spots for his needless argy-bargy, but Friins getting a Drive Through Penalty for a clear bump and run that caused a Safety Car in Race 1.
I don't mind the "Added Time" rule in theory, clearly done to avoid another Valencia (It's why any incident that crosses into the Final 5 minutes doesn't result in added time). I like the tactical, energy saving element of Formula E and don't want a Safety Car affected race to turn into an all-out sprint, it's less fun than it sounds. I just hope someone in the garages has a stopwatch to keep an eye of the time under yellow and get the calculators out, because that could get messy if someone misses their sums.