I love my job most of the time, really, I do. Well, it's not really a job, more a hobby, but the fact remains, this stuff is fun to me. However, I have to admit, today was one of those days, where Formula 1 really just seemed to piss me off.
As I'm sure you know, Formula 1 is in Russia this weekend. Now, the announcement of just about anything in Russia is going to down about as well as a lead balloon these days, and it didn't help that last year was the perfect storm of shit that could wrong in Sochi. It was off the back off a Winter Olympics where the facilities were panned, Pirelli were ultra-conservative with their tyre selections, meaning Nico Rosberg could run 50 laps on the primes with zero degradation, ruining the race, and it was in a sport still in shock and hurt from the Jules Bianchi accident a fortnight prior. Hard not to feel a little bit bad for our Russian cousins on that one, it's like that scene in The Simpsons when Sideshow Bob keeps whacking himself in the head with brooms.
So of course, the anticipation for Sochi 2: Electric Putin was about low as a the morale at a TNA Pay-Per-View. And of course, it didn't help that Friday was a complete washout, a Diesel spill combined with rain meant next to no running at all through FP1 and 2. This called for fans to start bashing their keyboards and demanding cars run in the rain. Ergh.
[fusion_builder_container hundred_percent="yes" overflow="visible"][fusion_builder_row][fusion_builder_column type="1_1″ background_position="left top" background_color="" border_size="" border_color="" border_style="solid" spacing="yes" background_image="" background_repeat="no-repeat" padding="" margin_top="0px" margin_bottom="0px" class="" id="" animation_type="" animation_speed="0.3″ animation_direction="left" hide_on_mobile="no" center_content="no" min_height="none"][fusion_imageframe lightbox="no" style="bottomshadow" bordercolor="" bordersize="0px" stylecolor="
" align="left" animation_type="fade" animation_direction="right" animation_speed="1″]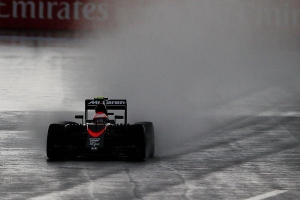 [/fusion_imageframe]Look, it's natural for fans to be this way. This is Formula 1, for the most part, we're supporting a bunch of rich, self-endorsed prat's, it's only natural that some of that translates into the fans. The demand that cars run in a PRACTISE session, boggles my mind.
There was a radio message from Marcus Ericcson's engineer with about 15 minutes left in FP2, that summed it brilliantly, saying that the tyres would get so cold, and the pressures so low, that it was completely pointless to run in the session, especially as the rest of the Sochi weekend was predicted to be dry.
But no, we fans genuinely think we have a divine right to entertainment. PEOPLE, THIS IS A SPORT. If you want a show, go watch the WWE. Seriously, if you're turning on your TV or paying money for a PRACTISE SESSION, and expecting entertainment… you're being delusional. Please fans, do me a solid and please stop acting like we're owed something. The race is on Sunday. Not to mention, we got a very exciting GP2 qualifying session straight afterwards. As I said in my piece about F1's image problem, no-one wants to know how the sausage is made, as long as it comes conveniently wrapped to their needs.
This extended to more talk about trying to spice up Friday practise. Yeah, I should stop talking about this here before my head explodes, but suggestions were made about making FP1 for third drivers only. So, you want to take a test session that no-one cares about already, and make it even more redundant by throwing a spanner in the works by sticking a bunch of other guys in the car, with no real context behind it. By the time the third race around, why would you tune in to see Giedo Van Der Garde in a Sauber over the usual pair of Nasr and Ericcson? It's nonsense. No-one is making you watch practise. We're a bunch of masochists, stop pretending otherwise.
And then the track complaints. If I had a pound for every time someone moaned about Hermann Tilke and his job as a track maker, I think I could buy out Manor. Tilke didn't have an easy task with Sochi, especially given it has almost zero elevation changes, something that can enhance a track greatly, like with Monaco, Spa and COTA. I've driven Sochi in the video games, and it's far from a terrible track. In fact, if last year's GP3 was anything to go buy, I think it made for a rather thrilling finale:
When will people learn that sometimes, it isn't the track, but the cars themselves that are the problem? F1 is a sport right now where cars cannot run close unless there's a vast difference in performance. I've been an advocate for ground effects aero for a while now and I think it would be the one element that could dramatically improve "the show". The dirty air effect is the biggest issue the sport has from an entertainment standpoint, NOT the supposed "Tilkedrome" issues that fans use as an easy excuse to bash.
I'm not saying that every track Tilke makes is a classic. But I think he has far more hits than misses. COTA for example, is a fantastic track, one of the few in the world that can run bikes AND cars effectively. What am I saying is, maybe we should direct our frustrations in other places.
Sochi is never going to be a Monza. And that's okay, it doesn't have to be. Bashing Sochi, just because it's Sochi, is what annoys me. And if we treat every new track on an F1 calendar like the black sheep of the family, how are we ever going to at least try and enjoy ourselves in a sport that lives on change?
I know, I'm complaining about complaining and that doesn't really help, but I think we as an audience need to do better. Now where's that sausage lining…
P.S: Whoever thought that running GP3 practise in near-pitch black conditions, with no lighting, needs to be shot.
P.S x2: Hoping Carlos Sainz is okay.[/fusion_builder_column][/fusion_builder_row][/fusion_builder_container]