Hey folks, Dre here, and for once… I'm only partially talking about Motorsport related things here. Yesterday, the nominee list for the 2016 Laureus Sport Awards were unveiled and my first thought was: "Holy shit, Male sportsman of the year is absolutely stacked!" So much so, I had to really sit down and think about who I'd pick… So this column was born. So, I'm going to have some fun and rank the 6 main nominees, and even take a small look at the Team of the Year nominees as well. So, let's list them for those who are unaware:
Jordan Spieth (Golf), Lewis Hamilton (YAY, F1!), Stephen Curry (NBA), Novak Djokovic (Tennis), Lionel Messi (Football), Usain Bolt (Athletics)
…Now do you see what I mean when it comes to this year's awards? Holy crap! Right, let me see if I can list them and my logic behind them, being the general sports fanatic I am.
---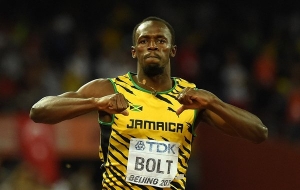 #6 – Usain Bolt
Usain Bolt's kind of a victim of the calendar for this one, as well as a victim of the sport around him. 2015 was only a World Championship year, and not for instance… an Olympic year where EVERY casual sports fan would tune in. And it didn't help that with Yohan Blake still recovering from the achilles, and that no-one touches Bolt over 200m, the only threat on the table, was Justin Gatlin – And that kind of made Bolt's 100m title that much greater… and kind of highlighted the issues within the sport too.
I said it on Twitter last night. Usain Bolt may have saved the reputation of athletics with that 100m. But let's be real here… Gatlin was winning that race until he stumbled with 30 to go. If he wins this race, we're having VERY different conversations. Problem is, Bolt hasn't been as good as he was, even in 2012, compared to now. I know, it's crazy to say that 9.79 in any other context is only "kinda meh" for Bolt, but you forgot… London 2012? 9.63. BRUH.
The fact of the matter is – Bolt has no competition at this level, except one guy we all can't believe is still allowed to run. If Gatlin's not there (Which he arguably shouldn't be), Bolt can win by jogging the last 20 metres. It's not a good look, and a shame given he's the greatest thing to ever happen to track and field, and that isn't really his fault either. It sucks.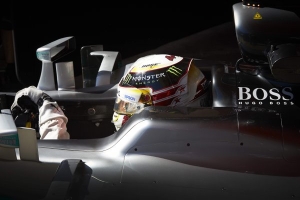 #5 – Lewis Hamilton
Ouch. I tried to bat for Lewis here as hard as I could. But I just couldn't put him any higher than 5 here. The problem is, when Sebastian Vettel won this same award in 2013, he had one of the most dominant seasons in F1 history to get there. Winning nine in a row doesn't get enough credit to me given the nature of the sport and how so many things have to go your way that's outside of your control. Not to mention, I don't think the competition was as strong back then for the award itself. (Although, again, to be fair here – Lionel Messi's greatest calendar year ever probably should have taken it.)
If you read this, you don't need me to repeat why this was Lewis' best season in F1 (Besides the phoning it in post-COTA), but I think that lack of competition at the highest level is what's gonng hurt Lewis here, like Bolt above. Realistically, Lewis's biggest threat is that he has one other guy to consistently beat, and that's Nico Rosberg, who we treat as a whipping boy and diminish for that very reason!
I will say this though – If I was ranking these six on ODDS to win, I'd have Lewis higher, purely because of Sebastian Vettel's win in 2013 as it is. Laureus is a board that actually gives F1 the credit its due. How about that?
(Okay, disclaimer. After some thought – I was pretty certain on 6 and 5. This is where it gets REALLY difficult as I'm basically measuring just how freaking ridiculous they were)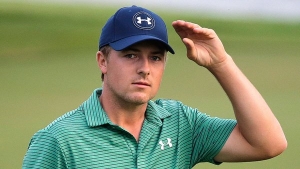 #4 – Jordan Spieth
This kid is a freak. How on earth does a guy who's 21-22 finish in the Top 4 of all of Golf's four Major Championships, winning two of them? Now I'm not gonna lie, I'm not the biggest golf watcher, but Spieth has clearly been the shot in the arm the game has needed, alongside other new top talent, in a sport that still has the whiff of the "PLEASE TIGER GET HEALTHY!" vibe to it.
I mean, he could right now, be the best since Tiger. That's scary given the tyrannical grip of terror he had on the game for nearly 20 years. That is not a disservice to Spieth in the slightest, trust
me. HE'S 22 FFS. He's younger than me and he's the best golfer on the planet. Grrrrr.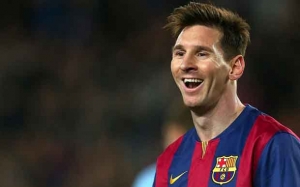 #3 – Lionel Messi
Lionel is very unlucky to be 3rd here. His season was insane. 58 goals, 23 assists for Barcelona, and the most important piece of the greatest attacking trifecta to ever play the game alongside Luis Suarez and Neymar. They won, everything they could win as a team as Luis Enrique bagged an unlikely treble, and now Barca are on another 24 game unbeaten streak, the best in club history.
But not only that, he had those incredible highlight reel moments too, like the incredible goal in the Copa Del Ray Final, and THAT chip against Manuel Neuer after destroying Jerome Boateng on the crossover. He capped it off with his Ballon D'Or, most likely, cementing his place as the greatest player in football history. But I couldn't help but shake the feeling of: "You know he's done this three times before, right?"
Have we gotten bored with Messi just being that freaking insane? I can't help but shake the feeling that the two above Messi were just that little bit better.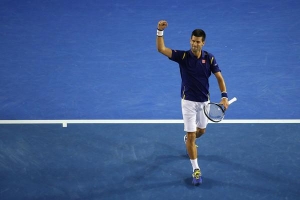 #2 – Novak Djokovic
He's a f****** robot. Simple as that. My house have some keen sports buffs in it, and we all call him "The Terminator". Honestly, given he took his Grand Slam count to 11 after this year's Australian Open, I'm stunned more people aren't having the conversation that he could be on the way to being the greatest ever, and taking some of Federer's own records.
Think about it – He was one lost final away from Stan Wawrinka at the French Open away from owning all four Grand Slams at the same time. That's just bonkers. In the 2015 Pro Tour Season, Novak was 82-6. And of course, winning the Aussie Open, Wimbledon and US Open, as well as the ATP Finals in London too.
Novak has been THE guy in Tennis who's picked up where Federer left off for a couple of years now, and he's now playing at a Hall of Fame level, and 2015 was the greatest year of his career to date. But, for me, he misses out by 0.1% to…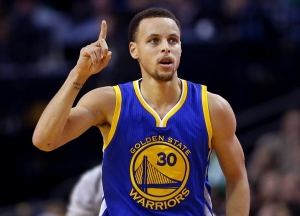 #1 – Stephen Curry
Basketball is a funny thing. It might be one of very few sports outside of F1, where a massive amount of value is put towards the past. But Stephen Curry the last 15 months has been, nothing short of astounding.
2015 was the year it all came together. He won the MVP over James Harden, and he led the Golden State Warriors to the third best season in NBA history as he won the Championship over LeBron James and the Cavs. But this 2015-16 he's taken his game to another level. He is already, one of the best three point shooters to ever play the game. Not only is he making nearly 50% of them, but at ridiculously high quantities, and from as much as 30-35 feet away from the basket.
This is why Steph is so good, the way he dominates, and the way he forces teams to defend against him, is changing the way basketball is going to be played, because Golden State cracked the code… If you're that efficient from 3, it almost doesn't matter how many 2's you make. Who said Maths couldn't be fun? But you know what isn't? Having to guard him as soon as he crosses half-court.
And if you've seen him play, you know he has no problem taking on contested three's from 28ft like it's no big deal. He's averaging 31-6-6 right now and will almost definitely take home back-to-back MVP's, and is the biggest reason his team has an incredible chance of breaking the 95-96 Bulls record, becoming the greatest team in regular season history. For me, Steph is a game-changer, and that's why he's #1.
So, what do you guys think? Who's your Sportsman of the Year? How do you have it, or have Laureus missed someone else? And if you really liked this list, want me to go for the Team and Women's lists too? Let me know, and until next time, thanks for reading!