"Oh Jonny boy, the wins, the wins are calling."
Hey guys, Dre here, and with a little bit of history for you, as I review World Superbikes for the first time ever on the site! I know I've spoken about them in Newswipe segments before, but I really wanted to expand my range this year in terms of writing, making the place a real "one-stop shop" for reviewing Motorsport races and talking the major takes. And there was a LOT to get excited about heading into this 2016 Superbike season. A new Kawasaki ZX-10R, Ducati finally starting a season with a healthy Davide Giugliano, Yamaha were back and they got Guintoli under their wing. Milwaukee BMW made the jump from domestic to world competition, taking reiging British Champion Josh Brookes with them, alongside the shaky reputation but talented Karel Abraham from MotoGP. And of course, Honda putting together a real coup in bringing in Nicky Hayden, the 2006 MotoGP World Champion, and another big name the series can lean on.
See, why I wanted to review this season so bad? Lot to like, and luckily, Philip Island delivered right from the start, and while many things have changed, many things stayed the same too. Read on and you'll see what I mean.
(PS: Not worth it's own section – But I really don't like the fact that a race weekend now has a race on a Saturday. It's a bit of a momentum killer for me, and it's been blatantly done by Dorna to try and force more fans into buying a weekend ticket, instead of a Sunday ticket, because the value of said Sunday tickets, have just taken a hit. But hey ho, gotta make that money.
Also, a nice switch from Dorna to use MotoGP's graphical package for this season too. Streamlines all their programming and it was much better than the clunky red/green they were using before.)
---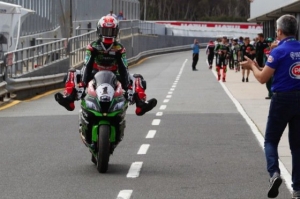 Jonathan Rea is still THAT dude
Like I said, the more things change, the more they stay the same. Jonathan still isn't the best Qualifier in the world, but his race pace and sheer level of confidence is insane, as he took another, dare I say it… comfortable double victory. Which is amazing because if you watched it back, you'd have thought he was under immense pressure, given his biggest threat for the win on both occasions, was Ducati's Chaz Davies, despite being all over him.
Jonny Rea was pretty much perfect. The rides of a true Champion. The scary thing is, he told fellow journalist Neil Morrison after Race 2, he knew so much about his own race pace, he KNEW Chaz Davies would have to go over the limit in order to beat him… Which he did, as he binned it in Race 2. That's when you know you're at the top of your game. And that, is a scary and onimous sign going forward.
It looks like Kawasaki had a similar issue to Mercedes in Formula 1 this year – Do you stick with a winning package, or do you "twist", by releasing something new to try and stay ahead. This new Ninja was super fast on the straights, and it looks like they play to both of their riders strengths – Rea's brilliant race pace and consistency, and Tom Sykes excellent Superpole speed, breaking the lap record in qualifying. Mind you, if you're Sykes, you gotta be thinking: "What have I got to do to beat this guy?"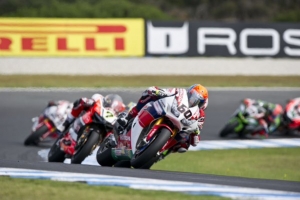 A "Marked" Improvement
So… Did we sleep on Honda all this time? Hindsight is a wonderful thing, but given how last season played out, I don't you think can blame anyone who was cynical over their potential in 2016. Especially when the news leaked last week that they have a new Fireblade that could be in the works for 2017. I had the theory of them treating this year like a development year, then going all-in for next season with a new bike.
Michael van der Mark clearly didn't get the memo on that one. Much was made of his potential in 2015. Despite losing the teammate battle to reigning champion Sylvain Guintoli, he had those brighter moments of upside, like the double podium at Assen, and that pass of the year on Leon Haslam at Magny-Cours. He lead this very race last year no less. And he looks like he's taken another step forward with another double podium to start the season.
Michael is so fun to watch. He would so often try the signature different line through Turns 1 and 2 to try and get around people, and he was always willing to try mixing it up to get to the front. The Honda looks like a much better package in the early going, especially compared to last year, and that's only good news in a series that definitely needed a bit more competition. And when the paddock has so often been carried by experienced names, it's nice seeing a 23 year old in MvdM up the front, a lot like Loris Baz was a couple of years ago. Michael is one to watch, and Nicky Hayden deserves credit for a solid 4th in Race 2. Once he gets the tyres under control, I think he could be right up there. Laguna Seca should be fun.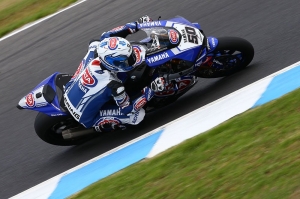 Yamaha struggles… Or do they?
Much was made of Yamaha's factory return to World Superbikes this season, and their hiring of Alex Lowes (A speedy rider, held back by a terrible Crescent Suzuki team last year), and Sylvain Guintoli (A speed rider, held back by a- wait.). They didn't run with transponders in the tests, so it was hard to get a read on how fast they were, but Qualifying on the Saturday showed they were in the mix, and they showed that again in both races. They weren't quite on the Kawasaki or Ducati level just yet, but there are promising signs to take away, from their one lap pace… and the nature of Yamaha as a company last year.
You see, if you watched British Superbikes last year, a very similar level of competition in terms of Factory support, Yamaha were good in the early going, but once they ironed out some of the kinks, Josh Brookes laid waste to the entire field and completely ruined the championship's "Showdown" format. Could something similar happen here? We know they have the talent, we know Ginters is top-tier with a competitive package. Alex Lowes too, given his Suzuka 8 Hours performance. We got to remember, this is their first race at this level, and even so, they had Top 5 speed. That's a good sign going forward. Although, I'm still wondering what happened to Alex on the opening lap of Race 2…
---
Dre's Review: Both races were brilliant and the perfect way to start the season. As I said before, World Superbikes needed a bit more of a mix-up after Jonathan Rea crushed the field last year, and while last year started this way too, Aprilia quickly faded and Ducati just wasn't a consistent enough threat. This time around, we had as many as EIGHT bikes in the leading group, there was constant back and forth passing (Davide Giugliano is a ruthless bastard), and strong admiration for Rea's control, Chaz's "win it or bin it" attitude, and the upcoming maturity of Michael van der Mark. Go out of your way to see both races, even if you're not a regular, they were both awesome. Thanks for reading!
Race 1: 9/10 / Race 2: 9/10