Okay, a show of hands, who overhyped Assen? Put your hand down at the back, you're a liar. A shame we didn't get the usual peloton-esque explosion that MotoGP tends to produce, but the first half was certainly fun, even if the end result wasn't too surprising when you look at the form for the weekend.
Maverick Vinales and Fabio Quartararo were clearly the two fastest guys out there all weekend, with Alex Rins coming into play later on, and that was the main fight for the win, especially when Rins binned it from the lead on Lap 2 after the wind blew his front wheel up and he lost the front almost instantly. A shame as it more or less takes Rins out of title contention.
Marc Marquez was never going to throw the house at it after realising Dovi was down in 4th, and he squeezes his foot on the throat of the championship as Germany awaits, a place he's undefeated in nine career races around. And for Fabio, a learning race. He almost threw it away early with his bike wobbling under braking, but after following Mav and Marc, adjusted his lines and took a comfortable 3rd. Just wait till this kid gets the racecraft down, he's going to be a ridiculous talent. Yamaha needs to tie that man down, immediately.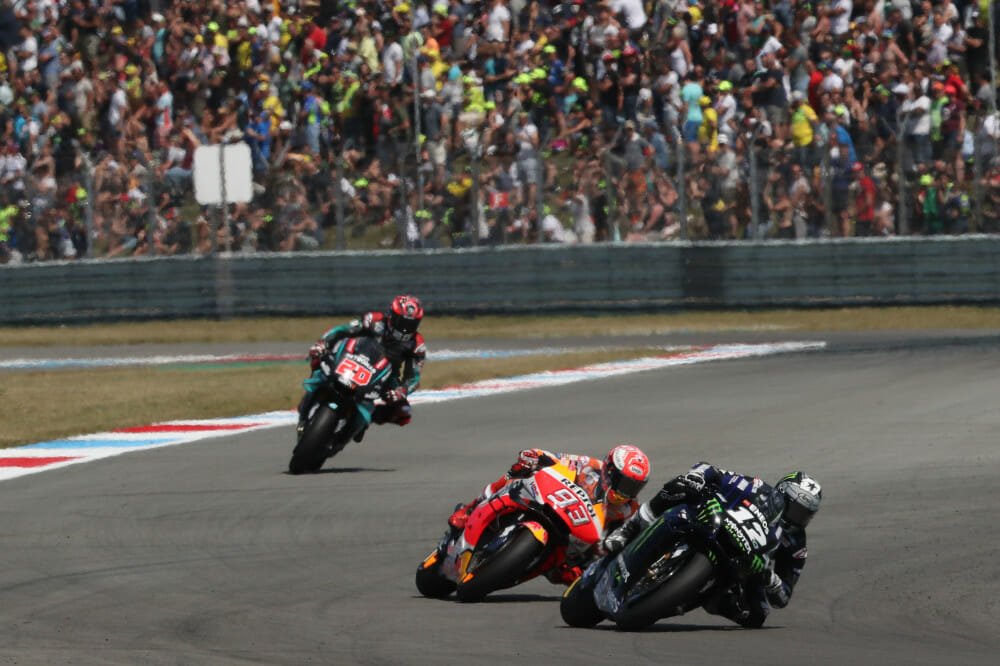 And seriously, what is going in the Ducati camp? I know Assen has never been their strongest, but this was a slow race, and they were nowhere near fast enough. Both their bikes, 14 seconds off the victory. Alarming.
Andrea Dovizioso needs to start gambling and quickly, otherwise his campaign could be over by the summer break. He's not going to win this title hoping Marquez makes mistakes. If it wasn't for Austin, we might already be done. Is Dovi really content with being the silver medallist for the third year running?
As for Danilo, the honeymoon of Mugello is over, and his passive riding is only going to hurt him long term. I liked the version of him at Le Mans more when he was desperate to beat his teammate. Sure, it'll earn him some friends in the Ducati camp, but at his own detriment in the long run. Being passed at the final chicane because you're so afraid of passing your teammate is frighteningly passive. Could someone at Ducati please step up and make a play here?
Also, I loved that my old theory about Yamaha held true again. In that camp right now, Maverick is your ceiling when everything clicks, and Valentino is your floor. Maverick was outstanding all weekend. Rossi got desperate trying to climb through the field, lost the front, and collected Taka Nakagami in an awful accident.
Thankfully both okay, but Rossi having three DNF's in a row for various reasons isn't pretty. You'd have to go back to 2011 and the woeful Ducati days for the last time that happened. This team needs to make a decision on its future and fast. Despite Maverick's occasional greatness, this is a man who was on a hot seat a couple of rounds ago. What direction is this team going in? The worst part is, we've been saying that for two seasons now.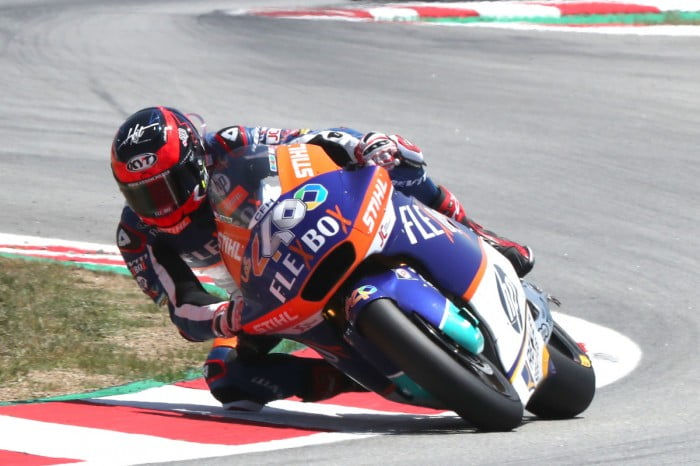 Crazy that Moto2 was the best race of the weekend, and it was mental. Big leading groups, a tyre management fest that wasn't boring in the late stage, and aggression galore. Delighted that Fernandes got that first W, he's worked very hard since replacing Hector Barbera last year and this was a while coming. 
Great to see the return of Lord Binder in 2nd as well, who I was concerned was gonna drop like a stone after cooking his rear tyre, and given KTM's hellacious struggles in the Triumph era to date, this was a heck of a result. Can't wait to see what he can do in MotoGP next season, as it seems he'll be heading up to KTM Tech 3 next year.
A shame though that Lorenzo Baldassarri is continuing his inconsistent form of "chequers or wreckers", losing the front and taking Alex Marquez with him. Iron Balda isn't going to win a title, or a top-tier MotoGP seat riding that way. And with all the crazy, Thomas Luthi's back on top of the Championship. Because of course.
And great to see Jonas Folger back in Moto2 and riding again after a year plus out through illness. Outstanding talent and I hope he continues to ease himself back in, he earned a good MotoGP ride with Tech 3 for good reason after all.
As for Moto3, I do love a good 1-on-1 shootout for the win, and Tony Arbolino breaking the streak with a superb final lap was well earned. My former cohort Louis called that Dalla Porta in 2nd might be the guy who wins the title without actually winning a GP this season, and he's well placed to do just that. This season is anyone's guess. And that's the beauty of it.
Fun Fact – The last time Maverick won a top-flight GP, was Philip Island on October 28th last year. On the same day that Max Verstappen won the Mexican Grand Prix, the last time he won a GP. Get the tinfoil hats out.