Well… By any measure, that was an incredible Indy 500.
I promise you, I'll talk about the winner in a minute, but we have to talk about Fernando Alonso here. Because whether we want to admit it or not, it was pretty much his 500, and he owned it. On and off the track.
In the race itself, he was spectacular. He looked like he'd been doing this 15 years already. Some outstanding overtakes around the outside and was more than comfortable in leading the 27 laps that he did. It made his engine dying with just a handful of laps left all the more saddening. There's a cruel sense of irony given it was yet another Honda engine failure that ended Alonso's effort, but this "Month of May" meant so much more than that.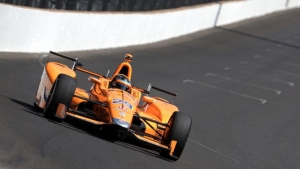 Many sneered at Alonso taking this on. As many have since proclaimed, IndyCar has not been taken seriously for sometime. It's a niche of a niche in the world of Motorsport, even if it may have the single best individual race in the world. But unlike certain F1 World Champions, Fernando has treated IndyCar and the Indy experience with nothing but respect, admiration, and humility. 200,000 people watched this race on BT Sport, the more premium sports package out there. I saw many, many people on Twitter watching the 500 for the first time. Over 2 million people on the Internet watched his rookie orientation programme.
The Internet's buzz was amazing. And most importantly, he was fun. He was rocking in the paddock on an electric skateboard. He embraced all the asinine media day-to-day that would come from a legitimate Motorsport superstar being in an unusual environment. He hung out with drivers, re-signed Conor Daly's clothes, hopped in the commentary both. Alonso was one of the boys. He felt like he belonged. And that for me, was really cool.
The fact that 250,000 Indianapolis fans gave him a standing ovation upon him leaving the car, kind of said it all. His fantastic performance captivated us all. It made us care about a race that thousands wouldn't normally care about. He is truly one of the finest racing drivers we've ever seen, and he earned the respect of a hardcore Motorsports cult. And this writer too.
I'm no Nando guy, and I just dropped £115 on his Indy helmet, and I'm going to stick it on my desk. This was special, and made me look at Fernando in a different, more positive light. I look forward greatly to his return, and thanks to Zac Brown, McLaren, Indianapolis, Stefan Wilson, and everyone else who made this happen. I hope we can see more fantastic Motorsport crossovers soon.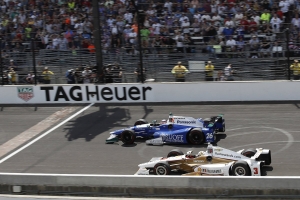 As for Takuma, wow. This was no coincidence. His car had been a rocket ship all month, and it's amazing how Andretti always seem to come alive at the 500 and on the Super Speedways. Sato was basically pulling off his same sense of ridiculous moves, but this time, in a car that actually had some speed too. And after his heartbreaking near miss in 2012 against Dario, it was wonderful seeing those demons laid to rest, and Dario being one of the first to congratulate him. The first 40+ year old winner since Eddie Cheever, the first ever Japanese winner, and Andretti's 3rd 500 win of the last four years. All incredible achievements. Never will #NotNowSato ever be uttered on the Podcast again.
The placed finishes all had fantastic drives too. Pour one out for Helio Castroneves. SO close to the elusive #4 after driving a damaged car at the age of 42. Not to mention, his passes to get to the lead at the end of the race were stunning. Given that Penske have struggled all month, the fact that Helio came so close was a testament to the fact he's still as good as anyone on his day. And as he was out of the car, he was still his usual, smiling, buoyant self. Helio is a good, good dude. And hey, taking the Championship lead isn't a bad runner-up prize.
Ed Jones had to change a wing, but man did he come alive at the end, lurking in-case the Sato/Helio fight opened a door, but 3rd place was absolutely fantastic for the Brit, who's continuing to have a fantastic rookie season. He's now 9th overall, and only a point off Josef Newgarden and Will Power! Shoutout to Max Chilton, the OTHER F1 guy, who led more laps than anyone else, and had the best finish of his IndyCar career in 4th. Gabby Chaves first race back in over a year for a basically brand new team to finish in 9th was also superb. And James Davison almost managed a Top 10 filling in for the injured Bourdais.
On top of the ridiculous action, there was a real heart-in-the-mouth moment, with Jay Howard losing control hitting the wall, and then slamming into Scott Dixon, knocking him 20 feet in the air, and slamming into the catch fence.
He walked away. They both did. Truly astonishing given it was one of the nastiest looking crashes I've ever seen. After Sebastien's horror crash the week before, I have to applaud Indy's Safety team, the very best in the business. They are incredible and they have saved lives in the past and will continue to do so.
Overall, this was a wonderful Indy 500, that had everything. 10 cautions, multiple code brown moments with crashes, near misses and spectacular passes. The extra emotional investment in Fernando Alonso, and another dramatic tight finish as well, was amazing. I sincerely hope if it was your first time, you enjoyed the spectacle, because that's exactly what this was.
IndyCar is so much fun. This year's Indy 500 reminded me of that.