"Hey, I didn't get a weird food question this time. Boo you!"
Hey folks, Dre here back with this week's (slightly delayed) edition of Ask Dre! In this week's blog, I'll be talking about Fernando Alonso's cryptic future and where he may end in next year, asking whether Double Points is really a good thing and whether it'll catch on or not, and some classic F1 tracks I'd like to see bring back. So, without further ado, here's this week's Ask Dre, now with 100% food related questions!
[fusion_builder_container hundred_percent="yes" overflow="visible"][fusion_builder_row][fusion_builder_column type="1_1″ background_position="left top" background_color="" border_size="" border_color="" border_style="solid" spacing="yes" background_image="" background_repeat="no-repeat" padding="" margin_top="0px" margin_bottom="0px" class="" id="" animation_type="" animation_speed="0.3″ animation_direction="left" hide_on_mobile="no" center_content="no" min_height="none"][fusion_imageframe lightbox="no" style="bottomshadow" bordercolor="" bordersize="0px" stylecolor="
" align="left" animation_type="fade" animation_direction="right" animation_speed="1″]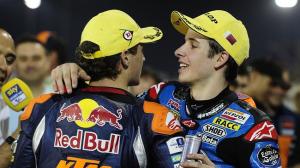 [/fusion_imageframe]"Jack Miller or Alex Marquez for the Moto3 Title?" – David Sedgwick
The one with the most points! *shot* Just kidding, it was too easy. But in all seriousness, I'm really on the fence on this one. Jack Miller's been in control nearly the entire season, the mistakes started creeping in, Alex Marquez started chipping points off of him on the superior Honda on the bigger circuits, gathered a 25 point lead with 3 rounds to go, but then Miller's stepped it up BIG TIME in the last 2 races, reducing the gap to 11 points. And trust me, 11 points isn't a big margin at all, if Miller wins in Valencia, Marquez needs to be on the podium to win the title. 11 points isn'tas big a margin as you may think it is.
And it seems that Jack Miller isn't afraid of rubbing an elbow or two to get there, and I'm not sure if that's an area where Alex Marquez is willing to go, and that might make all the difference. Alex is NOT his brother Marc. He's not as aggressive, and that might be his downfall, especially with guys in that Top 8-10 who want to make a statement to close the year, like Danny Kent, Alex Rins, Efren Vazquez, Romano Fenati and others. And it's not like Rins is all of a sudden going to play nice and move aside for Alex, is he? Miller DOES have that rear gunner in Danny Kent.
And one more thing you have to consider, is that Valencia is not like Philip Island or Sepang, with less lengthy straights, Jack Miller's KTM won't have as much of a disadvantage against the more punchy Honda bikes that dominate the front of the field.
You know what, I'm going to say it, Jack Miller to take the title, and I giggle at the people calling him "Dirty", the biggest myth in Moto3.
"Will it all come down to Abu Dhabi?" – Aaron Davidson
Unless Rosberg has back to back retirements going into Abu Dhabi, almost definitely. Remember, Abu Dhabi has double points, so Hamilton would need a 50 point lead going into it to win the title early. And mathematically, that's impossible for Rosberg given he's behind in the Championship, with only 50 points avaliable between now and then. I know Mercedes haven't been as reliable as many think, but that would be awful luck. Speaking of which…
[fusion_imageframe lightbox="no" style="bottomshadow" bordercolor="" bordersize="0px" stylecolor="
" align="left" animation_type="fade" animation_direction="right" animation_speed="1″]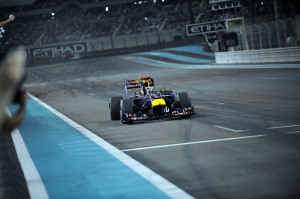 [/fusion_imageframe]"Is the double points idea going to catch on?" – Gigi Gali
Funny, Bernie said it may not be coming back next year. But yeah, I'm kind of okay with it. I think the problem is more the track it's featured for in Abu Dhabi being the Championship finale, as a track not many actually care about, rather than say, Brazil, the more traditional finale where crazy shit tends to happen.
Let's not pretend like Double Points is some revolutionary new concept. MANY sports have weighted systems. The Diamond League in Athletics has a double point finale. In Tennis, the World Rankings ALWAYS gives higher points to the four major Grand Slams (Wimbledon, The US, The Australian Open and Roland Garros), and heck, isn't just about every major American sport have a playoff format to decide a winner, even in NASCAR and their Chase for the Sprint Cup? Isn't that a glorified weighting system?
I think the biggest problem is how they've implemented this system. If Bernie had come out and said: "Okay, we're going to Double Point the most prestigious 4 races on the calendar, Monaco, Silverstone, Spa and Brazil as the finale", I really don't think there would be as many complaints. And if a Championship is close, double points is unlikely to change that, and it will most likely go down to the wire anyway (Only 3 in the last 20 Championships would have changed hands with a double point rule, like Felipe Massa in 2008 and Fernando Alonso in 2012).
Having just the one race at the end, and with it being Abu Dhabi, the whole thing comes across as forced and artificial… Well, even more so anyway. Like with most things in F1 though, we'll whine to begin with, but stop caring after a week or two and just get used to it. It's fine in my eyes, but could easily do with some refining.
[fusion_imageframe lightbox="no" style="bottomshadow" bordercolor="" bordersize="0px" stylecolor="
" align="left" animation_type="fade" animation_direction="right" animation_speed="1″]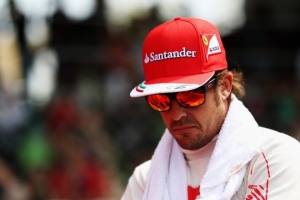 [/fusion_imageframe]"Do you think Alonso be in F1 next year?" – Paul Foster-Daniells
I think he will, I don't think Alonso's crazy enough to call it a day just yet, he IS still only 33, and is a man so desperate to win that 3rd World Championship he's been craving for eight years now.
Ferrari came close with Alonso on two separate occasions, 2010 and 2012, and with the winds of change blowing through Ferrari, and his two closest adversaries gone in Stefano Domenicalli and Luca di Montezemolo gone, I think the writing was on the wall with Nando. He wasn't going to win a 3rd title with Ferrari, so he's probably thinking, "Hmmm, McLaren-Honda? It's a plan so crazy, it just might work."
If the McLaren talk is true, and Alonso's on the way to Woking again, it's a really ambitious plan, because McLaren's aero and chassis just hasn't been good enough since 2012, and back then, their reliability was the problem. They're a team who have great upside and have amazing resources, but who can never quite put it altogether. I really don't think Alonso's the missing piece, but his success has always come as a result of teams willing to build around him, so who knows, maybe that new focus can reap the rewards. Personally, I think McLaren are too stretched with their road car firm to do it, but maybe Ron Dennis knows something I don't.
Mind you, he DID always say he liked Ferrari's idea of returning to Prototype Endurance racing…
"What are your Top 3 and pole position for the US Grand Prix?" – Richard Evans
Lewis Hamilton is a glorified American, he loves it there, so I reckon he'll take Pole and the win, Rosberg plays second fiddle in 2nd again, and I think with their aero and mechanical grip, I think Daniel Ricciardo will return to the podium in 3rd.
(Monday based Editor's Note: Damn, I'm good.)
[fusion_imageframe lightbox="no" style="bottomshadow" bordercolor="" bordersize="0px" stylecolor="
" align="left" animation_type="fade" animation_direction="right" animation_speed="1″]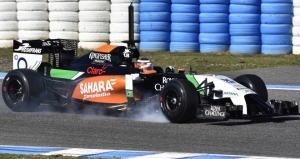 [/fusion_imageframe]"Will we see Force India and Sauber drop out next season?" – Danny Brennan
Ah, sad times. Sauber are in deep trouble by the sounds of it. I mean, why else would be they be making a play for Marcus Ericcson, who's repair bill alone surely out-guns any financial safety net he brings in. They're going all in on the pay-drivers to help fund them, and are on course for 10th in the Constructors, their worst EVER season with zero points. It could be the start of a dangerous cycle of sustainability for the Swiss outfit.
Force India are in slightly better shape, but they're almost exclusively locked into being the "middle" team, always 6th in the constructors, and that may not be enough to keep them going forever. The longer it goes on without improvement, the less you can justify spinning your wheels and spending all that money with no real progress. And this is with one of the strongest driver lineups in the field with Hulkenberg and Perez. Not wonderful.
But if anything, I think the team most at risk at dropping out alongside Sauber, is Lotus. HEAVILY in debt, no sign of big outside sponsorship and a team that's heavily dropped from the team of yesteryear. And back then, they were a top team. What the heck's going to happen now their slice of the revenue is about to take a NOSEDIVE?
"Which Classic track would you like to see return to the calender?" – Thomas Wilson
I've always been a huge advocate for Imola, even if it isn't the safest of tracks out there, and I'm glad they removed that last chicane as a possibility as well, I never thought that was necessary. The only issue I have with it now, would be potential overtaking opportunities. Or the lack of them, so to speak.
---
Thanks for reading, see you again later in the week for another, Ask Dre!
[/fusion_builder_column][/fusion_builder_row][/fusion_builder_container]