"…And my favorite flavor of crisps. Of course."
Hey folks, Dre here, back at it with another weekly edition of Ask Dre! In this week's episode, I tell you my F1 Rookie of the Year (So far), some of the best in recent years from MotoGP and F1, talking about F1 2015, the legacy of F1 teams, and whether we should victimize certain drivers for incidents. All that, and talk about what my favorite flavor of crisps are. You know, the important stuff. Right, let's go, Ask Dre time!
"Who is your rookie of the year in F1?" – James Bryant
MARCUS ERICCSON!
No, I'm kidding. It's obviously between Kevin Magnussen and Danill Kyvat here, and both have been pretty darn good this season. Kyvat has pretty much matched Vergne stride for stride, scored points on multiple occasions despite Toro Rosso's awful reliability, and has shown racecraft like he belongs. On the other hand, Kevin Magnussen debuted with a 2nd in Australia, and has a chance of finishing in the Top 10 of the Championship, an impressive feat for a rookie with some great names around him, like Sergio Perez, Felipe Massa, and even Kimi Raikkonen!
I'd say Magnussen, kinda by default really. But take nothing away from Kyvat, he's had a great season too and he's earned that Red Bull opportunity.
"Do you hate the people who hate one Driver because of one incident? like the Schumacher incident and Rosberg's "Lockup" 😉 at Monaco. And the Vettel Webber Touch at turkey?" – Thomas Wilson
Hate is a strong word. I do think it's a little narrow minded though. A lot of brilliant drivers had moments that could have permanently scarred their reputation. Michael Schumacher was a proven cheater, Ayrton Senna nearly killed Alain Prost to win a Championship, Prost himself was a massive Balestre-kiss up, Jacques Villeneuve tried a singing career, etc, etc. People can like or dislike a driver for whatever reason they like, justified or not. That's just the subjective nature of F1 fans. Personally, I'm in the "forgive but not forget camp", where I remember the incidents a driver has, but do my best not to condemn someone for one incident. Because if we had that kind of nature for everything, that wouldn't be very healthy.
[fusion_builder_container hundred_percent="yes" overflow="visible"][fusion_builder_row][fusion_builder_column type="1_1″ background_position="left top" background_color="" border_size="" border_color="" border_style="solid" spacing="yes" background_image="" background_repeat="no-repeat" padding="" margin_top="0px" margin_bottom="0px" class="" id="" animation_type="" animation_speed="0.3″ animation_direction="left" hide_on_mobile="no" center_content="no" min_height="none"][fusion_imageframe lightbox="no" style="bottomshadow" bordercolor="" bordersize="0px" stylecolor="
" align="left" animation_type="fade" animation_direction="right" animation_speed="1″]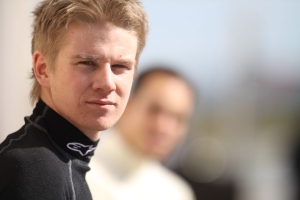 [/fusion_imageframe]"Why do you think Nico Hulkenberg hasn't got into one of the top teams by now?" – Michael Pears
Oh Nico Hulkenberg, just mentioning his name makes me sad. He just confirmed by Force India for the 2015 season, and I kinda just sighed in the sense of "Well, shit, he's missed out again!"
As I said on Facebook on Monday: "Nico Hulkenberg is that 8/10 guy in your favourite soap opera who's really nice but who NEVER gets the girl. If Formula 1 had a Friend-zone, Hulkenberg would be the walking example of it." Why do I think that is? I think it's a combination of bad luck and him not being the "sexy pick". Allow me to explain.
Many people don't know this, but Luca di Montezemolo was going to sign Hulkenberg for Ferrari last season. But at the 11th hour, he cancelled the deal because Kimi Raikkonen had gotten back on the market due to not being willing to take a pay cut for a Red Bull seat. When McLaren had an open seat in 2012 post-Hamilton, Sergio Perez was the guy who had 3 podium drives in a fast but inconsistent Sauber. Hulkenberg was laying the smackdown on Paul di Resta but was overlooked. According to McLaren, Nico was in contention, but they went with the Perez, the young hotshot. The "sexy pick".
Perez is a 7/10 out of driver who swings anywhere from a 4-9 depending on what race it is and whether there's a blue moon in the sky. Nico Hulkenberg is the consistent 8/10 guy who rarely ever makes a mistake, and racks up the points over a season. This season he has a Career High 76 points to date, is 8th in the Championship and has been in the Top 5 on four occasions. Given Force India are the SIXTH best car in the field, that's amazing.
Mercedes stole Hamilton in 2012. Ferrari overlooked Nico for Raikkonen. Red Bull lean towards their own academy, even now when Hulkenberg would be by FAR a better signing than Kyvat. Ferrari may always come back for him (Sadly, now especially Jules Bianchi is probably out of the sport for good), but every time there's a major seat reshuffling, Red Bull are out of the question and Nico just misses out.
And what's more amazing is, I think he's running out of time at 27 years old. Who wants to beat he gets replaced by another "sexy" pick, like a Stoffel Vandoorne type? Remember, he was only a TEST DRIVER 3 years ago. Poor Nico… I wish he'd escape the friend zone. He's essentially "Knives" from Scott Pilgrim vs The World.
"Are there any MotoGP tracks you don't like?" – Len Morrison
Sepang is the one right at the bottom of the pile for me. It's too big and wide and kinda slow for it to be an effective MotoGP track. And now because of Marco, I can never look at it the same way now, sadly. Same for Brno and Losail, kinda boring really. MotoGP needs to avoid as many F1 style tracks as it can.
"If you had a racing team would you prefer to be like Brawn GP (A star that shines twice as bright but lives for half as long) or Arrows (Long lasting but no major achievements)?"
Give me the cliched team expression, every time. I'd definitely like to go down as a guy who reached the top, only if it was very brief, rather than a team like Arrows, that had so many years around but were never any more than a midfield team to make up the numbers. Because ultimately, who would want that? Brawn GP are an amazing example, and Ross Brawn is one of the sports heroes for that very reason.
[fusion_imageframe lightbox="no" style="bottomshadow" bordercolor="" bordersize="0px" stylecolor="
" align="left" animation_type="fade" animation_direction="right" animation_speed="1″][/fusion_imageframe]"What do you think Codemasters have to do with the next F1 game to make it Worth the money?" – Kamil Michał Szwed
Simply put, bring something different to the table that will attract new players. As much as we hardcore players bitch and moan, we're the ones that are buying the game anyway, so our opinions and feedback doesn't really mean anything, if the games are largely the same. Codemasters still has our money. I think the engine needs to dramatically change, and I think Codies need to decide whether they want to go down the full Arcade route and make a more fun game accessible to the most amount of people, or try to make a full on sim. Because to me, the F1 franchise has an identity problem and is trying to please everyone, and as a result, it's kinda frustrating everyone. Also, can you please go back to 2010 and 2011's presentation style please? Because that shit was cool, and there was NO good reason to drop that. At all.
[fusion_imageframe lightbox="no" style="bottomshadow" bordercolor="" bordersize="0px" stylecolor="
" align="left" animation_type="fade" animation_direction="right" animation_speed="1″]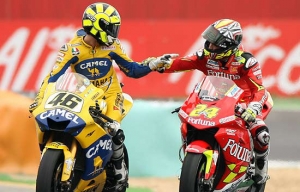 [/fusion_imageframe]"If you could name 5 of the greatest races from MotoGP and F1 that you have liked, what would it be?" – Andre Silva
Let's see here. Formula 1, the five that stick out to me from my lifetime, so roughly 2000 onwards are Canada 2011, Canada 2014, Japan 2005 (Raikkonen's comeback), Valencia 2012, and Hungary 2006. Probably. There's so many I've not seen again in years, so maybe one day I'll finally get around to that "Top 10 Races of the 21st Century" countdown, I've been meaning to do.
As for MotoGP, I'd say Estoril 2006 (Toni Elias' last stand), Catalunya 2009 (Rossi vs Lorenzo), Laguna Seca 2008 (Rossi vs Stoner), Aragon 2014 (Flag to Flag) and for sheer level of ridiculous performance, Phillip Island 2003 with Rossi winning despite a 10 second penalty. Valentino himself said: "That's probably the only time I've been at 100% from the start". And that thought alone makes me need new underwear.
"Ok we know your favourite flavour Lucozade…whats your favourite flavour crisps? or maybe pastry?" – Gigi Gali
Again with the food questions huh? I've always been a bit of a Prawn Cocktail man myself. As for Pastries, sweet is a Cinnamon Whirl, if it's a savoury snack, it's a Sausage Roll. Preferably from Greggs.
"When (on his own will or by force) Bernie Eccelstone retires, who would be his successor? And would he/she do better?" – Evan Wolff
When he dies. Dude's already 83 years old and is still at almost every grand prix, like the Grand Master he is. Unless something serious happens to him health wise (God forbid, obviously), I don't think he'll be retiring at all. As for his replacement, I genuinely have no idea. Trying to follow the political side of Formula 1 is about as rewarding as putting your balls in a blender.
---
Alrighty, I'm done here, time to head home and bury my head in some Sausage Rolls. Until next week, thanks for the questions and I'll catch you next time![/fusion_builder_column][/fusion_builder_row][/fusion_builder_container]