2019 in MotoGP was a year dominated by one man. It was everything else to do with him that was the interesting parts of a season that had a lot of branching subplots and some flashes of genuine beauty, but overall, was just okay. And that's okay too, it makes the analysis more fun! 
So, here are some thoughts on Repsol Honda's sudden Lorenzo replacement, and some more on MotoGP in 2019 in general. I'll tackle the new boy first, then the big factories, then everybody else. So let's break it down:
Repsol Honda, total non-believers in Nepotism.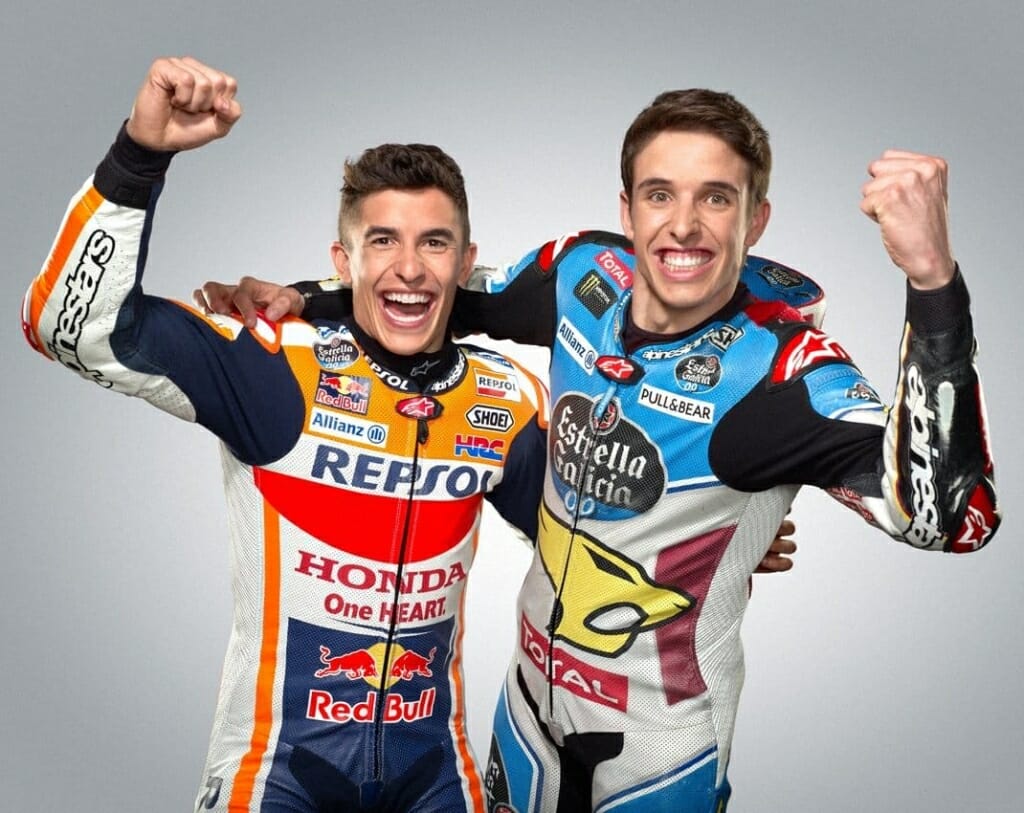 Marc Marquez claims he had no say in his replacement and didn't tell Honda to sign his brother. In other news, I'm still sure Jennifer Lawrence will be my future ex-wife. Swings and roundabouts. 
I'll talk about the team as a whole a little later, but we had to talk about this 11th-hour deal. Alex Marquez is in with the big boys, and a lot of people immediately called foul. And I'm here to tell you… it's complicated. 
Was Alex Marquez the best option on the table? Probably not. Moto2 in 2019 was a weird season. One where people blew hot and cold. The fortunate thing for Alex was, was that his hot streak of five wins out of six from Le Mans to Brno, was just enough to beat Brad Binder, who got hot at the end with three straight wins.
On one hand, he's a 5-year veteran of the category, and we as a Motorsport audience love the young upstart more than the veteran. The Stoffel Vandoorne over the Jolyon Palmer, the Maverick Vinales over the Thomas Luthi. But Tito Rabat and Johann Zarco have proved in recent years that there is still a place for experience. Alex is somewhere in the middle. Easy to forget he's the first-ever Moto2 AND Moto3 World Champion and still only 23. And he was a fast adapter to the new Triumph. Certainly a positive.
Of the other contenders, there are question marks too. Cal Crutchlow is solid, but he's also 34 and doesn't have much extra value by just moving him over. And he's a loyal Monster sponsored athlete, and there's a huge energy drink conflict of interest there. 
Johann Zarco just quit on his team less than three months ago, and the Honda doesn't really fit his riding style, even if his LCR wildcard appearances did show slithers of promise. Taka Nakagami was probably the best bet here, having shown genuine improvement on last year's bike, and finishing half the season in the Top 10. Hope he gets a 2020 Honda either way.
But this is also November, and you were never going to get an optimal rider at this time of year. With that mind, why not take a punt? Y'all went nuts when McLaren took Pato O'Ward over James Hinchcliffe after all. Alex will be fine, and if it doesn't work… Hey, it's a 1-year deal. Clever.
The Inevitable Essay on Yamaha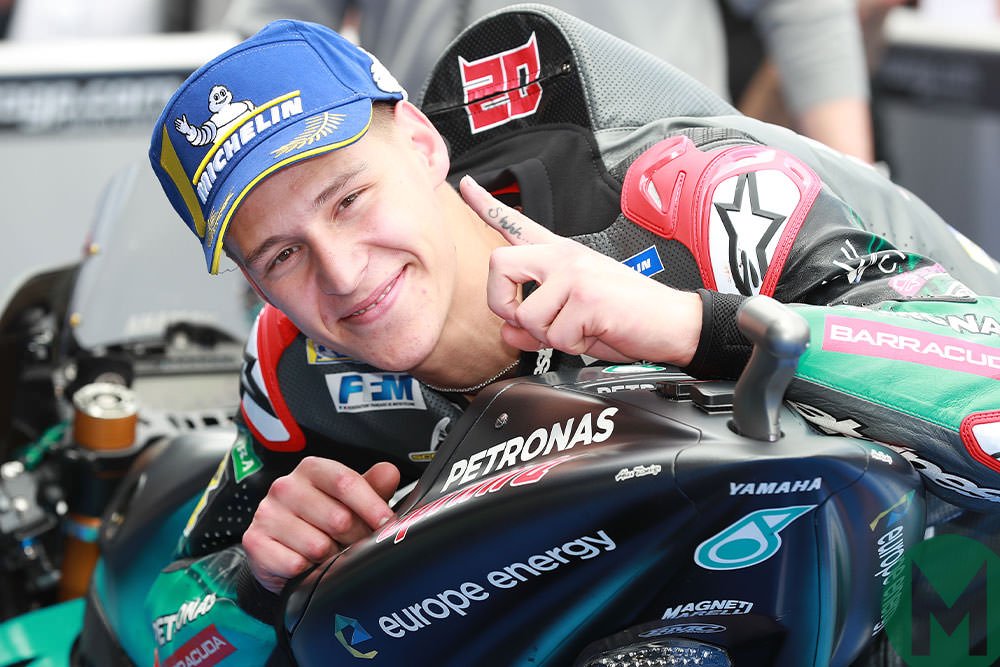 Of the "Big 3", Yamaha's factory is the most interesting, with a lot of branching paths.
The headline grabber – Fabio Quartararo. His rookie season without question, the best since Marc Marquez debuted in 2013. Six pole positions, six podium finishes, 5th in the Championship. Top independent too. He'd probably have been Top 3 if it weren't for awful mechanical luck in Qatar and Jerez and top Yamaha overall. And did I mention he's still only 20 years old? Two years ago, talk of the "Next Marc Marquez" had faded as he nearly got swept under the Moto2 rug. Now, he looks like the next chapter. (Hell, it's still weird we're talking about a "next" guy when the lead "guy" is still only 26 himself, but hey.)
We as an audience, need to be careful though. He's not the finished article, and those hailing him as the "Marquez stopper" need to pump the breaks. As said earlier this month, he had six pole positions but converted none of them into actual wins. He got bullied on the final lap twice by Marquez in Thailand and Misano too. These are elements he's going to have to overcome to be any sort of threat to MM93. Trust me, he won't get the same pass for 0-6 on pole conversions in year two. I'll say for free though – He's the nearest we've come to Jorge Lorenzo, since his debut in 08. And trust me, that's high praise.
As for Valentino… This year probably confirmed the end is nigh. Valentino's now up to 48 races since his last win and 16 since his last podium finish. He's still good for the flashpoints like a front row start at Silverstone without a tow. But Vale's ace in the hole was his race pace on Sunday. And that's now fading, if not gone altogether. He's now consistently the third paced Yamaha with Fabio splitting the deck, and even Morbidelli interfering on occasion. 
Lin Jarvis needs to do what the Indian cricket team did with MS Dhoni after a disappointing World Cup. Force a retirement. Rossi's done at the very highest level, and it's time to build around Maverick and Fabio. There's your nucleus going forward. And to be fair, Lin's one of the few guys in the paddock with the balls big enough to do it. Let Rossi have his farewell tour, and the fans can say goodbye to the sport's greatest icon. But as a competitive option, this is the end for VR46 and Yamaha having 5 wins since 2017 is dreadful for a marque of their calibre.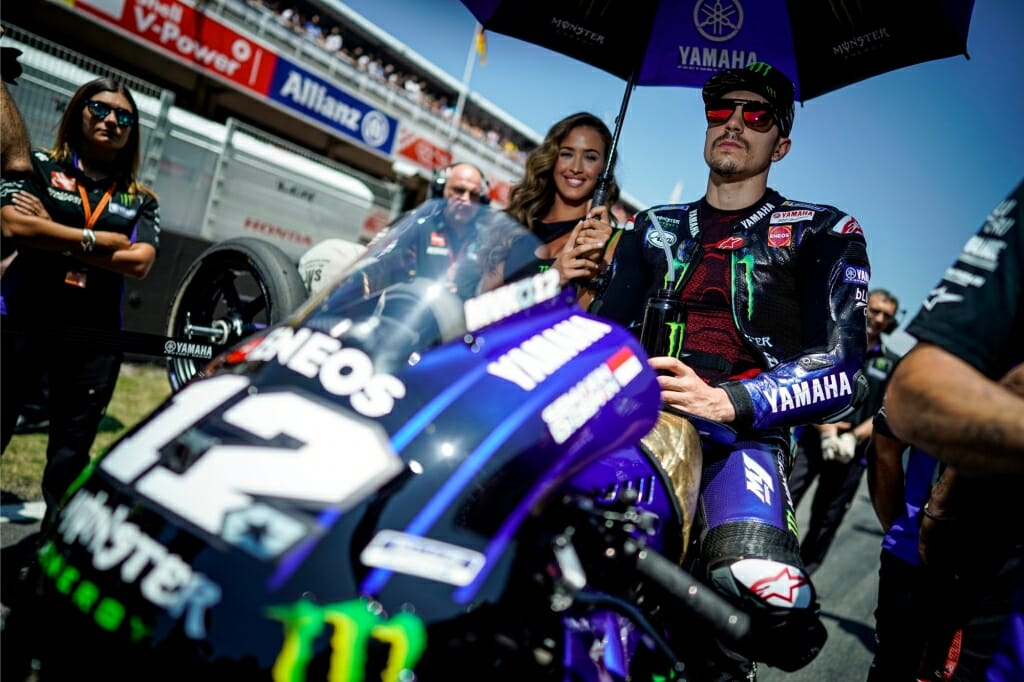 And that's just it – At this point, Maverick Vinales might be the only rider in the field that potentially has the tools to beat Marquez over a season. Yes, he only won twice this season – but the way he did it was superb, clearly dominating Marquez for outright pace, something no-one else in the field was able to do at any point this season. Has a legit ace track in Philip Island too. And despite his final corner crash there this season, I hope it lights the spark underneath him to raise his game. He's closer than you think if he can iron out the inconsistencies in his pace over an entire race. He still has a bad case of taking half the GP to find his rhythm.
Where I worry is, is that the Yamaha M1 and its style of development aren't going to work in GP right now. They're too slow and get crushed on the power tracks. They don't have enough of an advantage in terms of cornering speed and turn-in to hold off Ducati and Honda. And Maverick's probably a bit too aggressive a rider for what the current M1 is. 
My man Kevin has the right idea – Bore the damn thing up to 320hp and figure the rest out later. Because what they have right now, isn't good enough. Yamaha has all the pieces to win again. They're just all in the wrong order.
Ducati – So, what now?!
So let me get this straight? You create a 225mph missile of a motorcycle. Develop it round the only man on two wheels smarter than Marc Marquez. You even hire a likeable decent number 2 in Danilo Petrucci who can clean up some of the leftovers, and is willing to let Dovi lead the charge!
…Their lead rider was blown out by Marquez by 151 points, and you lost the teams title to a one-man army who scored nearly 92% of its team's total. That's… precisely not it, chief. 
A small part of me feels sorry for Ducati because if I was in charge of orchestrating a master plan to beat Marc Marquez, the first paragraph is EXACTLY what I'd do. But of course, Marc being Marc, the master plan has failed, and now the window is closing.
Let me explain. Andrea Dovizioso is comfortably the #2 man in the world right now. He's also getting dangerously close to being this era's "Sete". No man's land. 151 points behind Marquez, but still 58 ahead of Maverick Vinales in 3rd. He's 34 next March, and the decline WILL be coming soon, especially when you have to be aggressive and physical to ride a Ducati that struggles with turn-in to compensate for its enormous power. 
If Ducati can get that bike to turn on a sixpence, they'd win 12 races a year. They should arrange a partnership with Suzuki. It'll be like Wipeout when Triakais traded some shielding for Assegai's handling and they both started winning. Props to all 4 of you who got that reference.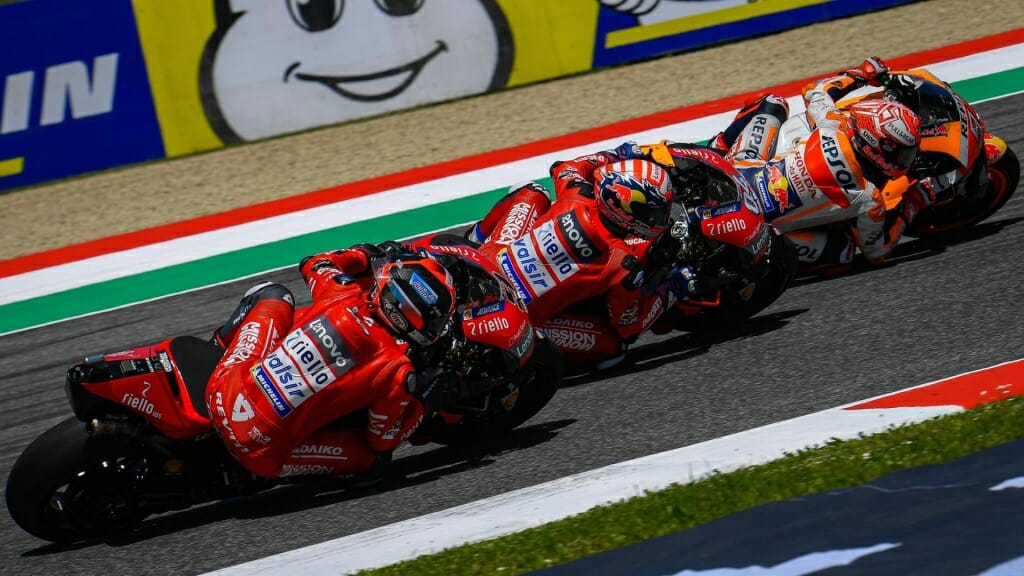 The Danilo Petrucci signing looked good at the start, but he tailed off HARD after the break. Almost like the Mugello win was his championship. Only ONE Top 5 finish after his podium at Catalunya, a race where half the elite runners got dumped out by Lap 2. A run of form so mediocre, there were rumours that they might swap him for Jack Miller, a man who they previously turned down for his seat around Danilo's Mugello win… Phew. I suspect he won't be getting another chance unless he shows major improvement. If you hadn't known any better, you'd have thought Petrux was still in white.
And Jack, couldn't have done much more to put himself in the shop window. Five podiums for the Pramac team, beating a good haul of independents like Crutchlow, Taka, Morbidelli and Mir. All this, despite having the constant mental battle of his seat being used as a bargaining chip when Jorge Lorenzo was looking for an early Honda escape. Man can ride. I just wonder if he has another level in him, where he can challenge for wins, rather than podiums. 
Can't be easy for Ducati. Another factory team that has had all their ducks lined up in a row, only for Marc to knock them down with a sniper rifle one by one. It's quickly becoming another factory that may need a big shakeup because they're drifting further away from the success they so desperately crave. Their saving grace is at least they're more willing to throw money and resources at the problem.
The Lightning Round
I'm still not sure how good Alex Rins actually is. On one sense, a breakout season. Two marvellous wins in America and Britain, both over legendary riders. You'd think that would elevate Rins to superstar status. But it is also a season where he made many frustrating errors. Big crashes from high ranking positions at Assen, Misano and Germany. Ploughing into Frankie Morbidelli in Aragon, which warranted WAY more than a long lap penalty. 
That in itself has been a constant issue because he doesn't have the one-lap pace to trouble the front two rows. As Marc pointed out last season, Suzuki really isn't far away. I'm just not sure Rins is the man to get them there. Joan Mir was pretty good but kinda forgotten in a heaped midfield. More soon.
Pol Espargaro is the most under-appreciated rider in maybe all three classes. Not enough was said about his Tech3 run at Yamaha, but he's gone to KTM and produced its first 100-point rider. We all know that KTM has been a hotter and hotter mess as their return has worn on. But Pol has got his head down, moulded his riding style to suit the unsettled RC16, and produced great results.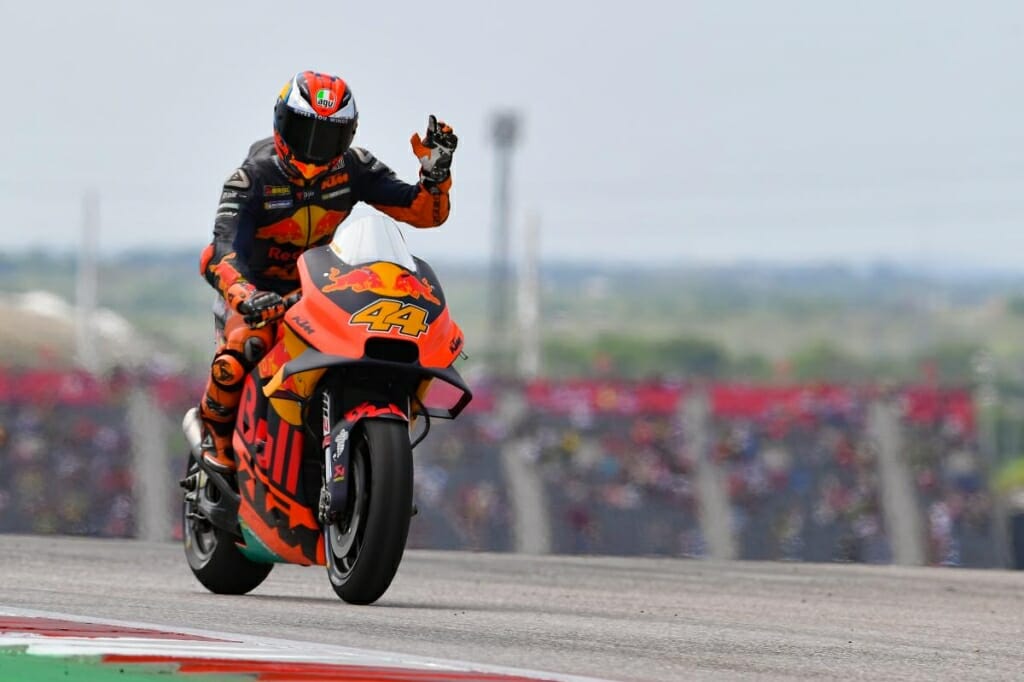 A front-row start at Misano. Eight Top 10 finishes. 11th overall. A couple of races like Le Mans where he was only a handful of seconds off the win. The man is a monster and any other year, would be taking "Rider of the Year" honours. All the ability of his brother to get a bad bike to sing, but with none of the bitterness attached that comes with riding for Aprilia. What a guy.
A real shame then, that the other side of the garage was such a hot mess. Johann Zarco seemingly made a horrible mistake in taking a KTM that was the polar opposite of his riding style. Then he whined too much. Then cried wolf and quit the team early. And now he's saying he'd rather drop back down to Moto2 than ride for Avintia. I like Johann, he's a great talent, but he does himself no favours sometimes and his goodwill will be running out rapidly. Should have been keeping tabs on the Repsol Honda seat last year when he had the chance and his stock was so much higher. Keep an eye on Brad Binder. I think he's going to be great.
And as for Aprilia? Thanks for coming, I guess.
The Tale of Two Hondas
And finally, what a polarising tail for the new Honda superteam. One man's struggles, alongside another one's greatest triumph. I'm not going to go to deeply into Jorge Lorenzo's 2019 because I already did at the weekend, but it was tragic to see someone of his talent struggle so much with a combination of injury, physical and mental fatigue. His brilliant start at Catalunya just about the only highlight of an otherwise sad and frustrating seeing. He'll be badly missed in the paddock on the bike, and on the mic. 
As for Marc Marquez, well… What can you say that hasn't already been said? He cemented his already historic reign of dominance with the greatest statistical season this sport has ever seen.
To try and put it into perspective, here's yet more stats on his outrageous 2019 season, a season so great he basically won Honda the Triple Crown ON HIS OWN: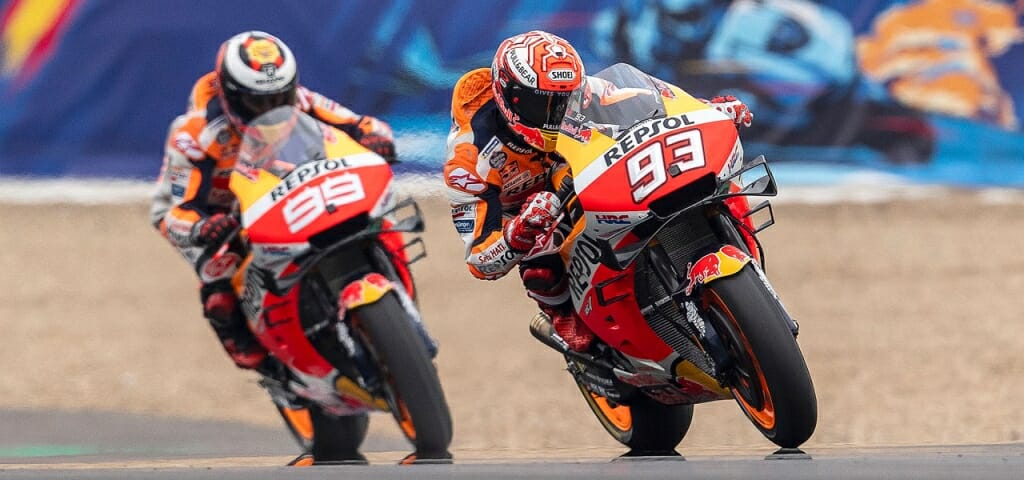 Scored a record 420 points out of 475, 88% of the maximum possible, with a greater point per race average than Jorge Lorenzo's 2010 season which had the previous record (383), averaging 22.1 per round, It's useful, as the modern MotoGP season has 19 rounds to Lorenzo's 18.
He won 12 out of 19 races, with six-second place finishes. The 18 podiums, is another top-flight record. 
There was one DNF at COTA, but it wasn't his fault, due to an engine braking failure on his RC. The TOTAL margin of defeat he suffered in those six 2nd places was 8.205 seconds. 7.9 of those seconds, was the two race wins that Maverick Vinales dominated, at Assen and Sepang. Utterly ridiculous.
Marc took the all-time pole position record (Now at 90), now has more top-flight wins and titles than Mick Doohan, the Honda God (56 and 6), and is now 4th all-time in all category wins with 82. He's eight wins off ANGEL FRIGGIN' NIETO FFS.
The 269 points that Andrea Dovizioso had at season's end, Marquez had at Aragon. 
He's a cheat code. A monster. He's the only alien an era in which has become an endangered species. He is bike racing's Lionel Messi and is running up the score on becoming the greatest bike rider the world has ever seen. If he isn't there already. For me, it's the pound-for-pound King of Motorsport and is redefining what's possible on two wheels. It's as simple as that.
And that just about sums it up. The protagonists changed. The racing was still pretty great at times. But the end story remained the same. Welcome to the Marc Marquez era. Enjoy your stay, because you're probably gonna be here a while.