For Aleix Espargaro, this was never supposed to happen. Aleix is the walking definition of a plucky veteran. He's 33 in July. He made his debut the same year Athens held the Summer Olympics. He's one of only two riders in the top flight left who rode an 800cc prototype from the last set of regulations. The 2022 Argentine Grand Prix was the 200th start of his career. Aleix Espargaro was never meant to win a MotoGP race. Until he did.
If I had written this sentence a decade ago, you'd accuse me of being on narcotics. It's… understandable that maybe you weren't as delirious as I was when Aleix crossed that line on Sunday. Because Aleix's career is one of grinding, missteps, and often cynicism.
Of the 24 riders in MotoGP right now, he was the only one without a win in his professional career, in any of the classes. Hell, even Darryn Binder had one. And people were so sure he was going to suck that his own peers were debating whether MotoGP needed a super license system just to avoid racing against him.
But if you know Aleix's career, he's heard it all before, and had to take much worse. Aleix made a name for himself in MotoGP's "Claiming Rules" era. It was the sport's last roll of the dice after Suzuki and Kawasaki quit off the back of the 2008 financial crisis. By 2011, we were down to just 17 full-time riders and just three manufacturers.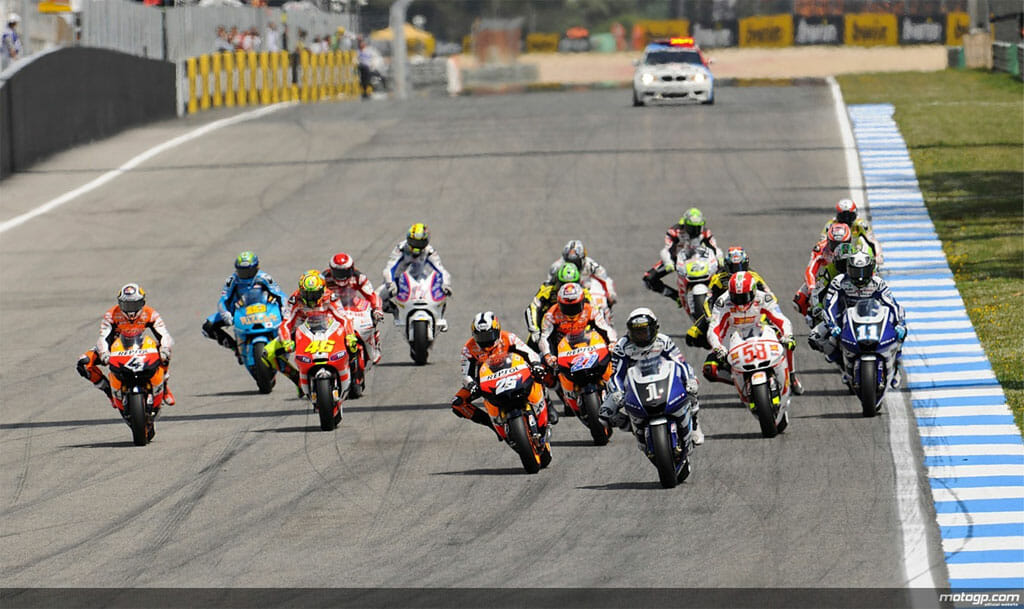 The sport had to improvise to survive, and the Claiming Rules were created just to keep the numbers up. It gave independent teams more incentives to take part, like more engines to use and more fuel to burn in races. The downside was, if you developed something that could challenge the big boys, they could "claim" or buy your engine for a fixed price. Did it work? Yes and no. It absolutely brought participation back up, but the teams who did make it were largely uncompetitive and were often fighting for minor points.
The rider that absolutely stood out most in that time was Aleix Espargaro. In Assen in 2014, he qualified on pole using his brain in the rain, and he went on to finish 4th on the day. Later on that season, he finished 2nd in a flag-to-flag thriller in Aragon, beating Cal Crutchlow over the line in a factory Ducati. Aleix finished 7th in the Championship that year, 45 points ahead of anyone else on a similar class of bike.
That's what got Aleix a deserved opportunity with a factory team, as Suzuki returned to a healthier sport. And well… if you watched the Maverick Vinales video I made last year, you know how that story ended. *pause*
Aleix got smoked. Maverick won a GP, while Aleix struggled for Top 5's as Suzuki got good, fast. Aprilia was the only team prepared to roll the dice on him. And that turned out to be a marriage made in heaven. Aprilia were struggling as they returned to MotoGP, and they needed a dependable rider who could give them feedback and improve. Something that Aleix did very well.
As Aprilia continued to be very messy with rider talent like pushing Sam Lowes out the door, and then trying to keep infamous drug cheat Andrea Iannone around, Aleix became the focal point of the team. And last year, they made a big breakthrough. They were genuinely competitive. Aleix led at Silverstone and got a podium finish, Aprilia's first in 20 years. He went on to pretty much match that Forward Yamaha season in 2014. Aleix was back.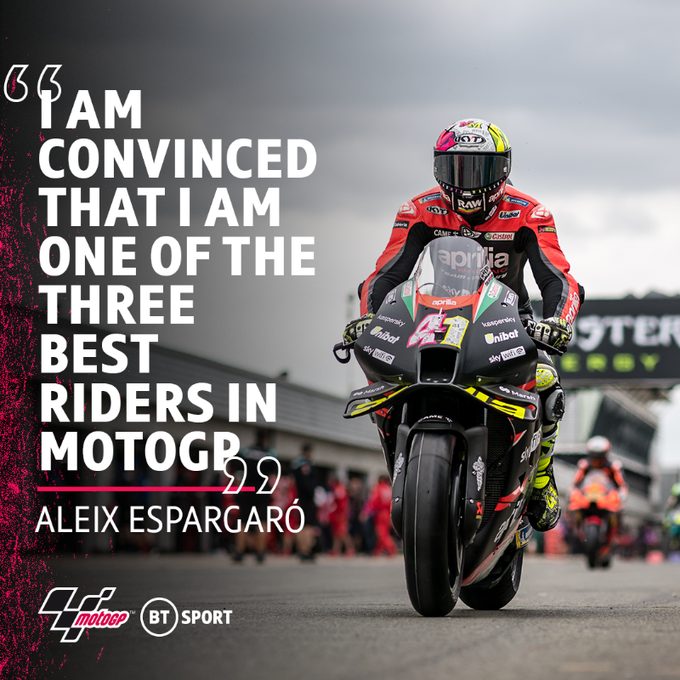 But because he was Aleix, we didn't take him seriously. He was claiming he was a Top 3 rider, and was laughed out of the room. He became the embodiment of everything we hated about rider politics. It's absolutely fair to say that riders with more upside weren't given half the level of rope he had been given. I mean, we were talking about a winless rider for his first 199 starts. Sergio Perez, but without the charm.
But he's been the mascot for a sport that's changed around him for the better. While Aleix was grinding to get Aprilia up to snuff, Dorna went about making their sport more balanced for the better.
They kept the spirit of the open class alive with the concession system, a huge reason Aprilia have been able to gain ground on their rivals. Dorna increased the revenue payouts to the independents to make them more financially secure. They standardised the electronics package for competitive balance.
Has it worked? Well, let me put it to you this way – Between Toni Elias in 2006 and Jack Miller in 2016, we went 167 GP's without a winner from an independent team. We championed the Alien Era for the exceptional riders it produced, but it hid a dirty secret. There were only ever 4 bikes you could consistently win on, and Casey Stoner fucked off from Ducati to join them. There was no other point in competing if your bike wasn't orange and blue.
Off the track and on it, the sport is in a better place. In the last two years, all six of the manufacturers have at least won a race. We've had 11 first-time winners since 2019. The sport only had 10 in the previous DECADE before it. Aleix was the 15th different winner of the post-Pandemic era. It's genuinely fascinating to go into a weekend NOT knowing which one of the four riders who could win, win. I'm sorry if you disagree with me not waxing lyrical about the sport's past, or you just found it easier to craft narratives because the competitive balance was more straightforward… But let's not forget, this sport nearly died a decade ago, partly for being as top heavy as it was. MotoGP is now one of the healthiest leagues of racing in the world, and that should be celebrated.
And Aleix Espargaro is everything great about this new era of the sport. An era of genuine competition, unpredictability, and proof that good old-fashioned hard work and development can still get you to the top. And now, he leads the World Championship by 8 points. It's not a fluke, there's been no shenanigans. He's been the most consistent man in the field and dominated Argentina. Aleix Espargaro was never meant to win a race. He was sure as hell not meant to lead a World Championship. Until he did.