This is not a drill. Alert the villagers. Sound the alarm. Aleix Espargaro leads the MotoGP World Championship. And as shocking as this may seem for me, it's a cause of celebration for everything great about MotoGP.
For Aleix, it's the validation for a career of setbacks and struggle. He's one of only two men left in the sport that rode an 800cc Prototype from the last major regulation change. Aleix was the only man in the premier class to have never won a World Championship race at any level. He was the king of the "Claiming Rules" era, when the sport was desperate to survive. He was a podium finisher with the Forward Yamaha team, a bike made of literal spares and hand-me-downs.
Yes, you can look at this cynically too. His career could have been cut short on multiple occasions. Maverick Vinales dominated him at Suzuki. Andrea Iannone could have stolen his thunder before he pissed hot. But Aprilia of all teams, a unit that has had a questionable reputation over managing their riders, stuck with him. And Aleix gave it 100% back, using his valuable feedback to help develop a non-competitive team, the only factory still on concessions.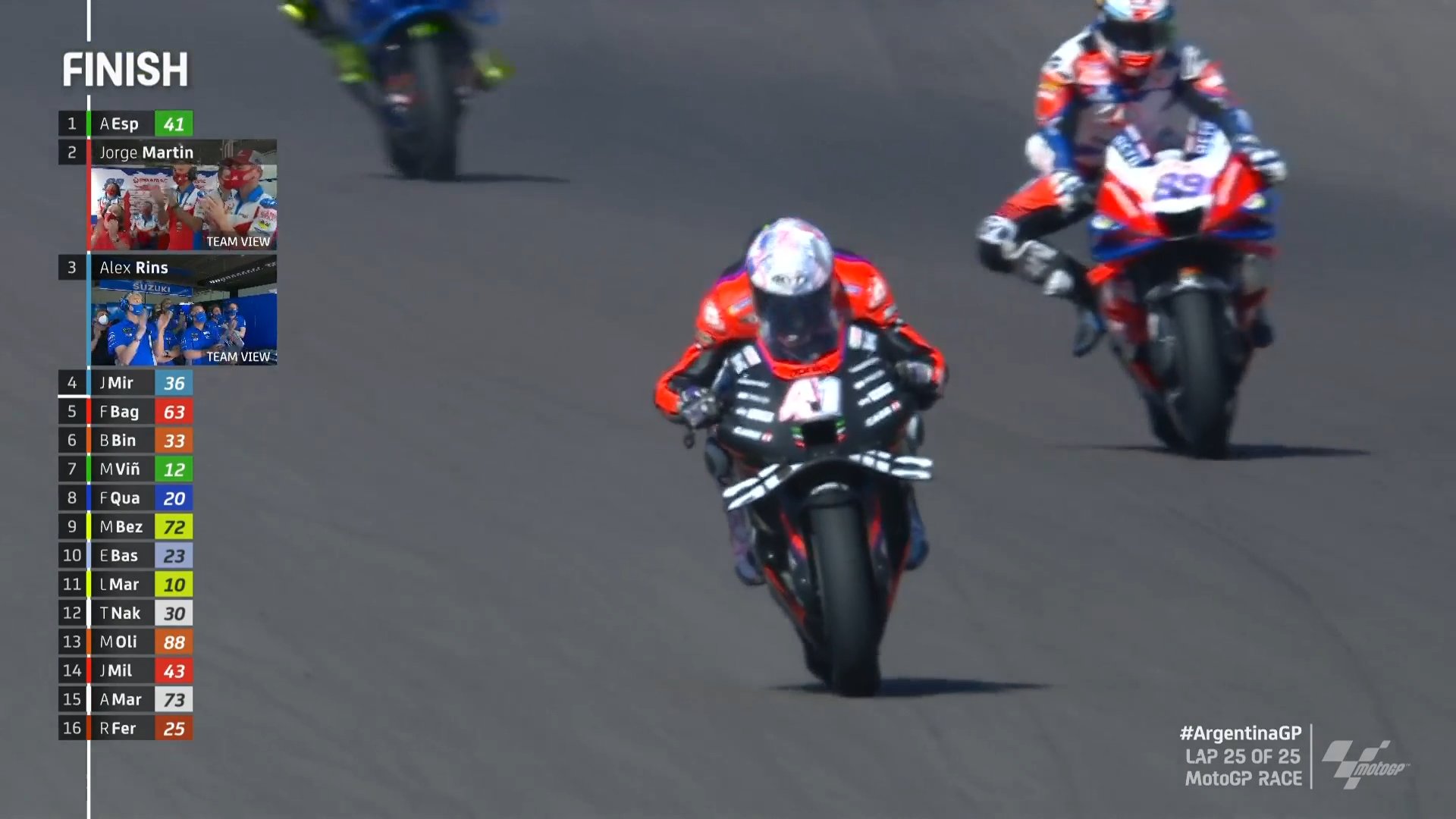 "I am convinced that I am one of the three best riders in MotoGP." – Aleix Espargaro, August 2021, upon Maverick Vinales arrival
Aprilia's success is owed in huge part to Aleix Espargaro, and Aleix Espagraro's success is owed to Aprilia. That's what made this result so special. There were no shenanigans. There was no funny business. Aprilia rocked up to Argentina as the fastest bike in the field, and won the race from pole, with the fastest lap. It's incredibly corny, but it's walking proof that hard work and determination can come through.
And it's a wonderful endorsement of the sport. Let's not forget, this sport once had a 10 year dry spell without an independent winner. You couldn't buy a win unless your bike was orange or blue. MotoGP in 2022 has now had nine different podium sitters in the first three rounds, and Marc Marquez and the factory Ducati riders aren't any of them. MotoGP has had FIFTEEN DIFFERENT WINNERS in the last 31 races. The factory that no-one took seriously now has their veteran rider leading the Championship by 8 points. While on concessions.
2022 MotoGP is fucking ridiculous, and I couldn't be happier as a fan. Good for Aleix, good for the sport, good for us all.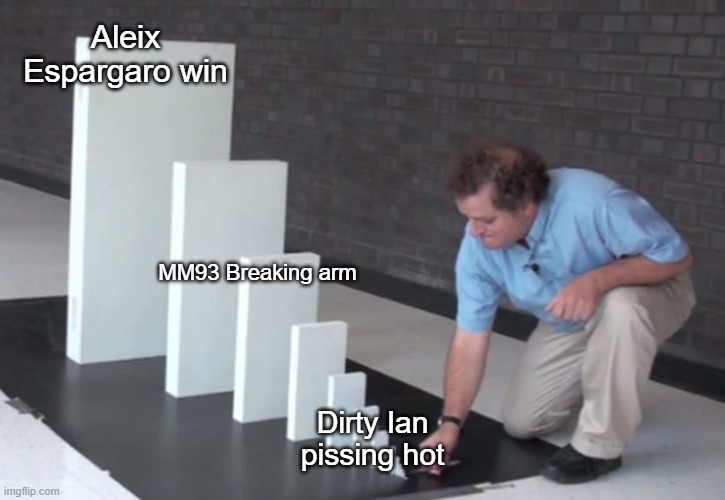 ---
Someone get a hold of Ducati because I stress for the second time since Qatar, this was not the plan. Francesco Bagnaia qualified 14th and had to fight hard to finish 5th. Jack Miller was nowhere all weekend. And their hybrid setup engine wise just isn't working, just as Jorge Martin on one of only two bikes on the pure 22' setup, seems to have figured it out, fighting for the win all race long with Aleix. 
THIS. WAS. NOT. THE. PLAN.
---
I don't say this often, but Moto2 was a wonderful exhibition of all the good in the class right now. I'd say Celestino Vietti's early dominance has been surprising, but he's not even the biggest surprise of the class this year. Somkiat Chantra has been an absolute revelation. He became Thailand's first ever World Championship race winner a fortnight ago, and seemingly out of nowhere, he backed that up by pushing said Vietti to the limit in a dramatic fight all the way to the line. Chantra seems to have just gained a ton of confidence and is now riding himself into title contention. And he missed the first race of the year due to a testing injury! 
All of a sudden, if LCR was to clear the decks… Bumping up the current Team Asia squad might just be your ticket.
The guy we all thought was going to be the Team Asia flag bearer was Ai Ogura. And he was great in his own right in 3rd, beating Aron Canet with skill, different lines and some classic big-ball bravery on the final lap. Jake Dixon did the same with Tony Arbolino in a fight for 5th, a guy who needed a solid result and got one.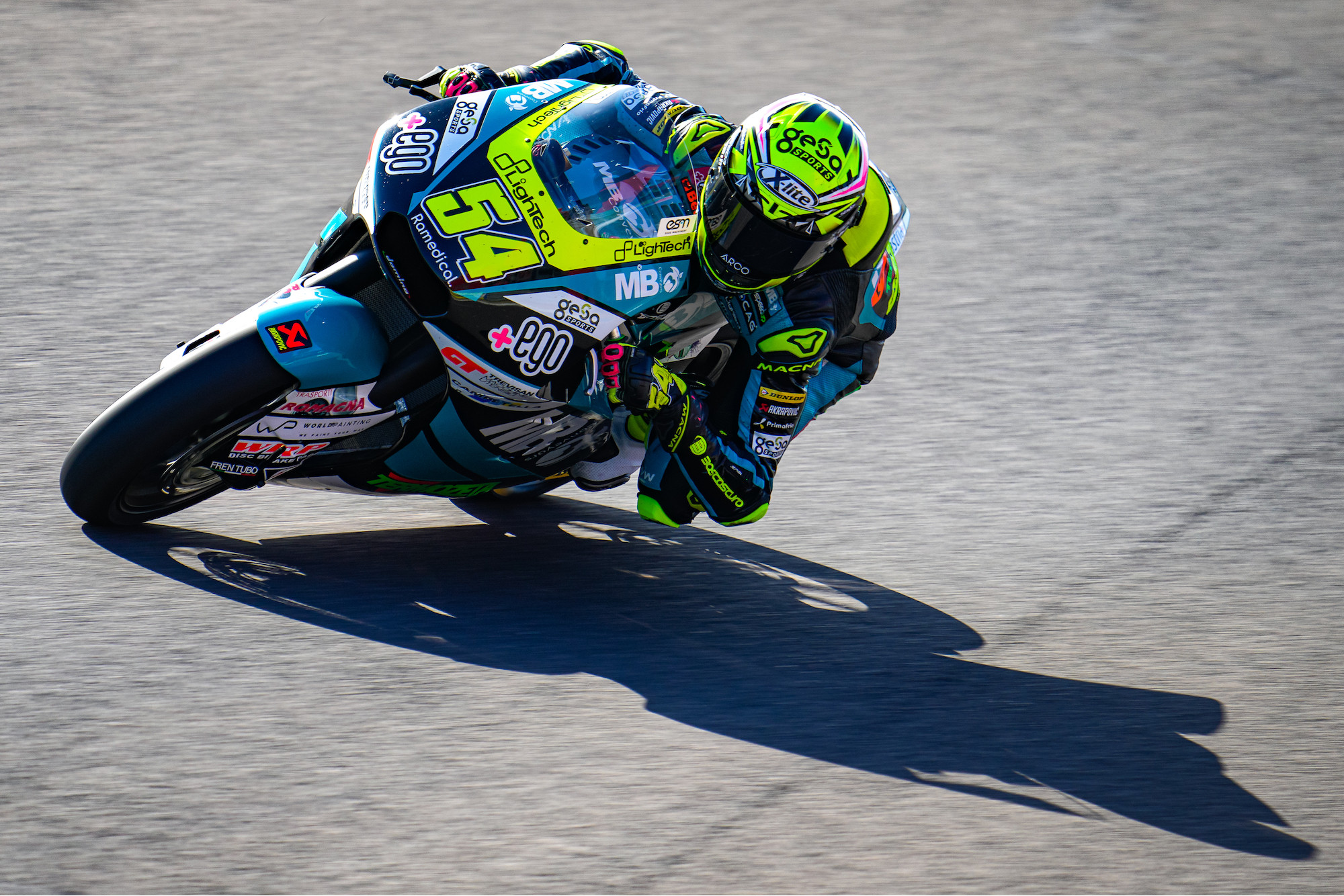 And after a rough start to life in Moto2 where maybe we Internet writers might have been giving him a bit too much hype, Pedro Acosta went from 18th to 8th in his best ride in the class to date. Good stuff.
But the funny thing is, you can make a case that Fermin Aldeguer stole the show from everyone. Out of nowhere, a pole position, he broke the lap record in morning warm ups, and was in that leading group until an unfortunate clash at the penultimate corner where he was blindsided by Vietti sweeping after running wide. The emotion he expressed in the paddock was heartbreaking, but a warning that this young man could be the real deal. Did I mention he turns 17 on Tuesday?
Excuse me while I laugh in age limits.
---
Dennis Foggia vs Sergio Garcia in a final lap Moto3 dogfight for the win. Hook this directly into my bloodstream for the next 18 rounds please. I mean, this was by a mile the easiest championship to predict, but isn't making it any less fun.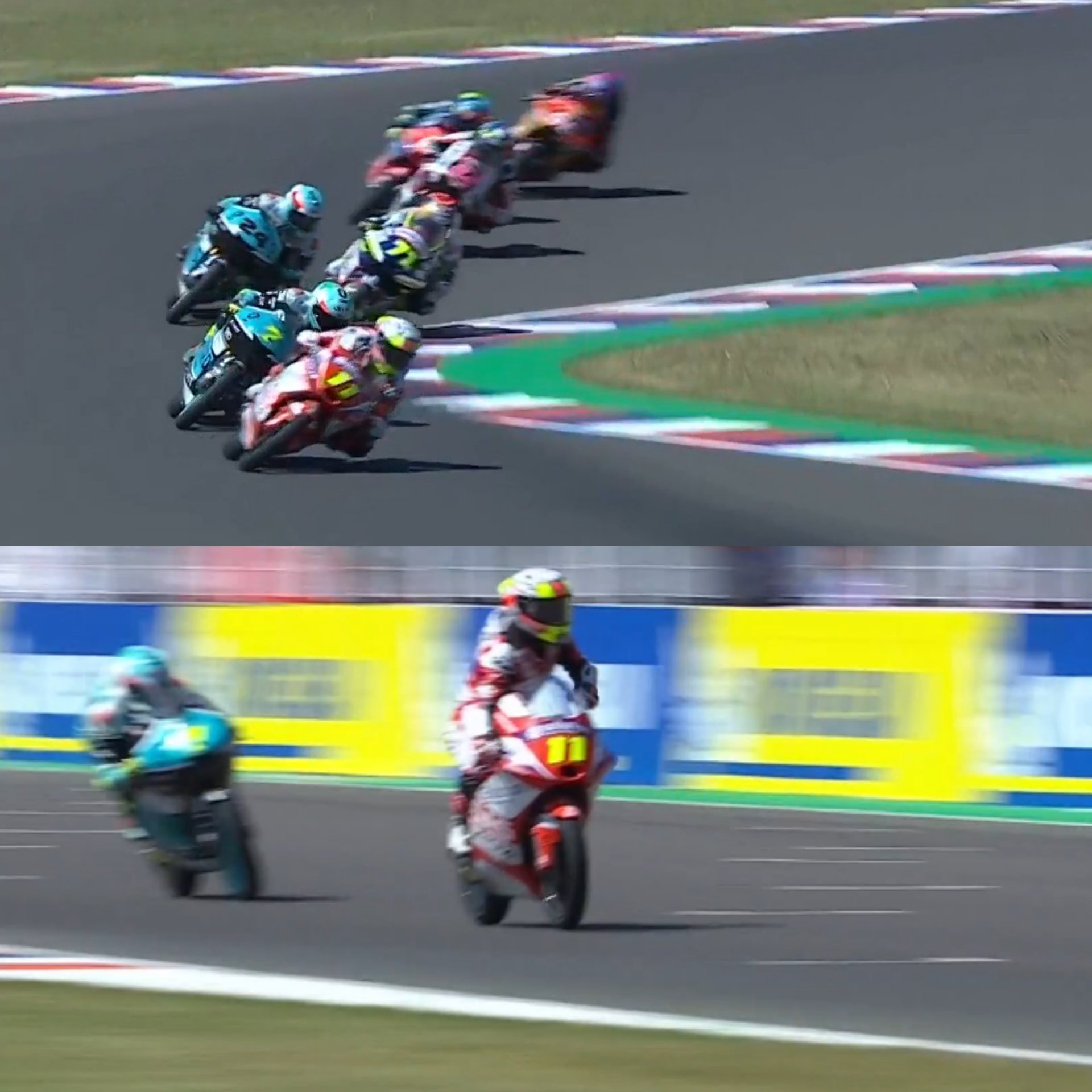 I'll be the first guy to tell you that I'm not a fan of Sergio's aggressiveness on the bike, but his pace is electric. And that final lap pass for the win at the penultimate corner was a beauty. Foggia had no answer for it at all. But the fact that Foggia had to even climb back at all given how fast the Gas Gas bikes are, from 11th on the grid as they were trying to break away… Mad impressive. More of this please.